Are you thinking of purchasing the lifetime deal of WPFunnels? If yes, then this article is for you. Building sales funnels, high converting landing pages, and check flows have become more accessible than ever with WPFunnels. To learn about WPFunnels, its exciting features, and lifetime deals, continue reading this article.
Sales funnel a sequential process that lets you bring the potential customer a step closer to your offer by a series of marketing tactics like automated emails, videos, articles, and landing pages. Having a sales funnel is very important and beneficial for your business. Firstly, it helps to build a professional relationship with your customers, provide a personalized approach, and boost sales.
Generating a sales funnel for your eCommerce business or any other business can be a lot of work. It requires targeting a traffic audience and then creating content to attract their attention, optimize your product page, and whatnot. So, in short, we can say that it is pretty hectic work. But what if we tell you that you can do all this work in just a few minutes.
Yes, you heard it right; with WPFunnels, creating a sales funnel becomes more straightforward. Instead of spending your time configuring various plugins and still not receiving desired results, you can build the funnels in your WordPress dashboard. So, what is this WPFunnel? Let's know about it.
Build a Powerful Online Business with WPFunnels
This software provides you with sales funnels that help you engage your customers and convert them into buyers easily.
Get WPFunnels LTD
About WPFunnels
WPFunnels has made sales funnel creation much simpler and more accessible. Now you can create the funnels for your business without any funnel-building experience. It is the first canvas-based drag and drop funnel builder for WordPress. With WPFunnels, every step is optimized to generate a flawless customer experience and maximize sales.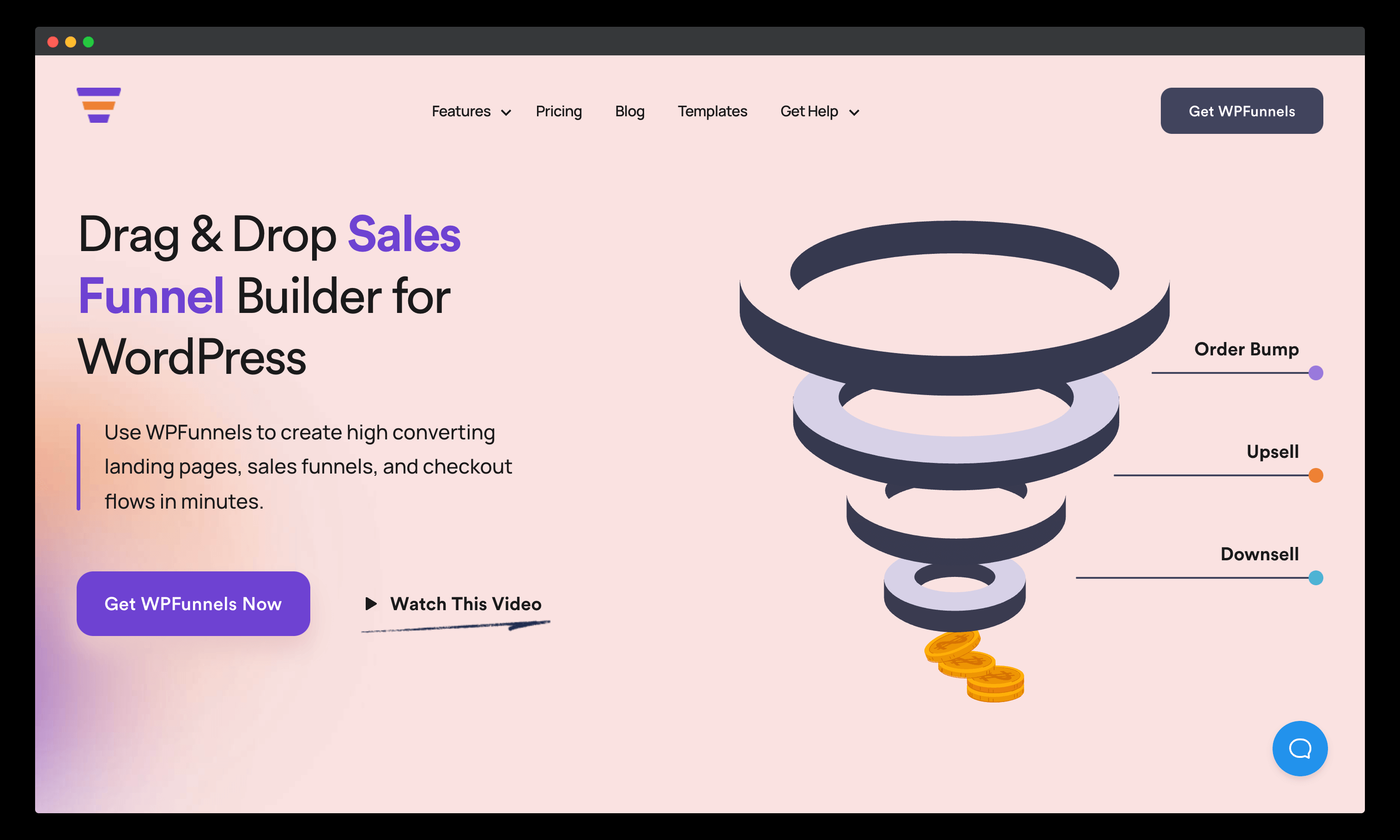 You can easily create a high converting sales funnel no matter what your niche is. Whether you are a legal advisor, marketing tutor, or online fitness trainer, or have an eCommerce shop, WPFunnel is best for you, and you don't have to spend a lot of time or money with it.
It has a super easy interface that is straightforward and lets you have complete control. In addition to this, it also comes with an actionable guide that helps you with all its features and tools. The visual canvas lets you map your complete sales funnel and connect every step with a simple drag and drop interface.
In short, we can say that WPFunnel is one of the best funnel builders and a great alternative to ClickFunnels and CartFlows. Here are a few notable features of WPFunnels, which makes it one of the best sales funnels out there;
Allows you to integrate Stripe and PayPal.
Google Tag Manager custom events
Facebook pixel custom events
The FluentCRM can also be integrated
Lead generation and opt-in funnel
…and many more.
Create Any Type Of Funnels In Minutes With Optimized Pre-built Templates
As we all know, creating a funnel is not an easy task, it takes lots of research and time, but what if you get fully optimized prebuild funnel templates? Yes, you heard right, pre-build template! WPFunnel comes with hundreds of pre-built templates in different industries. You can check a few of them and use one that fits your needs
Using the premade templates, you can create complex templates in just a few minutes, which will save much of your time. WPFunnel offers both free and paid templates from which you can choose. You can find options like step type, template type, industries that let you choose the template that is best for your niche.
Some Cool Features Of WPFunnels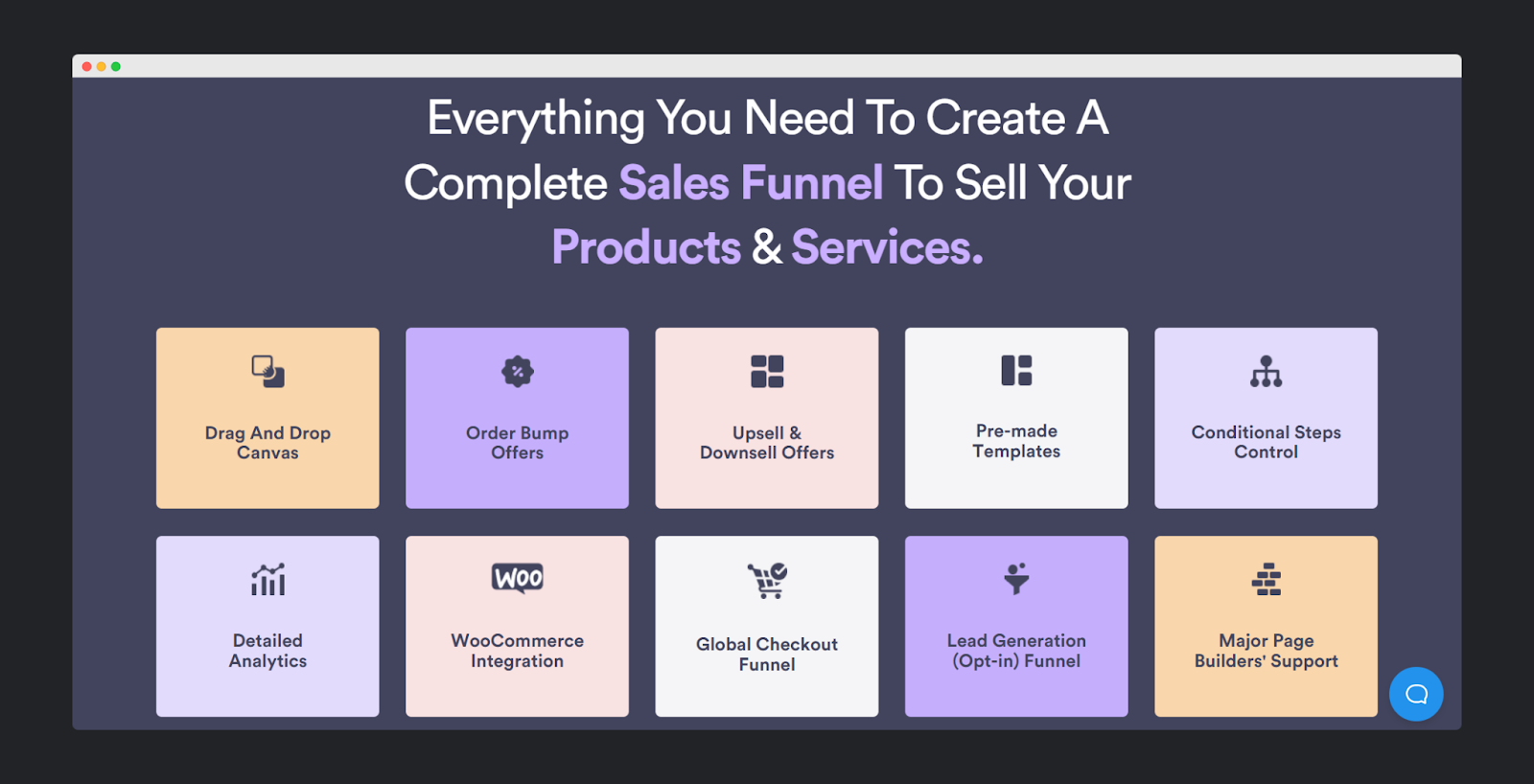 We have already talked about what WPFunnels is and about its pre-built templates. It has a simple interface, top-notch support service, affordable prices, and a small learning curve. But that is not all that it has to offer you. WPFunnels comes with some exciting features that are sure to benefit you.
WPFunnels offer all that you need to create an outstanding sales funnel. From drag and drop canvas, order bump offers to WooCommerce integration and detailed analytics, you can find everything here. So, let's look at these features in detail one by one.
1. Order Bump At The Checkout
WPFunnel allows you to make an order bump on the checkout page for your buyer to make the purchase. It gives a small offer on the related product the buyer is purchasing, which can be easily available with a single click. Without any extra effort, you get to enjoy increased sales revenue.
You can customize your order bump offer as per your need and get better results. You can also change its position. Above all, you can apply custom offer discounts and use custom offer images to attract buyers' attention.
WPFunnels offer you various pre-built order bump templates from which you can choose. Just design your sales funnel, use order bumps at checkout and increase your sales.
2. Optimized Pre-Built Templates
As we talked about earlier, you can choose from the pre-built templates that WPFunnel offers, so you do not have to spend hours creating a funnel on your own. You can find various niche-specific pre-built templates that immediately help you start making sales. All those pre-build funnels are designed by professionals and completely optimized.
You will get templates for both Gutenberg and Elementor specifics. Just choose the template you want for your business optimized for sales and offers. And that's it, that is all you have to do to start making more sales. Pre-built templates are one of its most beneficial features.
3. One-Click Upsell & Downsell
One-click upsell and down-sell is one of the most intriguing features of WPFunnel. You can build a full sales funnel and, at the same time, make a one-time conditional offer after checkout. One-click upsell and down-sell means offering the buyer, after the checkout process, a WooCommerce upsell offer with greater value.
And after that, offer a down-sell offer that costs less. You can encourage your buyer to make more purchases of your product with it. The whole purpose of this up-sell and down-sell is to convince your customers to make more purchases by providing them with exciting offers. Your existing customer is more likely to purchase this kind of offer than a new one.
4. Visually Set Conditional Steps
WPFunnels is the first canvas-based drag and drop sale funnel builder. It has made funnel building easier and simpler than ever. Now anyone can create a high converting funnel in just a few simple steps, and you do not have to spend much time or energy understanding all the algorithms.
Without leaving your WordPress dashboard, you can plan and map your funnel steps with the drag and drop canvas that gives you complete control. WPFunnel is both a funnel builder and a funnel planner. So, you can design and build your sales funnel on your own in no time with visual drag and drop canvas.
5. Optimized Funnel Checkout Page
The next feature that WPFunnel has to offer to its users is the optimization of the funnel checkout page. Yes, you can also customize the checkout page and purchase process. Not one or two sections; you can customize the complete page style. Above all, it lets you use custom fields to build a personalized checkout page.
You can remove the unnecessary fields or the ones you think you won't need for your business. You can also collect custom data for your campaign. And, of course, insert order bump offers anywhere that you want. You should always design the checkout page so that it becomes easier for your customer to make a purchase.
6. Use Gutenberg Or Elementor To Design Funnel Pages Easily
WPFunnels comes with exciting Gutenberg blocks and Elmemntor widgets so you can build your funnel in no time. This feature is most eye-catching, and it has 5 Elementor widgets and 5 Gutenberg blocks.
Now, you can use these latest landing pages to create a sales funnel for your business and increase your sales. Those Gutenberg blocks and Elementor widgets will help you create a fully customized page or add WPFunnel elements to any website page.
7. Detailed Funnel Analytics
Coming to the next feature, which is surely one of the most important ones; detailed funnel analytics. Funnel analysis means mapping the flow of website visitors and their activity, and it is important for all businesses.
WPFunnel gives you a detailed report of the sales and the visitors' activity. It helps you improve your funnel and get a better result. By using the detailed funnel data, you can easily understand your customer behavior and plan your next step and marketing campaign.
So, these were some of the best and useful features of WPFunnel that make it one of the best funnel builders. So, if you are thinking of using it to create your sales funnel, you are surely making the right decision.
Plan & Pricing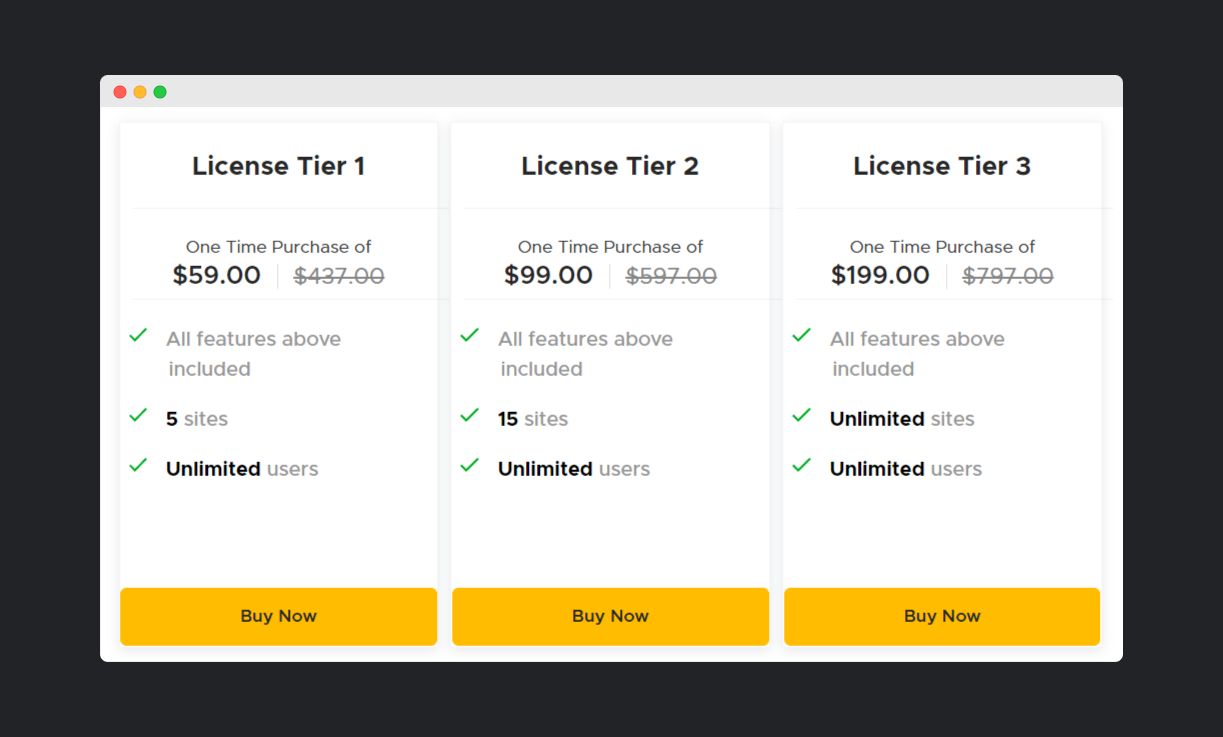 WPFunnel lifetime deal means with a one-time purchase of this outstanding sale funnel builder, you can enjoy its benefit for your whole life. WPFunnel has three license levels; Tier 1, Tier 2, Tier 3, available at different prices.
You can choose any of the three that suit your business best and fall under your budget. You do not need any coding or stacking; just select the plan you like and enjoy its benefits. Let's take a look at the lifetime deals plans one by one.
License Tier-1
License Tier-2
License Tier-3
License Tier-1
WPFunnel Tier 1 comes at just $59; you can enjoy all the features I have mentioned above in the article, including drag and drop canvas, down-sell and upsell offer, bump order offer, and lots more…
If you purchase a Tier 1 license, you can use WPFunnel on 5 different sites, and unlimited users can be created. Not just this, but all the WPFunnel plans come with 60 days of the money-back guarantee.
License Tier-2
Like License Tier 1, you will get all the features in License Tier 2; the only difference between those two plans is the number of sites on which you can use WPFunnel. You can use WPFunnel on 15 different websites.
Talking about the cost, License Tier 2 will cost you around $99.00, which is a one-time fee; unlimited users can be created. You will not see any difference in features of Tier 1 and Tier 2 licenses.
License Tier-3
License Tier-3 comes with the same features you get above 2 plans; there is no difference at all in terms of features. Tier-3 License will cost you around $199 for a lifetime.
You will get unlimited user access, and you can use WPFunnel on unlimited sites after purchasing this license. It comes with all the features mentioned above in the article.
Frequently Asked Questions (FAQs)
I hope you get all the information about WPFunnel after reading the above content. It is an outstanding sales funnel with exciting features. If you still have some doubts and inquiries look at the questions below. These are some of the most asked questions that will help you understand further.
1. Who Can Use WPFunnels?
The best thing about WPFunnel is that you don't need any prior knowledge about the sales funnel builder. Anyone can build an intriguing and beneficial sales funnel in just a few minutes.
No matter what your niche, WPFunnel is best for you. Whether you are an online tutor, legal advisor, or running an eCommerce store, the WPFunnels will surely help you increase your sales.
2. What Is Upsell & Downsell In WP Funnels?
Upselling is a technique where the seller encourages customers to buy an expensive product. On the other hand, down selling is somewhat the opposite. In down selling, you try to sell the customer a cheaper product.
With WPFunnel, you can integrate upsell and down-sell offers after the checkout process. It is done to boost your sales revenue, and it is effortless to make this offer with WPFunnel.
Final Words
In this article, we have covered all about WPFunnel and WPFunnel LTD. It is an excellent sales funnel builder with the most beneficial features, and the lifetime deal allows you to enjoy all its features and future updates with just a one-time payment. From the three plans of WPFunnel, you can choose the one that fulfills your needs.
All of them offer extraordinary features and benefits. Try to plan out your needs and budget to buy an ideal plan. So that was all; create the best sales funnel for your business and increase your sales like never before! We hope this article about WPFunnel LTD is helpful to you.
Do let us know what you like about WPFunnel and its lifetime deal in the comment section below.