Can you count the number of people who might have witnessed your website or business?
How many potential customers might be there?
So, can you imagine how many potential customers might be missed just because there need to be more interactions and real-time engagement with the users?
Why fear when the gift is here?
The programmers are welcoming the latest web app with which one can deliver customizable social proof notifications which directly work for the enhancement of credibility.
Meet WiserNotify!
As an example of how an uphill battle can be defined, the conversion of tourists into customers can best be described as what the word uphill means. Even though it is not that simple, it has been made so much easier with the help of the WiserNotify.
Using this technology, you can not only increase conversions, but also increase client engagement and have the ability to respond to queries in real-time. If you would like to know more about this deal, let's check it out.
TL;DR;
 Availability of more than 10+ dynamic social proof notifications
Tools such as conversions, reviews, and YouTube views, will help you establish credibility right away.
More than 60 notifications template is available
Access to the functions such as 150 plus integrations  and tons of widgets like announcements and review feed
Can be called the best platform for E-commerce, marketing agencies, and online coaches
Integrations such as active campaigns and Aweber are used.
Increase Your Conversions with WiserNotify
Increase your conversion rate by using WiserNotify. This amazing tool helps you create FOMO notifications that encourage visitors to take action.
Get WiserNotify LTD
About WiserNotify
With WiserNotify's real-time social proof notifications and widget distribution solution, you can increase revenue from the same audience while fostering strong brand loyalty. By giving your visitors social proof and sales alerts, you can persuade them to purchase your products.
As I said earlier, it is a tool that is capable of creating customizable social proofs and widgets that will eventually help build trust and increase sales. As soon as people install this platform's pixel codes and page-building tools, they will be up and running in a matter of minutes. You will also be able to access live visitor feeds as well as recent sales notifications, which will give your customers a better sense of your brand and help you to grow your empire.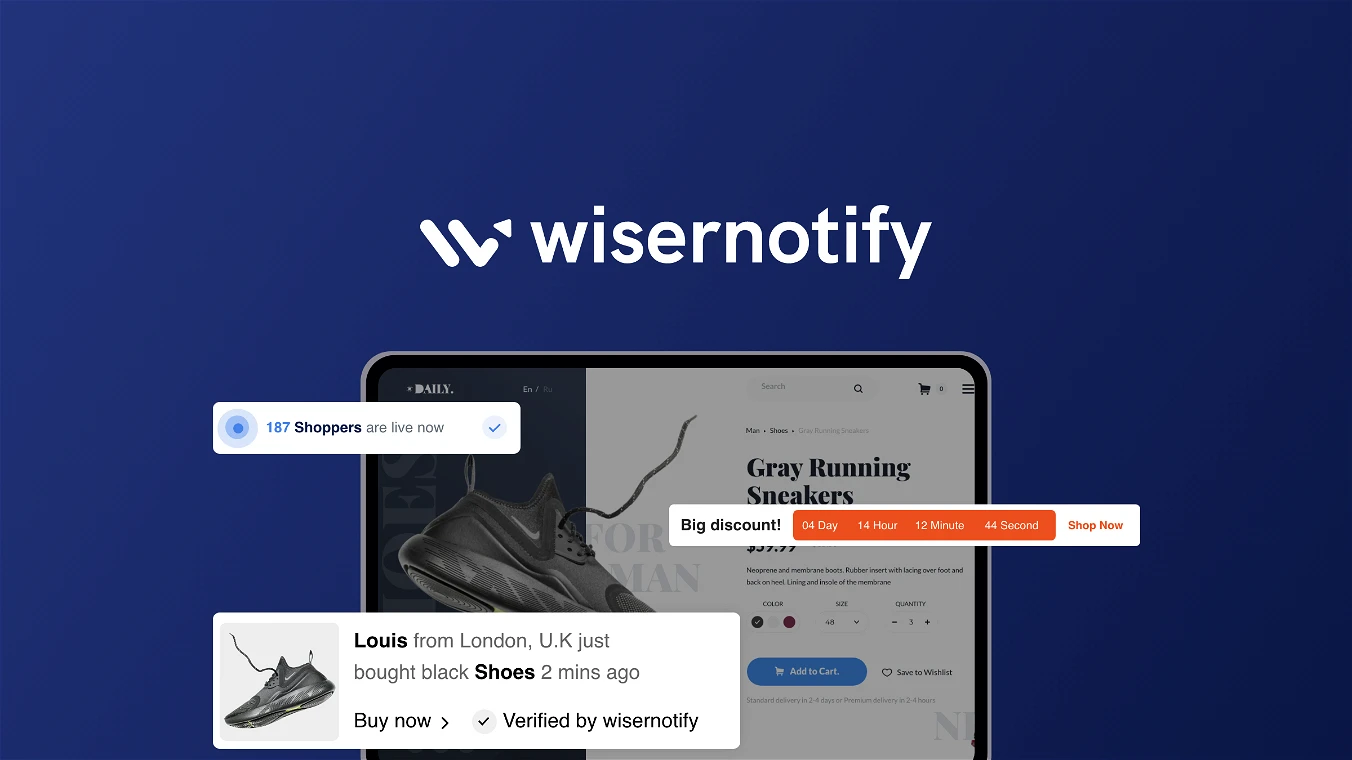 In addition, all new and advanced features, such as real-time reviews and recommendation notifications, are delivered right on time. For example, Facebook, Google, Twitter, and others are displaying your YouTube channel stats on their social media sites. In addition to the subscriber count, the number of videos, the number of likes, and the number of comments, all of these data are clearly displayed to the owners.
As far as the announcement feature is concerned, it informs the visitors about the latest offers and provides them with useful widgets such as social media counters, video pop-ups, time limits, and another gentle nudge, which provides all the necessary information to the visitor. Hence, it creates more interest among the customers in the products, so if you are interested in something that will help you grow, then this platform is for you.
What makes this platform unique?
The website WiserNotify uses some methods which make this website stand out from the rest in many ways. As you will see in the following list, the methods employed by the website are very creative and unique in many terms and certainly make it stand out from the rest.
Due to its white-label friendliness, you can easily engage your clients and get them involved in campaigns.
Aside from that, there is also analytics for each notification. These analytics show visitor reactions as well as notification success data, which shows the number of visitors, impressions, hovers, and clicks during each notification.
The tool provides you with access to in-depth information on conversion rates and goal monitors that alert you when you have exceeded your goals.
You will be able to target specific audiences based on real-time data obtained from integrating with more than 150 networks in order to obtain real-time data.
With WiserNotify's extensive display options, you can choose when and how you want your notifications to appear.
In order to achieve the perfect fit for your brand, you can easily control the image's shape, background, animation, height, and a lot more.
This is just a small list of features that make this website the best of its kind out there. Many more and yet-to-be-released features will make this website the best platform for anyone looking to grow their e-commerce platform and their business even further.
Features of WiserNotify
There are many features of this incredible platform known as WiserNotify. We've listed some of the incredible features that make the entire website more engaging to customers.
Here are those;
Live Visitors Notifications
As one of the most appealing aspects of this WiserNotify is the option to receive live visitor notifications, which in simple terms, means that this platform will be able to turn the live visitor count into social proof in real-time.

Now you can show off and showcase your popularity with the help of the live visitor count available directly on your website. The receipt and actions of the website will directly impact the building of trust and engagement. This website has made leveraging social proof so much more practical.

WiserNotify will at first display the total number of visitors that are living on the site you have added to the account which uses the online visitor counter for working. This clearly shows the information to the visors that they are not the only people who are buying from your site.
And for the type of information that the platform shows is classified into types. It not only shows the popularity of your page by the live counter but also makes sure to boost the confidence of any users using this platform to grow their business.
Conversion Notification
Another important feature of this website WiserNotify is the conversion notifications from this platform. This precisely means that the users will be able to turn and simply change the real-time sign-ups into social proofs, which eventually leads to encouraging the visitors to take action. This is done by showing real conversations in real-time.
This leads to the leveraging of social proof, which will boost your signups and increase revenue.


There are many examples of conversion notifications that might range from SaaS and E-commerce platforms. This precisely offers the service where the owners will be able to see how many people signed up for the homepage to see the conversations. Similarly, building a discount hyp[e and student counts is getting way easier with this incredible website known as WiserNotify.
Video Popups
Among the list of many incredible services from WiserNotofy, video popups are one of them. This feature works directly in the way that the users will be able to display their youtube subscriber count with the analysis.
Talking details about this function. Video popups work in the sense that the website will show the user the subscriber sound from the youtube video that is available on your website. Now, popups the video swiftly on your website and increase the visitors along with the engagements.
Call to Action Buttons
Wiser one in the list, another prominent and necessary function of this feature is the availability of the CTA actions. These cta buttons help a lot of users through some important features.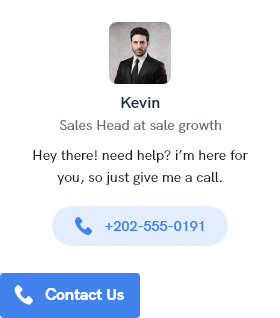 Starting, they are mainly responsible for starting the instant WhatsApp chat or any immediate actions like this. If you need to create urgency with the countdown timers or engage or call your visitors quickly then this platform WiserNotify is the one for you. Now add a text widget, create instant engagement, and book a sales demo instantly with the call to action buttons.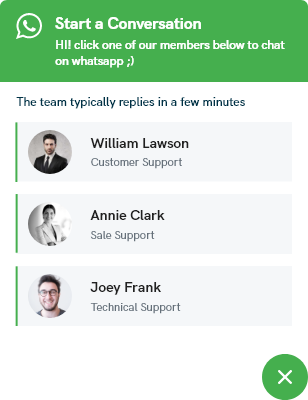 Social Media Counter
Last but not least, another important factor that determines the engagement and performance of the business these days are social media. And with the help of WiserNotify and its amazing feature of counters, now you can show your followers count from the platforms such as Facebook, Instagram, Twitter, and Linkedin on your website.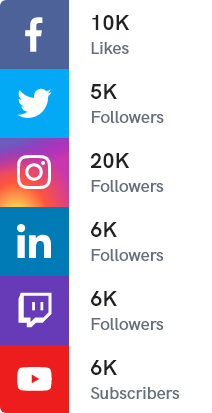 Building trust by using social media has been much easier with the introduction of WIserNotify in the market. With WiserNotify, you can display YouTube subscribers, ratings, sales popups, and more.
WiserNotify Lifetime Deal- Plan and Pricing
Before knowing about each of these deals and their pricing in different, there are some common features that are available in all three licenses. These common features are mentioned below:
Features included in all plans
Each sort of notification
Verify countless names and subdomains
Verify unrestricted alerts
Be sure to select Unlimited notification exposures.
Verify all metrics, reporting, and integrations.
Verify each sort of notification, including live, recent, purchase, counter, and YouTube.

Tier 1 License
Tier 1 licenses are the most basic and simple deals on this platform. The basic plan is sometimes confused with the lack of features, but this deal licenses all the features mentioned above, which not only makes this deal user-friendly but pocket-friendly as well.
Specifically, this deal guaranteed almost 10000 visitors per month to your business. And to make the deal even more diversified, up to 5 users can manage this account from any device. Moreover, there are 5 subaccounts that can be created here, and access to unlimited websites with the simpler plan.
Tier 2 License
WiserNotify Appsumo's tier 2 license is another fantastic and user-friendly deal that includes all the features and functions a user would expect from this deal but in an even more enhanced and extended form. As mentioned above, the deal provides metrics, reporting, and integrations.
It is the access to almost 20000 monthly visitors to the business that makes the deal unique and more appealing to the users. In addition, users are able to manage unlimited websites with this deal. The expansion from this deal is great because 10 users can have one account, and 10 sub-accounts can be created, making it a great deal for expanding your business.
Tier 3 License
The tier 3 license is one of the most advanced licenses that this website has to offer, and it is quite famous for its countless functions and expanded features that make it the most advanced deal available on the website. First of all, there are no exceptions to the availability of all the common features mentioned above, such as notification types and notification impressions.
Among the features that make this license unique are white labeling and branding control, which are available only in this one. These features are critical if your business plans to grow. Likewise, talking about the monthly visitors is 4 times more than that of the basic del, which is 400000 in number, and 25 users can handle one enterprise-level account. And by allowing up to 25 sub-accounts, WiserNotofy will easily take your e-commerce platform to the next level.
Deals and Conditions from WiserNotify Appsumo Deal
Once purchased, users will have lifetime access to the wiser notify appsumo deal.
All the premium and the new plan updates are ensured as well
Redeeming the code should be done within 60 days of the purchase of the deal.
This platform can stack up to 5 codes in total
GDPR compliant is safely assured to the customers
If you are a previous Appsumo customer who has already purchased this deal can easily buy more codes to enhance the limit of their feature.
In case you have any kind of complaints regarding this website, you can always have your money back within 60 days of purchase.
Love from the Users
Another excellent resource is the WiserNotify crew. They answered my inquiries right away. The degree of customer service I experienced from them impressed me. In conclusion, I heartily endorse WiserNotify to anyone searching for a dependable and straightforward social proof tool. The device is reasonably priced and offers excellent value. I'm sure it will increase your website's conversion rates and result in more purchases.

– Mert S
Elegant prompts – Simple dashboard – More than 100 connections (WiserNotify works with all of my apps)

– Abhi
In a crowded field, WiserNotify stands out as the finest tool for what they do. I adore the product's adaptability, customizability, and friendly customer service staff.

– Nicholas
Wrapping Up
Thinking about expanding or engaging more visitors to your business and the e-commerce platform? Or want to make sure your branding is famous all over?
Yes, IwserNotofy is the solution to all your problems.
WiserNotify is a fantastic tool for expanding your customer base and gaining their confidence. Social proof can readily improve conversations. You can also encourage website visitors to subscribe to your YouTube account and inform them that you have many satisfied customers.
WiserNotify comes first because social proof is the greatest way to gain customers' trust. You can see the benefits of using WiserNotify.
Grab Appsumo's lifelong discount on WiserNotify right away!