Proving the fact that one boring marketing video or a third-party video can hold you back in a manner that will adversely impact the business world. And you are looking for a change, a better option that will help you, in the long run, meet VidTags' lifetime deal.
Once Davis Meerman Scott said – "You can buy attention (advertising). You can beg for attention from the media (PR). You can bug people one at a time to get attention (sales). Or you can earn attention by creating something interesting and valuable and then publishing it online for free."
Instead of just showing the product on the customer's horizon, use something which will not only create an awesome video but also publish it, let it distribute, or manage the video and its responses.
A new video hosting and marketing platform which is working to leverage AI technology so that you can get more views, longer watch time, better engagements, and sales. A platform full of features such as mitigating, deep tags, and transcribing, we believe Vidtages will bring revolution to the world of videos.
If you want to import videos from zoon, youtube or want to translate existing AV files into 35 languages, Vidtags welcomes you with a full heart. This is just the beginning. There is so much more yet to discover about this amazing Vidtags lifetime deal.
TL;DR;
Lets you import the video from Zoom, Youtube, Facebook, Dropbox, or any of the computers.
Easily translate the AV files into 35+ languages with a click.
Used to generate AI-powered human audio with the help of text, audio-to-text, or blog posts and makes it searchable.
Can be considered the best alternative to rev.
Works as the best platform for content creators, online coaches, and marketing agencies.
Lets you customize your marketing video and audio players without any designs or coding skills.
Get More Views and Engagement with Vidtags
Use Vidtags to host your videos and get more views and engagement. This video marketing platform is packed with features that you need to get more eyes on your videos.
Get VidTags LTD
About the VidTags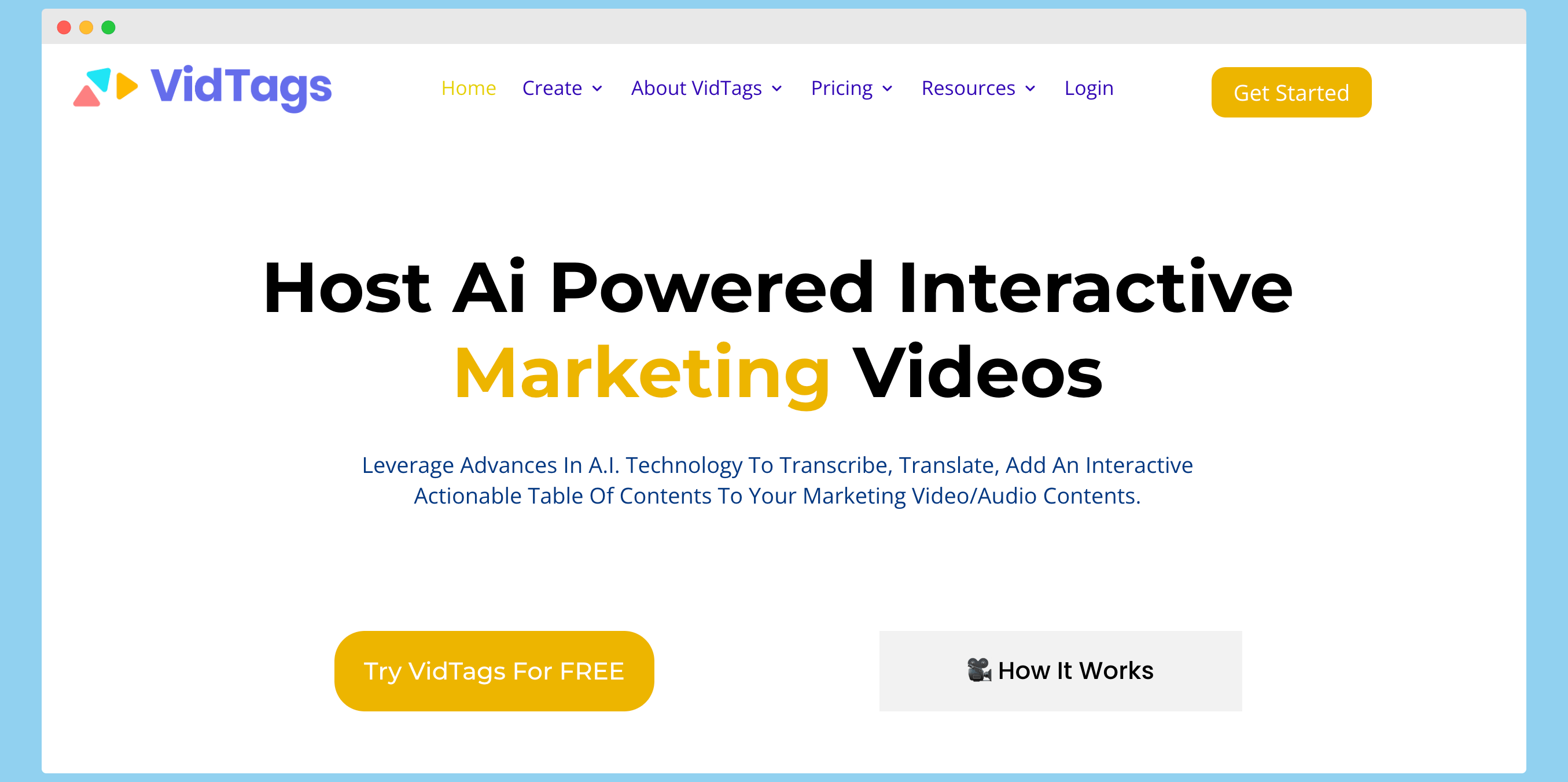 Vidtags is one name, but the work is limitless. In terms of visuals, this platform works as perfection. So basically, Vidtags is a virtual and advanced platform that uses the power of AI for transcribing, translating, and doing more work in marketing video, audio, and similar content. By leveraging the new technology, it adds an interactive, actionable table of content to your visual marketing content.
Adding up to the list, there are tons of work that you can perform here. Now the stress for the spurs of the videos is ended here as tags will let the user import the videos from many other websites such as Facebook, zoom, and your computer.
You are only one step away because copying and pasting the URL of any videos will let you download the transcripts. Similarly, it offers the embed on websites so that you can use one one-click video sharing to social platforms for free traffic. That means it gets hosted for you to prevent all the distractions and commercialization you get from other video hosting services.
Similarly, summing up the list adds up other amazing features of the platform. I bet this next tool will impress you. With the assistance of Vidtags, consumers will be able to index, organize and create an interactive actionable table of contents (iAToC) for every segment and talking point of your entire AV library in minutes.
The language barrier is mannered on the platform. That is, the new browser language detector can allow the viewers to see your videos in their default language first, making it a reliable platform more than anything else.
What Makes the Vidtags Worth It?
Vidtags is more than a video-generating platform. From start to end, it promises to manage the overall audio and visuals, leverage the content in terms of audio, and automate the content on your website within a few steps.
Trusted by some big platforms all over the world, Vidtags offers some incredible functionalities making it a not to miss opportunity.
Lets you create an interactive, actionable table of contents for your ideas and audio.
Can transcribe your videos and audio and make your content searchable.
Your viewer can now search any point of the video or any audio and start watching from that.
Lets you translate and have your video content in more than 35 different languages.
Conery, any blog post to audio in a few click
Embed your content on the platform on your website without any technical skills in coding.
Let you download your video, audio, and transcript with a click
Can extract real-time analytics and find out who exactly is watching your videos and where they are from and such types of data.
Including various other features, Vidtags makes it easy for consumers to leverage all the tasks in terms of video. What you can do with this platform is limitless, making it a need for the time.
Reviews from the Users
Vidtags is trusted by many big companies and businesses, making it one of the most wanted platforms of the time. Companies such as Quantum multiverse, Makeapp, and Mint cast have been using this deal for optimizing their audio and visuals works which made it gain many reviews all around the world, such as;
Great product at a competitive price
Great tool and lot of use case
It is an excellent software for tagging videos and ranking videos, good for video marketing.
Another brilliant SaaS by a smart team, Interactive hosting for videos, audio, and translation
An incredible way to get my customers to get the ideas found faster without getting distracted.
Hosting the videos and audio, finding them by filters, and pinpointing them as er need had never been this easy with the help of the platform Vidtags. No doubt about the interaction skill with this platform.
Features of VidTags
Vidtags is full of tools, pros, and, more than that, surprises!
There is so much that we can do with this platform, more than just a hosting and translating platform. It is a virtual manager of your business. With these mentioned features below, vidtags is successful enough to make its name in the digital world.
Translate and Render Into 35 Languages

Since the language barrier has been creating a big issue in the meantime while working with any kind of platform, people need the website in their native language. But with the new platform Vidtags, users, within a few clicks, will be able to generate or translate your content, such as audio and video, in more than 35 languages. Rendering is possible as well.
To carry out this, you will need the URL of any youtube video. So first, go to the youtube video you want to translate and copy that to the dashboard of Vidtags. Here are two possible options; one is to allow the AI to detect the language of the video, or another is that we can ownself select the language drop-down list.
If you go with the AI to detect the language, then select the youtube option and paste the link to fetch, and import the video to the platform. It depends on the size of the video and how much time it takes for rendering. And within a few clicks, you will get the desired results.
Similarly, you can also select the language of the blog posts you want to render. You must select the model of the voice, speech pitch type, and volume, and in the desired language, you will get the outcomes as per your need.
Create Chapters in the form of Tags
Another prominent feature of the platform is the enhancement of our background. Vidtags created the chapters in the form of tags, and now we can also see the video transcriptions here. With the power of AI, this process is quite simple.
At first, the user will need to add any content or idea to the gallery category, which can be created easily. Then customize your video if you need to. You will notice the app fetching the video title, meta description, and information for us.
If you will make your idea public, you can witness the platform indexing the content in the search engines and can now share your URL. Now with the different titles and tags, the platform will filter will content.
Text to Speech
VidTags are attached to the power system, which offers the most useful feature of the time. That is, it uses a groundbreaking interactive AI-powered voiceover and text-to-speech with the voice built in like the humans.
Using smart text-to-speech technology gives the voice to many sections and fields and makes the content much more interactive, such as;
Sales ideos
Podcast translation
Audiobooks
Training guides
Video explainer
There are more than 190 voices collections in 35 languages to select from. All these sounds are so uniquely tailored so that it meets the need of the content. Consumers have been impressed by this feature as these sounds are like the touch of human emotions in every aspect.
Additional Features
Many other additional features enhance the user experience in this amazing VidTags Lifetime deal. Starting off the list, users will be able to download the video, audio, or any kind of transcript with some clicks. You can also choose a format such as Doc, HTML, and text.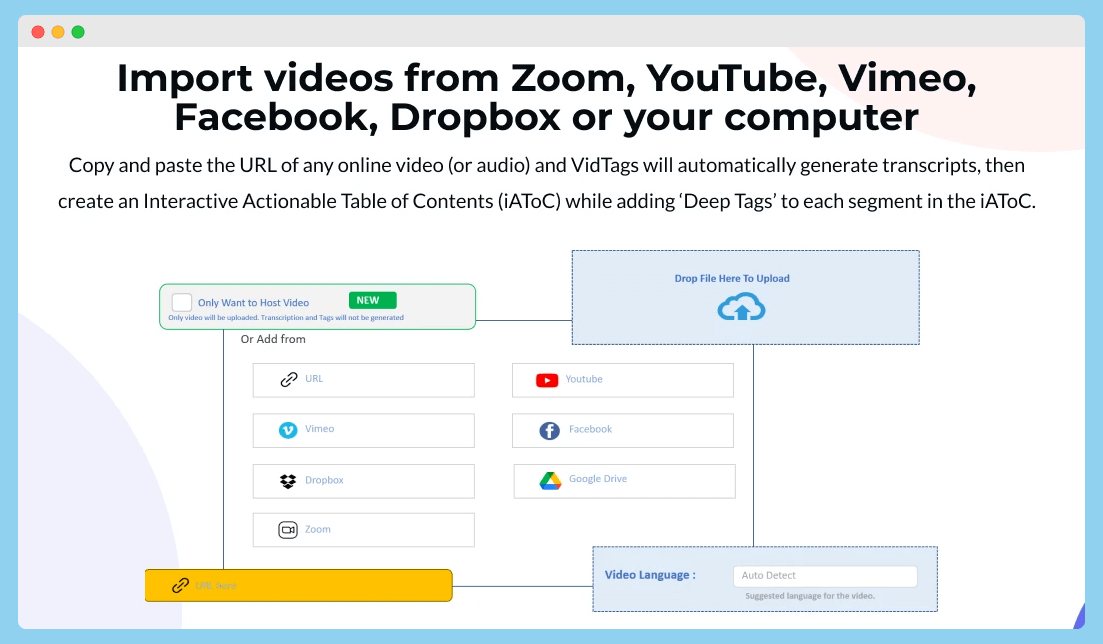 Similarly, getting real-time analytics is getting easy with the platform. After login into the website, you can also find out who exactly is watching your videos, the location of the viewers, and find out for how long they are watching. And to grow the interaction among those, the platform will let you create a collection of videos and podcast pages.
The series of amazing features is neverending. There is so much more. For example, Vidtags will let the viewers react to your video along with the share and download option. But there will be some restrictions that you, as an owner, will be able to control. Don't forget that you are only one click away from sharing any videos or audio directly on platforms such as Facebook, Twitter, etc.
VidTags Lifetime Deal – Plan & Pricing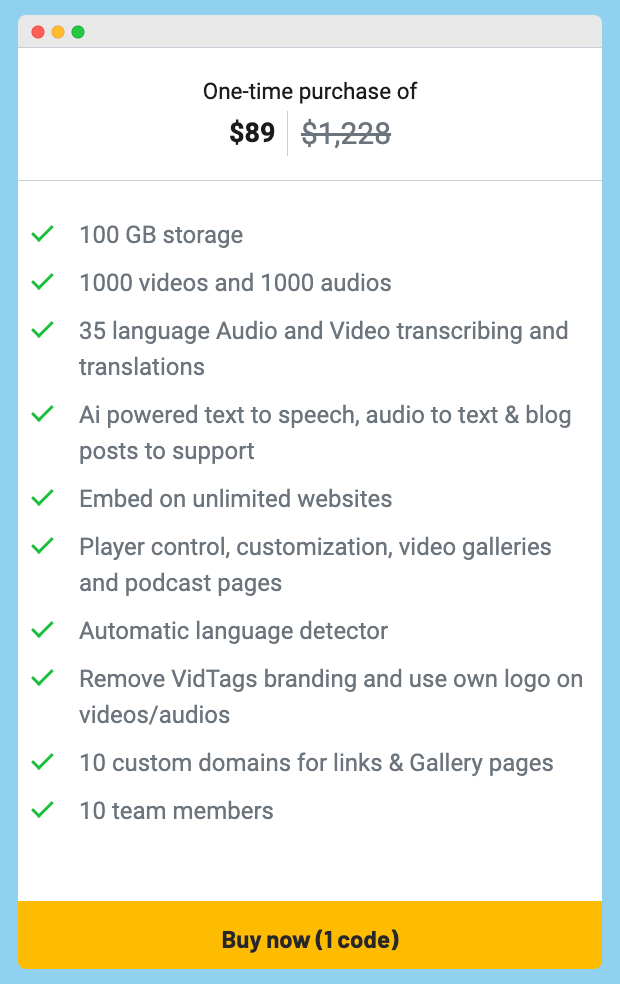 Before buying this deal, you must know that the version we are talking about in this article is all about the exclusive version of the Vidtags, which is only available to the plus members of Appsumo. This is the reason the price of this deal has been reduced to 15%, and one will be given all the awesome new features.
But before studying the pricing of the deal, it is crucial to know the terms by which you will be purchasing the deal. They are mentioned below :
In the pus exclusive plan, the user will get lifetime access to the vidtags lifetime deal.
Redeeming of code should be done within 60 days, or the purchase
After the subscription, all plans and updates are properly ensured.
In case of any second thoughts, you can always have your money back within 2 months of purchase.
Including these deals, there are many other factors to be considered while buying a plan. Since there is only one license available, make sure to understand it properly before making any kind of decision.
Vidtags LTD Plan
Vidtags is the owner of the only plan through appsumo, and its amazing offer is available for customers to buy for only $59. Before, it was available for $1220 but is now back with this budget-friendly price with such a discount. Just because the price is reduced doesn't mean the features are limited here. Users are ensured with every feature available in the platform.
What impresses us is the availability of 100 GB of storage for managing up to 1000 videos and 100 audio without any kind of distraction. Similarly, using 3 Langues make it easy for people with a versatile region. Users will be promised advanced AI-powered text-to-speech and audio-to-text support. Many other same features are making this deal imaginable.
Stacking can be done in 3 ways. One is that you will be able to stack 2 codes for updating to the platinum plan, which impresses the storage to 300GB along with other pros. Furthermore, stacks 1 and 2, along with codes, again improve the features and benefits that come with the deal. This is not only the most affordable deal but also the most convenient one, which is why Vidtags has become the ideal option for you.
Features in the plan
AI-powered text-to-speech, audio to text and blog posts to support
Embed on the unlimited websites
Player control, customization, video galleries, and podcast pages
Automatic language detector
Remove the branding and use your logo on the content
10 team members
10 custom domains for links and gallery pages
Future Plans & Updates
The founder and Creator of this Vistags Ltd have announced to us the new updates and tools that users will be able to experience now. Let's find out what they are:
Can edit, match and sync your default and translated video timing
Video embedded restrictions
Add other languages' close captions to your video
Fetch youtube videos sites, tags, and descriptions
Generate the RSS feeds.
Google indexing and search engine restriction.
Wrapping Up!
It is already 2023! Sitting in front of a desk for optimizing your videos and audio and hosting them on your own! Or hiring a professional to do some repetitive tasks!
These do sound depressing and well as time-consuming. But with the introduction of Vidtags in the market, now users don't need to sit and watch hours-long videos just to watch 1 or 2 things specifically.
The new and incredible video and audio hosting platform have been helping with ligating, deep tagging, searching, transcribing, and translating the contents. Businesses are growing exponentially with Vidtags as businesses are getting more reach from viewers, clients, and customers.
Die more into the platform and see how much you will benefit from its incredible and mind-blowing features. This a perfect example of Interaction, better engagements, and leveraging!
Applause for Vidtags Lifetime deal!