We live in a time where one well-made video can generate immense social media followings. This shows how much impact good videos have on your businesses and social media. So to have an application primarily focused on expanding by managing, distributing, and growing with high-quality HD videos without Ads is becoming a must.
But didn't this sound impossible and tough, as you will need a platform that will be able to record, upload and manage all the videos and distribute them within servers? But with the growing AI and programmers in the field, all this has become possible!
Meet Vadootv!
Sounds new! An ad-free video hosting platform with customizable players and tools will eventually lead to growing your audience. With the additional landing pages, players, and chapters, this platform is becoming new for the time being.
That's it? A video automating software! No Vadootv goes beyond that. Let's find out how!
TL;DR;
Let you record, manage and grow with videos
Works best for the creators, businesses, and brands
Hosts manage and share your videos without any ads
Secure your videos with industry-standard security ideos
The best alternative to Vimeo
The best Video Hosting and Marketing Platform for Creators
Creators looking to take their business to the next level can use Vadoo.tv to host and market their videos. In the world of online video, it has all the features you need.
Get VadooTV LTD
About the Vadootv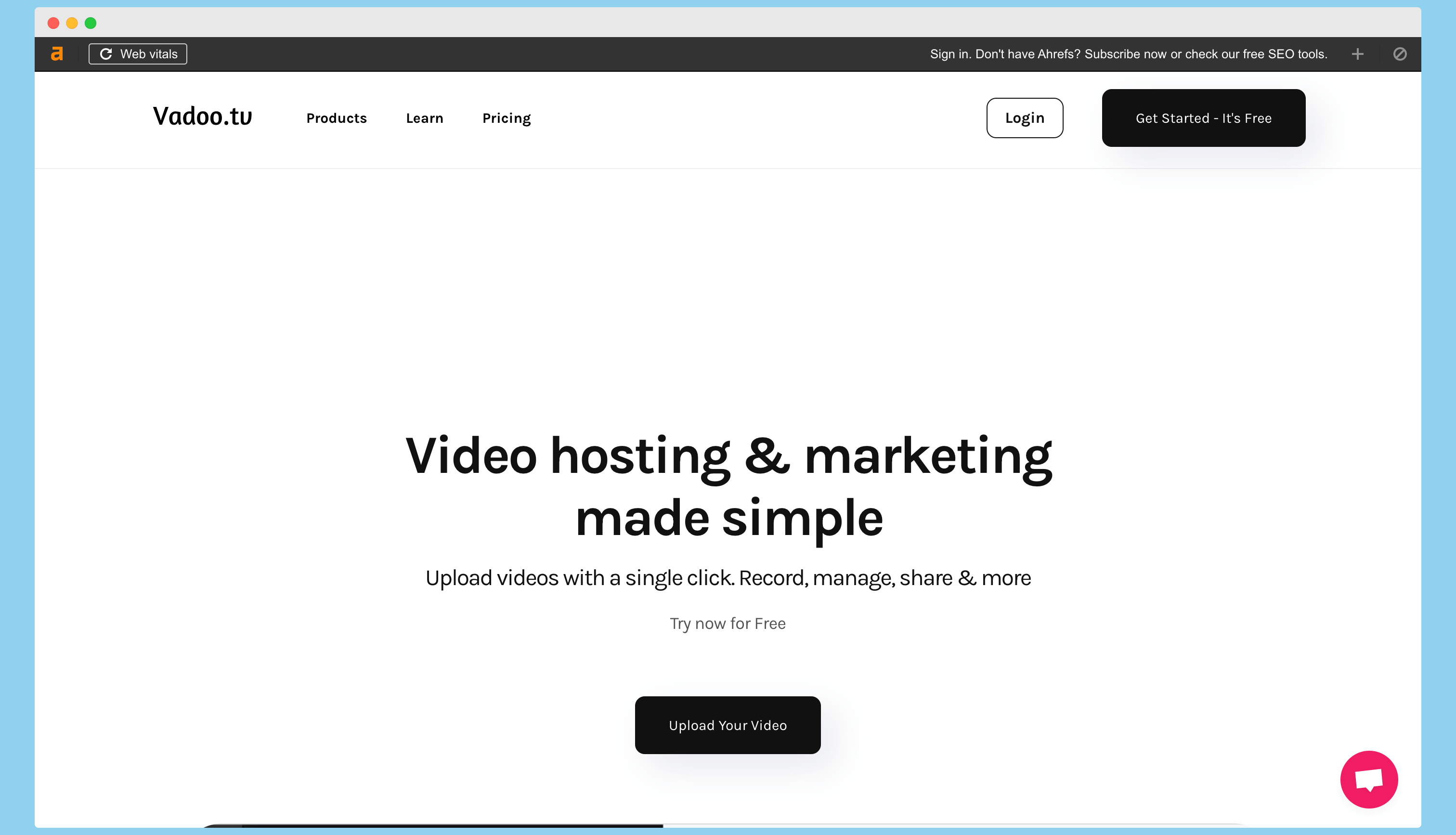 Vadootv is an ad-free video hosting platform with a customized player that helps you boost your audience. But it doesn't stop there! The incredible reliability in terms of videos expands when this adopts lifetime deals allowing the user to record and host their own ad-free videos on a secured cloud and help it deliver through the high-speed CDNs.
Similarly, known for being the alternative to Loom, this platform lets the users customize the player to match the brands and the collection of leads. What impressed the most is it adds the CTAs to enhance the conversion.
Vadootv is the best tool if you are someone engaged in marketing, sales, and content creation who wants to create and share their creativity in terms of lightning-fast videos without any ads. One can also join the various community based on their fields, such as marketers, artists, and many other professionals, and grow your audience.
Hence, in brief, Vadootv is a social platform for every demand in terms of visuals and puts the user experience and satisfaction at their peak.
What are the benefits of Vadootv?
Vadootv Lifetime deal is a platform that is spread across multiple countries for the sake of the business running over all the world by increasing their interaction as well as their time saying.
There are some fantastic benefits we can enjoy. Whether it is about the creation of a video or using many required templates, this vadootv Lifetime deal is making it easier. In a similar way, many such benefits make it a not to miss deal which is encapsulated below:
Lets you record and upload your video, encode ad distribute them among the servers
Available in more than 180 countries
Protect and secure your videos with the help of industry-based security features.
Can market your content with the help of CTAs, polls, and quizzes, which are embedded in your video player.
You can either use the custom landing page
Best product for educators, trainers, creators, communities, and content creators.
Owner of 4.7 starts in G2 and 4.8 stars in capterra, vadootv has been impressing hundreds of users with its amazing satisfactory consumer tools and easy-to-use design. With all these incredible usage and tools, I bet there is anyone who wants to miss this fantastic vadootv lifetime deal.
Message from the Founder
Vadootv lifetime deal can be regarded as the best intention of the founders themselves. They made people aware that it was created for the single notion, which is "Helping small businesses and creators grow their reach with videos."
Studying the different tools in the markets, they tried to make something that would let the user record, effectively manage, freely distribute videos and analyze the videos to know how they are performing. They tried to include some features in this tool to make it perfect. Those were:
Ideally made for marketers, team communications, and educators
High-speed playback through fast CDM
Ai-powered recording tool
video management with multiple users and projects
video integration in email, website, and social media
Domain security and encryption
Customized landing page
And many more!
All these features are ensured by the founders, and want all to know that they will always be working to make this platform better for you all and will always be open to any kind of comments and suggestions.
Features of Vadootv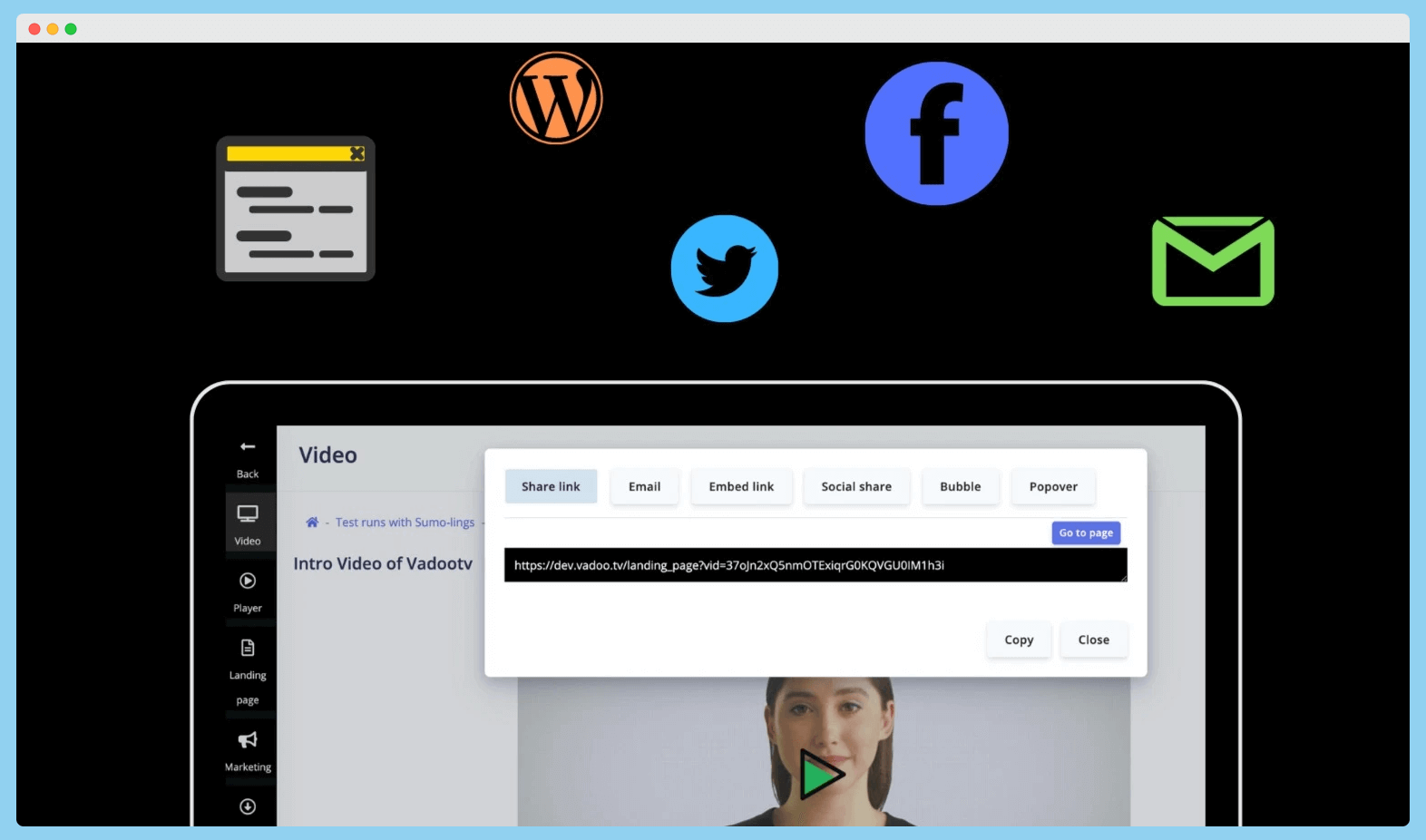 I'm not sure if Vadootv has any limits in terms of audio and video. There are a number of features on this platform, all of which are geared toward enhancing your experience:
High-speed video hosting
Screen Recorder
Podcast hosting and player
HLS encryption and domain-level security
video channels and bubbles
And many more. With all these features, the engagement and the ranking of our business are becoming higher and higher. There are many additional features of this platform that aren't covered here; however, don't worry because we've compiled a thorough list of all the features below.
Domain Mapping
One of the most crucial features of the Vadootv is the allowance of domain mapping. Here the platform lets the user use their web domain instead of the default one, which is API.vadoo.tv With the help of domain mapping, users will get the benefits such as improved internet search rankings and SEOs.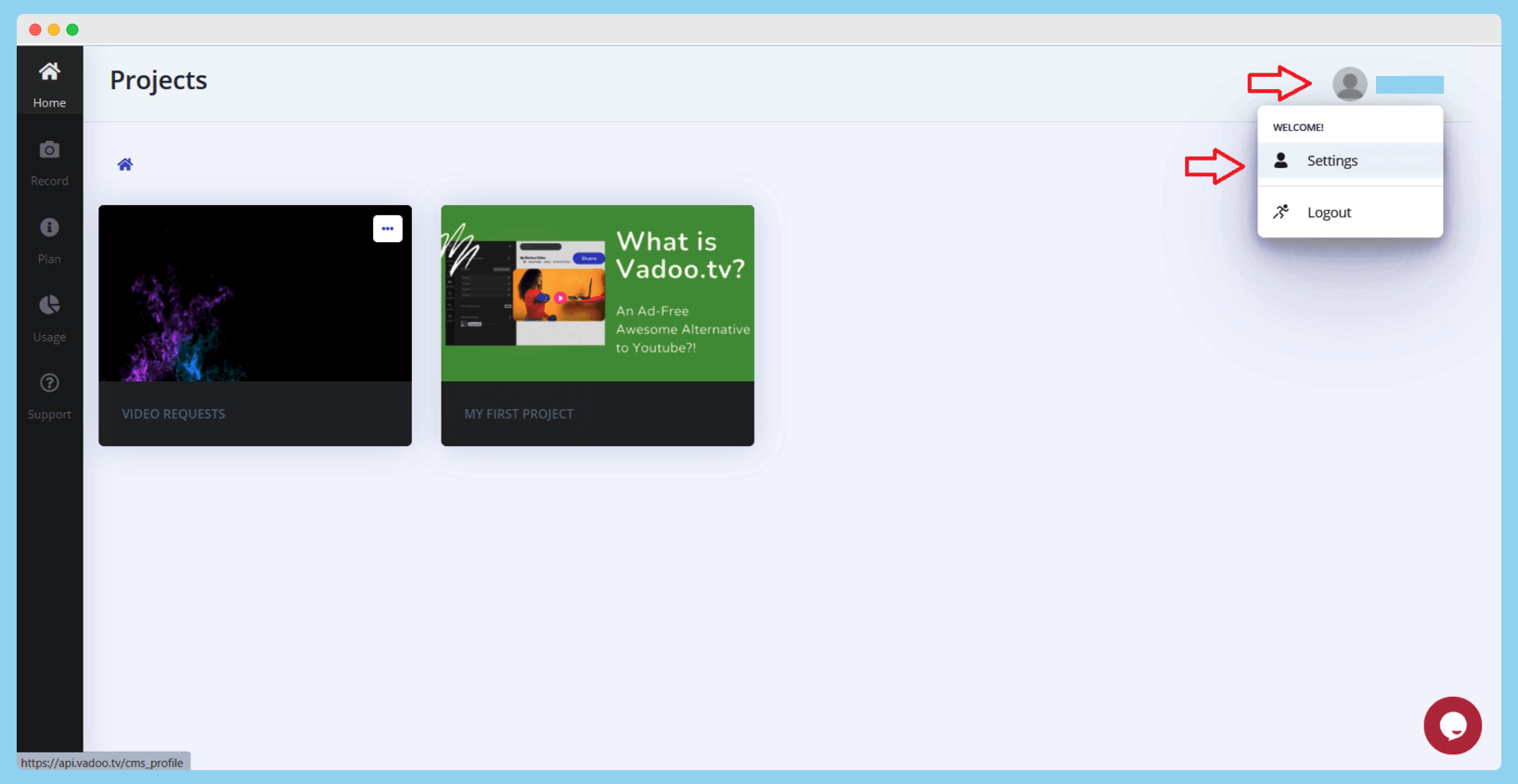 The process is quite simple. For this, you will need to set up the CNAME. Remember, you will need a domain of your own. For settings, you will need to go to these settings that is video.yourdomain.com.
Now open the dashboard of Vadootv and go to the profile icon and settings. Now switch to the domain section in your account domain and add the name for your custom domain. Now, wait for 24 hours to complete the propagation.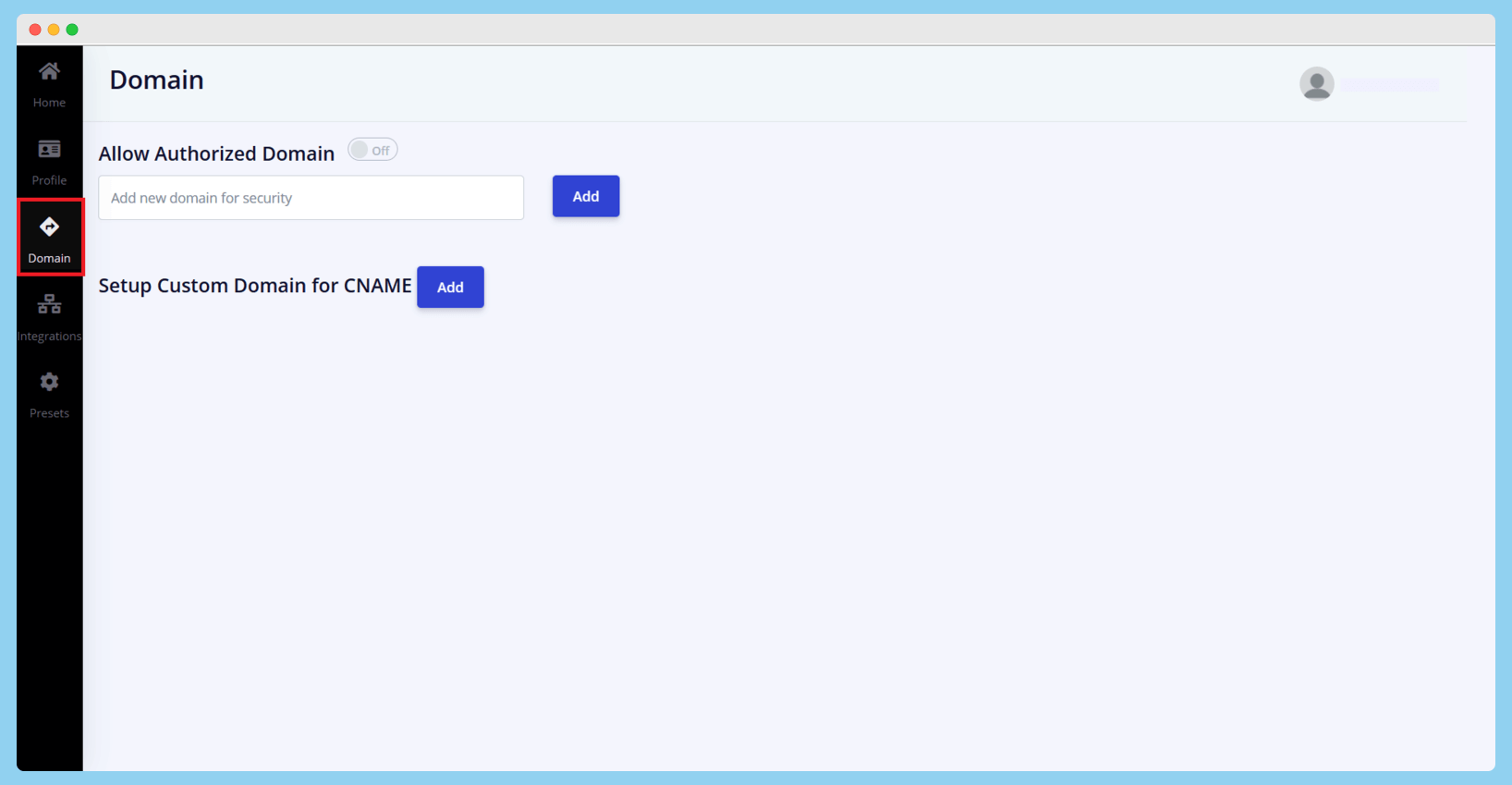 In this way, the following feature works, and now setting up the domain becomes relatively more straightforward with the platform.
Add and Request the Video Chapters
The most prominent and crucial feature of the platform is the addition and management of videos for the required work. Talking briefly about each of those, the first one is the addition of videos with the chapters. It doesn't matter if you are an educator, trainer, or filmmaker. You can generate long-form content easier for viewers to navigate.
To set up the video chapters, go to the option named player at the video level and enable the chapter makers. Now click on the setup option. Then click on the added chapter and also the time you want the chapter to appear with the title. After clicking on the preview option, you will find the chapters which can also be made multiple.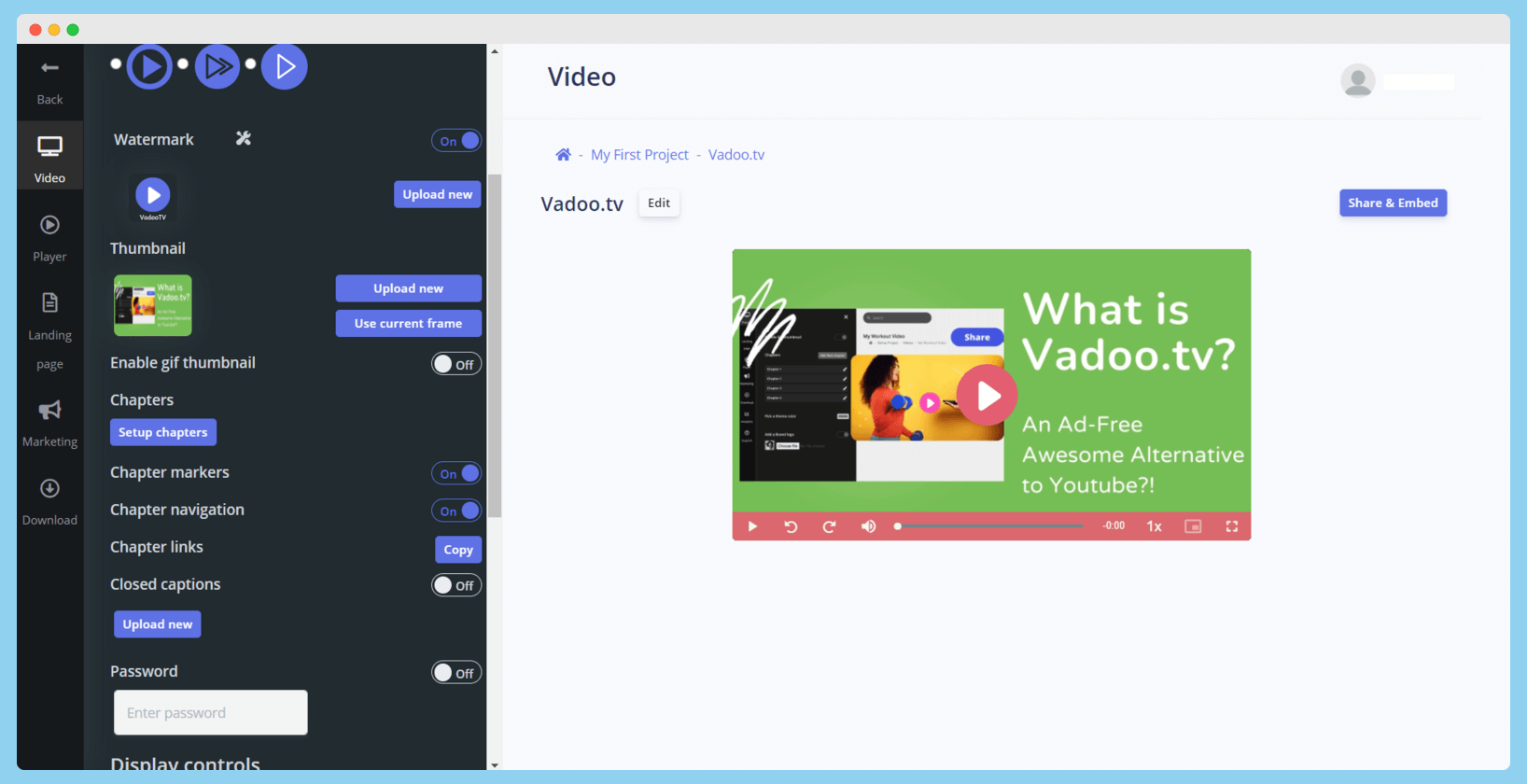 Similarly, You can also request the video on the platform. Vadootv's request feature allows you to request videos from the client and the users. You can easily get videos from customers, colleagues, and influencers with a simple link. It's very easy to set up. To begin, go to your profile and select the settings option on the left-hand sidebar.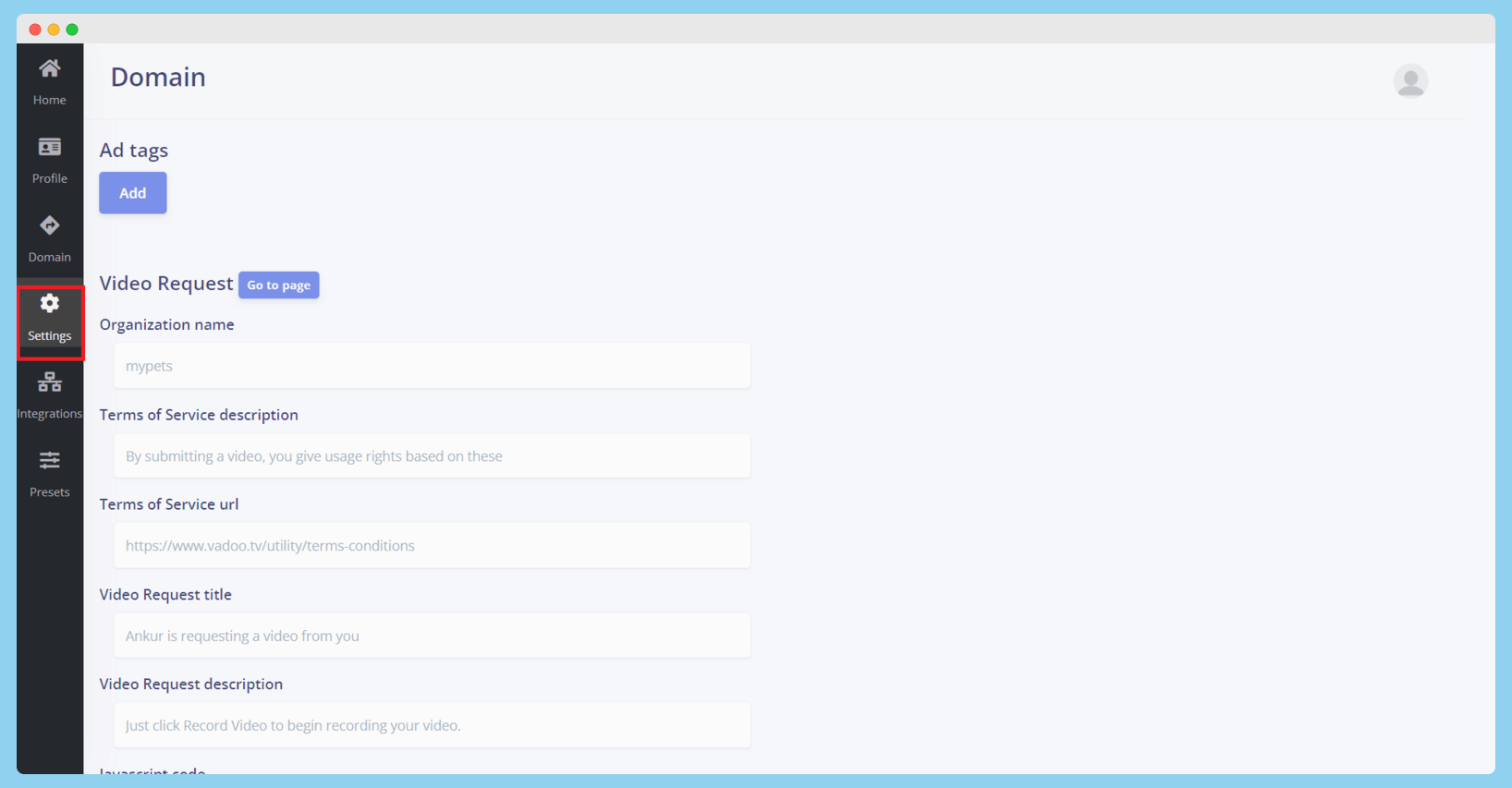 Now, fill in and edit the details which are required there and click on the "Go to page" button. Now share the link. Now you can easily record yourself or upload the video, and these are stored safely in the request section.
Easy Integration
One useful feature of the Vadootv lifetime deal is easy integration with many other platforms. Since after the project, we will need to publish it or spread it so doing that individually takes a lot of time which is why Vadootv has made it easier with its present feature. It is easily connected with various platforms such as Youtube, WordPress, zapier, and Pabby.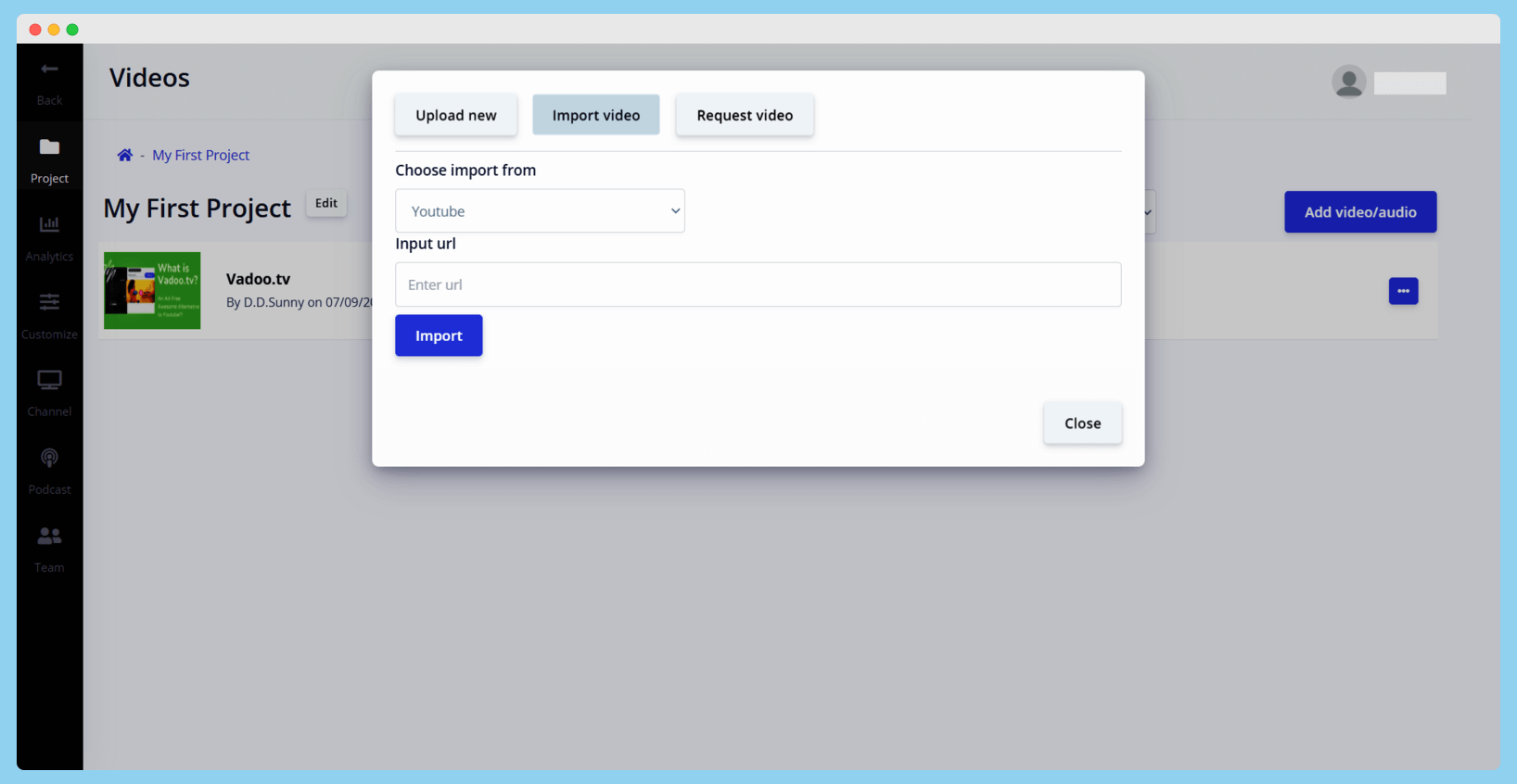 One crucial benefit is that one can easily import videos from youtube. To set up this, first, you will need to go to ADD VIDEO inside the project you have recently created and click on the Import Option. Now choose the option saying Choose import from Youtube, and after entering the URL, you will get the required video popped into your screen.
Similarly, in a few steps, you will be able to integrate your platform with WordPress. It is as simple as before.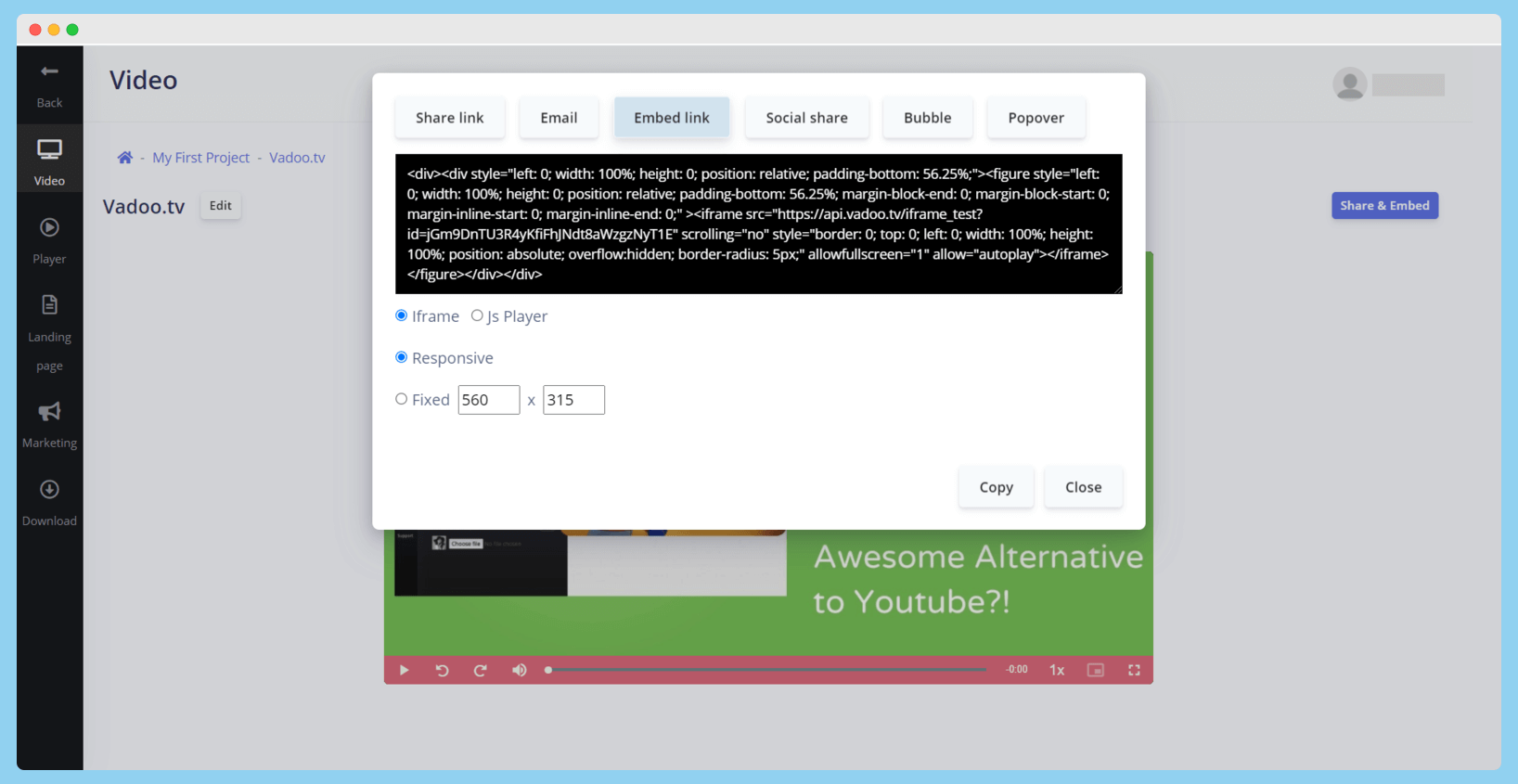 To activate this feature, first, you will need to click on the "Embed and Share" option. After getting the embed link, now add the custom HTML and place that code in the block. Finally, save and preview the link. You will see WordPress getting integrated with your Vadootv account.
The process is the same for the various other websites such as zapier. In the zapier, you will need to create a zap and select a webhook on it. Now after copying and testing the trigger, you will find your dashboard getting integrated with your zapier.
Video Security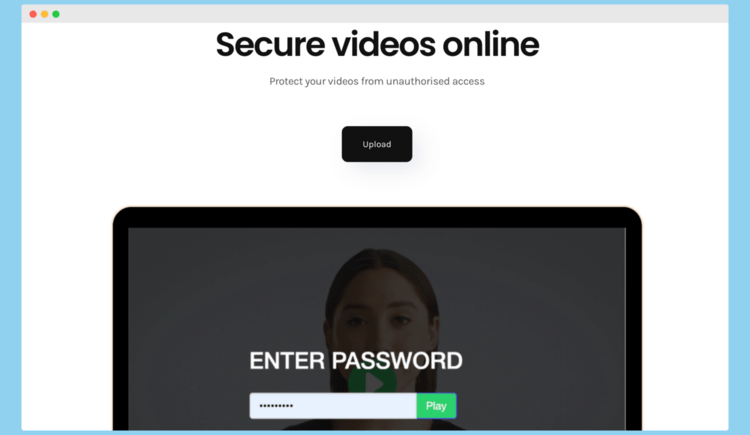 Another important factor is keeping your material secure from prying eyes and fraudulent spam on the internet. Vadootv understood it well. It uses several methods which ensure the security of our videos and content. To be precise, we can set up a password to protect our videos.
You can easily add the password to any video you want to secure. It is done by accessing the feature on the player option at the video level. First, add the password and enable the password protection option. As an owner, you can easily change and delete that password anytime.
Similarly, by using other tools such as domain-level security and Setting up HLS encryption, we can make our content and account secure with this fantastic platform named Vadootv lifetime deal.
Vadootv Lifetime Deal – Plan & Pricing
Owner of the only deal, you will get all of the features with a lot of editing tools for videos and a separate video player for your website. The exciting news is that it does not end here; you will also be getting some additional features that are incredible. But first, let's talk about the term and conditions of this deal.
Terms & Conditions of This Deal
User will have one year of full access to all the features and tools
One should redeem their code within 60 days of purchase
You will get updates from Vadootv lifetime deal for a year
Remember that this deal is not stackable
You can have your money back within 60 days of purchase.
Now that you know the basics of the term and conditions, let's take a closer look at the deal itself and see if it's right for you.
Vadootv LTD Plan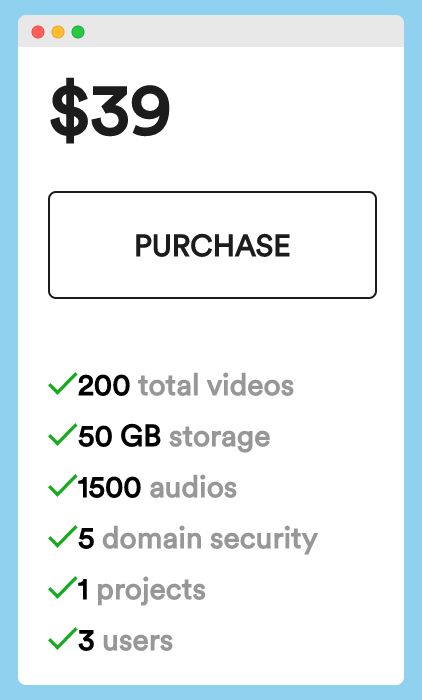 If we dive into the plan and pricing from the Vadootv appsumo deal, then there is the presence of only one license called tier 1. One of the most budget-friendly plans for only $ 39, you will have one year of full access to all the features and tools from Vadootv.
At first, this deal was available for $180, but due to appsumo, now this deal has become the most pocket-friendly one.
Since it is the only plan, it will be a one-time and perfect investment for you. Once you purchase this deal, you can have access to create an unlimited number of videos and audio without any additional charges.
Similarly, in this plan, only users can experience unlimited bandwidth and domain security. What allures the most of the users is its availability of a customizable video player and landing page. All these tools made this deal a must for the time.
If you are someone who wants to grow your engagement and traffic to the website through videos, then this deal would be an ideal choice for you.
✍Author's Note
Attention, please! The lifetime deal for the vadoo.tv player has now come to an end. If you wish to acquire this offer, you can buy its annual deal. However, don't wait since the price of this platform will rise shortly because of its amazing features and hype.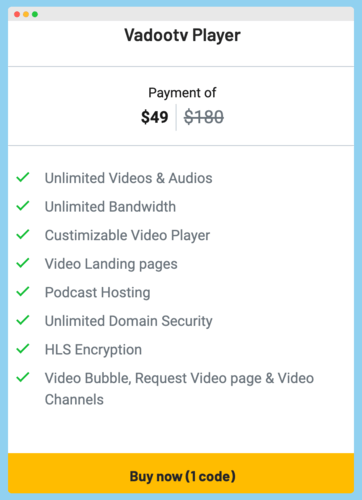 I know there is nothing better than a lifetime deal, but if you look, it's an annual plan of $49. It also has many other useful features, such as unlimited videos and audio, unlimited bandwidth, a customizable video player, and more. You will never feel that you are not getting your money's worth with this vadootv annual deal.
The standard plan of $49 per year is plenty for you because you will receive all of Vadoo.tv's normal updates over the course of a year with this plan. So, without any further ado, go and get your hands on this fantastic vadoo.tv annual deal. Thank me later!
Wrapping Up!
Secured hosting, High-speed CDN, and Fast play fast in one platform! All is possible because of this fantastic Vadootv lifetime deal!
One platform is full of pros only. Whether it is about generating high-quality HD videos and audio, leveraging them, recording, managing, and distributing them, our platform serves its hand in everything.
The cherry on top is its incredible templates and the automatic thumbnail generation, which saves a bunch of time so that we can invest in something crucial. Founders, along with this Vadootv lifetime deal, had owed to make the small business grow as much they could for success in the market.
This is why we get this incredible discovery to the market, Vadootv Lifetime Deal! Why wait? Go grab this golden opportunity!