Are you looking for the TruConversion lifetime deal? If yes, then this article is for you. TruConversion is a funnel tracking and optimization software; you can get its lifetime subscription at just $69.00, but currently, this deal is only available for AppSumo premium users.
One of the essential tools for any website is funnel tracking, whether big or small. It is a process of mapping your website's traffic at various steps to spot where you are losing your audience. Businesses use funnel analysis to optimize their user's experience and increase sales and revenue.
Its name is a website funnel due to its shape looks exactly like a physical funnel. That is, many visitors may visit your website or click on your ads, but as you go down the funnel, the volume of visitors starts decreasing; building a funnel helps you know the reason behind low conversation using the customer behavior on your website.
Suppose you have an eCommerce website; at the start, people visiting your website would be more. As you go down to the category page, product page, cart to the final check-out page, the volume of the audience keeps decreasing. This kind of data helps you understand each step of your website to make better changes.
One such great funnel tracking and analytic tool is TruConversion, about which we will be talking in this article. So, let's get started.
Analyze User Behavior with Heatmap
Keep track of every user behavior while they browse any web page. This heatmap tool will show you exactly what your visitors want and need right away.
Get TruConversion LTD
About TruConversion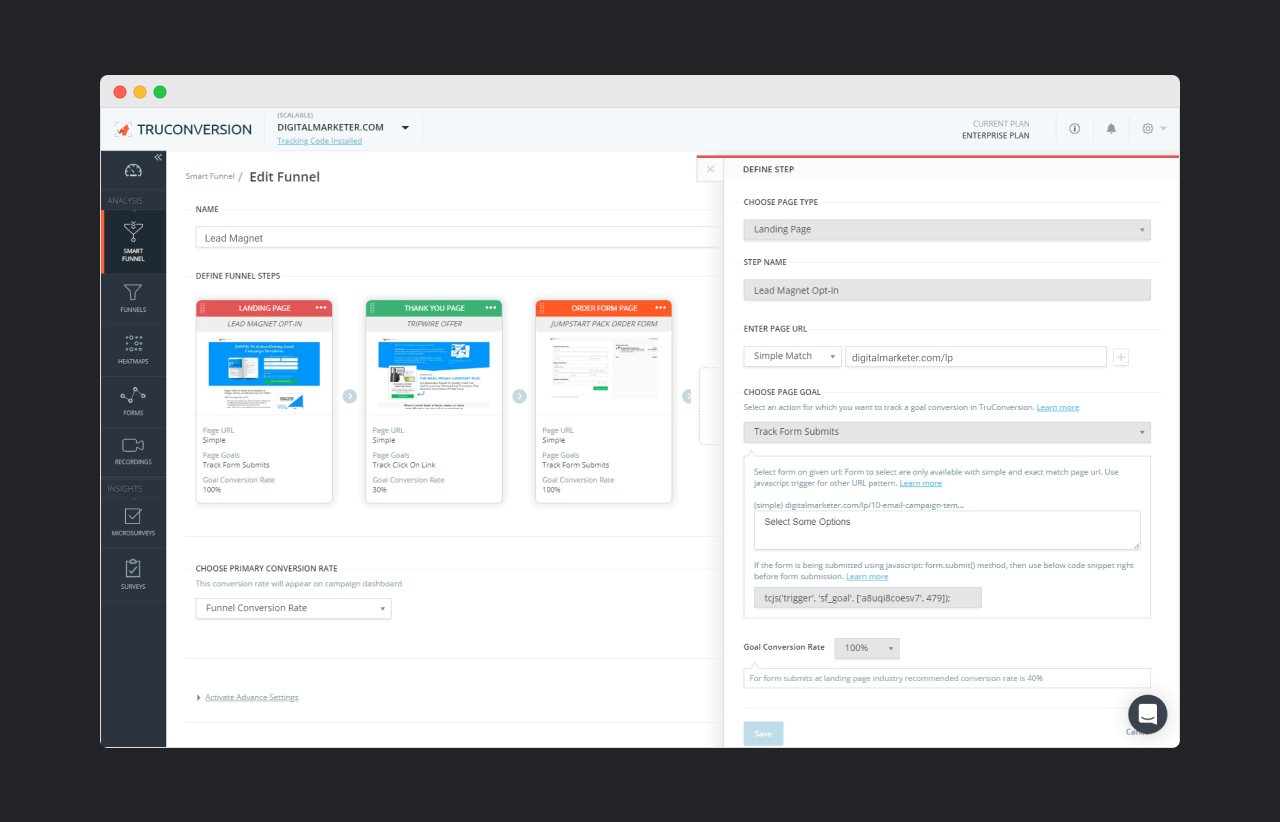 Complex analytics and spreadsheets can be a lot for many people. And if you are running a business, even if it is small, you want a tool that can provide you with a complete analysis of your marketing and is also simple to understand format. TruConversion does just that; it is an all-in-one funnel tracking and analytic software that easily tracks your marketing for better optimization.
It is the best software to optimize your sales and marketing by using its tools like heatmap, session recording, form analytics, and customer surveys. Using TruConversion, you can understand which strategies work for you and provide high converting rates.
In just a few simple clicks, you can track your funnels, set conversion benchmarks, and determine where improvement is needed. The best thing about smart funnel tracking is that you don't need to look at so many analytics and spreadsheets; they automatically monitor the funnels.
With TruConversion, you no longer need various tools and applications. It is an all-in-one software incorporated with many tools to provide you with a complete analysis of your marketing campaign and website visitors. This software's outstanding abilities make it an excellent choice for your business, and it has emerged to be a great alternative to HotJar and Funnelytics.
You must be thinking that the price of this great software will also be high, right? But what if we tell you that this is not the case. Yes, TruConversion is one of the most affordable software with so many excellent features and tools. Above all, with a TruConversion lifetime deal, you can enjoy its benefits for your whole life. Know about the lifetime deal of TruConversion further in this article.
Some of the most intriguing and useful features that TruConversion provide its users are:
Heatmaps to show where people are most interested in
Session recording to analyze customer behavior
Form fields reports that tell you all about the conversion rate, refill rates, and more.
Customer survey and micro-survey
and more outstanding features…
Features of TruConversion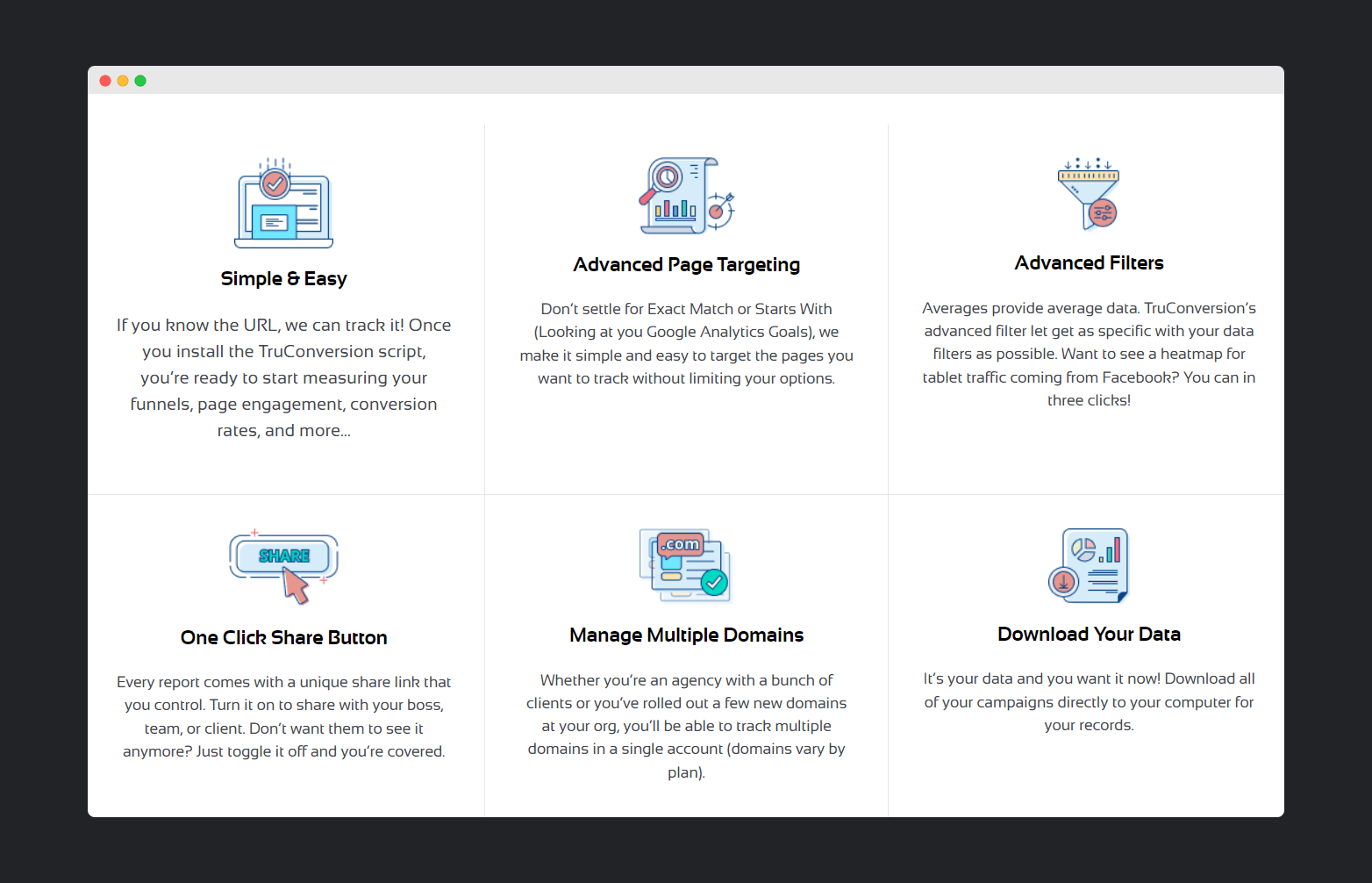 So now we know what TruConversion is; let's dig further into its features. We already know how this software benefits your business, and above all, it comes with reasonable pricing and an easy user interface. But the advantages and features of this funnel tracking software do not end here, and there is much more than that.
The smart funnels, recording, heat maps, and surveys further boost the credibility of TruConversion and make it more beneficial for your website. Let's know about all these features in detail one by one.
1. You Can Easily Track Your Funnel Using Smart Funnel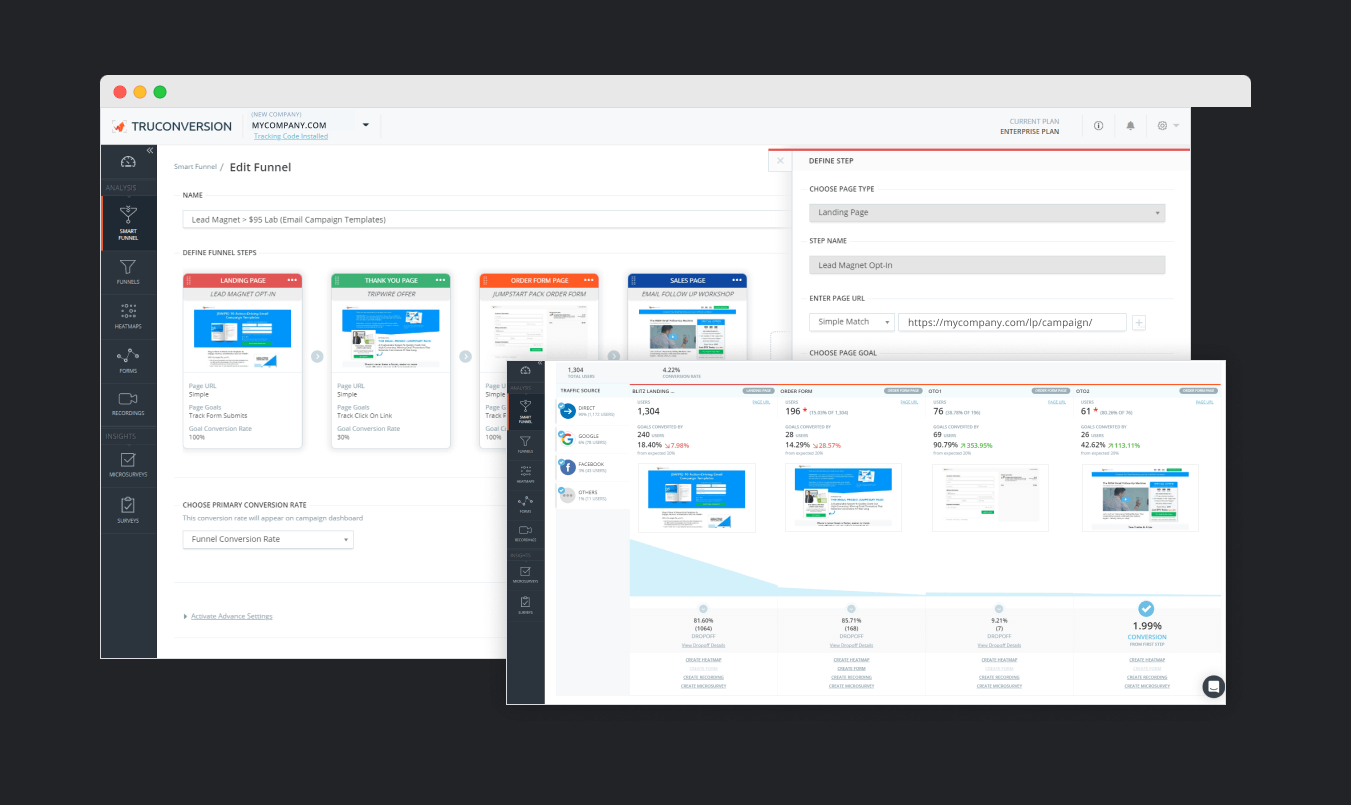 Smart funnel is one of the most outstanding features of TruConsersion. Doing marketing is difficult, and its analysis and optimization are much more hectic. But with Smart funnels, you easily get to know all about the conversion rate and performance of funnels. You don't have to put your time into Facebook's Ads Manager or Google Analytics anymore.
The Smart Funnels monitor the funnels and analyze the data to get better results. It gives you an insight into which of the marketing schemes is working for you and which is not. You can effortlessly set conversion benchmarks to know which area needs to be focused on. So, we can say without any doubt that Smart Funnels are just the better and smarter way to work and track your funnels.
2. See The Visitors Activity With Screen Recording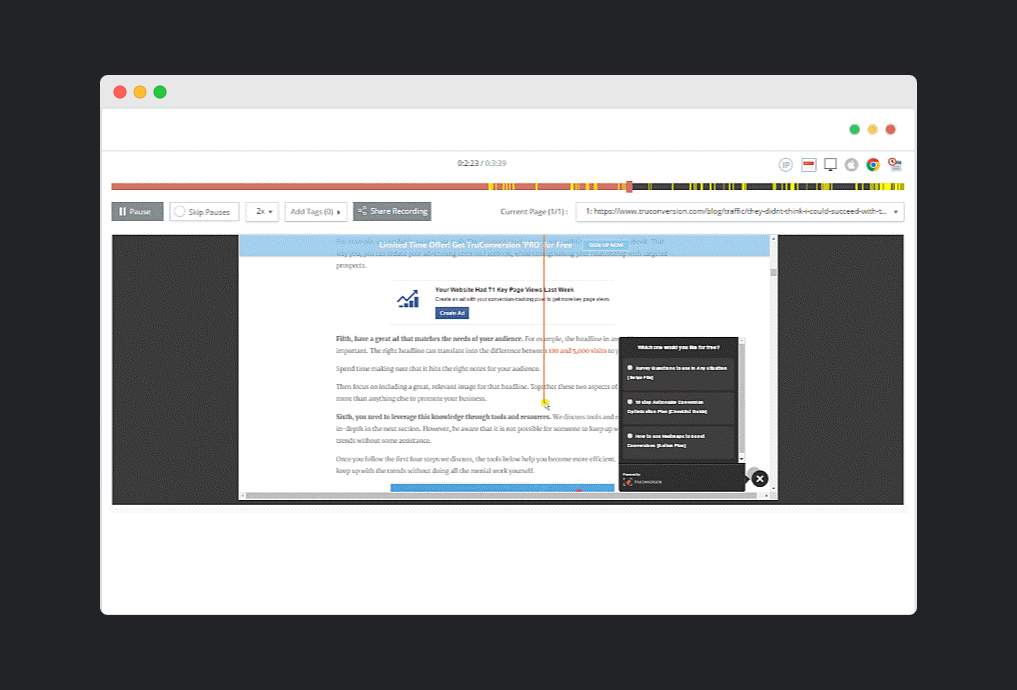 Isn't it exciting to think that you can watch your website through your user's eye? Now, what if we tell you that TruConversion allows its users to do so. The Screen Recording feature records the browsing journey of users, which you can watch. Through this, you can know exactly where your audience left without converting.
As per the page activity, you can set the recordings to trigger to cut down the volume and provide the most relevant analytics. These recording sessions let you analyze your customers' behavior to optimize your marketing campaign accordingly.
3. Monitor The Activity Using Heatmaps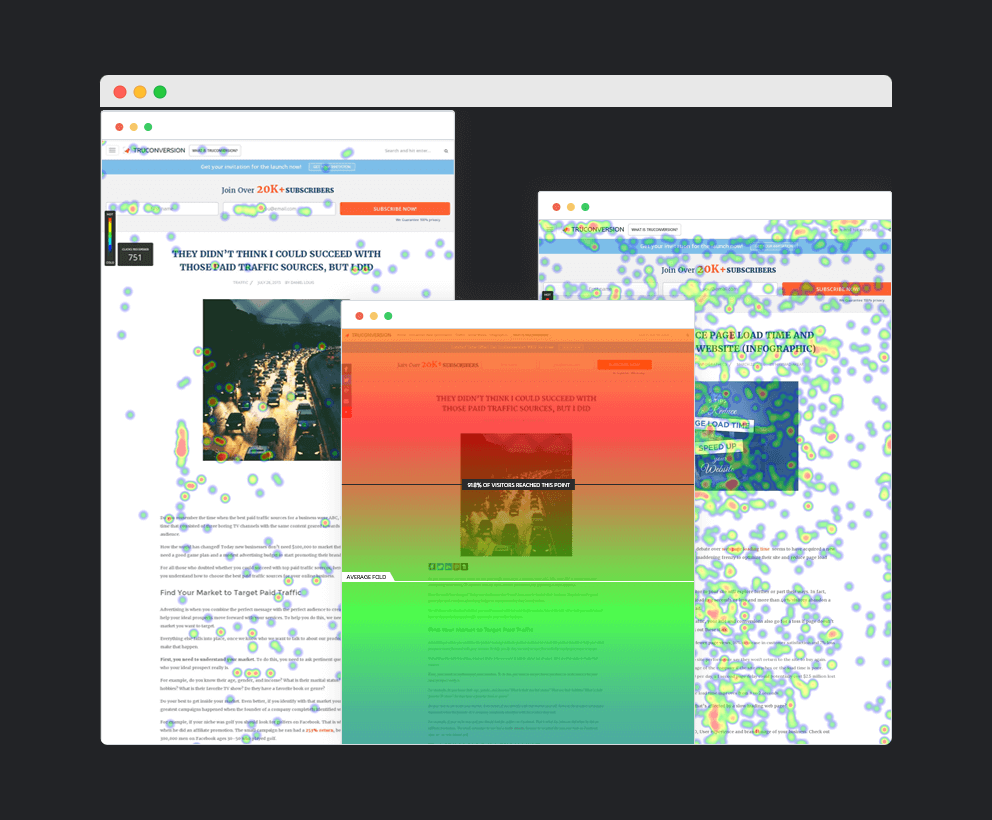 If you want to dig more into your customer's behavior, then TruConversion has another cool feature for you; Heatmaps. They show you where your customers click the most, scroll down, and let you know about the skipped sections.
This lets you know where to put your most important and intriguing content and call-in action button. You can combine heatmaps with smart funnels to get the data when it most matters. So, the heatmap is an excellent tool for your website and marketing campaigns.
4. Convert More Customers Using Form Interaction Data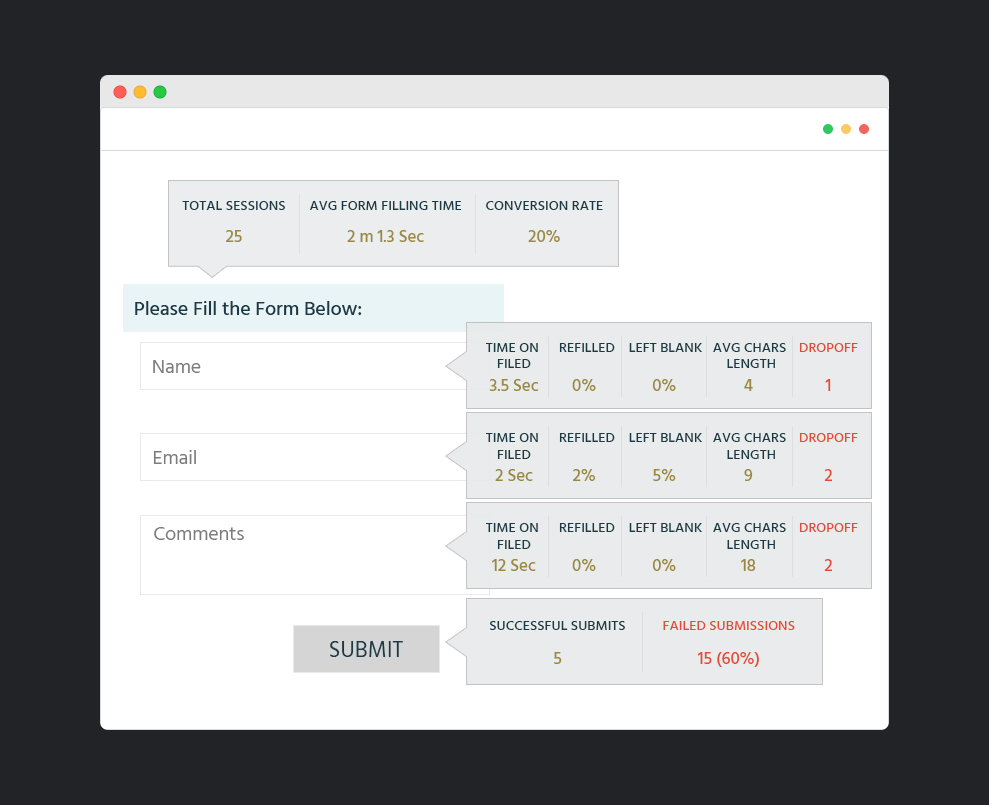 You can know which fields are filled most and what is causing your audience to leave through these forms. All the information on these reports is arranged to be easy and simple for you to read and understand. There is an option to filter the data to show results by device for more characterized insight.
Using this data, you can optimize forms on your website; if you doubt what is working for you and whatnot, this feature will eliminate all your doubts and provide clear analytics.
5. Get Quick Feedback Using Micro Surveys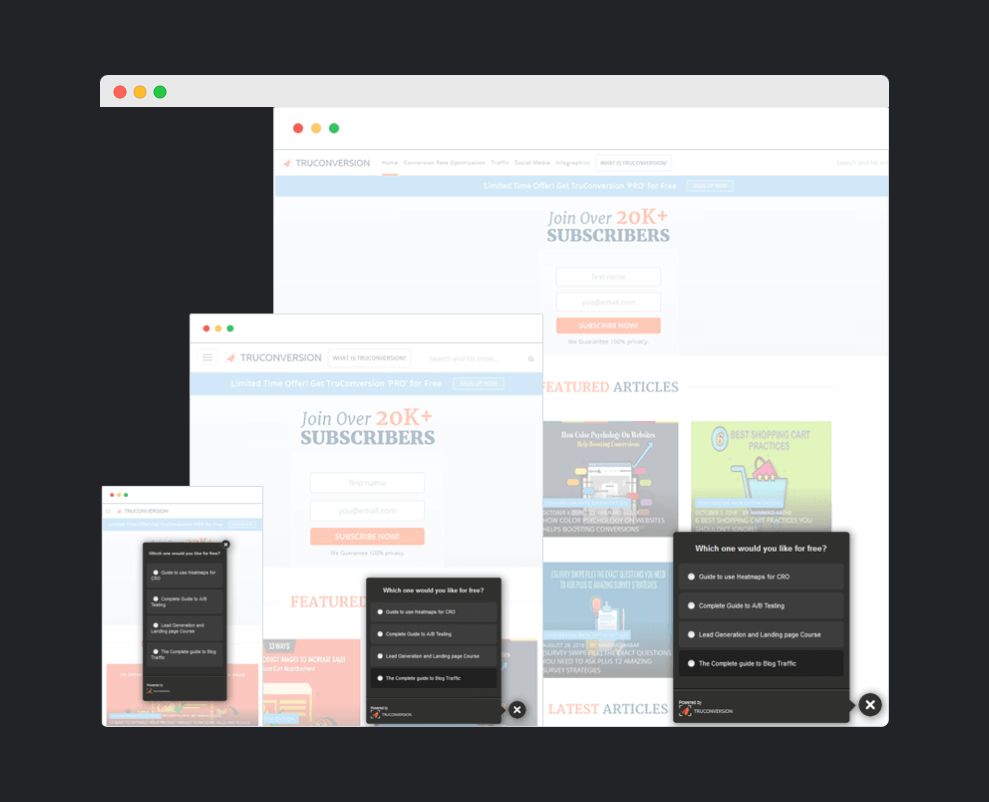 Long surveys are well and good, but most of the time, it has been seen that people usually skip that. So for that case, TruConversion provides Micro-survey features. It allows you to put simple polls and quick questions that can be answered in quick seconds. It has been found that people engage more with these kinds of surveys.
You can post the polls and questions anywhere on your site, following any action. So getting data and feedback straight from your customer provides you better analysis about your website, ads, or whatsoever.
6. Powerful Surveys Would Help You Discover Needs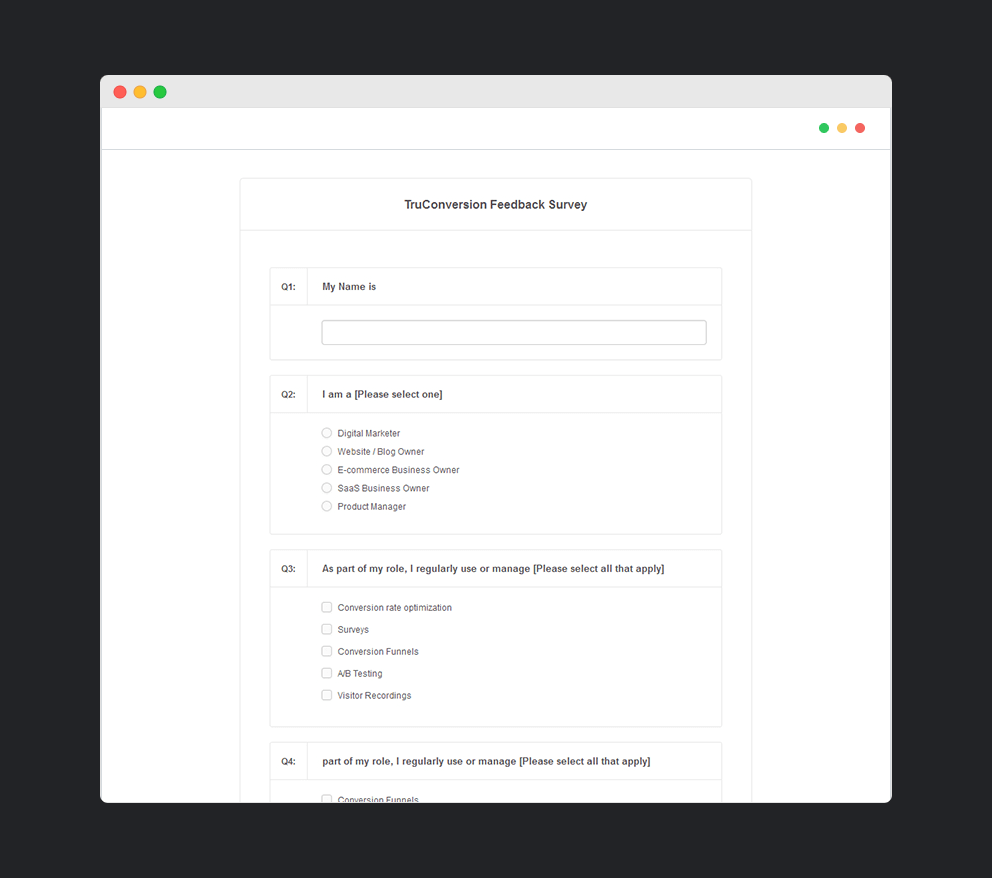 Coming to the next and an important feature essential for a better result; Surveys. It lets you know what your customers think about your service, and the surveys are important as it gives you alerts about your unhappy customers.
With this feature, you can discover your customers' needs and expectations and improve your service to provide them in a better way. With TruConversion, you can create attractive and elegant feedback survey forms.
So, all these features of TruConversion help its users better understand their customer's behavior and expectations. You can improve your marketing strategies and get better results using these data.
Plan and Pricing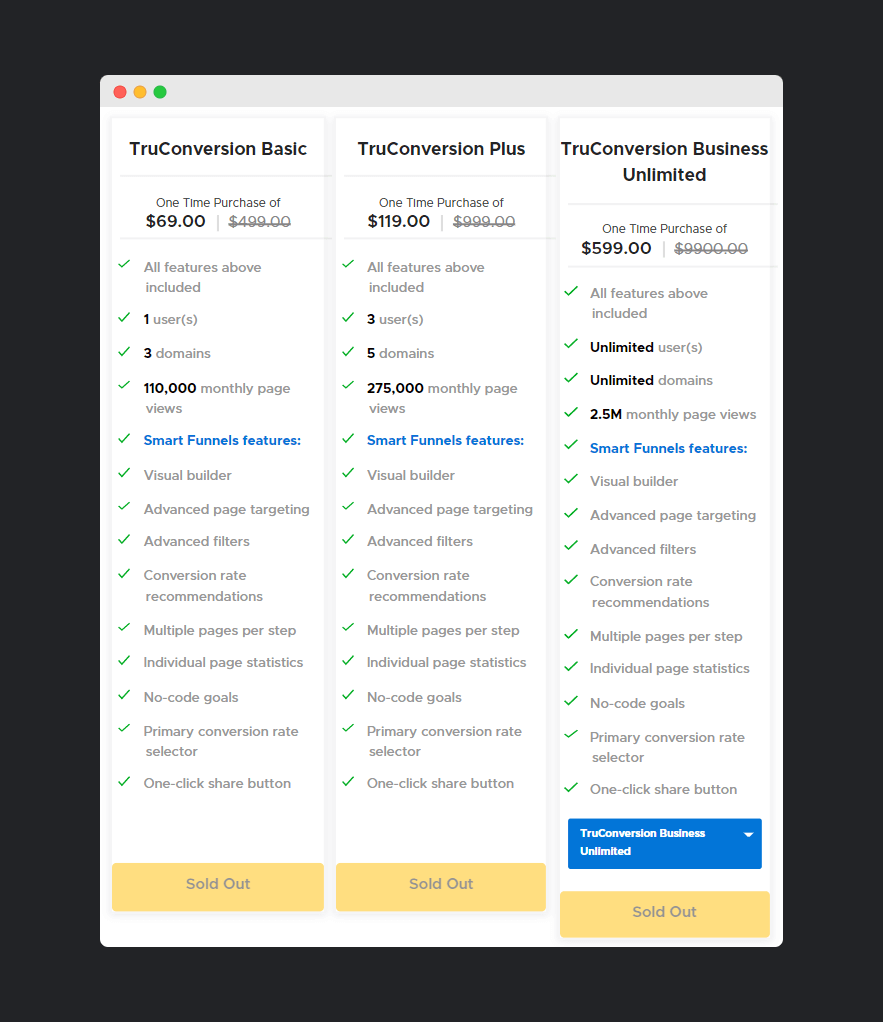 That was all about the features of TruConversion, and without any question, they are remarkable. The next part is the plans and pricing of this software. Three plans are available for the TruConversion lifetime deal; TruConversion Basic, Plus, and Pro.
If you don't know about the lifetime deal, let us tell you that with a single purchase of TruConversion, you can enjoy all its available features and upcoming ones too for your whole life. Isn't that great? So, let us know all about the three plans to help you decide which one to choose.
1. TruConversion Basic
TruConversion Basic is the first and basic lifetime deal plan, and it will cost you around $69, making it great for beginner marketing persons or small companies. You get to enjoy all the features of TruConversion that we have mentioned in this article.
Apart from that, you also get to enjoy Smart Funnel features like a visual builder, conversion rate recommendations, a one-click share button, multiple pages per step, and many more. With Basic Plan, you can integrate TruConversion on about three domains, and you can only create one user.
2. TruConversion Plus
Coming to the next TruConverstion LTD plan, that is, TruConversion Plus. You can purchase this plan for just $119, and the plan allows three users and five domains. With this plan, you can enjoy all the features of TruConversion like heatmaps, recording, micro-survey, and field forms.
There is no difference in features in the Basic and Plus plan; you will only get additional numbers of users, domain, and page views to use rather than that everything is the same. In the Plus plan, 275,000 monthly page views are available.
3. TruConversion Pro
TruConversion Pro is best for large companies and marketing teams; you will get about 20 users, 15 domains, and 750,000 monthly page views. The Pro plan also offers you all the features of TruConversion for a lifetime; there is no change in access to the feature.
TruConversion Pro plan, including Basic and Plus, comes with 60 days of money-back guarantee from AppSumo. If you are not satisfied with the TruConversion, you can ask for a refund.
All these plans are pretty good, as per your need and budget you can decide which one to choose. If you have any doubt, you can also try the free trial of TruConversion from its official website.
Note: For users with high requirements, two more plans are available, which are TruConversion Business and TruConversion Business Unlimited, which will cost you around $399 and $599 for a lifetime.
Frequently Asked Question (FAQs)
So, that was all that you should know about TruConversion, from its features to plan and pricing. If there is still some question, you can check the FAQs mentioned below to clear all your doubts.
1. Who Can Use TruConversion?
You don't have to be an expert to use a TruConversion, and it has a pretty simple user interface that provides easy-to-read and understanding analytics. So anyone with an online business and website can use TruConversion to track their funnels.
For marketing agencies and marketing managers, TruConversion is best. It gives you an insight into your marketing campaign's performance.
2. Why Should One Choose TruConversion?
TruConversion is, without a doubt, an ideal choice for you. It is designed so that all its tools like heatmaps and recording work together to provide a complete analysis to trigger the optimization tool as per the performance.
It is an all-in-one software that lets you track your funnels and receive customer feedback. Above all, its TruConversion lifetime deals are affordable.
3. What Are Heatmaps?
The heatmaps are the visual representation of some specific data. The TruConversion heatmaps tell you about the places, sections, or steps that are clicked the most and the ones skipped the most.
This visual representation helps you optimize your marketing campaigns and website in a better way. These tools are beneficial for your business as it helps in increasing converting rates and thus your sales.
Final Words
So, that was all about TruConversion Lifetime Deal and TruConversion, an incredible all-in-one funnel software with funnel tracking and optimization tools. The smart funnels, heatmaps, recording, micro-surveys, field forms, and all the other features make it an incredible choice for your business.
There is nothing too complicated with TruConversion; it has a straightforward interface. So, whether you are a beginner or a professional, you can easily understand all the provided information. All the three plans of the lifetime deal are pretty good with affordable pricing.
As per your requirement, you can choose the ideal one for you. Purchase the best one and start tracking your funnels. We hope this article about TruConverstion LTD is helpful to you, do share this content on social media if you find it useful for you in any manner.