Are you seeking to purchase the lifetime deal of TidyCal? If yes, you are at the right place. Here in this article, we have reviewed the TidyCal, you will get to know how TidyCal can enhance your business and the perks of buying the lifetime deal.
Digital meetings have become more significant these days. In this new remote working culture, almost every corporate operation is harnessed with virtual meetings. Teams working with remote members can work collaboratively with the aids of virtual meetings.
On the other hand, remote working also demands constant mail communication internally and externally. However, in this back and forth hassles of virtual connectivity, several businesses find a tough time scheduling all virtual events. Tracking the time and finding out what's next is monotonous.
Besides, scheduling virtual events become even more tedious when working in different time zones. In such cases, you can find several calendar software that helps you schedule meetings coordinating with distinct time zones.
One such Calendar software is Tidy Calendar. It offers you scheduling and tracking accessibility in your personal and work Calendar. By deploying this software, you can find a much more straightforward approach to scheduling meetings. So, continue reading the article to learn more about the TidyCal Lifetime deal.
Organize your Time with TidyCal
Use this handy calendar to keep your meetings, appointments and deadlines organized all at once. Schedule your time and stay on track.
Get TidyCal LTD
About TidyCal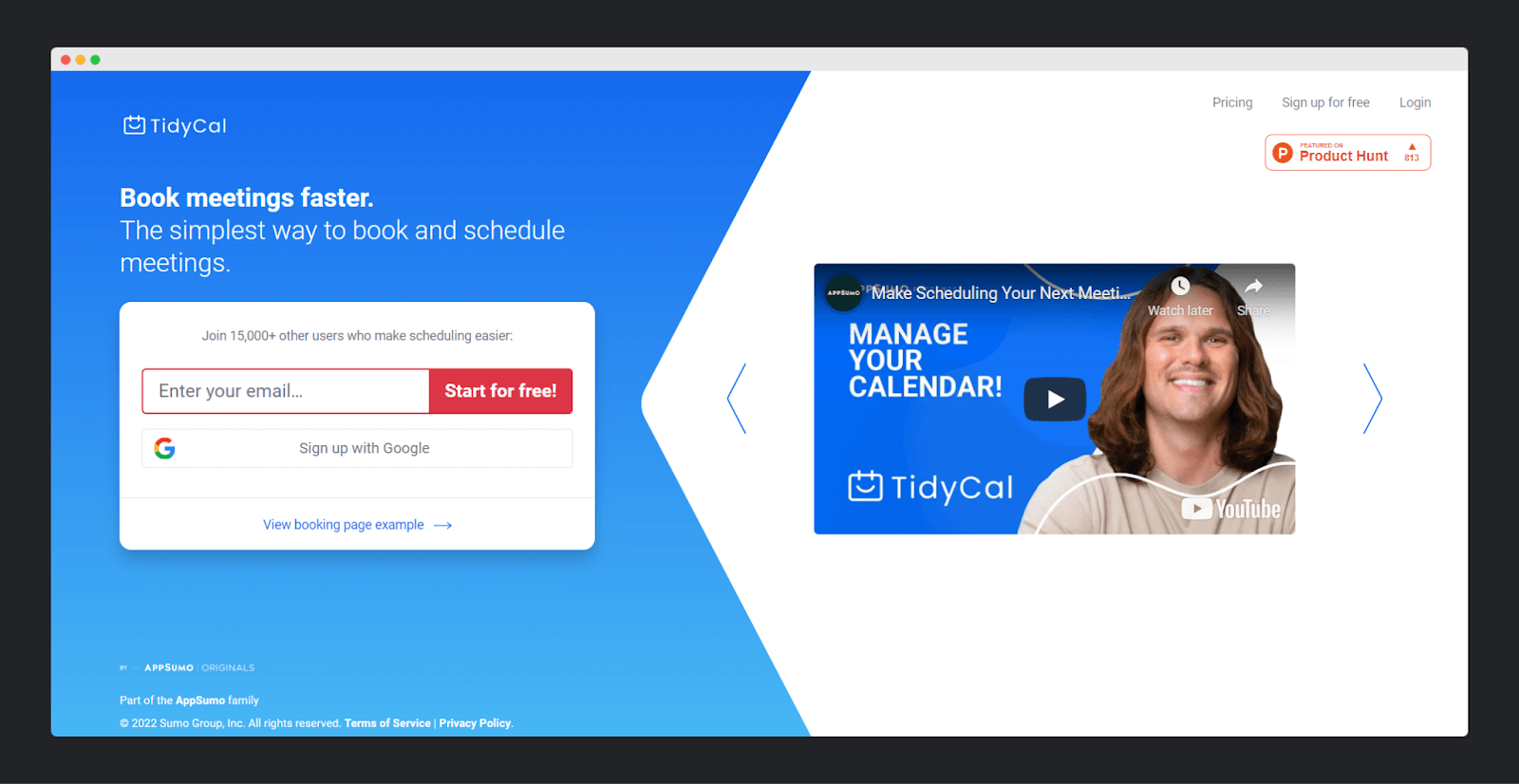 TidyCal is a Scheduling software that makes it seamless for you to manage all their calendars and booking details in one place. You can use it for all your demands, whether professional or personal demands. You can get integration of about 10 calendars for a single account.
The primary feature is this software detects the time zone of recipients automatically, so that there will be no more scheduling conflicts when you are setting up a meeting with the recipient at a distinct time zone.
Using TidyCal software not only resolves hassles in scheduling business meetings, but you won't also miss any of your responsibility. TidyCal is for you if you don't want to miss their kid's soccer match or attend a parent-teacher meeting. What helps you the most in TidyCal is the integration of Google Calendar.
The connectivity of Google calendar into one interface makes it seamless to manage all events. You can also integrate lots of other tools to make your workflow automated, integrate Google account, Apple account, Microsoft 365 account, and many other accounts to keep track of every event from one screen. You can also set it on auto-pilot to eliminate back and forth mailing.
Auto-pilot feature empowers you to send calendar schedules to a recipient over emails automatically onset time. What justifies this feature is a specification of the time block. When you create a business event, it scrutinizes all your existing scheduled meetings and shows you free time blocks for you. When your rivals struggle to evaluate time details, you can seamlessly arrange meetings one after another.
TidyCal is more empowering to businesses. An extensive range of customization options showcases branding even while arranging client meetings. You can also customize the booking page to their local language for local recipients. Let's learn about the features below.
Some Cool Features of TidyCal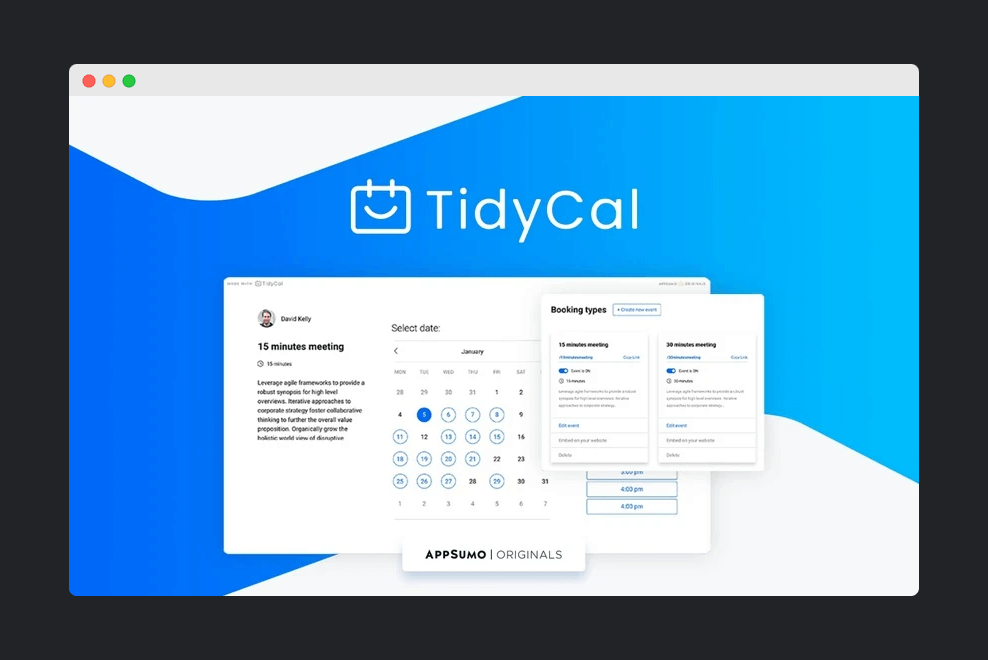 TidyCal is a remarkable scheduling solution that provides you with ease to arrange business bookings. Whether a meeting or reminder for any event, you can attain automation in creating all calendar events. Here are some indispensable features that make TidyCal best for business and personal obligations.
1. Specifies Time Blocks for Business Booking
Time evaluation is one of the most common hassles that every business faces while arranging business bookings. With so many meetings arranged with clients, keeping track of time slots available becomes monotonous for several users. However, TidyCal is a clean app that shows you all the available time blocks by evaluating your existing meeting schedules and events.
This is an imperative feature that empowers you to eliminate any timing conflicts. The interface shows you the availability of time slots arranged in a sequence as per the days.
2. Wide Customization Options
When sending business bookings to prospects, every user will anticipate a branding opportunity. TidyCal offers you a great opportunity to showcase your brand. You can get a wide range of customizing options to create a booking page that matches your brand personality.
Undoubtedly, apart from meetings with international clients, businesses will also have several meetings with local clients. In such cases, TidyCal offers you the feature to create a booking page in a local language.
3. Integration to a Business Website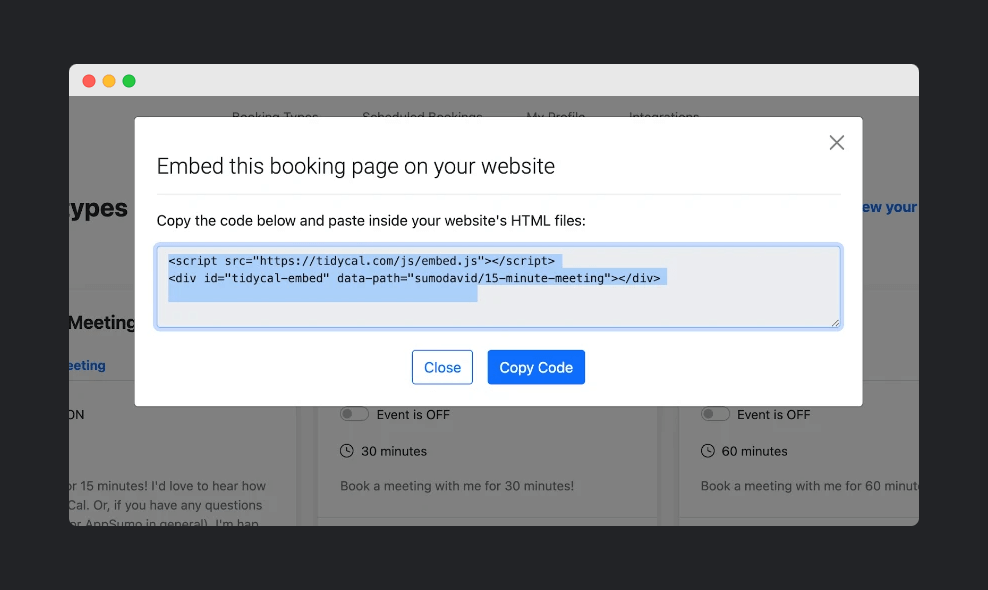 You can also embed the TidyCal widget into their business website, and it brings workflow automation and helps clients arrange meetings directly from one platform.
Recipients will also get complete meeting information along with senders. You will find information about clients and prospects who booked the event. They will get details about the scheduled time and who will participate in the meeting.
4. Booking Events Across Time Zones
TidyCal is quite famous for booking several events across different time zones. While arranging meetings across time zones, users usually find conflicts in timing. However, it automatically sets and book events as per desired time in different time zones.
Arranging business bookings is quite easy in TidyCal. You will get a complete customizing option to create events with ease. Apart from date and time availability, it also seamlessly integrates accounts to arrange to book. If needed, you can also easily cancel and reschedule the meetings with one click.
5. Send Confirmation to Obtain the Attendance
Recipients receiving the booking details would choose to offer approval for their availability in the meeting. This helps the sender know about meeting potential and cancel it if needed.
TidyCal is beneficial for senders; recipients receiving meeting details at another end also attain several perks. Users from another end can get details about the booked event, and they can know who arranged the meeting and objectives. You can also send a confirmation mail of whether the recipient would join the event or not. There are a lot easier features of TidyCal.
Plan and Pricing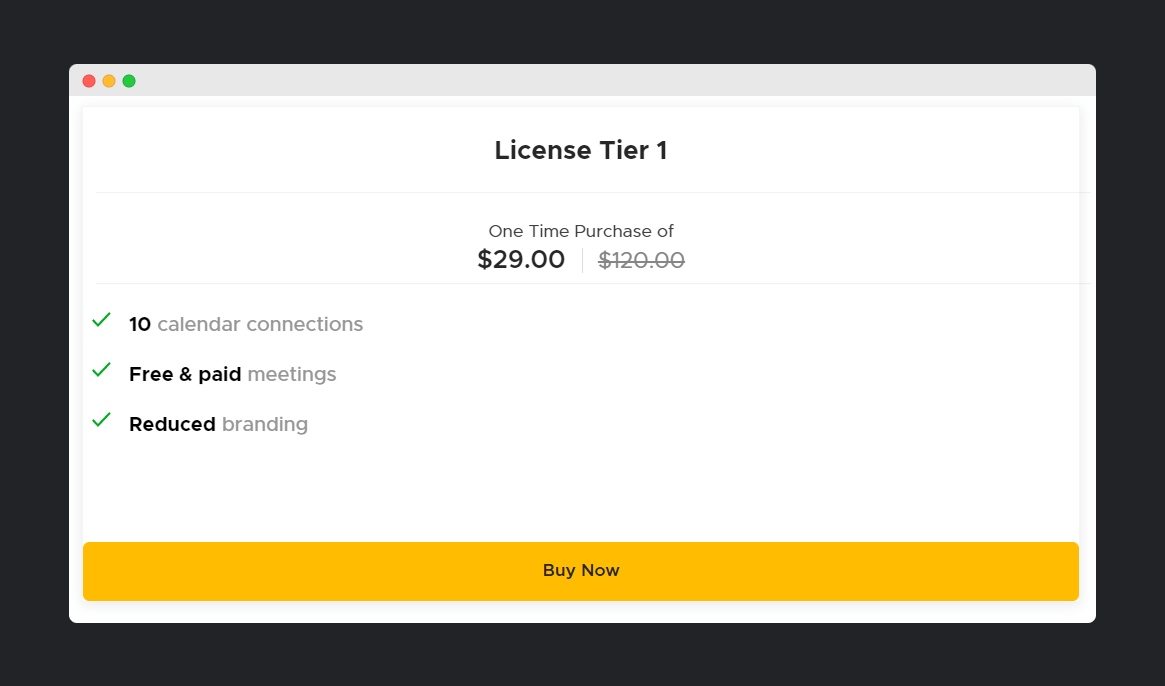 Now that you are pretty clear about the features of TidyCal, you must know about the plan and pricing of TidyCal. The Lifetime deals in TidyCal offer you an extensive range of features. However, you can access a single plan in a lifetime deal. Let's discuss the features and pricing of the plan.
License Tier 1 is the only plan you can purchase in the lifetime deal. The plan brings you lifelong access to TidyCal with several features and costs only $29. As a sole plan, it brings you the integration of 10 calendars in a single account purchase. You can also arrange free and paid meetings with clients with reduced branding from the software.
TidyCal's license Tier 1 offers you all future updates and major changes in the software in the same plan. However, you must activate the license within 60 days of buying the license in a lifetime deal. Users who don't have any existing paid account at TidyCal can purchase the plan. License Tier 1 is also quite affordable and flat for all users.
There are no stacking and coding hassles; users can choose the sole plan meant for them. Users in this deal can enjoy many features that include booking events across time zones, integration to business websites, booking page creation in a local language, and many more.
Final Words
So, this is all about TidyCal. TidyCal is remarkable scheduling software that empowers businesses to automate their meetings and workflow with prospects and clients. The software lets you arrange business bookings across time zones and set the meetings at desired times. You can also set the meeting with an automated alert about time slot availability.
The primitive thing that you can enjoy is a 60-days money-back guarantee. If you are not satisfied with the feature you can also ask for a refund, no matter the reason.
With the Lifetime deal of TidyCal, you can enjoy a whole new range of exciting features with a lifetime purchase. The editorial has discussed everything you need to know about TidyCal, and you can purchase the plan to attain perks encompassed within it.
Now that you are aware of the deal, why don't you initiate to make your purchase?