Imagine you have a solid and amazing deal or product that can meet the requirement of the targetted audience in the best way! But the social media links and the previews lack the proper work. What is going to happen? A very low possibility that people are actually going to click it.
"Beauty captures the eye"
Why are you taking that risk when the solution is right in front of you? What will be your reaction as a digital marketer if I will make you aware of the presence of a platform with which you can boost up your engagements and conversions with custom retargeting links? Yeah, you heard me right! Switchy Lifetime Deal is here!
A new name to the ears! What exactly is Switchy, and how will it increase my engagements? Switchy is a powerful AI-based interactive platform that is used to shorten, customize and track your work links so that you can boost your social media engagements.
You can also create advanced bio links that work as a pro in social media. It s just a start about what Siwtchy can do. You can also call it the most completely widespread link engagement platform.
Switchy gives you the opportunity to boost conversions with customizable, targeted links and many more. With switchy, you will be able to:
Use the power of pixels to retarget the targeted audience
Easily customize the title, domain, description, and links for the polished links
Addition of the retargeting pixels, UTMs, and A/B testing with the help of 30 advanced options
Shorten your unnecessary ling URLS for making it interactive
Track and analyze the users who are engaging with your posts
This is just a start. Here are more than 30 advanced options that will work to the best for making your whole business more engaging and attractive to anyone. From shortening URLs to analyzing the data there, Switchy does it all. Integrating the retargeting pixels with normal knowledge in an easier method, what more do we need?
A switchy lifetime deal is a go-to for anyone who has a single thought of expanding their business. Nothing to think about here. Don't miss out on this fantastic switchy appsumo lifetime deal.
TL;DR;
Use to shorten, customize, analyze and track your links of yours with the intention of boosting your social media.
Create new and advanced bio links for social media.
The best alternative to Bitly, rebrandly, and Linktree.
Retarget those who clicked on these links with more targeted ads on different platforms, such as Google, Quora, and many more.
Best tool for content creators and marketing agencies.
Get More Engagement with Custom Retargeting Links
Switchy.io allows you to build custom retargeting links that boost engagement and conversions. It's the ideal method to increase audience interaction.
Get Switchy LTD
About the Switchy
You might be wondering what all the hype about Switchy is about ! let's study in detail this life-changing deal.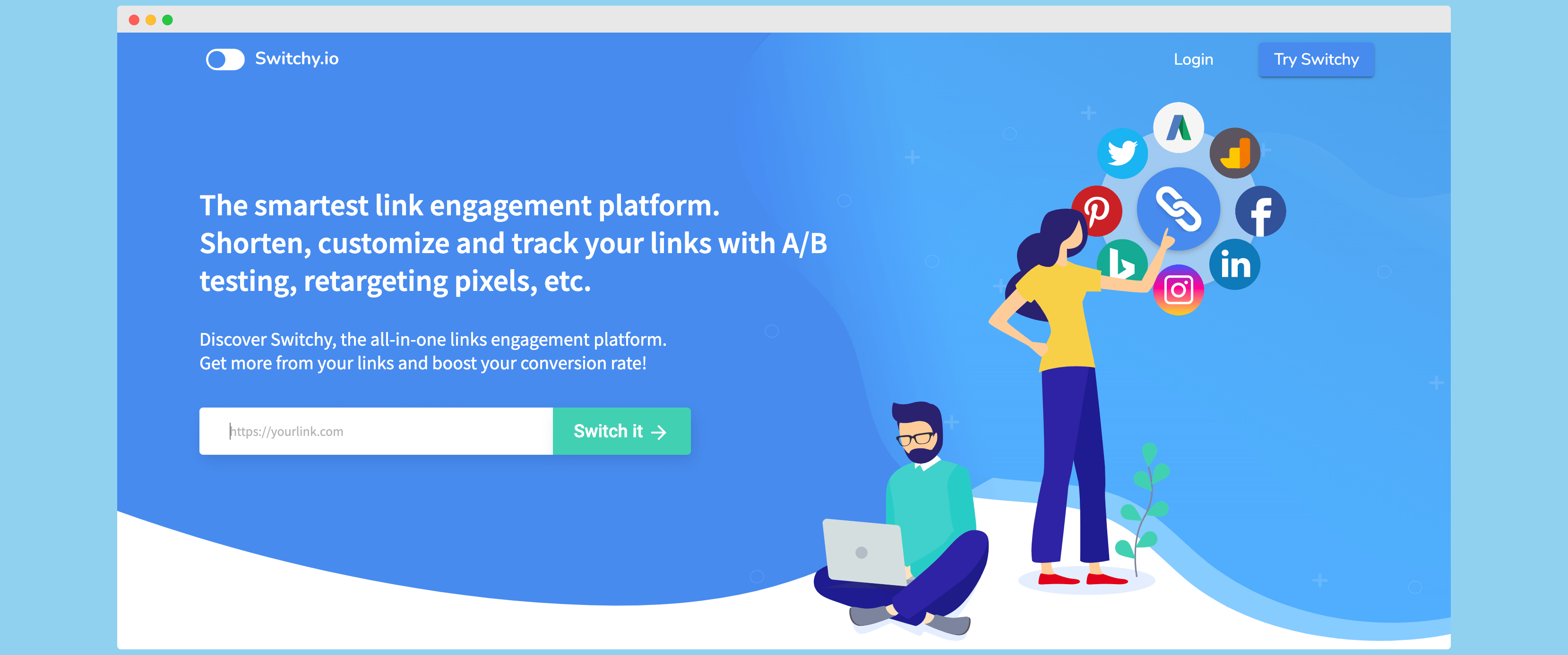 Switchy is an online platform whose main function is to let you customize, manage and track the retargeting links so that you boost and spread your conversions in a systematic way to a broader horizon.
Since the posts and the graphics are essential for any kind of advertisement, they need to be more creative. So Switchy also lets you design and create the interactive appearance of the shared posts on social media.
Specifying broadly, you can easily edit the title, domain, description, and image so that you can make your links shiny to lure the audience. After you share your smart retargeting links on your social media platforms, switchy lets you extract the real-time data directly in your dashboard one click away.
You won't need to worry about the detailed metrics and analytics of each link, as you are offered click numbers, device type, and audience source kind of data from Switchy.
Is it Necessary to have Switchy in this Era?
The tools and the features that switchy offers are unlimited with the most extra and needed functionalities. From setting up the perfect size URLs and graphics design to analyzing the audience who clicked, switching appsumo deals is making it much easier for a marketer in the virtual world.
So, why waste precious time in any other form of the application when with switchy, everything is just one click away?
Switchy saves up your budget as well by attracting the right people to your platform. By running the A/B tests and smart ads, the switchy has been making everything so easier. See how your ranking will directly move on top with this!
With attractive graphics and links, tracking of the audience, and creation of branded pages, Switchy and its lifetime deal is one step forward in becoming the must for the time.
What Makes the Switchy Special?
Switchy is an easy-to-use conversion platform with more than 50 tools, including many attractive features that make the experience better. What other features does the Switchy lifetime deal offer that makes it too good to miss out on?
The smart page builder offers more than 100 templates and 20 types of block types for any kind of industry.
Lets you create smart branded pages.
Track and analyze the user engaging with our posts.
Users who click your links will be pixeled and targeted to the ads platform.
Easily drive the audience to the highest converting channels.
And the list goes on!
The epitome of versatility and reliability, Switchy ltd acts as a safe spot for digital marketers with 3 different types of deals. You will be able to get more than enough tools to make this platform a special one.
Features of Switchy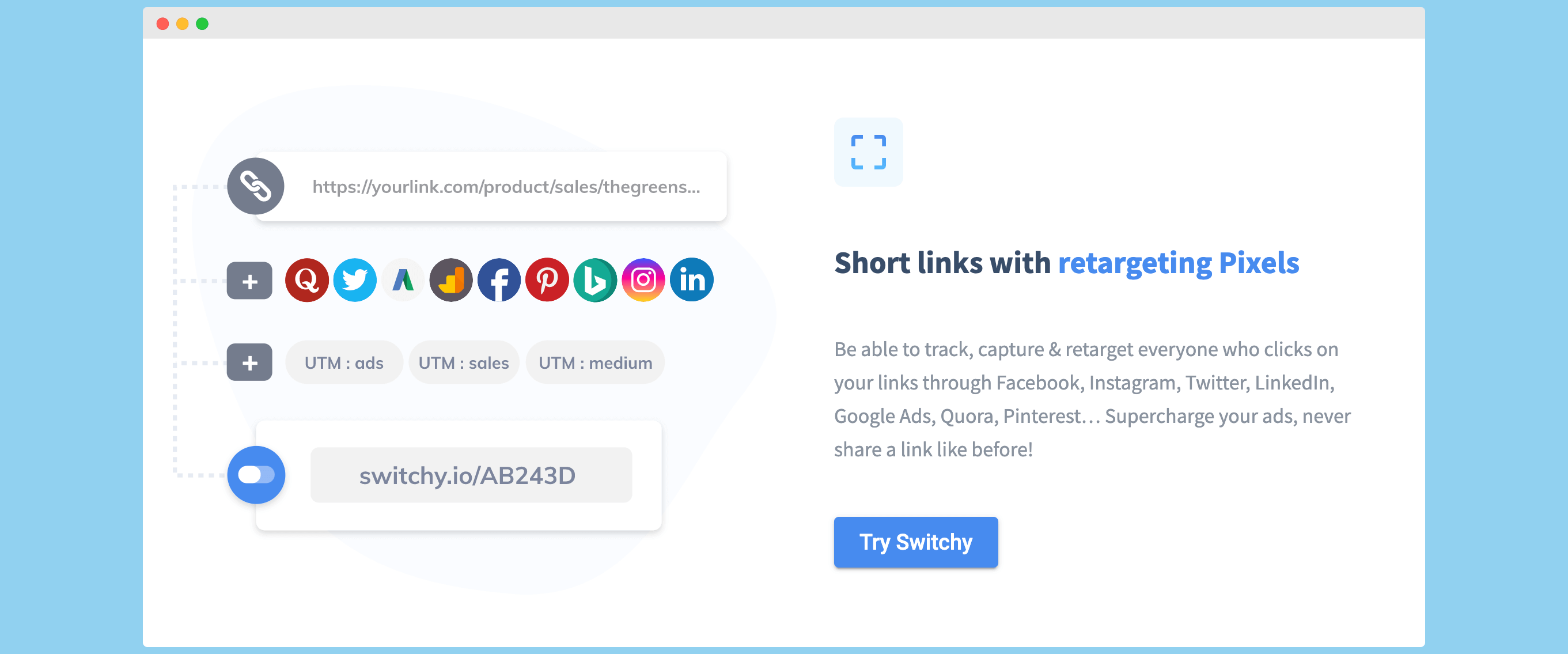 Switchy offers a wide range of features to its users. Which will help save your precious time and money as well. The detailed list of some fantastic features provided by Switchy ltd is encapsulated below.
Let's explore!
Customize Your Social Media Links
One of the most incredible features of the Switchy is that it lets you customize your social media links. That means here, you can customize the post you are going to share on social media. The whole process is just 2 clicks away.
For carrying out the whole process, at first, edit the title and the description of the link, and then add a picture as per your need. The results are now in front of your screen. Use the switchy to boost your CTR.
UTM Tracking
UTM or urchin tracking model is used for tracking data on the traffic that arises on your pages due to external sources. With the help of Switchy, you can faultlessly track and manage UTM and its templates.
This feature also allows you to monitor your campaign's success through Google Analytics. To use this function, simply add UTM tags to the links and see the results!
In Switchy, copy and then paste the link you want to customize in Switchy. After that, go to the "Add UTM tags section" and then write the campaign, medium, source, and content for the UTM. in case you need to reuse this UTM, you can use these templates.
Finally, customize your link and add the retargeting pixels in the platform and generate the link. In these ways, you can set up your whole platform in Switchy.
Set Your Own Custom Domain
Another important tool of the switchy lifetime deal is that you can easily set up your own custom domain or domain name. The process is very easy. First, you need to make your account in the switchy and purchase one of the deals.
Then you can customize your own domain name for extracting the links, such as links.company.com instead of hi.switchy.io.
As mentioned on the official website, to setting up your own domain, the first login to your hosting domain provider. After that, open the domain setting section and search the option of DNS settings. Now once the DNS settings are opened, you should create a CNAME record of your choice, which can directly point to the links.switchy.io.
Then finally, wait for the DNS propagation and then wait for the section," Add your own custom domain name." Fill up your desired results, and now the results are in front of you as per your need. In this way, you can set up your own domain in Switchy.
Discover the Deep Link Integrations
Deep links are those links that are used to send the user directly to an app instead of a website using some special kind of links. So with switchy, you can easily find out such deep links, and these links track the users and send them to the store.
There are many categories distinguished in the switchy with which you can search for the links based on your need. There are also some sub-divisions of these links for boosting the conversion rate or amazon sales. After you go into the integration tab, you can find more than 150 deep links apps.
For the whole process, at first, create a new link in switchy and ten copy-paste the link you want to shorten here. Make sure that app supports the deep linking, such as amazon.
After that, rush to the "advanced setting tab" and select the "Deep linking section." Again, custom the provided link and add the retargeting pixels in the section, custom domains, or slugs. Finally, click on the get my link button for the shortened link, and now you can share these links on most the platforms such as Facebook.
Create a Chrome Extension
Switchy is one of the most easily used platforms because you can make a chrome extension for it and can use it instantly at any time while using any other platforms. These short branded links let you jump to all-in-one engaging websites.
With the switch chrome extension, you can function many tools altogether. For example, you can create custom link previews, use the branded domains, add pixels and manage all your folders at a time with one link. Therefore, the chrome extension for Switchy is very useful.
Switchy Lifetime Deal – Plan & Pricing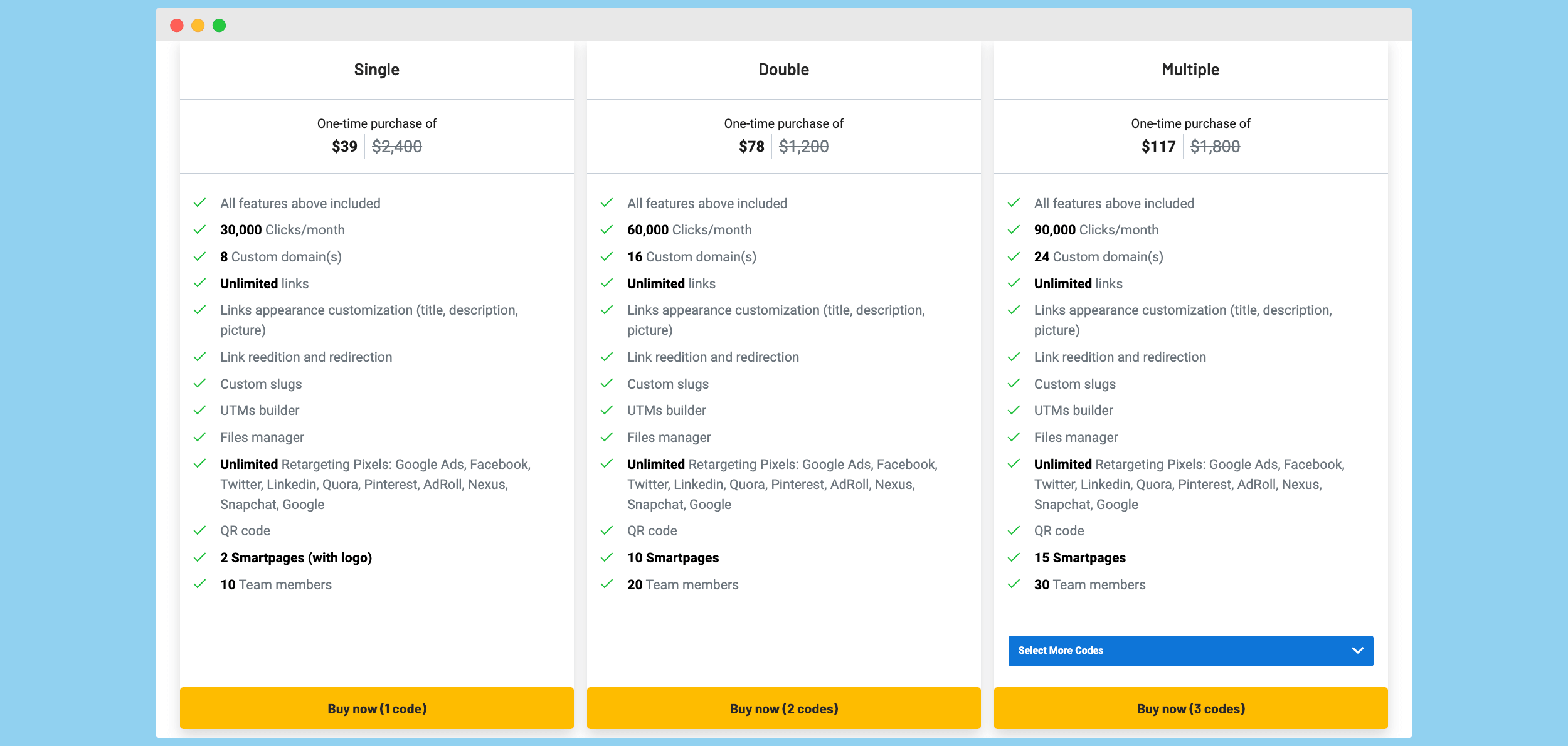 Switchy has different types of plan and pricing according to the user's needs. You can select any of these deals based on your requirements. First, let's take a look at the shared characteristics that will be found in all three plans.
All three plans include these features:
GDPR popup
404 redirection
Direct sharing
Tags management
Link rotator
Geo redirection
Full tracking – analytics features (countries, referrers, devices, browsers)
Multiple workspaces option (stack up to 5 codes per workspace)
+150 deep links integration
Embed widgets on any links
Add a note to monitor campaigns
Messenger links (Whatsapp, Messenger, SMS, Call, etc)
Chrome extension
Single Plan
Only for $39, you will be able to purchase the tier 1 single license of the Switchy lifetime deal. It is a one-time investment, and you will be able to enjoy all the general features of switchy mentioned above.
After this deal, users will be able to use up to 30000 clicks per month, including the handling of 8 custom domains. But what amazed me was there is the availability of unlimited links in this deal.
Despite being the first plan, there is no hindrance in any tool. From link appearance customization to link redirection, all the tools are so easy and trustable to use. In addition to that, you can use advanced tools such as file manager, UTM builder, and QR code.
One can handle up to 2 smart pages using this plan, including the logo, and 10 members can use this one plan. Everything is within one plan. You can purchase, use and return back this deal within 60 days of purchase.
Double Plan
Moving forward, the double-tier license of this Switchy lifetime appsumo deal is available for $78. No doubt that the platform offers you all the general features, but some additional numbers is the list that made this deal one of the most alluring ones.
With the 60000 clicks per month and 16 custom domains, the boundary for your business expansion is broken by the switchy. You can enjoy all the tools such as unlimited links and customization of those links
Similarly, the UTM builders and file manager made the whole experience even better. Aer purchasing this second deal, up to 10 smart pages can be created, and 20 people can handle this platform. Additionally, this QR code and unlimited retargeting of the pixels in Google ads, Facebook, quora and Snapchat, etc, take this platform switchy and this deal to the next level.
Terms & Condition of this Lifetime Deal
You can activate the GDPR compliant.
The redemption of the code within 60 days of purchasing is a must.
You can stack up to 5 codes as per the plan.
All future plans and updates are ensured.
You can use this deal for up to 60 days and can return it in case you don't want it.
Multiple Plan
The final plan of this deal. For most features, most numbers, and most number of users, this deal is quite expensive than others, but the availability of the tools hid the money count here. For $117, you will have access to all the general tools ad features of the switchy lifetime deal.
Then the assurance of 90000 clicks per month and 24 custom domains made this deal actually greedful.
Up to 30 team members can handle this platform with the chance to create 15 smart pages. The unlimited retargeting tools and other features such as 150 deep integration, custom slugs, link rotator, and tag management made this deal even more attractive and a must.
✍Our suggestion!
On the three different plans and pricing of the Switchy appsumo deal, if we need to suggest you one, I would go for a tier 2 license. At just $78, you will not only have access to all the genre features, such as tags management and direct sharing, but this plan will also act as a pocket-friendly plan.
Additionally, the availability of 16 domains and 10 smart pages made this deal more alluring to me. Similarly, access to all the features which are used in our daily activities if you are engaged in the digital world made the deal a good choice for anyone.
What's not in this deal? From Qr cod, file manager, custom slugs, and link reddition, you can have it all. And in some cases, if you don't like this deal, you can ha your money back anytime within 60 days. So in our opinion, this tier plan will be an ideal option for you.
Wrapping Up!
Who doesn't want their business to commercialize and spread well to the targetted audience? So, if the problem of long URLs, lack of optimization of the clickers off links, and bad graphics are haunting you, the Switchy lifetime deal might be an ideal choice for you.
Simple link shortener, customization of the shared media, and addition of retargeting of pixels, the switchy is making half of the work done in a few blinking seconds.
No matter if you only want to use the links as a legitimate marketing channel or track the user who has been engaging with your post, the solution is one, "Switchy." If you are looking for an online partner that is willing to integrate your pixels, drive the users to the highest converting channel, and lets you create branded pages in seconds, this might be a safe spot for you.
Go grab this amazing deal without any second thought! Why worry when Switchy does it all for you in one click away?
We can sense your coming success ! yayyyy