Are you looking for a spylead lifetime deal to hunt down email addresses and extract data from LinkedIn, Google Maps, and Search Engine? It might sound impossible to have one platform that can automate and manage your emails, help you find what you need, and connect with others on social media.
Well, you are in luck! With Spylead in your back pocket, you don't have to worry about that anymore.
Spylead is a powerful email lead generation tool that allows you to extract data from LinkedIn, Google Maps, and Search Engine. With this tool, you can find the email addresses, phone numbers, and social media profiles of your potential lead.
Did You know?
There are over 4.3 Billion emails in the world, and 90% of Americans aged 15 or older use e-mail. Every second, almost 3.13 million emails are sent worldwide. This data clearly shows how much impact a single mail or an email sender can have on our business. Who knows if the next email will boost your whole business?
The cherry on top, spylead is offering a one-time payment deal that you don't want to miss! So, hurry up and grab this spylead lifetime deal now!
TL;DR;
Lets you find anyone's mail from LinkedIn, Google maps, and SERPs
Can even extract the required data from these platforms
Lets you verify the emails from first name and last name
Works with the sale navigator
Will let you share your plan with your team members
Find Anyone's Email ID in Seconds from Anywhere
Get anyone's email addresses in seconds from LinkedIn, Google maps, SERP, or anywhere. Use this email finder tool to quickly get the information you need without any hassle.
Get Spylead LTD
About the Spylead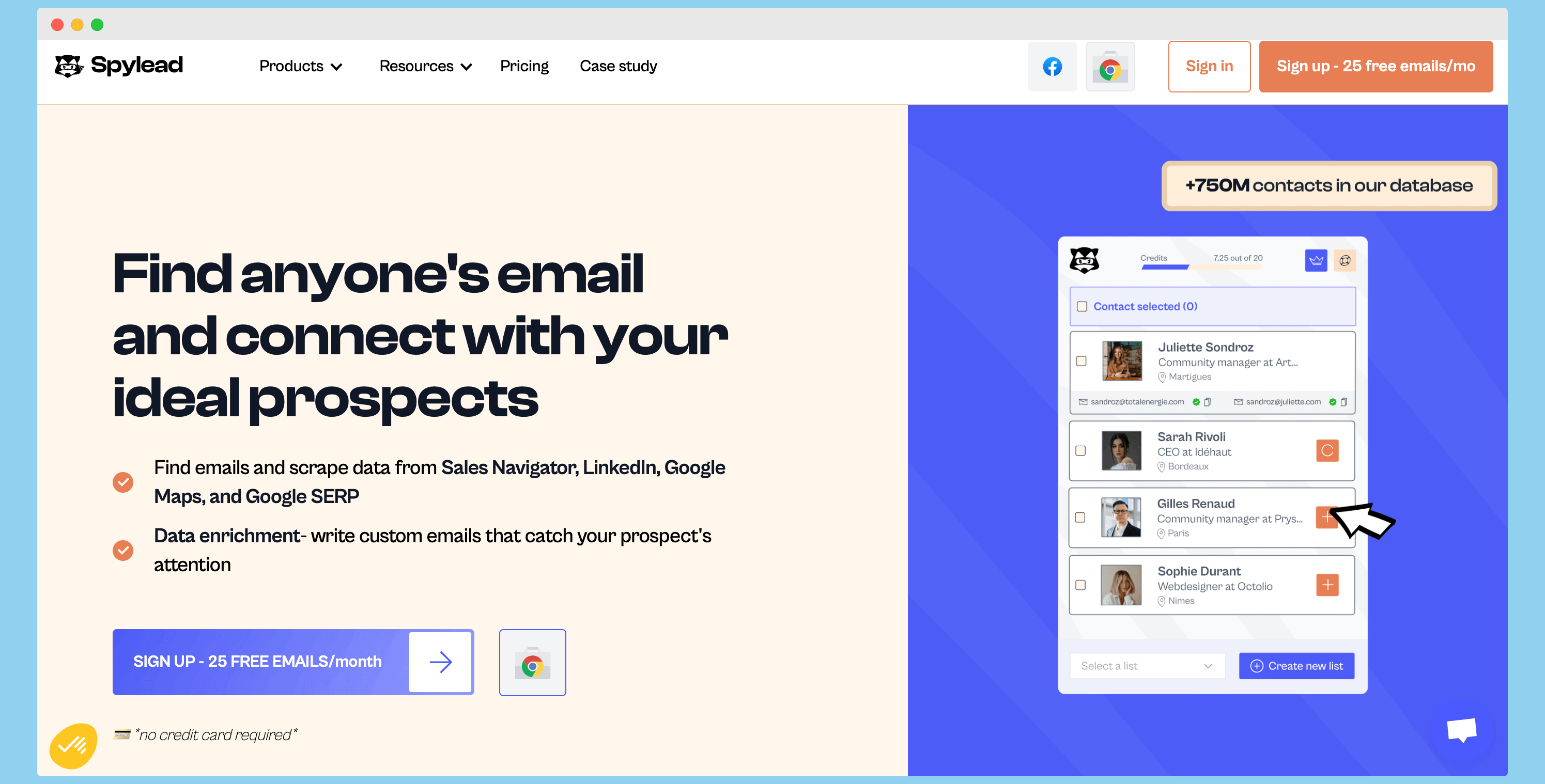 Finding leads as per our fields and requirements, searching emails, and leveraging the plan together, All this is possible because of the single platform, Spylead!
Spylead is an AI-based sophisticated virtual platform that has been widely regarded as the greatest email finder tool since it may quickly scrape data and B2B emails from a variety of sources and social media like Google Maps, Linkedin, and search engines.
With one click, you can find anyone's email from any corner of the world.
You may also connect your own dashboard to the Spylead and its one-year contract, allowing you to effortlessly link it with any number of your favorite automation tools like Zapier, which will allow you to build your own data automation.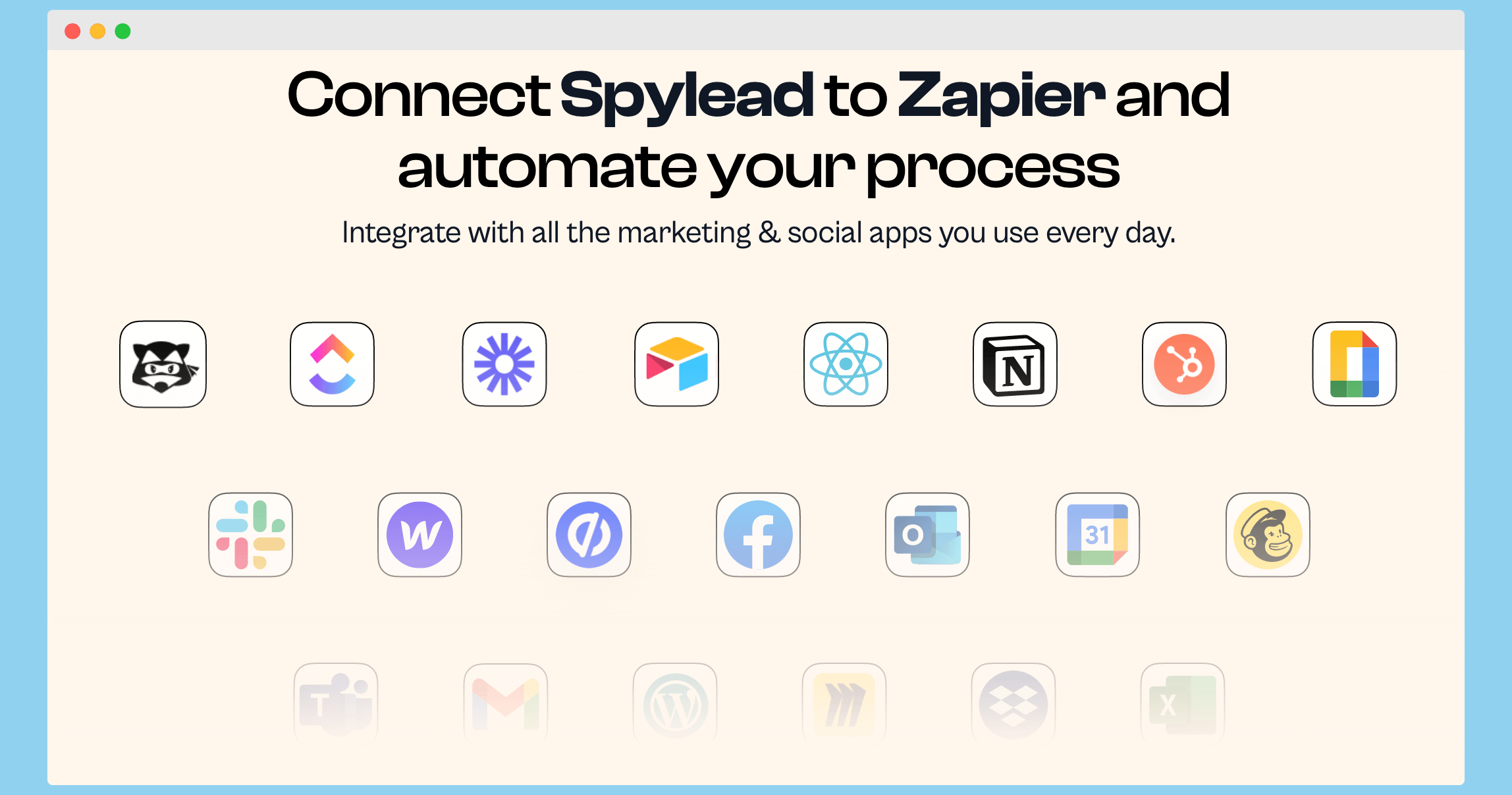 Since this gadget is all about collaboration, it also encourages cooperation. The platform will allow you to communicate your ideas with team members after you've gathered the information.
Woking with spy lead is absolutely quick and smooth. One can find or generate one email from Linkedin in only 3 seconds, while this scraping only takes 1 minute if you have to work with Google maps and SERPs.
Similarly, the accuracy of the data we have got here is very high as it verifies the email or the list with 99% accuracy. Not only Spylead ensures versatility but also reliability. Get this tool once and connect with the required leads that though a few clicks away!
Why Spylead?
Spylead, has one name but multiple works. You might know this as an email finder in general, but there is a lot more that you can extract from this incredible spylead appsumo lifetime deal. The works that spy lead performs from base to the top make it a unique option from many other available alternatives.
So why invest in this one when there are plenty that might conflict with you? Here are the reasons why:
Can find the contacts, phone, and email both from Linkedin, sales navigator, and your network?
Gets all these collected data stored in the lead management dashboard in a systematic way
Scrape the data from google maps just by setting up an extension and searching for it
Lets you find the email from the first name, last name, and domain
Verify the email and check their deliverability
Scrape the data and email with the location and keywords.
Available in more than 150 countries
Still dilemmatic! You might find a platform that will let your find emails easily, but from finding to managing them in one that though with the locations, keywords, and even names! I wonder if that exists.
Spylead is unique on its own. So without a second thought, go grab this Spylead lifetime deal for you and your business.
What else am I getting?
I believe that you are still confused about this plan. What we mentioned above is only a part of what a spy lead can offer. There are so many additional features that you will be able to enjoy once you purchase this deal. Let's find out what exactly it is:
You can instantly choose a plan, invite your collaborators and share your whole plan with the team.
Can connect your dashboard with an automation tool instantly
Let you extract a lot of information on contacts that you can use to customize your email campaigns
Build a targeted list of contacts and group each of them
Lets you find the emails from the local businesses
And many more!
Features of Spylead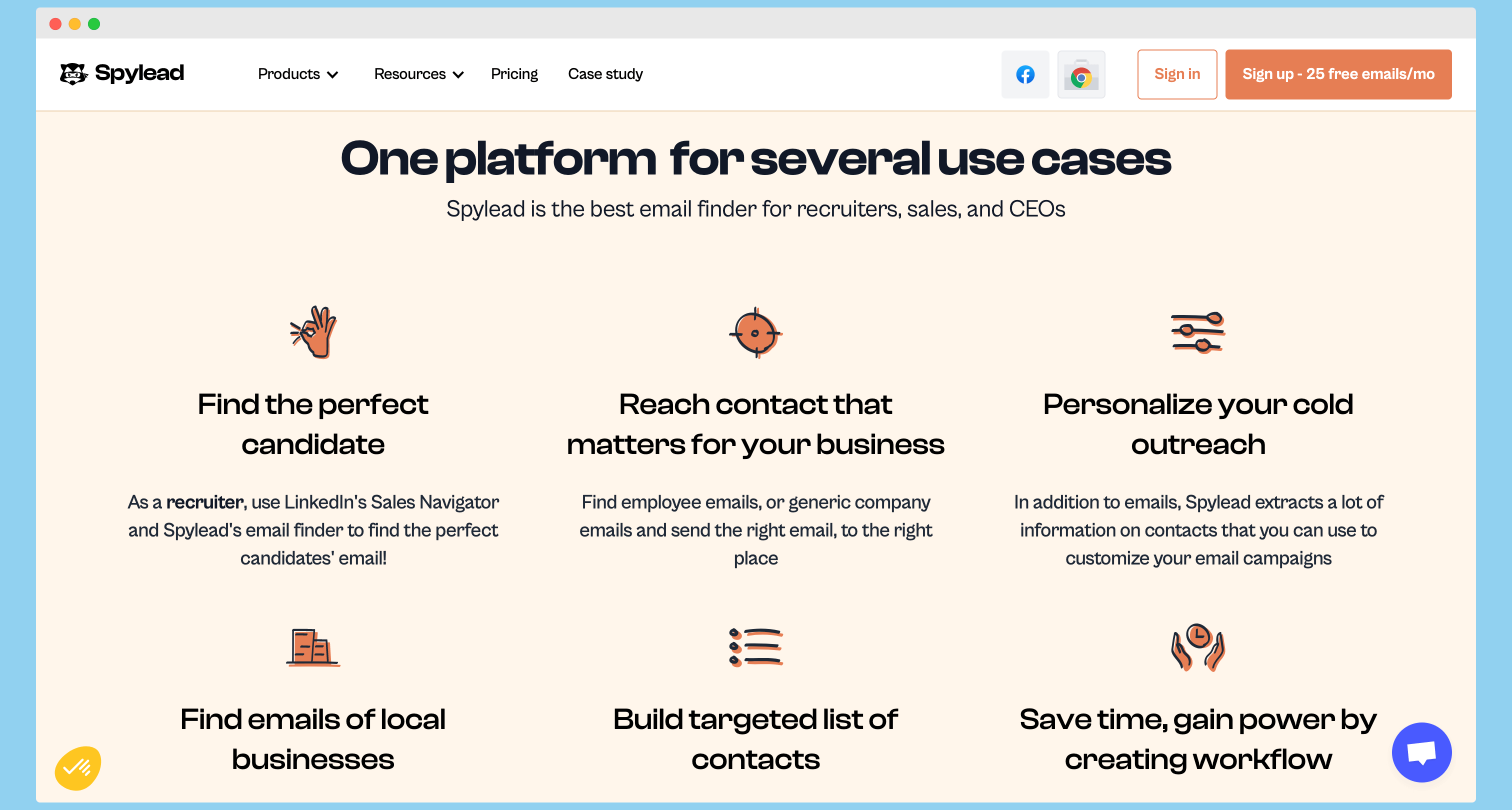 The Spylead lifetime offer is cluttering up the horizon of emails and leads with its amazing features, whether it's a Linkedin email finder, SERP email extractor, email verifier, or lead management.
These tools not only make work easier but also offer unique features you won't find elsewhere. But how it works and what additional you are getting within them is still a mystery. To help clear things up, let's take a closer look at the features offered by Spylead.
Linkedin Email Finder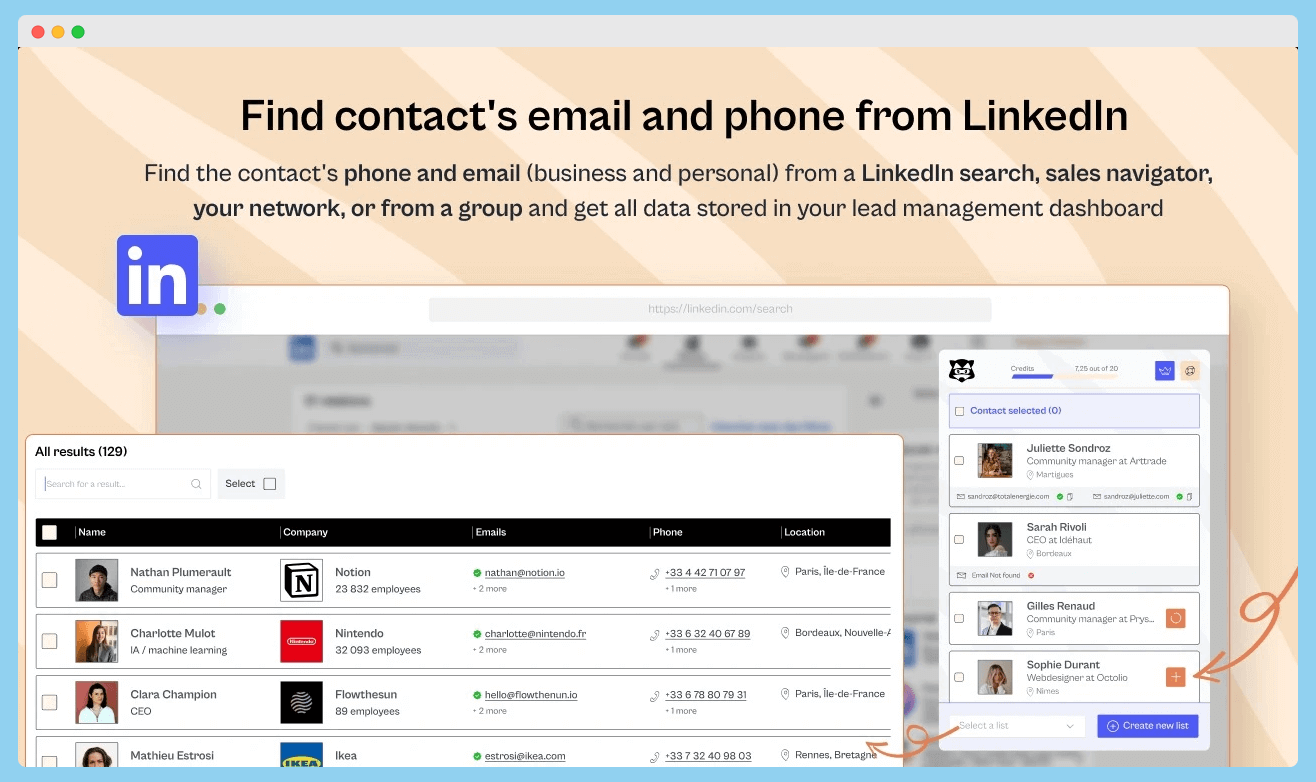 The most prominent feature of Spylead is to scrape and generate different emails from different platforms, including Linkedin. Turning any search into a prospect database, Spylead lets the user find the contact's email, both personal and business, from a LinkedIn, Search and sales navigator.
There are many benefits you will get when you try to find the data from LinkedIn. To be more precise, you will get the bulk mode on steroids. That is, you can launch several bulks simultaneously and extracts tons of email in a small fraction of the time.
Don't worry about the verification of the email, the emails that spy lead extracts are up to date. Spylead works with quality.
The whole process becomes much more manageable as when the bulk is being launched on LinkedIn, you can also leave the page and complete your remaining task. When the process of searching continues, you can collect more than 20 data points per contact. You can use each of them as a variable in your email campaign.
About the kind of data you can extract from Spylead, it is not only limited to emails. Access to various details such as business email, personal email, headline, current position, location, phone number, and past companies is properly secured and scraped.
Email Verifier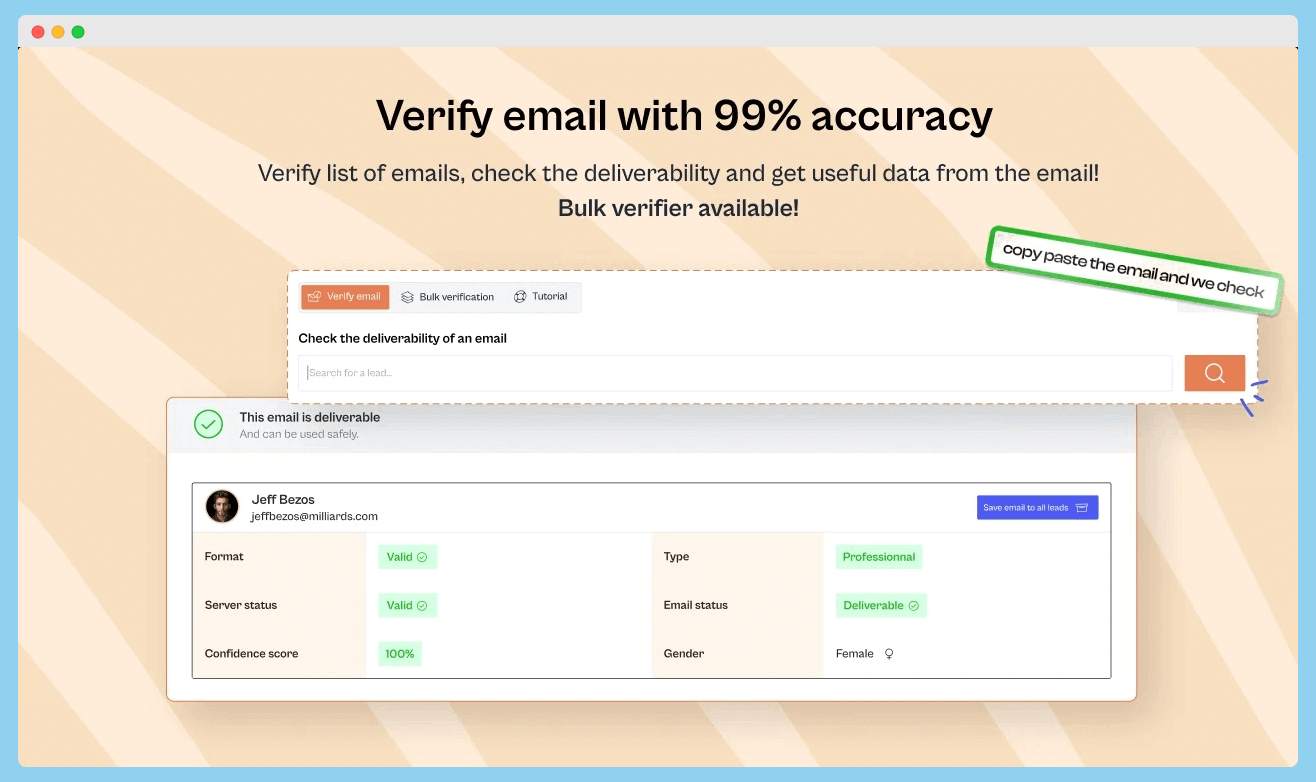 It doesn't matter when you keep searching for emails, but they are not verified. So another incredible feature from Spylead is the new and advanced email verifier. This platform will verify and check your email list with 99% of accuracy. One can easily clean up their list and save their own domain reputation.
Not only as the enhancing team, but the spy lead also secures the data with the relevant details and checks the accuracy in terms of many aspects such as server status, format, MX records, type, email status, name, and gender.
This feature ensures many other minor as well as crucial pros with it. The whole process is as quick as verifying the email deliverability and takes around 1 to 2 seconds, with 99% accuracy guaranteed.
Similarly, one can know the gender of the contact they are finding along with the full name and the last name. You don't need to worry about verifying many emails one by one, as the spy lead supports bulk edification with the TXT format.
Now all these verified data are stored in the account safely, and you can easily download and sort them as per your need.
SERP Email Extractor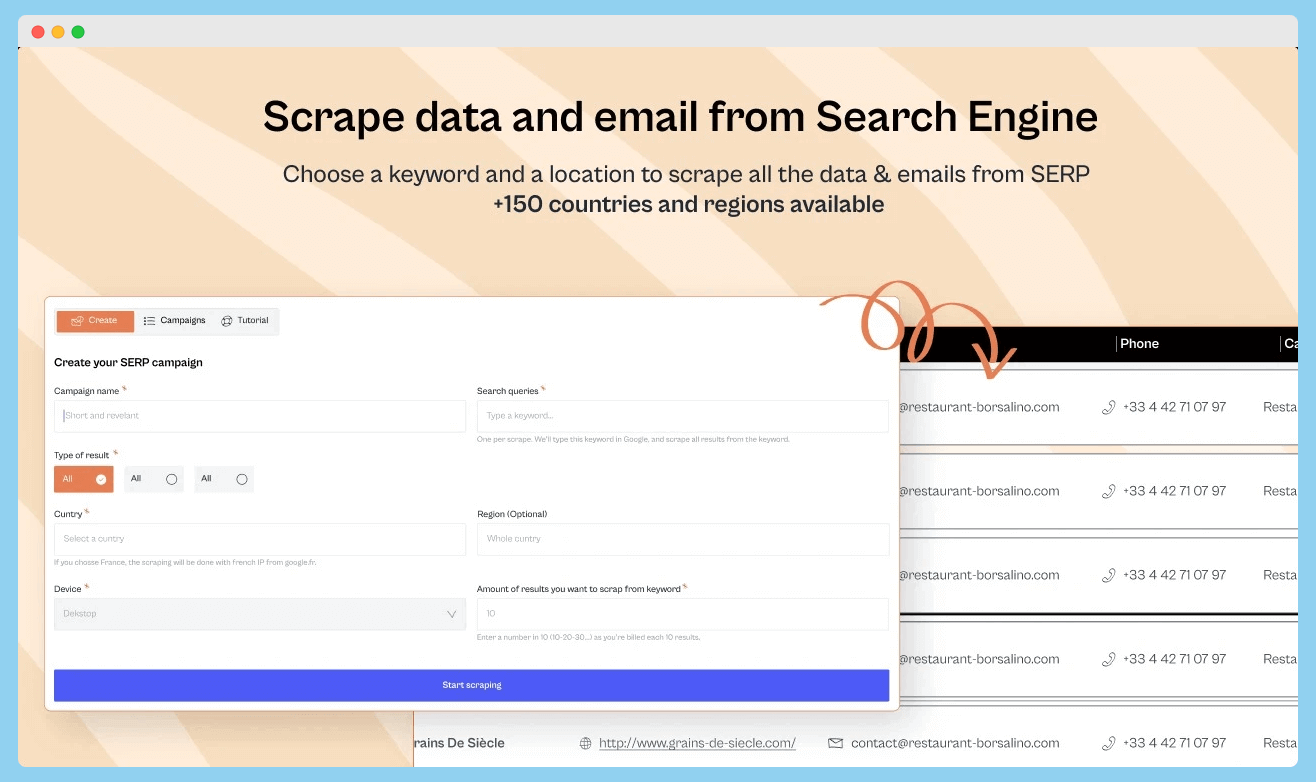 Another crucial characteristic of this incredible Spylead Lifetime deal is that customers will be able to scrape the data and emails from search engines. You will only need to choose a keyword and one location, and now you can accurately scrape the data and emails from the SERP with the help of Spylead search engine extractor. As this feature works in more than 150 countries and regions, you can search in any part of the world.
In short, spy lead allows users to scrape emails effortlessly and collect data from websites. That is, when you are creating a SERP project, you will need to determine one keyword and a fixed location from where you want to extract the data from. Within a few minutes, you will see the spy lead creating campaign pages with the scarped information you just generated.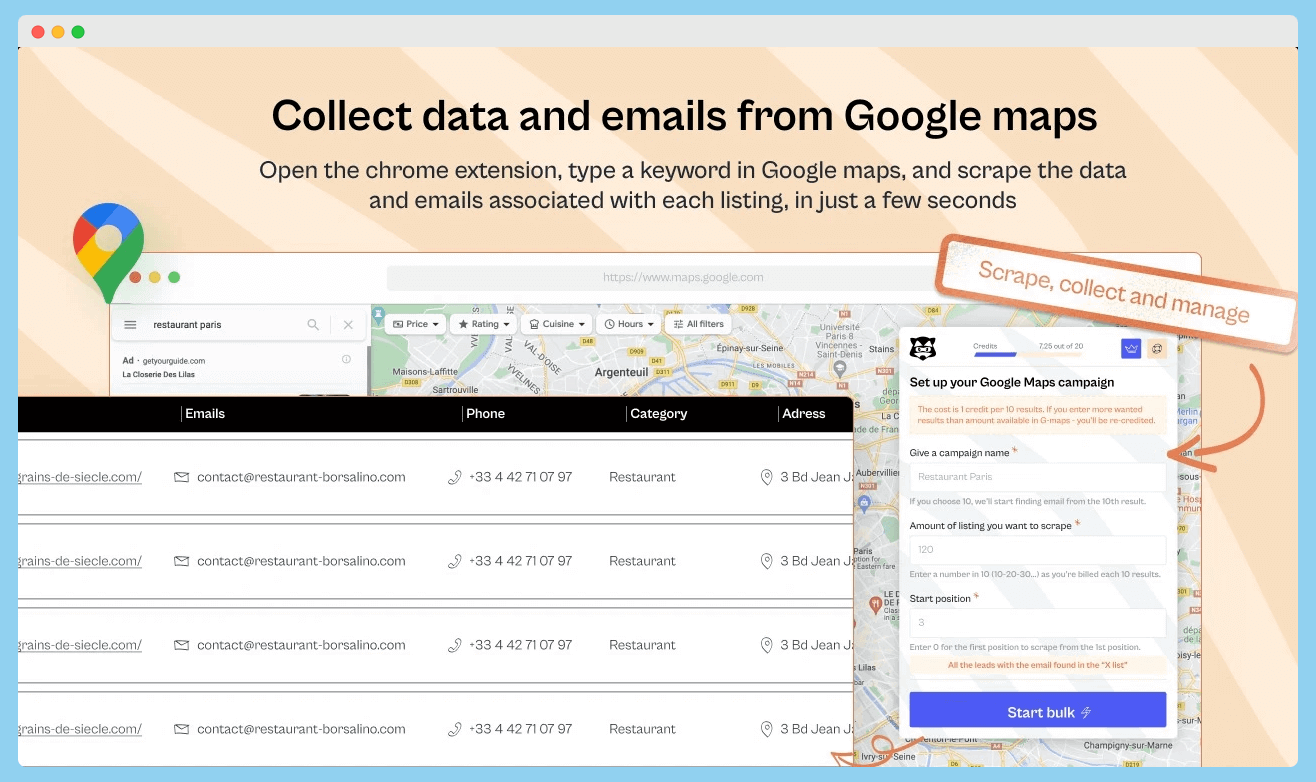 In this following SERP search, Spylead lets the user generate different types of data which is not only limited to emails. You can extract the whole meta title and description of each website and scrape the website domain ranked on the keywords.
Furthermore, the generation of the company name of each google maps listing, the phone number of the website which is scraped, knowing the CMS, google analytics, GTM, FB pixel, and all the social networks found from the website ranked in the keyword is a cup of tea with the help of Spylead ltd plan.
Spylead Lifetime Deal – Plan & Pricing
Now that we know about all the features and functionalities of Spylead, it's time to see what plans they are offering to users. However, double-checking the terms and conditions is always important so that you don't get stuck with something you're not happy with.
Terms & Conditions of Spylead Appsumo Deal
After purchase, you will get lifetime access to Spylead Ltd
One should redeem their code within 60 days of purchase
All future plans and updates are well ensured for you
In case of any issues, you can have your money back within 60 days of subscription.
Now let's see what plans Spylead is offering to users. There is one and only lifetime deal available for users. And the best part is that it's an all-in-one email finder with a SERP scraper, which is available at a 97% discount. The real price of this offer is $588, but you can obtain it at around 97% off with the Appsumo exclusive offer.
Spylead LTD Plan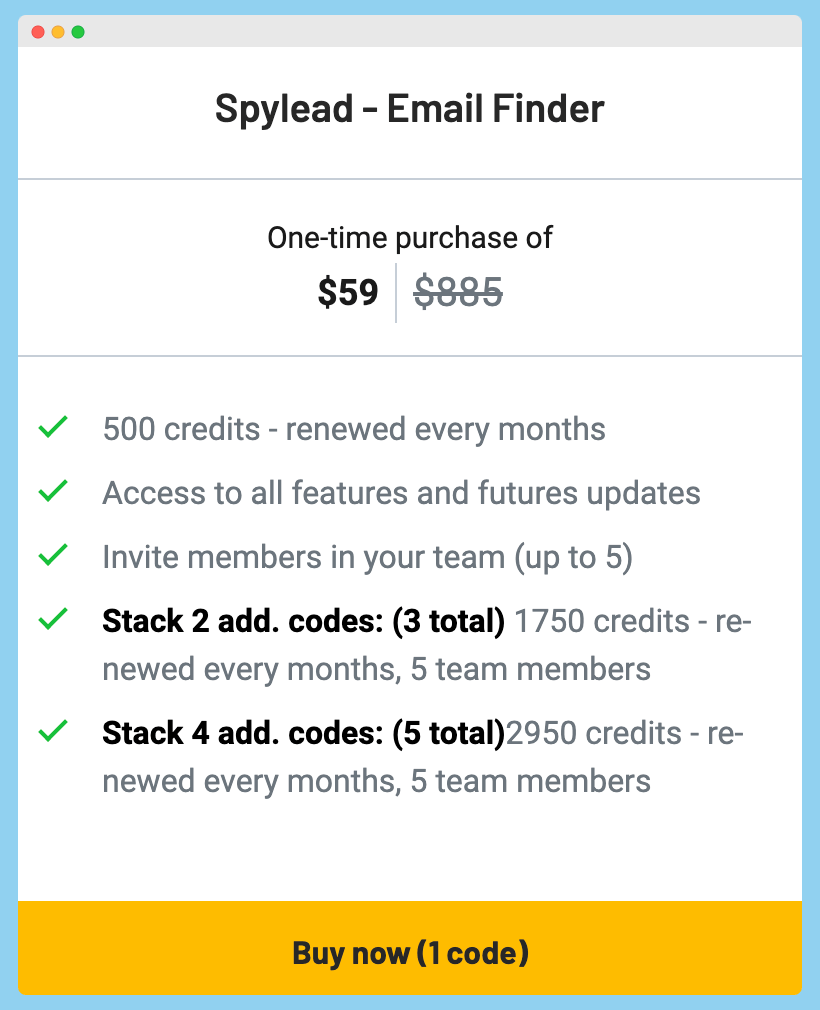 The most alluring part of this Spylead appsumo deal, along with its features, is its budget-friendly pricing. Since it is an owner of a single plan only, you have to purchase the tier 1 license if you want to get the full subscription.
For only $59, all the general features and tools from the platform are unlocked, letting you enjoy 500 credits which can be renewed every month. Similarly, there is no doubt that you will be able to have access to all the features and future updates. Another exciting part is that you can invite up to 5 members of your team and can share your data for the plan. Two kinds of stacking are available.
In stack 2, 3 codes in total can be used with 1750 credits per month, whereas in stack 4 with 5 codes, up to 5 members will be allowed to enjoy 2950 credits. This deal is very much affordable and is limited. If you are an owner of e-business and want to grow your leads in the market, this might be the best choice for you.
Wrapping Up!
I bet you might have thought about the methods to find the emails of your potential clients. Or probably how to find the leads that though in a particular location. The search might be for verification of emails!
All these are in one platform. With the introduction of Spylead in the market, the business is being taken to a different level.
Searching the emails of your potential clients, extracting data from different platforms such as Linkedin and google maps, verification of the emails by first name, last name, and email address, all the various tasks are now possible with one platform. Trust issues are minimized by the founders by maintaining 99% accuracy.
What else do you need? Spylead lifetime deal is a revolutionary platform with which one can leverage their leads within a few clicks. This is why you need to add this powerful tool to your arsenal as soon as possible.
And unleash your email hunter to hunt down the emails of the clients you've been eyeing for a long time!
At the end of this article, if you still have questions related to the topic, leave a comment down below, and we will do our best to answer it.
Happy Hunting, Sumo-Lingers!