Do you need a URL management solution that will help you improve your conversion rates? If so, then you just need to check out Sniply! Sniply is a URL management solution that allows you to add calls-to-action (CTAs) to any web page, even if you're not the author or owner of that page.
By using social media, newsletters, and blogs, you can drive more traffic and increase conversions. The Sniply lifetime deal gives you the once-in-a-lifetime offer to buy the software at its lowest price with all features included.
You don't want to miss this deal, so grab sniply lifetime deal now!
TL;DR;
Add a call-to-action to any webpage that you share with your audience to increase visits.
A single tool for measuring analytics, retargeting users who click your custom links, and split testing CTAs.
Add Clickable CATs to Websites and Re-engage Your Visitors
Sniply lets you add your own custom call-to-action (CTA) to any website or blog post. With Sniply, you can promote your brand, product, or service through any article or blog post.
Get Sniply LTD
About Sniply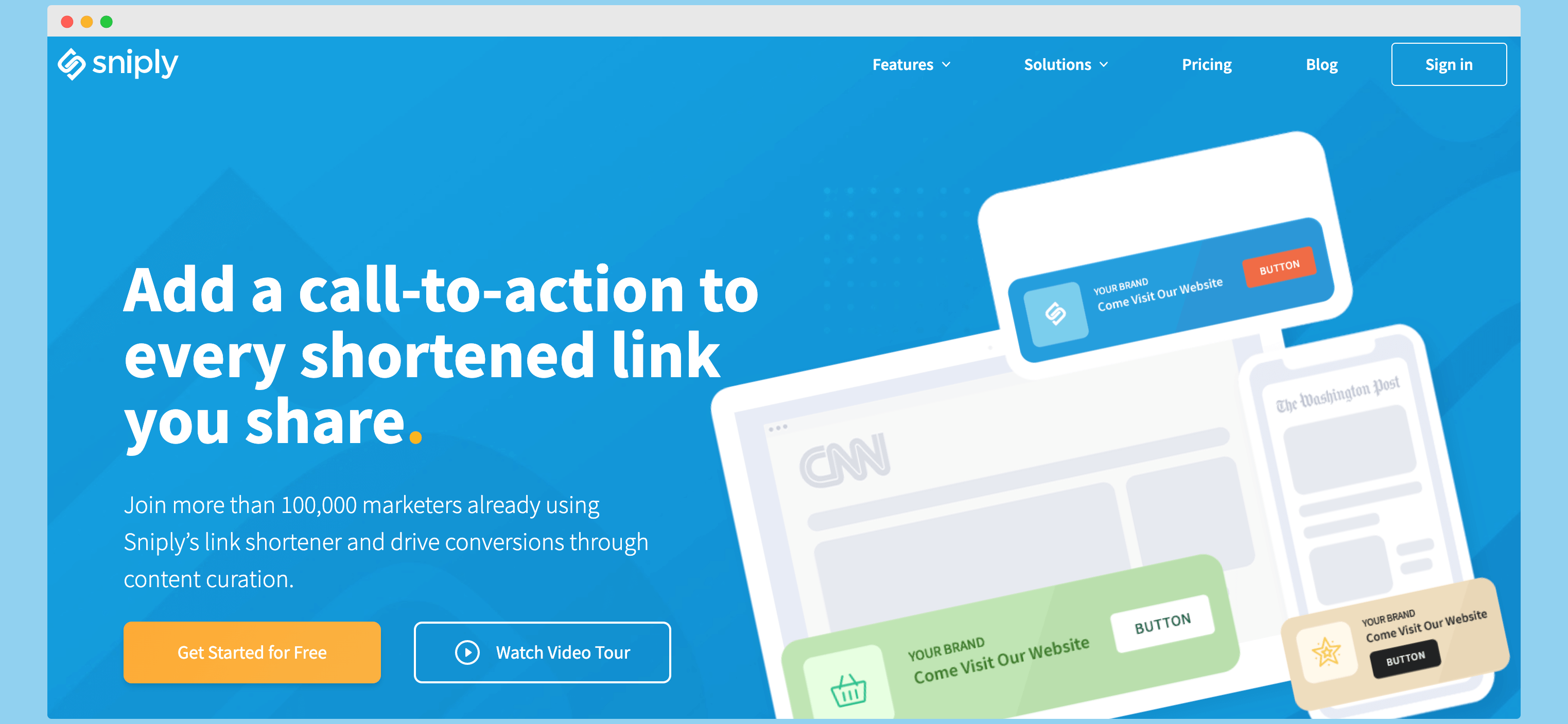 Tired of seeing links to articles and content that you want to share with your audience, but they don't have a way to visit your site? Sniply is here to help you increase traffic by allowing you to insert a call-to-action on any web page.
Sniply is a URL management solution that allows you to add calls-to-action (CTAs) to any web page, even if you're not the author or owner of that page. Using social media, newsletters, and blogs to drive more traffic can be a great way to increase conversion.
Sniply can also be used to track analytics, retarget users who click your custom links, and split-test your call-to-action. Now analyzing, retargeting, and driving conversions are easier than ever before, only with the help of Sniply.
Not only does Sniply work with Facebook Pixel, Twitter Pixel, and Google Ads to retarget your customers, but it is also effective for building brand awareness. So you may easily contact the individuals who have viewed your links after they've clicked on them. Sniply is one of the most popular URL shorteners, with over 300,000 active users. And now it's available as a lifetime deal!
How does Sniply Works?
Confused? Don't be! It's simple. Let's say you want to share an article from The Huffington Post on your Facebook page. When you add the Sniply link, not only will your audience be able to read the article, but they'll also see a CTA that you can customize.
This CTA could be anything from subscribing to your newsletter to visiting your website. And the best part is, you don't need to be the author or owner of the page in order to add a CTA. With Sniply, all you need is the URL of the page that you want to share.
Just enter the URL into the Sniply dashboard, customize your CTA, and then share the new link on social media, in an email, or on your website. It's that easy!
Features of Sniply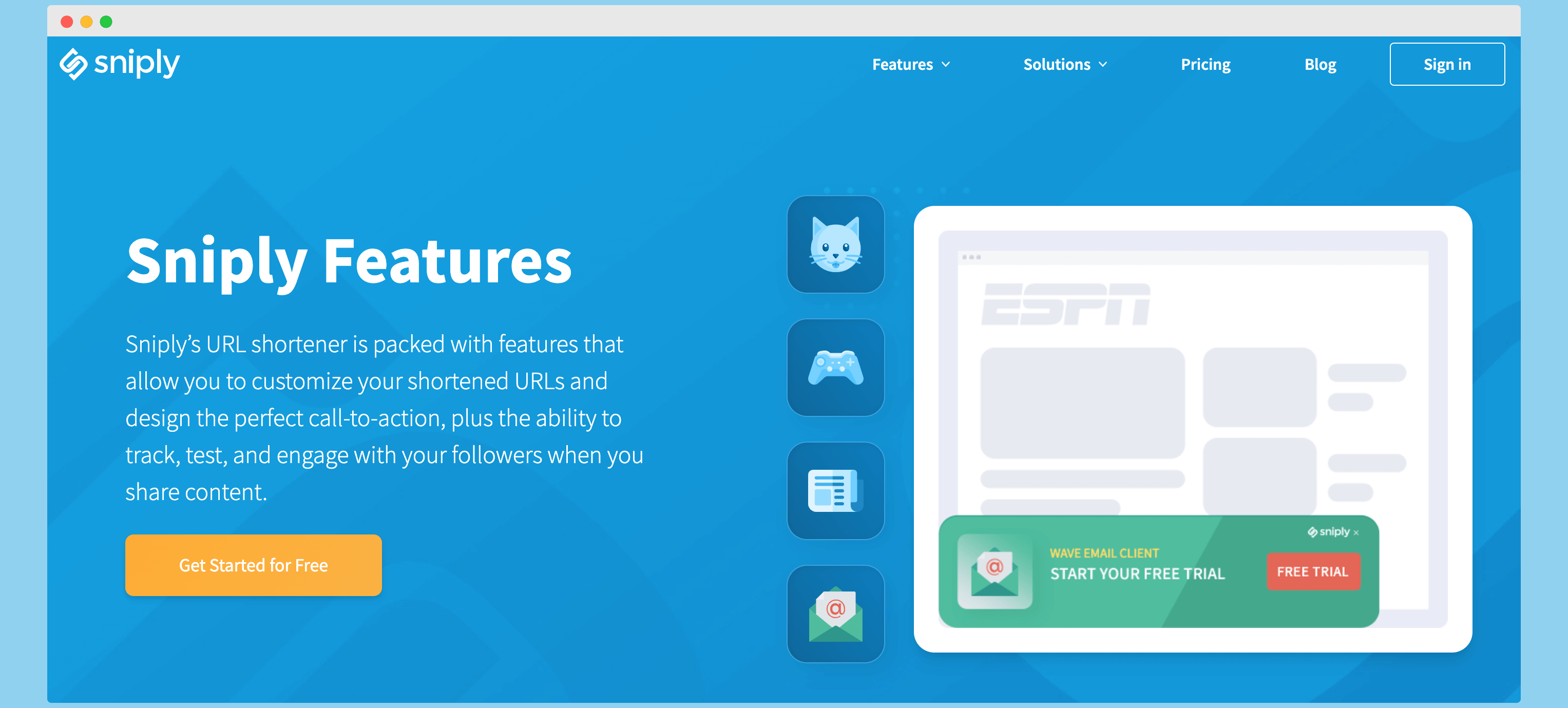 Sniply comes with a wide range of features that are designed to increase traffic and conversion. Some of the most notable features include:
Custom URL Shortner
When you create a Sniply short link, you're not just creating a shortened URL. You're also creating a powerful path that can help increase traffic and conversion. This feature gives you the opportunity to design Short, Customized URLs that best represent your brand.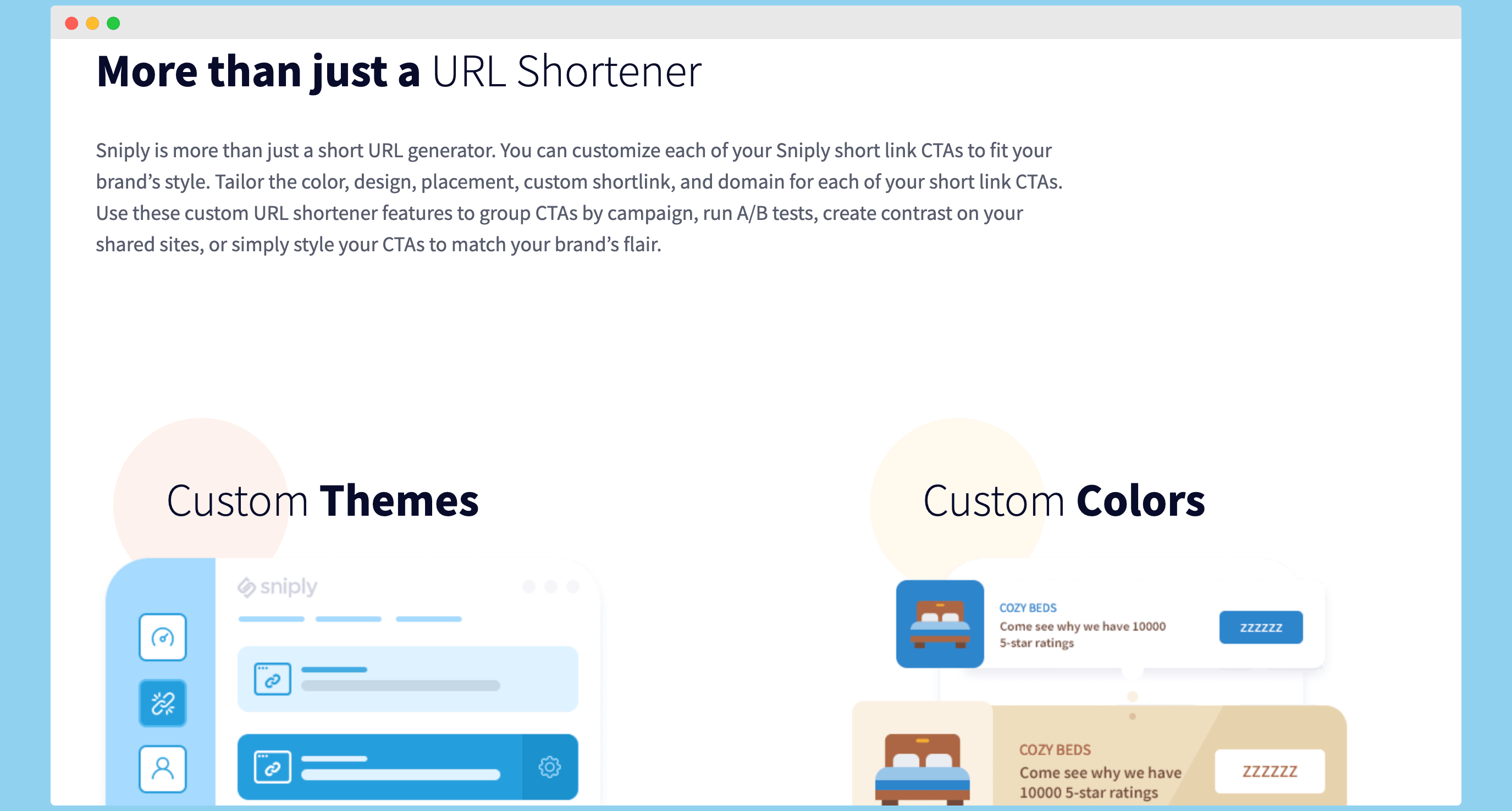 You may also change the Colors, design, position, URL short link, and domain for each of your Calls-To-Action (CTAs). By doing this, you can categorize your CTAs by a campaign, do A/B tests, add contrast to your shared pages, or simply make your CTAs match your brand identity.
Link Management & Analytic
This feature helps you to understand how your shortened URLs are performing. You can track things such as link clicks and time spent on the page. This is helpful in understanding what content is resonating with your audience.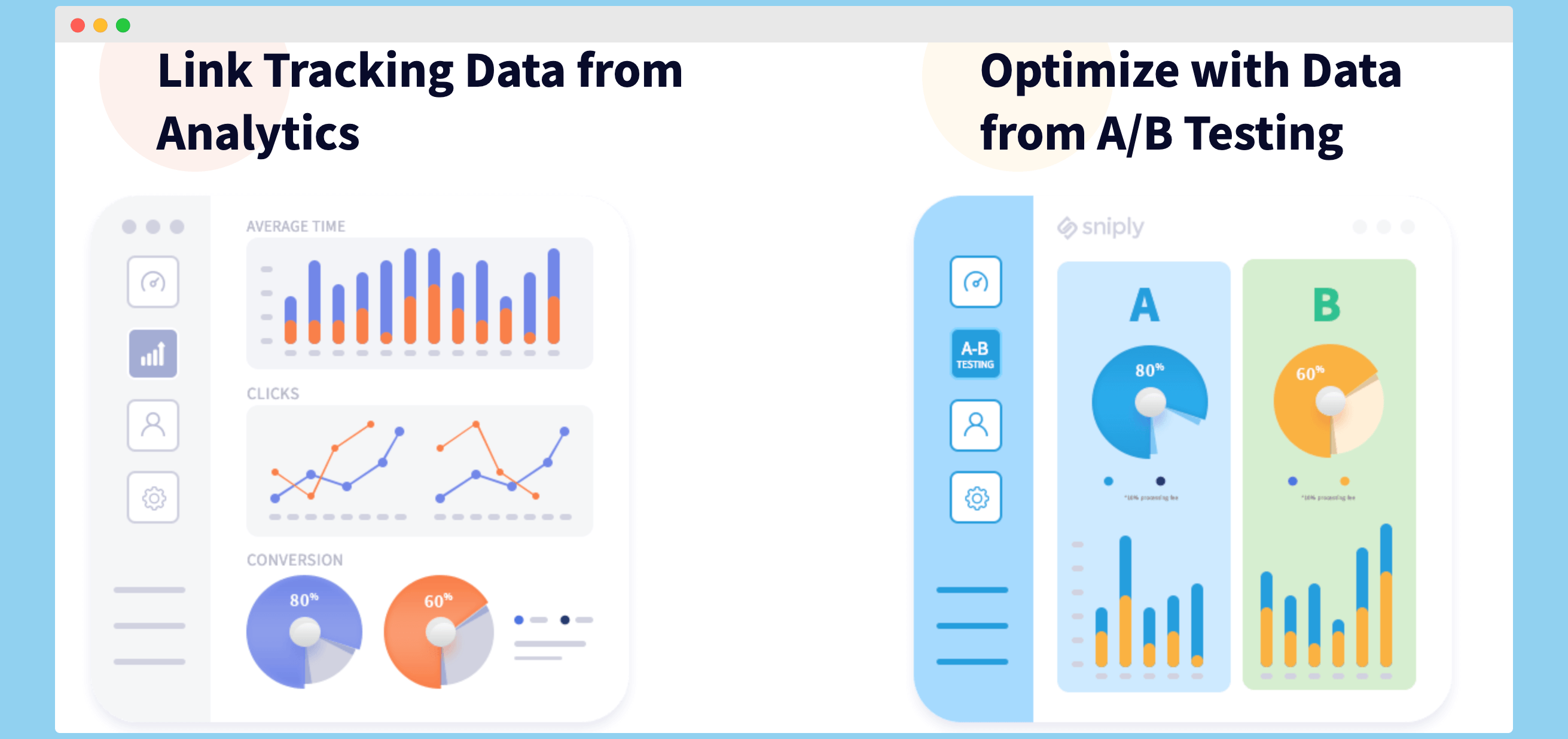 You have no idea how much power you hold in your hands with Sniply's URL management tools. Don't just makes your URL shortened and leave it there when you can also track the performance of those shortened URLs. It's all about monitoring how your links perform, and learning how to improve them is the key to success.
That's why Sniply offers a link analytics feature. With this capability, you can keep track of clicks, the amount of time spent on the page, and other interactions with your custom call-to-action. This way, With this method, you can more accurately decide what content to share with your audience based on what truly holds their interest.
Conversion Optimization & Publisher Tools
Is there anybody who wouldn't open the door to wealth if an angel of money came knocking at their door? Obviously, not. But what if we told you that there's something even better than an angel of money?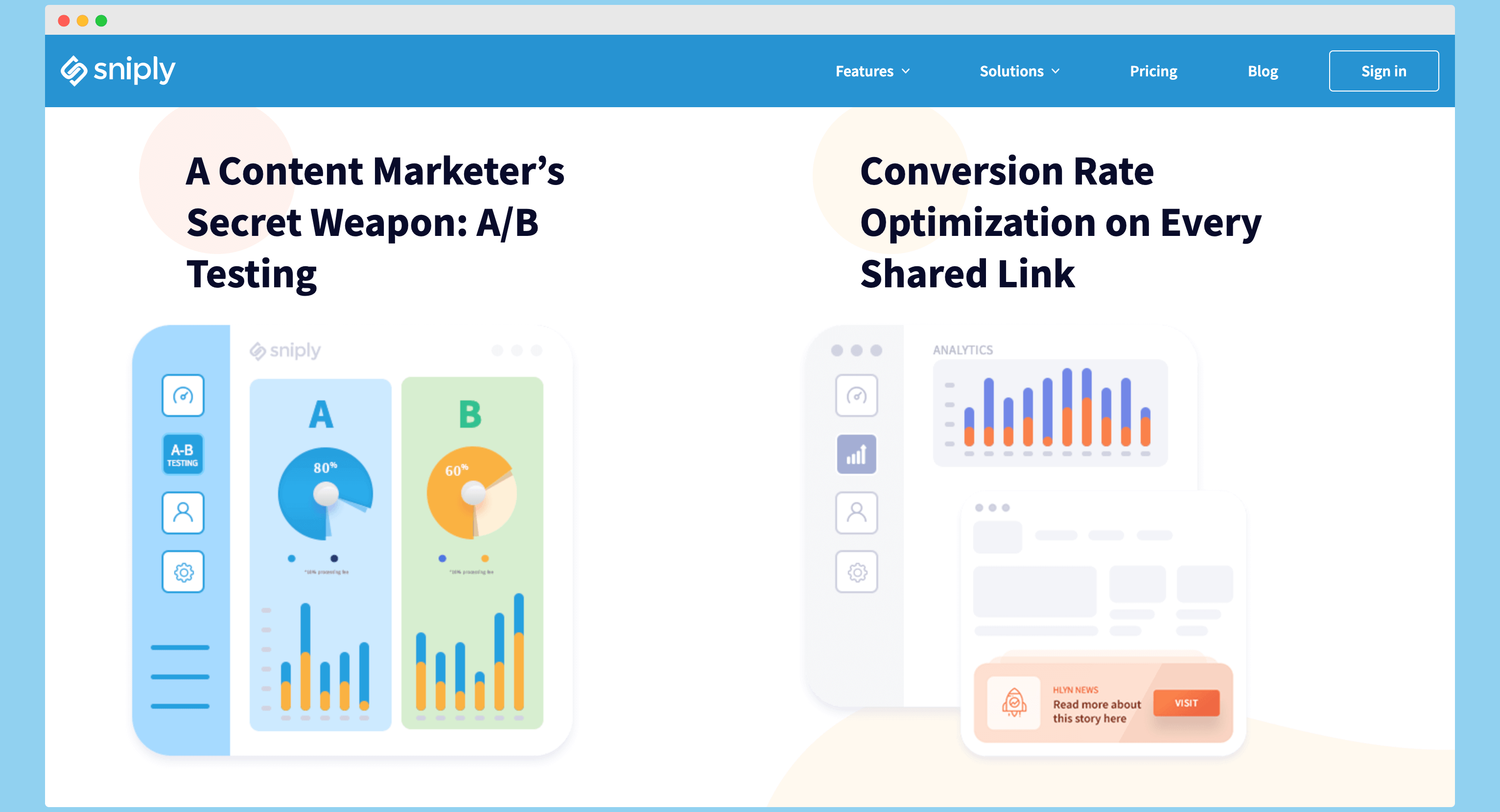 Sniply is the next best thing! I'm sure you're all thinking the same thing. How? Isn't it?
The Conversion Optimization feature from sniply helps you to get more leads and conversions from the traffic coming to your website. By adding a pixel to any URL, you can track how many people visited the page and how many of them converted into leads or customers.
You can also:
A/B testing is like a secret weapon for you.
Make sure to optimize your conversion rate for every link you share.
Verified conversions for accurate data
Shared content as a Lead Generation Tool
Cheery on the top! The features that Sniply has to offer its users are endless, and there is so much more to explore. Yes, you heard me right. Let's talked about "Publisher Tools," for example.
When you shorten links and share content, sinply's secret weapon allows you to track, test, and engage with your followers at any time. Do you know what's even better? It's all here! No need to go to different software to use various features. With Sniply, it's all conveniently located in one easy-to-use platform.
URL or Link Shortner
When you share a lot of links, it's important to have a URL shortener so that you can save space and make your links more presentable. Sniply offers a URL shortening service that allows you to create custom short links.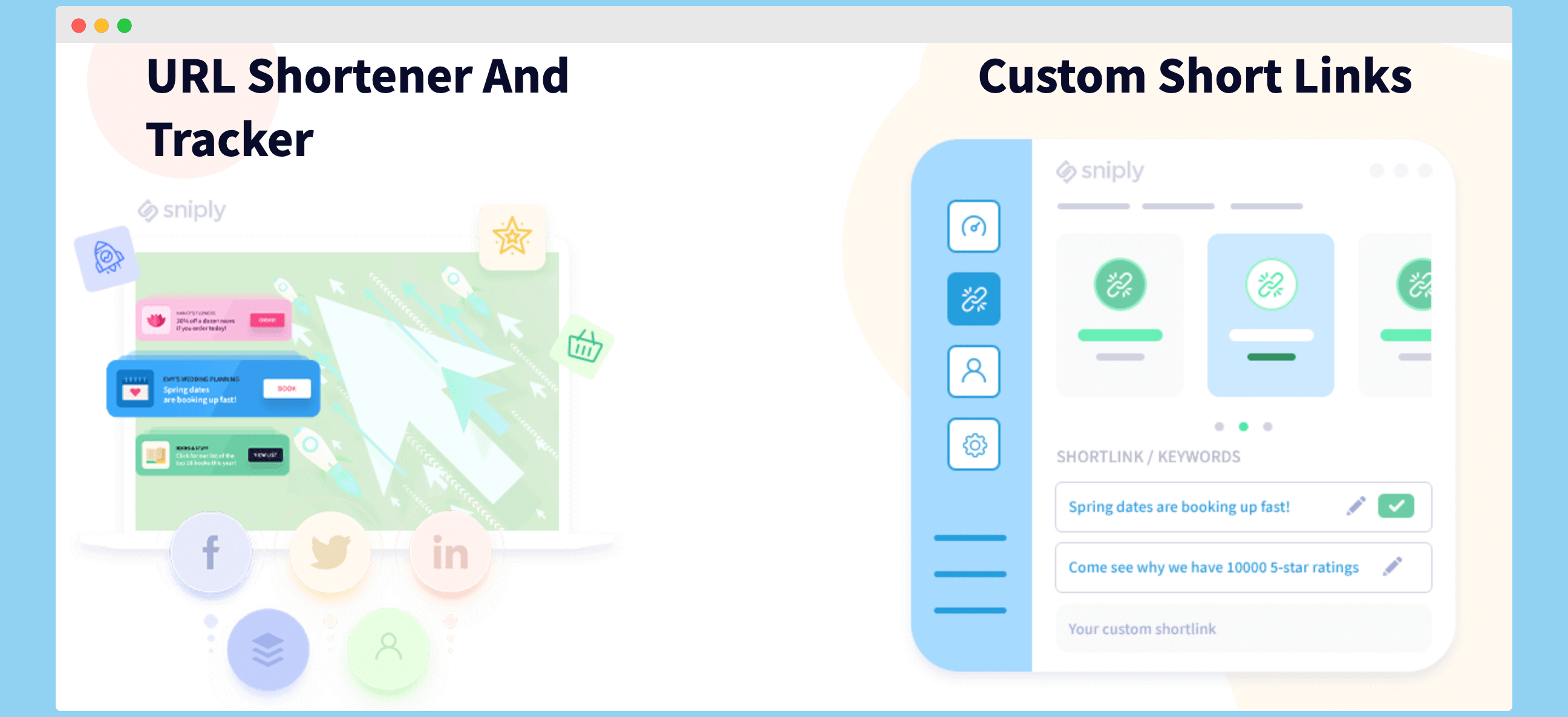 Furthermore, Sniply URLs can be completely customized. The easiest way to accomplish this is by creating your own custom short link. In the text of the short link, you can also include contextual keywords or an additional message, which will aid in organizing custom URL campaigns. Isn't it amazing?
Sniply Lifetime Deal – Plan & Pricing

Now that we know all about Sniply and how it works, let's talk about the pricing. Sniply has a variety of plans to choose from, all of which offer different features.
Let's start by discussing the features that will be included in all plans:
Button snip
Text snip
Hidden snip
Form snip
Image snip
Themes
Custom colors
Custom positioning
Custom domain
Custom short link
Remove Sniply branding
Analytics
Conversion pixel
A/B testing
Integrations
These features are included in all of Sniply's plans. The main difference between the plans is the number of shortened URLs, conversions, and team members that are allowed.
Here's a breakdown of the 3 plans that you can choose from:
License Tier 1
In this tier, you will have access to all the features that are included in all of the plans. In addition to that, you will also be able to have 5 team members, 10 brands, 20,000 clicks per link per month, and Unlimited Links.
You just have to pay a one-time fee of $69, and you will have access to this plan for a lifetime. If you are not satisfied with the service and want your money back, you can always take advantage of their 60-day money-back guarantee.
So, what are you waiting for? Get this lifetime deal now and start using Sniply to its full potential!
License Tier 2
This level of membership extends all of the benefits from the prior tier, plus a few more. You'll be able to have 10 team members, 20 companies, 30,000 clicks per link each month, and Unlimited Links with this plan.
You can avail this plan by paying a one-time fee of $139. And as always, you are backed by their 60-day money-back guarantee. So, if you are not satisfied with the service, you can always get your money back.
License Tier 3
Lastly, we have License Tier 3. With this tier, you will have access to everything in the previous two tiers plus a few additional benefits. This license allows you to have 15 team members, 30 brands, and 60,000 clicks per month per link. Additionally, there is no limit to the number of links!
The cost of this service is $209 for a one-time payment. In the same way, as for the other plans, you have a 60-day money-back guarantee to decide whether or not you want to continue. Hence, if you are unhappy, you can always ask for your money back within a reasonable timeframe.
The Terms and Conditions of this Appsumo Lifetime Deal
Sniply is a fantastic tool with a plethora of capabilities. However, there are a few things you must read before purchasing this lifetime offer. Here are some of the key terms and conditions that you should be aware of:
Lifetime access to Sniply.
Come with all future Business Plan updates.
Select the plan that meets your needs—no codes or stacking is necessary.
Your license will expire 60 days after your purchase date if not activated.
You may upgrade or downgrade between three license levels.
GDPR compliant.
This LTD is only valid for new Sniply users who do not have existing accounts.
Money-back guarantee for 60 days! Give it a try for two months and see if it fits your needs!
Wrapping Up!
So, this was all about Sniply and its amazing features. I hope you found this article helpful and that it gave you a better understanding of what Sniply is and how it works.
If you are looking for a tool to help you with your marketing campaigns, I would highly recommend that you check out Sniply. With its powerful features and easy-to-use interface, it is sure to make your life a lot easier.
And, if you are still not sure about whether or not Sniply is the right tool for you, I suggest that you take advantage of their 60-day money-back guarantee and try it out for yourself. I am sure you will not be disappointed!
So, what are you waiting for? Go ahead and grab the Sniply lifetime deal right now!