Building a site and generating healthy traffic for it is a hectic task. Drive traffic to your site in this competitive era is not easy unless you have a good understanding of SEO principles. But mastering SEO is a different skill that takes time. Not everyone with a website has the time to learn SEO practices to boost traffic.
So, does this mean your dream of revolutionizing your site is over? The answer to your delight is "No." To help you crack SEO easily, There are plenty of SEO tools. These tools help you and your site to implement the best SEO practices and achieve a good ranking.
However, selecting the best SEO tool is another burden, as there is an abundance of such tools in the market. If you're looking for an effortless way to boost your website visibility, then SEOcrawl lifetime deal is a perfect choice. With its user-friendly interface and comprehensive reports, this tool will aid you in achieving top-ranking searches on search engine platforms.
Not only that, but it also offers a wide range of powerful features to help optimize your site quickly and effectively!
TL;DR;
With this amazing tool, you can obtain valuable insights for up to 16 months worth of data from both Search Console and Google Analytics with a total of 20 unique SEO dashboards!
Keep track of your website's performance, and optimization with comprehensive SEO reports that include traffic forecasts, keyword analytics, heat maps, and growth trends delivered straight to your inbox.
The SEOcrawl is the best alternative to Ahref, SheerSEO, and Semrush.
Conquer the Search Engines with SEOcrawl
Get your website seen in the search engine results pages. Use this advanced SEO tool to identify and solve any issues that your website might have.
Get SEOcrawl LTD
About the SEOcrawl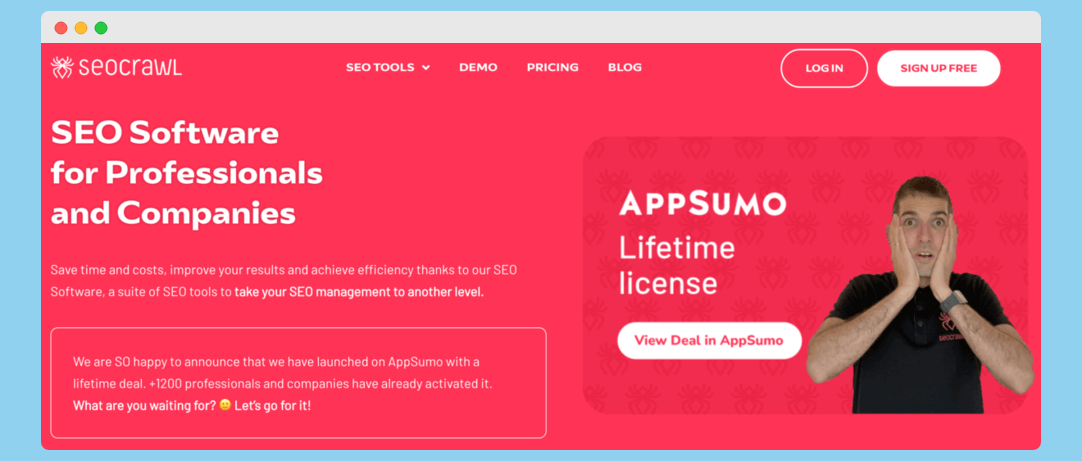 Imagine you meet a powerful wizard, and You become good friends, and one day, he gives you a magic wand. With this wand, you can easily fulfill all of your needs if you ask that wizard for a wand to be used in SEO. It would be something similar to SEOcrawl.
SEO Crawl is your magic wand in the world of SEO. This tool analyzes over 16 months of data from "Search Console" and "Google Analytics" and generates high-quality, informative reports. Also, SEOcrawl's Rank Tracker provides unlimited keyword tracking with intelligent filtering, heat maps for deep analysis, and a Task Manager that will dramatically maximize your productivity.
The data is then distributed to over 20 custom-made SEO dashboards, making the optimization process efficient. Besides this, the tool is packed with other amazing features like Cannibalization, SEO monitoring, Visibility, etc. Stay tuned as we uncover all of its amazing features through this blog while providing an extra tip.
What Makes SEOcrawl Ltd Worth the Money?
Now you guys might get the idea that I prefer the SEOcrawl tool over others. That's alright, But Why should I prefer it as well? This is a common question among many readers whenever they come across a post like this. Don't worry. There is enough justification to use SEOcrawl and subscribe to the SEOcrawl lifetime deal.
SEO Crawl Limited is a company that provides high-quality SEO services for all your digital needs. With SEOcrawl, They have integrated their high-quality, effective services into a fully functional SEO tool. SEOcrawl will first inspect different key elements of your site and then provide high-quality insights regarding the areas of improvement.
This powerful and reliable tool has helped me to optimize my website for search engines better than any other similar platforms out there! Its easy-to-use interface makes it effortless to navigate through various web pages quickly while performing on-page optimization tasks such as keyword research, audit of broken links, or identifying duplicate content issues, etc.

The tool will then generate automated reports in distinct dashboards, making it an ideal choice for those who are managing multiple projects. Not only does the report provide well-structured data, but also actionable results on how to improve your site's SEO scores. In addition to performance indicators and tips, these reports can uncover hidden opportunities that you may not have noticed before!
Plus, its quick crawling speed saves a lot of time by scanning websites within minutes which would have taken hours with manual techniques. That is why I highly recommend using the SEO Crawl tool instead of wasting your precious time looking up elsewhere.
But is SEOcrawl appsumo lifetime deal worth your money? There's only one way to find out: by using the tool yourself. Fortunately, Appsumo offers an extraordinary 60-day money-back guarantee; if you are unhappy with your product for any reason, simply return it within the allotted time and get a full refund without question.
Features of SEOcrawl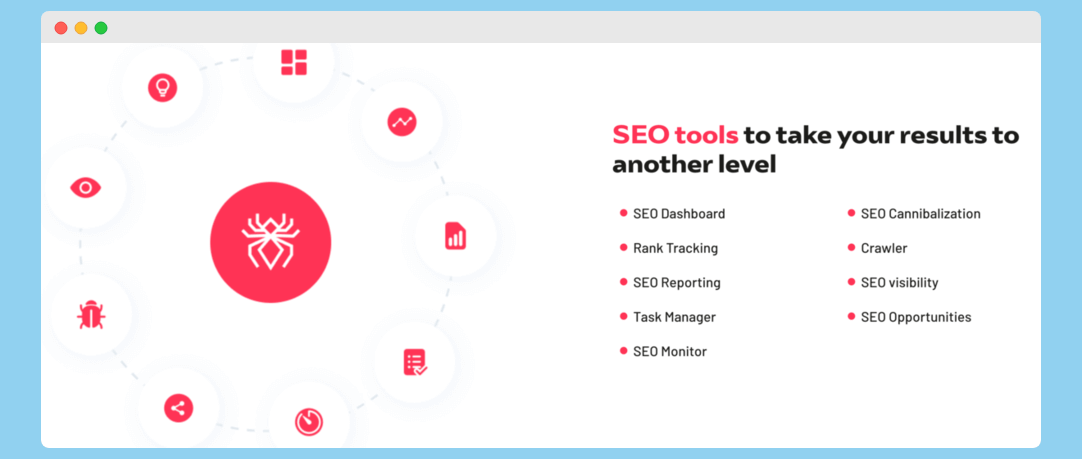 As I mentioned, SEOcrawl is a great value-for-money SEO tool with tons of features. The main features provided by SEO Crawl that differentiate it from the rest of the competition are listed below.
High-Quality Insights
SEO Crawl provides more than just efficient reports. It also provides high-quality insights concerning our sights. These insights are provided by AI software within a tool. These insights can be anything from a well-performing keyword to an underperforming URL or increased visits.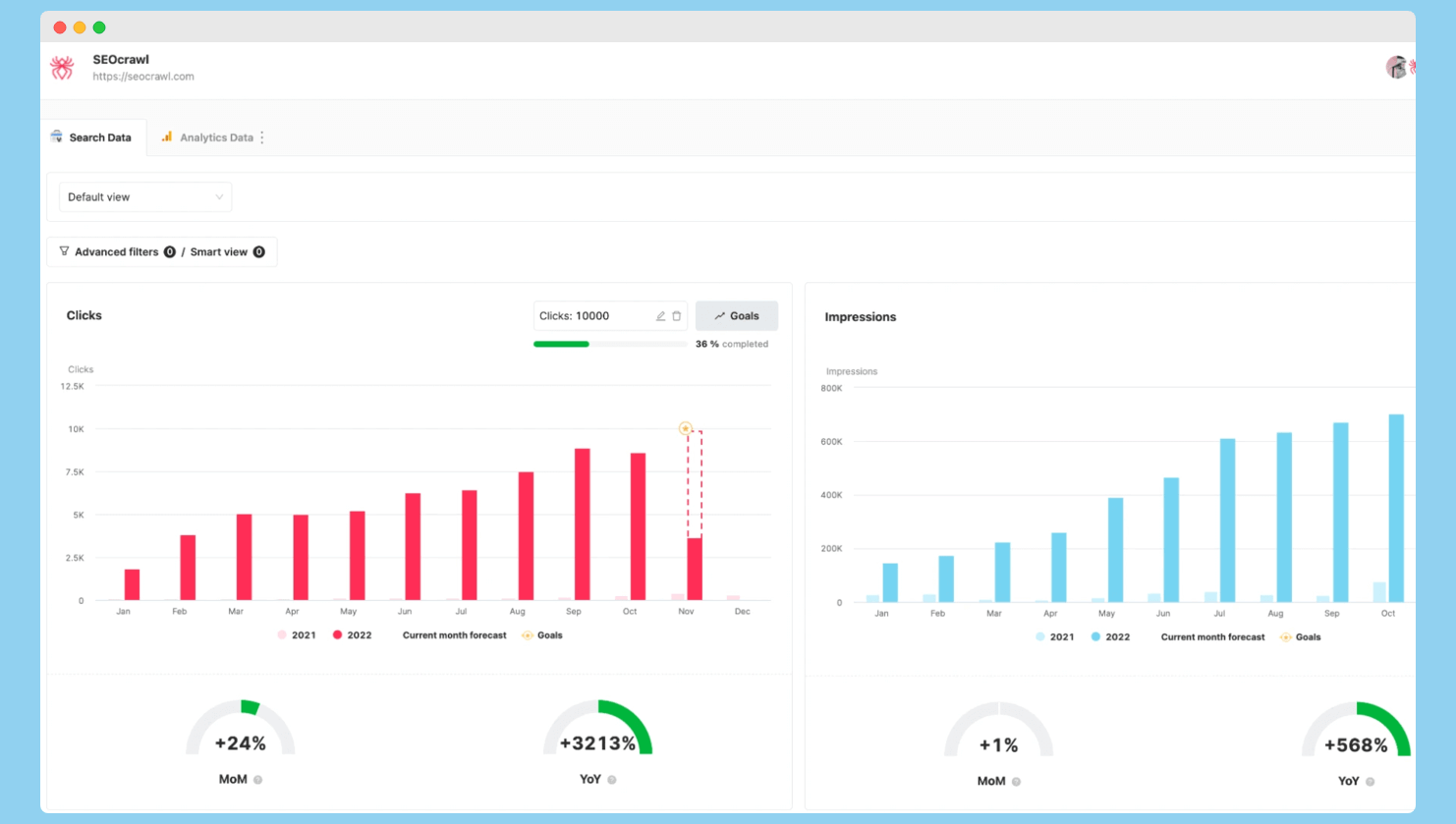 Instantly gain invaluable information as soon as you use the SEO Crawl tool! Lock in a surefire method to monitor your progress and locate opportunities for further optimization with powerful insights. Furthermore, there are customizable dashboards available that allow you to tailor-fit your data analysis experience according to what works best for you.
Multiple Keywords Research At Once
The keyword research feature of SEOcrawl is the cream of the crop when it comes to differentiating it from its competition. As you analyze keywords, use clusters -it's a great way to effectively compare brands versus non-brand ones.

Similarly, you can separate clusters related to Business keywords, Important URLs, etc., to analyze them separately.
In addition, The Keyword Distribution Tool is unlike any other. It provides you with detailed insight into the rankings of targeted words or phrases, allowing you to stay ahead of Google's ever-changing algorithm and avoid losing traffic. This invaluable tool will surely help your website stand out from the competition!
With this powerful tool at your disposal, you can rest assured that your search engine optimization efforts will be successful and rewarding!
Interactive UI with Illustrative Heat Maps, Graphs, and Charts
The major concern for someone working in SEO is numbers. The foundation of SEO is based on numbers. One will be working with a lot of numbers to improve other numbers. And To be honest, Working with numbers is boring, Especially when you have to make sense of them.
SEOcrawler solves this issue with its interactive user interface in the form of multiple dashboards. The dashboards present data in simple easy-to-read formats with various indexes. The simplicity with which the data is presented is amazing.
New users can take full advantage of the insights provided by the tool and effortlessly improve their website's overall performance. On top of that, its use of Heat Maps, Graphs, and Charts makes it incredibly convenient to interact with data. This practical approach ensures everyone is able to make the best use of this powerful resource!
The Health Overviews Feature
Health overviews are the key to making an SEO crawler efficient and effective. When you use this tool, it not only gives you a comprehensive ranking analysis but also provides metrics like CTR (click-through rate) and Impressions – all in one package!
With health overviews incorporated into your search engine optimization strategy, your website is sure to climb up the rankings quickly.
Because health overviews are like conclusions of the analysis, which show the overall health score of the page, it will highlight the associated problems with the site in the form of errors and warnings. The health overview section acts like an SEO extension.
The Health Overview covers other important areas such as; Sitemaps, Schema, and Links. The detailed report generated by the tool can be used effectively to boost the site's performance.
Improves Productivity with Annotations and Monitoring
Annotations, along with effective monitoring, is another special feature provided by the tool, along with its effectiveness in getting the most out of the Google Search Console data. SEO Crawl also assists you with the effective planning and execution of the plans.

The tool is equipped with a task manager to boost productivity with effective collaboration. Annotations are another high-end feature provided by the tool. You can set annotations for almost any change you have implemented on your site. Annotations will help you monitor the results of those changes in the desired timeframe.
Besides SEO Monitoring feature will also help you to track the changes. This feature sends you an email highlighting the major changes during the selected timeframe. This is very useful for people working in a team; everyone will get updates regarding the changes, which reduces the chances of miscommunication. It makes it easier to analyze any mistakes which might prove very costly for the corporation.
SEOcrawl Lifetime Deal – Plan & Pricing

The tool is flexible not only for SEO but also for your budget. The tool offers services at different prices for all scales of businesses. However, the tool is available for a limited-time lifetime deal on appsumo.
Appsumo's SEOcrawl lifetime deal is the best value-for-money plan in the current scenario. This appsumo ltd offers three tiers of licensing or plans for customers. The plans are as follows:
License Tier 1
For a modest one-time payment of only $19, SEOcrawl ltd provides all the exclusive features you could ever need. This plan is restricted to 1 user on 1 project and allows up to 10,000 clicks per month from your Google Search Console account. Get the best value for your money today with this unbeatable offer!
This plan is ideal for solo site developers. For agencies and teams, however, there are more tailored plans available that would better suit their needs.
License Tier 2
This plan is an upgrade to Tier 1 and is useful for medium-scale businesses and enterprises; under this lifetime deal. One can use the SEOcrawl tool for five projects; in addition, the number of users who can use the tool is unlimited. For a justified price of just $69, this plan offers 100,000 total clicks per month from the Google search console.
With this limited-time offer, the subscriber will also have access to the Team Management tool. It's ideal for a medium-sized business and makes managing teams effortless.
License Tier 3
Everyone can take advantage of Appsumo SEOcrawl's exclusive lifetime deal, no matter the size of your business. For larger operations with multiple projects, a special Tier 3 lifetime subscription is available that offers all its premium features for up to twenty-five undertakings.
The no of users who can access the tool is infinite, and a total of 1 million clicks are available. This plan also covers the team management feature from the tier 2 plan, but that's not it. In this plan, you also get another amazing feature known as White labeling.
All such mesmerizing features are available at a one-time purchase price of $169. So, Don't wait any longer to take charge of your SEO campaign – grab the SEO Crawl lifetime deal from Appsumo today and jumpstart your journey toward success!
✍Our suggestion!
Extra Tip: Keeping customer satisfaction as its top priority, SEO Crawl ltd provides all these Lifetimes deals with a 60-day money-back guarantee policy. So if you don't like it, you can always claim a full refund within 60 days of purchase.
Wrapping Up!
SEO Crawl is a mind-blowing tool that offers high-end SEO services, AI automated, easy-to-understand reports with plenty of cool features to make your SEO journey fast and convenient. The tool offers such mesmerizing features at a very reasonable price.
Putting the customer's need above everything else, SEO Crawl offers plans targeted for all sorts of users and businesses.
SEOcrawl has to be one of the best SEO tools out there in the market. The tool will not only help you optimize your site in the best possible way, but It also ensures your site will not be affected by any of the Google updates. Purchasing the tool is not just an ordinary purchase. It is an investment for a lifetime.
Your journey to becoming an SEO master is now easier with SEOcrawl. Choose the deal that suits you best, and you will become an expert in the field in no time.
We welcome your questions and feedback on this article. Get in touch with us, and we will gladly provide a response for you! Also, don't forget to follow us so that you can stay up-to-date with more content like this which could be of help to you.