Ever heard about an Ecommerce Platform that is not precisely an eCommerce platform? What will be your reaction if I tell you a way with which you can converge your offline and online business through one application, and you don't need to be a pro at coding or plugin configuration?
Yes, you heard it right. SELLDONE and its lifetime deals are a quest-like operating software where you can tailor your offline and online enterprise together with all the needed tools working best for two POS( Point of sale) systems.
You can easily build your own website with all the templates shaped by professionals in one click without the commitment of coding skills, plugins, and above all that confusion.
To be specific about the software, the list of benefits Selldone offers is alluring. What are you getting here? Hmm, Get ready to be impressed with these mind-blowing functionalities :
Able to set up and merge your stores with an APK within some minutes
Uses the templates, designs, and patterns designed by professionals
You can easily track your sales with the built-in POS system.
You can list out your entire inventory just by importing one excel file.
That's it! Well no! The poll of features offered by the selldone is limitless, promising you a perfect e-commerce website according to your needs.
TL;DR;
Integrate your online as well as offline Sales through one POS system.
It is considered one of the alternatives to BigCommerce
One can design their eCommerce website through the drag-and-drop page builder method
Works amazing for the agencies, developers, and SMBs longing to integrate both their online and offline stores into a single platform.
And working with Selldone is very easy. No need to worry about the setup or payment methods. All you need to do is list all your services and inventory to Selldone, which will generate all the product descriptions with customized templates you can choose from. Since they integrated it with trendy applications such as Razorpay for payments and shippo for deliveries, one can save many hours. Why delay? Go grab this opportunity!
Start Your Business in Seconds with Selldone
Use Selldone to start and manage your business easily. It's the all-in-one solution that you need to run your business smoothly..
Get Selldone LTD
About Selldone
Application, eCommerce website, online store, or a designing app. What exactly is SELLDONE? Jumping into the topic, Selldone is a dynamic and latest operating system in the field of business, letting you tune your business model and start selling your service both online-offline without the need for any plugins, templates, and coding. You can manually monitor all your activities with the assistance of a Built-in POS.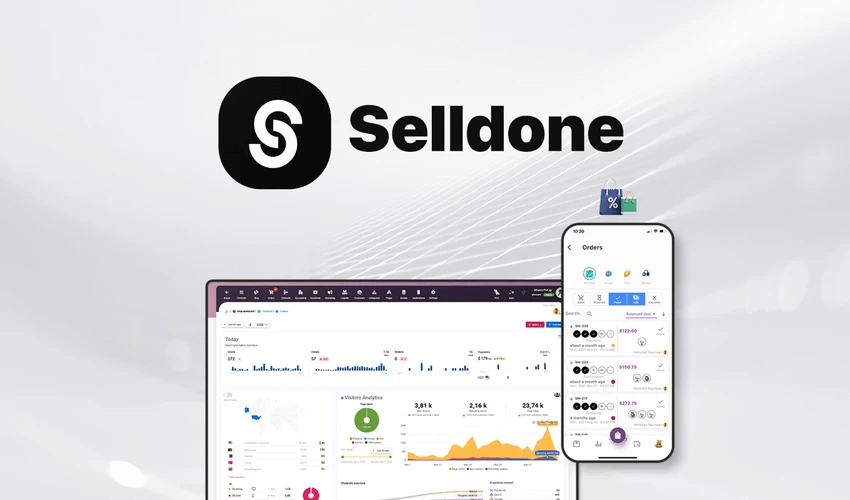 With the merged functionalities, you can easily use all the tools of the POS like club incentives, coupons and payments, and receipts as well. Since the user uses the Wi-Fi-connected barcode scanner app for the recognition of the products, making it a reliable source for both the buyer and seller.
Why Selldone instead of other alternatives?
Helping entrepreneurs, businessmen, and various companies to keep up with the virtual world, Selldone has been an impressive opportunity for all the minds out there. Let us assume you have a basic website for your business or series. What if I say you easily set it up in a default homepage for working in a single domain? What if you can use the most creative templates using your images and text?
Don't worry! Everything is possible with Selldone. Not only can you fabricate your working product pages, but there are tons of tools pushing SELLDONE to be your priority.
So, what is it about selldone that you should not miss??
 With selldone, you won't miss your connection and communication with your consumers through a white-label community page offering a variety of engagement features
Will be able to retrieve the lie updates and feedback from the users
Reduces the Boundary between your offline and online work.
Save the money that could be spent on expensive maintenance and technical issues.
I wonder if there is anything that this Selldone can offer. This operating software acts as a boon for an entrepreneur. Compatible with 100+ languages, multi-shops systems, and private couriers, Selldone is rushing towards the customer's satisfaction. Probably after some experience, the question of Why Selldone serves its answer to the fullest.
Features of Selldone
Some of the applicable features offered by the Selldone beneficial for eerie people using it are listed below:
Build an E-commerce platform connecting your online and offline store
Probably the most attractive feature of Selldone. Since every business owner wants to take their store into the digital world but the terms of coding and expenses of hiring a website builder scare the most. So with the idea of not only building you an eCommerce website but connecting your online and offline store, selldone welcomes you with the heart.
With Selldone, you, as an entrepreneur, can connect your store in the digital store with all the services or products you can offer to the user. Lacking any kind of technical errors, selldone will allow you to manage your sales and business with the POS system faultlessly. No need to worry about the payments and shipping in selldone because of the Razorpay and shippo.
Better than just an eCommerce tool, thanks to the selldone, you can carry out your whole business here.
Design your brand yourself with the no-code drop and drag tool
If the thought of designing your website, making your templates and graphics makes you uneasy because of some issues with selldone, you can forget about those.
So if not design, I should know how to hand the orders and products and list out all of these descriptions. Well, not again. Selldone offers you lots of tools to handle all your customers and the inventory. Well, you can select the available design and drag it to your under-processed website for designing. It's so simple, right? Selldone is well famous for its easy usage.
Incredible features and tools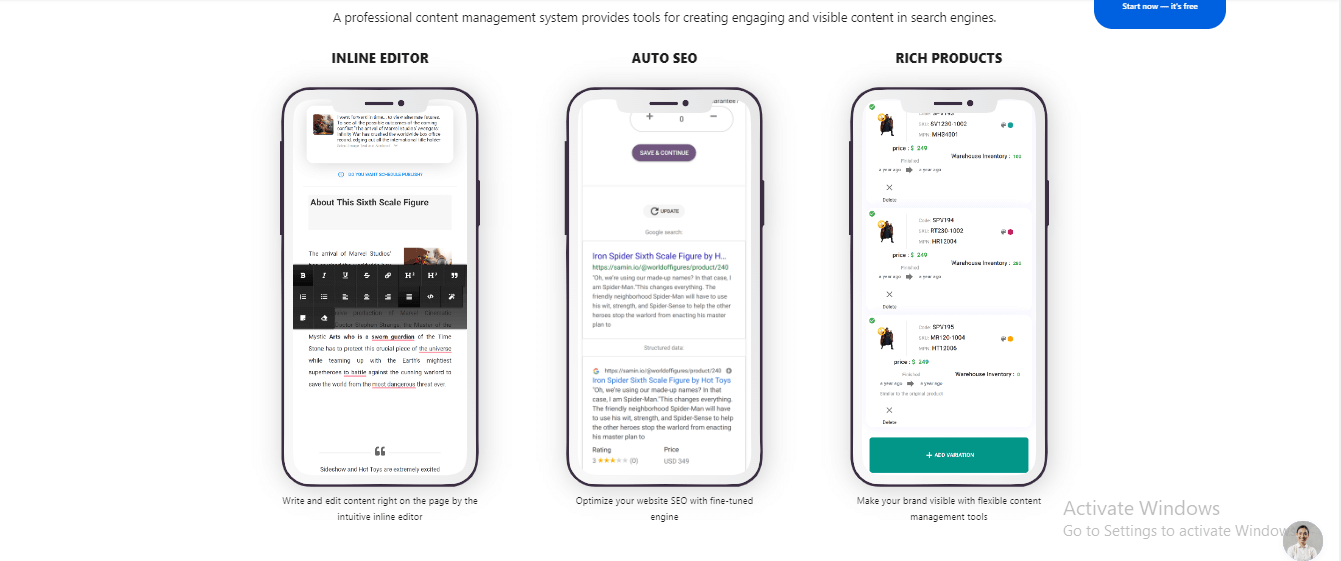 Selldone is a powerful software for building a platform for showing your service in the digital world. Along with the high-end benefits, several tools and functionalities improved the experience in many ways.
For Example, you will be offered a professional content management system. Here in this tool, selldone assures you with the inline editor that manually helps you to write and edit the description, Auto SEO optimization with the help of the fine AI engine, and many more. not limited to those, you will also enjoy managing your website with the help of tools such as inventory, analytics, and finance.
Connect with any apps and platform without coding

Worrying about the connection of your websites with various social media platforms? Selldone works best here as well. Without coding, the business owner will be able to join your selldone account on various platforms such as Google, Telegram, Facebook ads, and many more. This will be a great help for you to find and interact with millions of new consumers.
Sound cool, right?
Offers a simple and accessible user-friendly experience

Selldone is well famous for its incredible and user-friendly experience. The customer product list and choices are well customized here. Whether it is about filters, choices, or shopping flow, every tool provided by selldone is very easy to use and portable.
Supper efficient checkout process trusted mapping and payments available in more than 100 countries reduces the limitation of any user from any part of the world. The product list is well customized, and understanding the user's needs and finding the products is very accessible with the AI system used in the software.
Selldone Lifetime Deal – Plan & Pricing
After everything, let's check out different plans and prices of the selldone which will help you to choose one with your needs and requirements.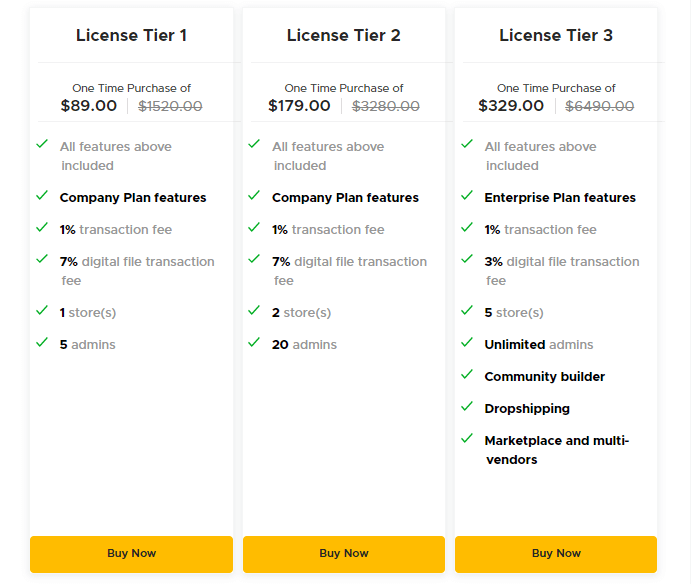 Tier 1 License
For $89, a tier 1 license will let you run one store. This means you can set up and run one business that lets 5 people sit as an admin in it. The software will cut only 1% of transaction fees and 7% of digital file transaction fees in this pricing.
Don't worry about the features just because it is the first plan. Selldone promises all the features included above in this plan. You will be able to experience the company plan features, such as gift card programs, unlimited storage, active affiliate programs, private couriers, and priority support, facing no technical issues.
Tier 2 License
With just $179, you can enjoy the tier 2 services of the applications. Here, you will be able to run 2 stores with 20 admins properly .same as before, the 1% as transaction fees and 7% as digital file transaction fees will be deducted.
After this plan is ready to experience all the features mentioned above for developing a top-notch commerce platform for yourself, one can enjoy all the company plan features such as community builder, active email marketing campaigns, gift card programs, and discount codes.
Terms and conditions of this deal
You will get lifetime access to the selldone
The money-back days are limited to up to 60
You don't need to code or plan; just choose what suits you
Used the shippo integration for payments.
Active affiliate programs can be experienced.
Tier 3 License
Similarly, the last but the best. The Tier 3 plan of the Selldone is available for only $329. Offering the enterprise list of plan features, you can run 5 stores with unlimited admins in the plan. This plan reduces the digital file transaction fees by up to 6%, but the transaction fees are constant.
But the features you will experience are wide. One can enjoy unlimited domains and admins with 1k gift card programs, discount codes, advanced offers, and many more. They are well equipped with the plan's additional dropshipping tool and community builder.
Our suggestion!
If asked, we will suggest to you the tier 2 plan of the selldone. Not only can you support 2 stores and 20 admins for just $179. The best and most affordable deal by Selldone, tier 2 guarantees you the company's features and benefits.
If you want the best deals and astonishing features for your company in the most affordable price deal, then tier 22 is a batch catch for you.
Wrapping Up!
Here, Selldone is an incredible operating software with which one can build and design their eCommerce platforms with various designs and templates without worrying about coding and plugins. One can easily manage their service and orders, deliveries to payments. Basically everything!
In addition to these functionalities, the compatibility with the number of languages, powerful system, and the best reviews truly lures anyone. You can save your book a load of time and investment with this application.
No matter if you have just started your business or are already settled in the market, in the era of digitalization, you need to build an online store as well. And questing for a reliable source with affordable pricing, welcome to the Selldone lifetime deal. A perfect decision for which you will thank us!
We hope we can see your queries about the deals and offers of SELLDONE. And if any issue has remained unanswered, our sincere apology, and we are eager to hear those in the comment sections. We will try our best to help you!  Thank You!
Now rush back to the Selldone!