Let us suppose a hypothesis. You are running a successful e-business or a website, and most of your time is spent on work such as content, management, updates, etc.
What about web analytics and SEO tools? What if you won't be able to test your website and monitor the page speed properly? What if you miss these important tasks due to some factors? No doubt your website will run at a loss.
Don't worry! You just need Screpy Lifetime Deal!
The top-notch platform that makes sure to alter and look after your important website metrics and check multiple platforms. More than that, an assistant for your website will combine the top web analytics and SEO tools and assist the customer in ensuring your website is performing at the top speed.
Yes, you heard it right. Screpy is a multi-tasker platform working with us and working for us. All in one analyzing and monitoring tool.
TL;DR;
Promises to keep your site optimized with SEO analytics tools.
Lets you analyze and monitor all the web pages in one place.
Helps you get 24/7 uptime tracking and instant notifications.
Can be called the best alternative to Ahrefs, SEMrush.
Best platform for different groups of people such as developers and small businesses.
Improves the performance of your website.
Use AI to Analyze, Monitor, and Improve Your Website's SEO
Screpy is an AI-powered website analysis tool that will help you improve your website's SEO. Monitoring and improving your website's performance will also be easier.
Get Screpy LTD
About the Screpy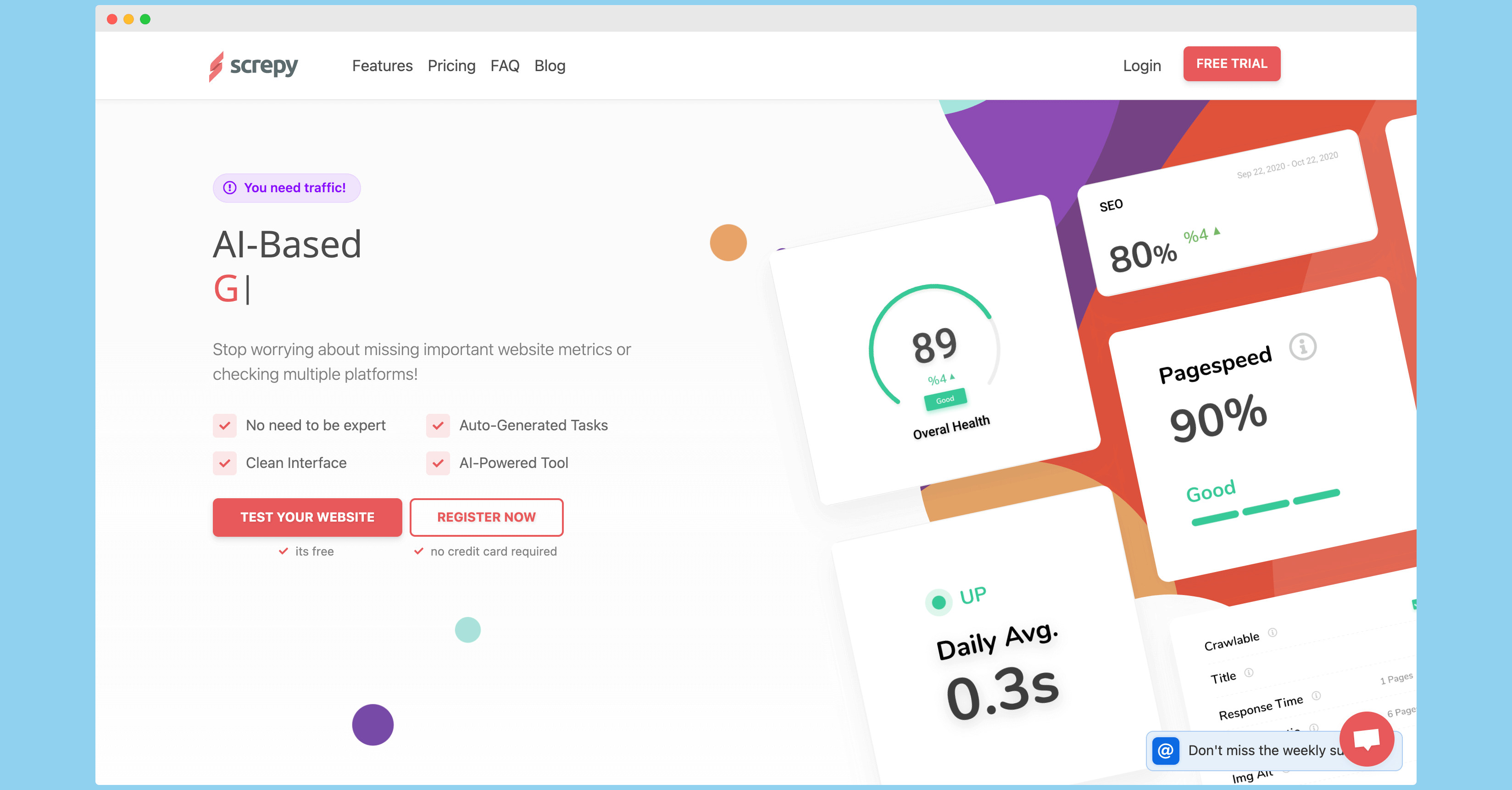 Not just another SEO tool, Screpy is so much more than that.
It is a no-code solution for most of your problems. Basically, scrappy is an AI SEO tool that is used for drying traffic to your website. The solution will let the users increase their rankings on google within minutes. The power and easy-functioning user interface of this platform make it unique the most.
Screpy uses New and advanced IS technology which will help you eventually to get more leads in the virtual world. It also ensures more sales from the organic search traffic in much better quality than ever before. What impressed us as users is that we didn't need any kind of technical knowledge and expertise because of its no-code functioning. Enter the domain name and click start. That's all.
So, to sum up, the definition of this platform, Screpy, is an AI-based SEO tool, or we can also say a web analysis tool that primarily focuses on letting you and your teams analyze and monitor all the metrics of your websites with one dashboard.
Screpy promises to scan your website, including its strengths and weaknesses from it. Within a second, it analysis all the user experiences and search engine and generate recommendations as per our need.
Why Screpy?
The most crucial need at this point. Screpy is a lifelong catch for you, without any doubt. It is regarded as the most powerful and easy-to-master tool at the same time. Don't worry about any completely complex metrics, algorithms, code, and technical concepts! The only thing that screpy teaches you is to be stronger and perfect.
We might confuse screpy ltd with a tool with one function but try to tell it is not true. There are many features within this platform that make sure to help you in the best possible ways. They are:
Can quickly analyze your website by entering the site address in the input
Autogenerated tasks will let you get your SEO score up to 100%
You will be able to analyze the top 100 rankings of any keywords in 223 countries
Helps to monitor your page speed in real-time and get AI-based personalized solutions
Offers the screpy syntax checker for all pages to get the first functional and user-oriented one.
Screpy offers the user the step by steps tasks to do to show the potential influence of each of them.
Assists in some top matrices such as page speed, SEO audit, W3C validator, uptime monitoring, and google rank checker.
These are just on-the-surface tools that screpy can offer. There is so much more in here. All your need to do is trust the platform and get the best possible deal without any delay. And now let the screpy do all the magic.
Frequently Asked Questions
It's likely you have some confusion about this deal. Therefore, some of the most frequently asked questions about this Screpy lifetime deal are as follows:
Q. Can the user change or cancel the subscription at the required time?
Ans. Definitely, anyone can change their subscription and can also downgrade/upgrade to the required plan.
Q. Is there the presence of any contracts, hidden charges, and setup fees within the plan?
Ans. No, for instance, there are no contracts or hidden charges and fees. Users are allowed to cancel the subscription whenever they want to.
Q. What kind of payment methods does screpy uses?
Ans. Screpy uses various methods of payment methods ranging from the stripe and accepts credits through methods such as visa, MasterCard, Discover, and American Express.
Q. If canceled at the moment, can I still use my account?
Ans. Even if you cancel the subscription at the moment, It won't limit your account functionality immediately. Until the end of the period, you can access the tools.
Features of Screpy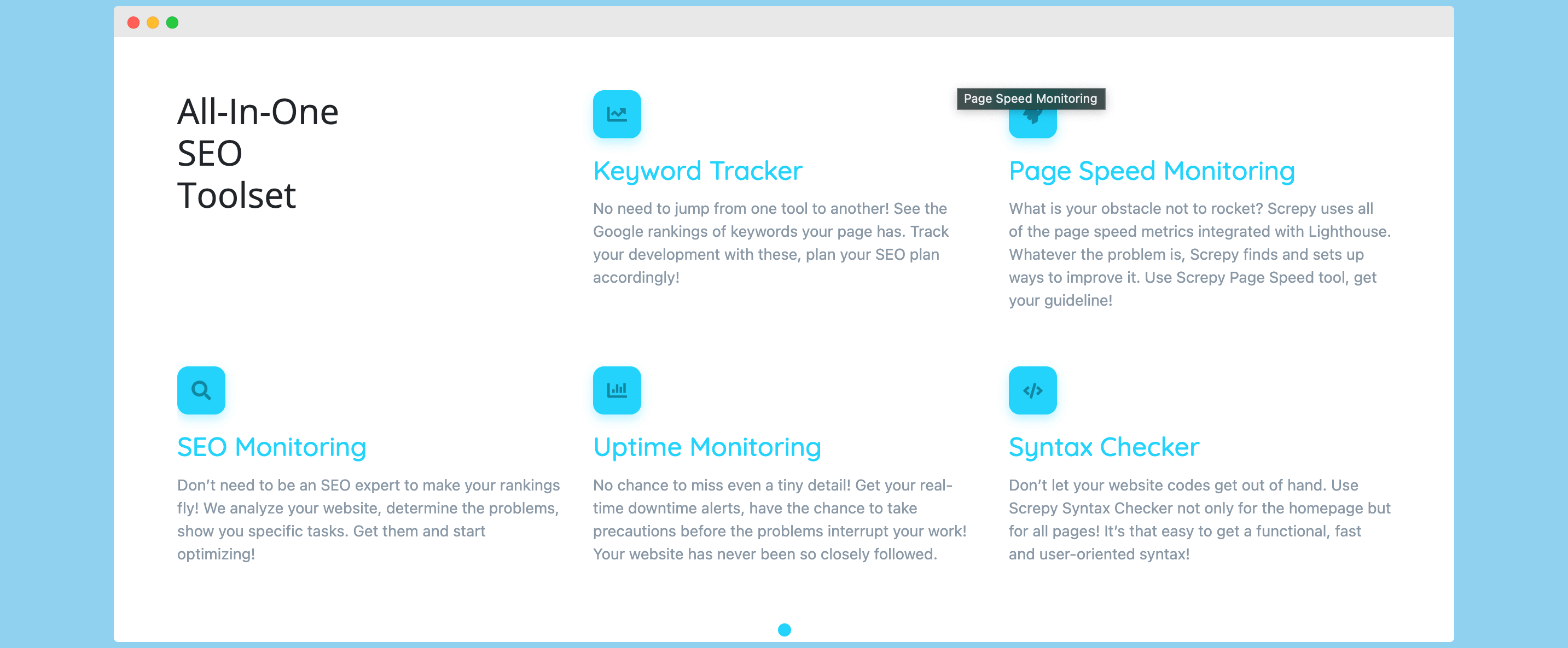 Screpy offers some powerful and incredible tools which are a must for time if you want to grow your page and website to a higher level. Al the tools and features are equally important here in the platform but some of the features which perform a huge role are as mentioned below:
Keyword Tracker
One prominent feature of this platform is not quite defined. Here are many which perform many different tasks for making our work easier. But among them, keyword tracker is one. With the motto of keyword suggestion, monitoring, and player, these tools work, so that is it is responsible for improving your SEO score, optimizing your page speed, sole syntax errors, and monitoring your uptime.
It works with various different methodologies. Experiencing the quality of words is like a cup of tea, as three different details are being provided here. For example, at the basic level, you will have access to the SERPs keyword table, which includes the positions, changes, countries, and many more.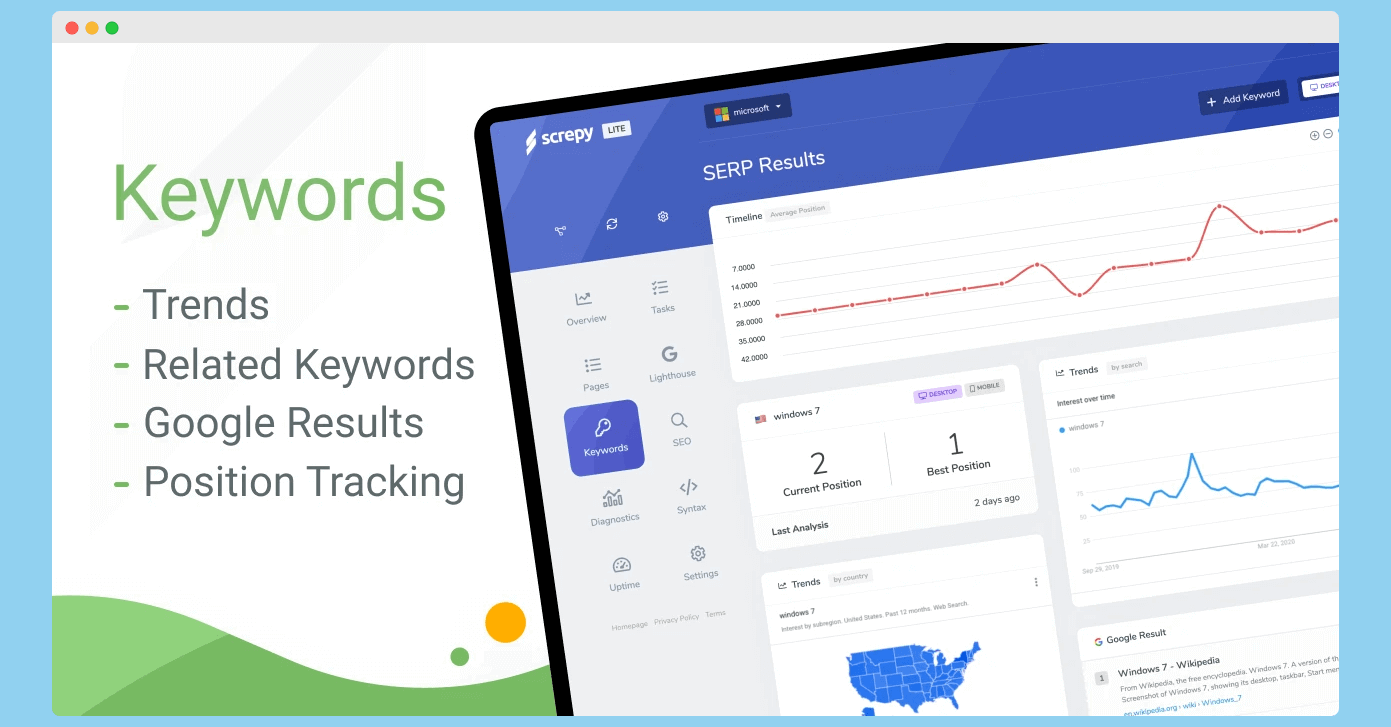 Similarly, the keyword ensures the regions, trends, and monitoring. Finally, the related keywords and the google results are shown in keyword details.
The feature is not only limited up to here, there is so much more you can do. Tracking of the keywords has become so easy as one can quickly analyze the site by just entering the site address in the input. The feature of letting the user search the keyword by region has solved many issues. Now seeing which location was most popular during the specified time frame is easy.
Similarly, seeing the full rank history with the numbers representing the search interests and finding the high search volume words similar to the one you added before had become so easy now with this screpy ltd.
Page Speed Monitoring
If your page speed is not matching with the end of the customers and the ideal one, then using other tools and managing other issues won't be worth it. Now with screpy, page speed monitoring is possible within some steps. Screpy uses all the page speed metrics integrated with the lighthouse. Whatever the issue will be, their screpy will find out the automatic ways to solve it.
Screpy uses AI-based lighthouses, auto-generated tasks, etc., to keep the customers fixed by managing the performance insights and high conversations rate. It lets you get the maximum control over each page of your own website and get the presented scores on a page-based basis.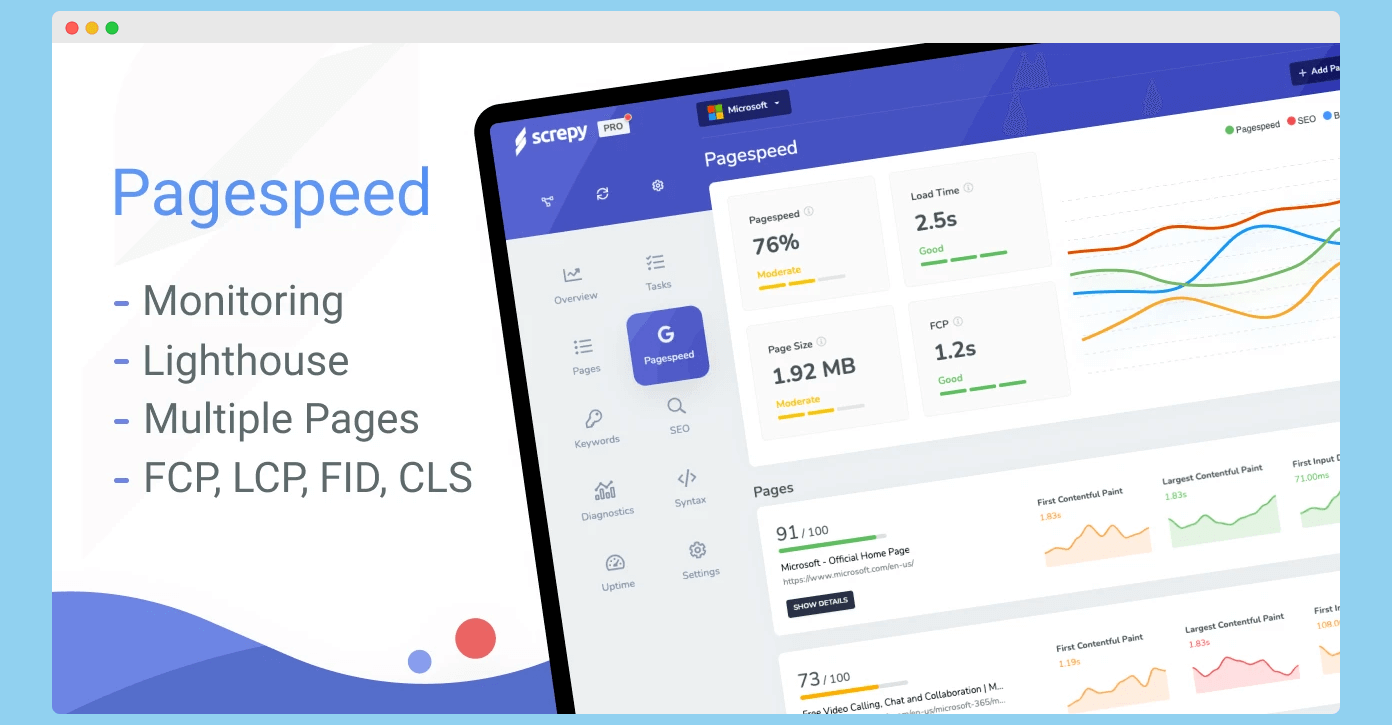 It offers real user experience-oriented analysis. One website and you will learn the performance with the high-level reporting and compare the historical visualizations.
Screpy uses the new and advanced powerful google lighthouse integration. Now you won't need to navigate between the multiple platforms to control your metrics scores. One tool will ensure all the data as the platform will measure the performances in all metrics of Google and will let you understand your page speed along with many factors.
Similarly, you can maximize your page speed score with the auto-generated tasks powered by the insights. Increase it through the user experience metrics. Screpy will allow you to detect all the shortcomings which are affecting the user's experience.
All thanks to the attached lighthouse integration as well, each task is listed with its average effect on the total score and competes in the strongest ways possible.
Additional Features
The codes are important and unsafe as well. So why let them be put at risk? The new syntax checker tool from the screpy will protect them not only for the homepage but for all the pages available for your websites. There are many other features that help for the benefit of the business on average.

The new uptime monitoring feature from the screpy won't let you miss even the tiniest details. Now you can get your real-time downtime alerts and which will let you take precautions far before the problems interrupt your work. The feature includes many other mini tools within it, which will let the users get instant and real-time emails, next-generation AI bases watchers, and report-based server response time tracking.
Similarly, the SEO monitoring from the platform will analyze your websites, determine your problems and help in the functioning. Also will suggest the ranking of SEO-optimized content.
Thus, with the assistance of this tool, one can grab three different functions, which are AI-based customized on-page SEO reports and step-by-step SEO tasks which are problem-specific and definite solutions for up-to-date SEO rules.
Screpy Lifetime Deal – Plan & Pricing
Purchasing the deal should not be a hurried task at first, find out about the terms and conditions of the deal and then get to know about the pricing.
Terms and conditions of Screpy Lifetime Deal
You will have lifetime access to the Screpy Lifetime deal
All future plans and updates are properly ensured after the purchase
This deal is only for new screpy users who do not have the existing screpy account
Redeeming of the code should be done within 60 days of purchase
In case of any issues and problems you can always have your money back within 2 months
Now that we know about the terms, study in detail about the lifetime deal and the pricing and think about purchasing for yourself.
Screpy LTD

Screpy pro plan is no doubt the most alluring deal of the time. The cherry on top is the most affordable price of the deal through appsumo, which is only available for $49. After the purchase of this screpy appsumo deal, all the general features mentioned below, which are available on the platforms, are properly ensured.
Put up your demands ever they are such as technical SEO audit and monitoring, or uptime monitoring, screpy will handle all. With this deal, users are able to get monthly credits for up to 1000 keywords.
Similarly, diving more into the deal makes the users realize they can handle 1 team with up to 10 team members. Don't forget that you will easily manage up to 10 projects without any distractions. Stacking up to 10 codes can be done in the tool, and 10000 crawler credits can be managed.
All these tools and features make the whole deal even more trustworthy and fine. If you are someone with a starting business and want t expand, this is the best notch for you.
Features of Screpy LTD
Syntax checker, uptime monitoring, and console error tracker.
SEO reports, SSL tracker, and pagespeed monitoring.
Link, image, and content analyzer.
One-page analyzer, broken link/ image finder.
Auto-generated tasks for all issues.
Domain information checker and content analysis/ security alerts.
Meta tag and SSL checker.
DOM size checker and redirections.
Google lighthouse reports for all pages.
Wrapping Up!
Tell us the issues you are facing! Let us guess! Page monitoring, SEO optimization, and page ranking in Google search and solving all these problems using one platform might sound unreal. But since you heard already! Screpy Lifetime deal!
Now you can stop worrying about missing important website metrics and check the various different platforms altogether. This no-code tool will help you boost your rankings and make your website always tops the list.
All the best reviews around the world make his deal even more alluring and attractive. Having second thoughts, well, ignore them. This deal will be a lifetime opportunity for your and your business to grow.