As time goes on, more and more aspects of our lives are moving online. This is true for everything from social media accounts to managing multiple businesses. We rely on social media platforms for tasks like an advertisement, engagement, and customer service.
But, we know that this task might be overwhelming at times which is why programmers have been working on the designation of a platform that is basically one social media management platform that should be able to handle multiple profiles at the same time. It may sound daunting and complicated, but one application can now do everything from simplifying your social media to publishing content. Yeap, you read that right!
This is where Radaar comes into play.
What is Radaar? What features are you going to get? Is it only for social media? Well, don't worry! We are here to solve each of your issues! Radaar is a stunning platform for the management of social media whose prime task is to direct brands, agencies, and startups to engage with followers, publish unique social media content, and measure their performance and profits.
This is only the beginning of what radaar can offer to its users. The benefits and features are endless. What else, then?
Smoothly streamline your social media management.
Plan, publish and collaborate with your content automatically.
Collectively unifies all the incoming messages to one inbox for effective engagement.
Monitor the right keywords for the right time.
Measure your metrics daily for growing your sales and reach.
I wonder if anything misses out in terms of handling social media. With the Radaar lifetime deal, you are offered everything from planning, publishing, and unifying your content and engagement in social media. So, what are you waiting for? Go grab this incredible Radaar ltd.
TL;DR;
A platform designed for handling multiple social media handles at the same time effectively.
Lets eerie type of enterprises schedule and publish posts.
Offers a variety of features such as social media inbox, analytics, and passwords.
Integrate with all major platforms such as Facebook, Instagram, TikTok, and Pinterest.
Monitor the right keywords for the right time.
Your All-in-One Solution for Social Media Management
RADAAR is the ultimate social media management tool. It has all the features that you need to effectively manage multiple accounts.
Get RADAAR LTD
About the RADAAR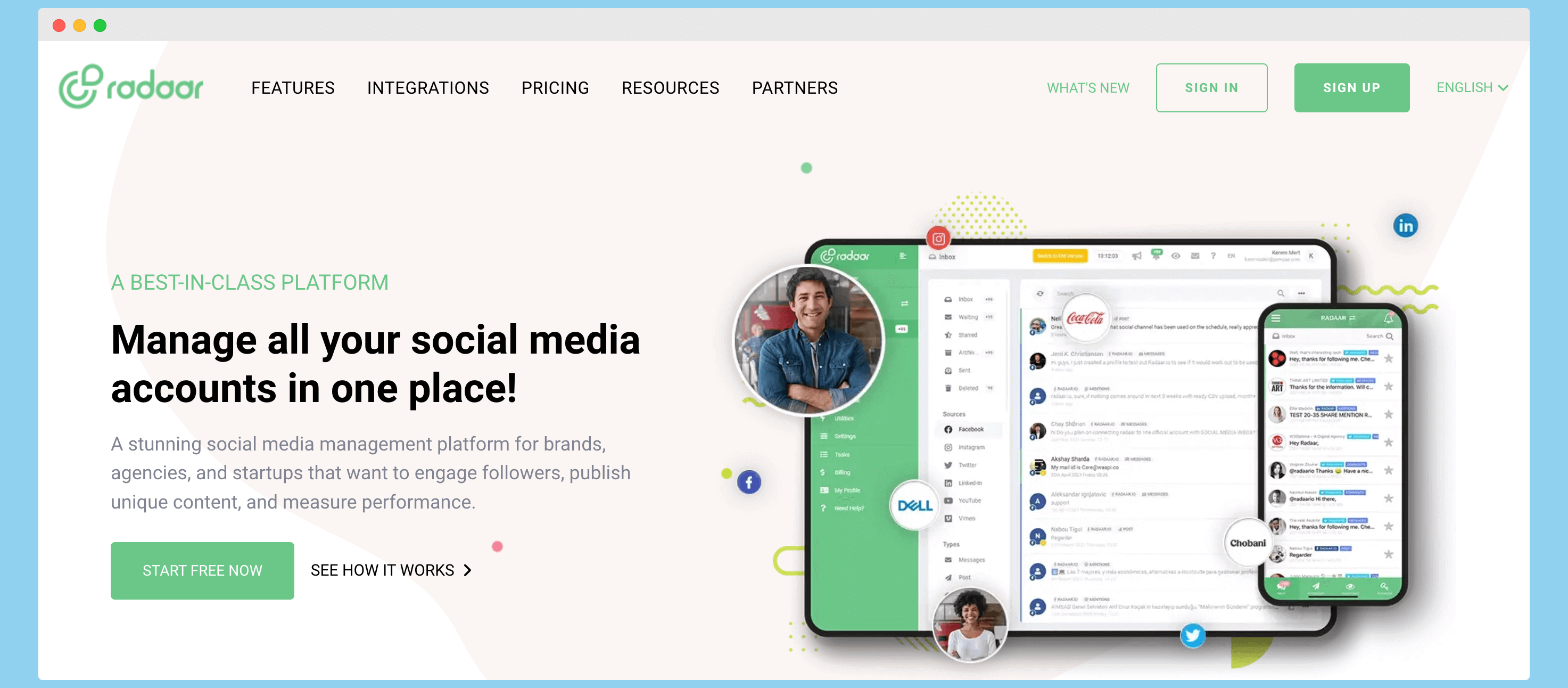 A RADAAR Lifetime plan – What's all the fuss about? Let's have a look at this to discover whether it's worth your time. What is Radaar, and how does it work?
Radaar is an online platform or collectively an all-in-one social media management platform that is designed such that it can handle multiple social media platforms at the same time. No worries, if you want to handle small businesses or huge mid-size enterprises, Radaar is at your step every time.
From scheduling and publishing posts in the profile o analyzing all the tasks and efforts, Radaar does it all. To be more specific, Radaar is the owner of serving a variety of dishes on the table on social media.
It offers you a list of incredible features such as a scheduler, social media Inbox, monitoring with the included password, task, and URL Manager. You won't need to worry about Landing pages, RSS feeds, and stock library since Radaar and its lifetime deal are famous for handling from top to button.
Integration with any kind of platform, such as Facebook and Pinterest, is smooth within a few clicks, which is why Radaar can be called a tool for saving time and proper management.
What Makes the Radaar Standout?
Many platforms in the market claim to bring the best for handling your social media handles. But what makes the radaar a top choice for you? With Radaar, publishing content ad tracking your analytics had topped the record.
It is very easy and convenient to use. What makes the deal more alluring is that integration with most of the applications such as Facebook, Instagram, and Linkedin that though with one dashboard.
Since the messaging makes a great impact on the engagement ratio, Radaar unifies the messages into one single inbox and brings all the conversions into one place for a better experience for your audience. Radaar ensures the empowerment of the team and collaboration well.
Similarly, every task is so automated that you need to be ready for the act. Radaar brings all the conversations into one place for better dealings. Tracking the brand-reliant keywords and understanding the competitors and key industries, radaar promised to take your business to the next level.
What are you think about it? Create the reports, expand your horizon and get ready to be a successful influencer and entrepreneur with this amazing Radaar Lifetime deal.
What Makes the Radaar Special?
Radaar is another name for perfection, versatility, and reliability. Ensuring eerie needing activities, some more additional features make the Radaar special than other options available in the market, such as;
Lets you handle unlimited posts, report boards, and widgets.
You can upload the bulk amount of posts from a spreadsheet.
Plan your content and publish them automatically.
Measures your reach, engagement, and sales each day.
A pocket-friendly platform.
With some additional features!
If you are also someone who is on the hunt for a platform for handling your bunch loads of platforms, then you are definitely in the correct hands of Radaar.
Features of RADAAR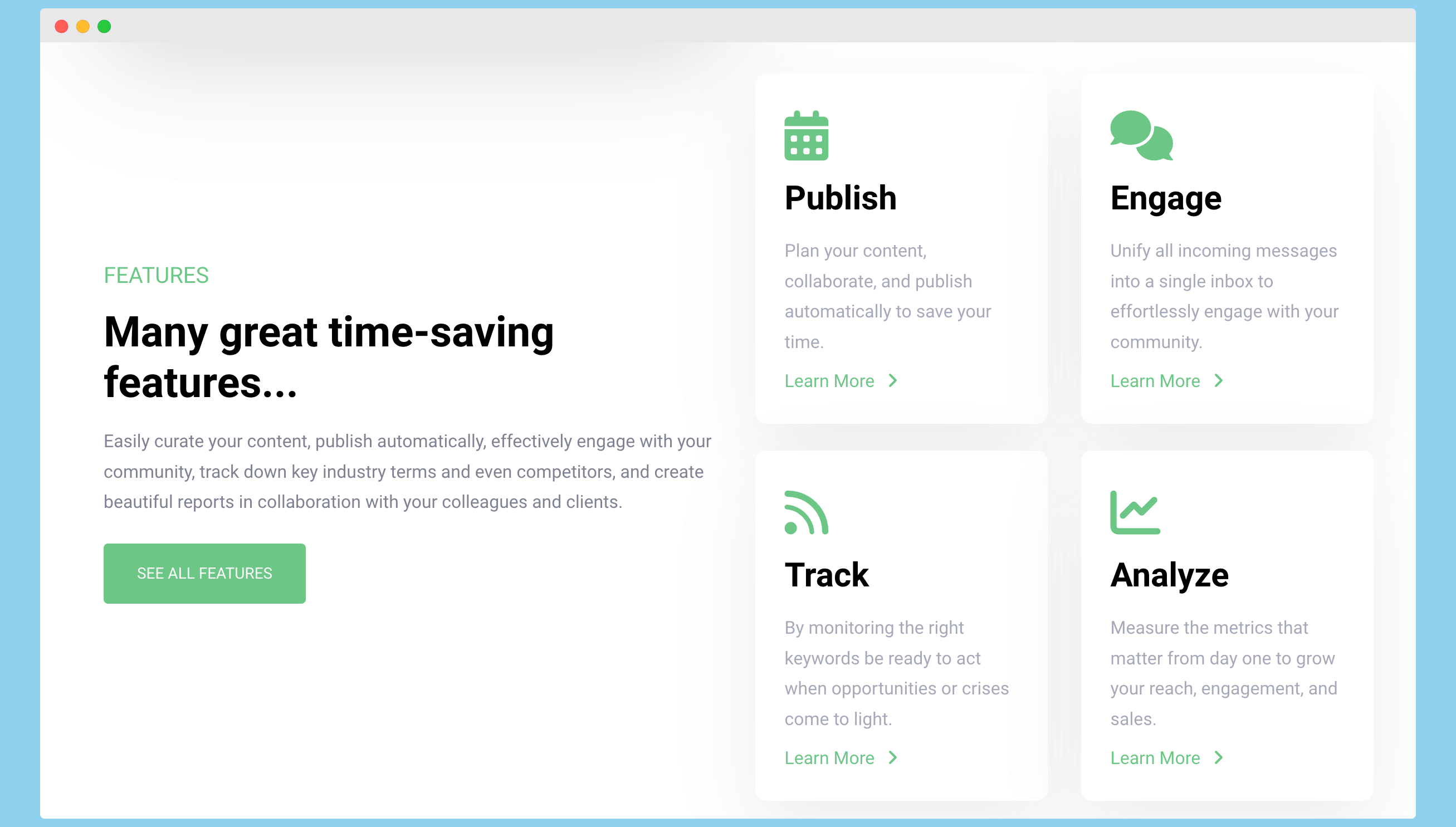 When we talk about the features of Radaar, it is like a long list that we can't get over with. So let's have a look at some of the best features that make Radaar, a top-notch platform.
Simplification of Social Media Publishing
One of the most crucial features offered by the radar is the management of the publication of social media posts. After purchasing this deal, you can easily plan and collaborate your content and then publish it automatically to your desired platform after rescheduling saving up your time.
The use of this feature is quite simple. First, you need to subscribe to your Radaar account and choose your profile. After that, you will need to connect your social media handles to the platform. For that, go to the settings option from workspace and lure to the channel tab. From here, you can connect any of your special media profiles to your radar.
Then after connecting, you will witness multiple features that will manage your publishing of the social media content. For example, ate switching up to the calendar option. You can direct the website about which posts to post when analytics is done. Then the post is shared to all the profiles you have linked up in the radaar with the engagements, analytics, and messages.
Manages the Hashtag
To be on top of the influencing and business world, you should be able to keep up with the trend and involve active participation among the viewers. This work is well handled by the Hashtags. With radaar, you can use the Hashtag manager feature with which you can search, find and collect the new templates of the hashtags according to the time and need. And then make your content reach many people.
Why are hashtags important? With the right choice of hashtags, you can spread your content to a wider range of audiences and raise awareness for the brand. It is quite easy to use. All you need is to log in and set up your dashboards and link your profiles there.
Then with the search option, find out the trending hashtags for the required category a few clicks away. Finally, use these trending hashtags and use them in the posts as per your need.
URL Shortner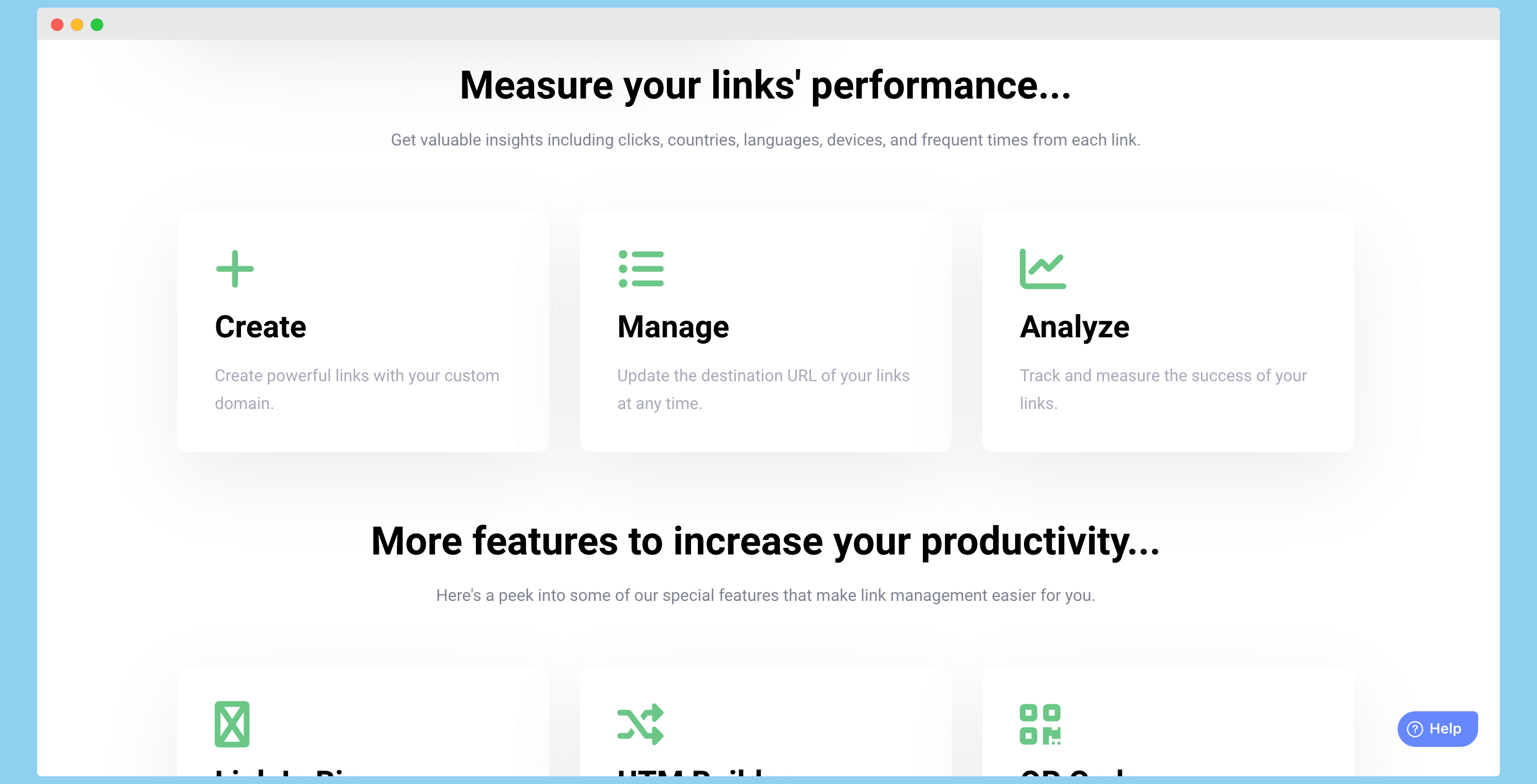 A URL Shortener is a tool that is used primarily for shortening, sharing, managing, and analyzing your links and lets you harness the power of your links of yours. And here, with Radaar and its amazing platform, one can set up their domain of them and create branded links within seconds. It is used for increasing your trust among the audience and is proud to boost up your click thoughts by 34%.
The whole process is very convenient and easy to use. Generally, like any other features, at first, you need to set up your account and purchase the deal. Go to your dashboard and open the utility option on the left side of the screen.
Then the option showing "URL Shortener" is displayed there. Finally, put your link in there and wait for the results. You will now be able to shorten or edit the link as per your demand. Now with the help of the Radaar lifetime deal, you will be able to create powerful links, update destination URLs, and measure your success.
Task Manager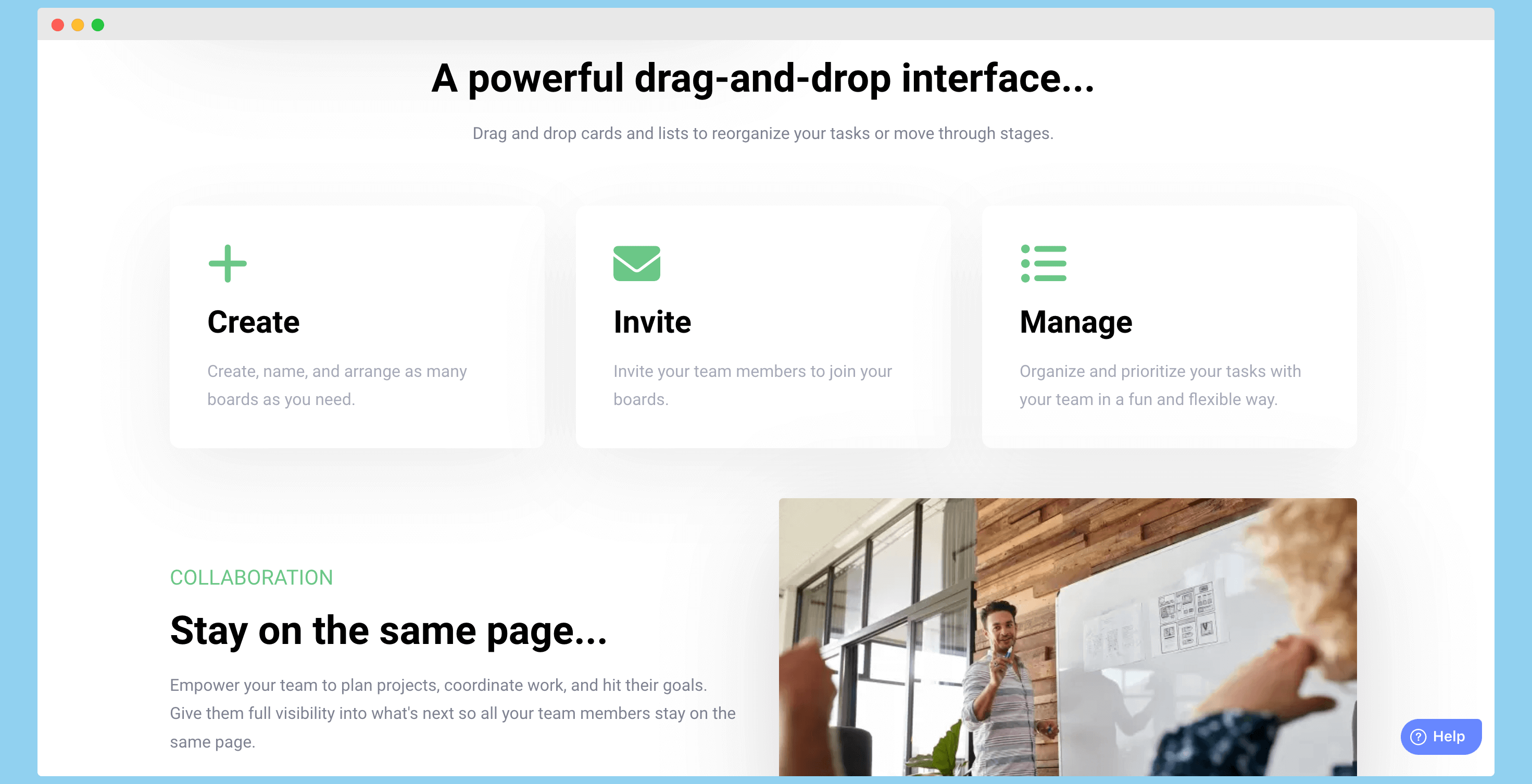 How can you collaborate with your teammates in Radaar? The amazing feature of task managers ensures it all. With Radaar and its incredibility, one can use the reliable and flexible kanban boards which can plan, organize and manage the tasks of your team so that the communication gap is ended up here.
Many mini options let your manage your tasks. For instance, there is the presence of kanban boards, lists, and cards, with which usually managing your project and tasks is getting easier. Similarly, the powerful and advanced drag-and-drop interface lets you reorganize your tasks and move through the stages in a manner.
Now there are some other options to make your work easier. o be more specific, radaar lets their user create, name, and board many members as per our needs, invite team memes and prioritize your tasks.
Password Manager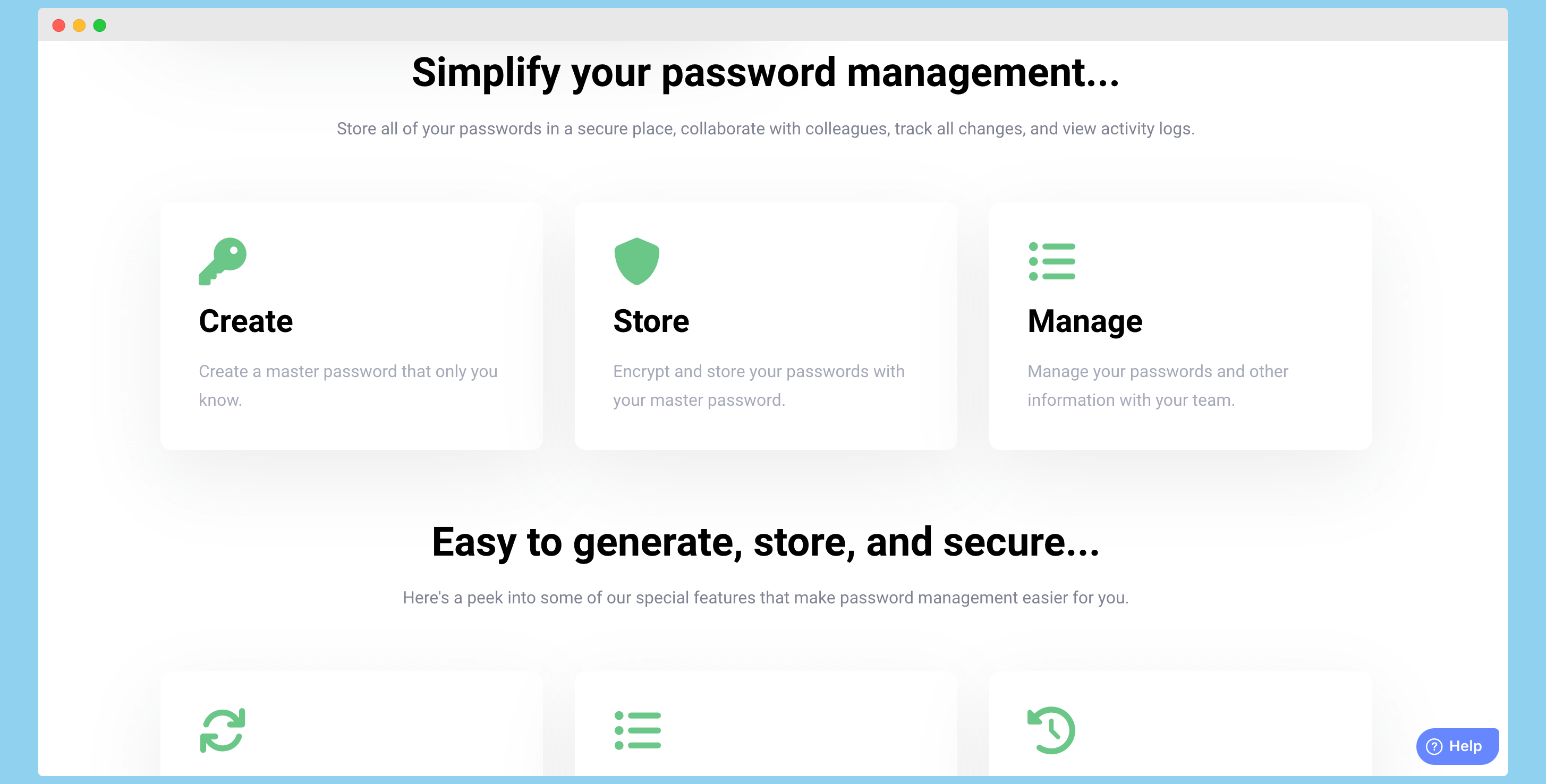 Summing up the whole list in one, another most needing and eye catchy feature of this platform Radaar is to manage the passwords of our social media platform in a secure way. Here, you can store your passwords of all handles and log in and access them from anyone in the team available.
Don't worry about the location and browser or the device. You can access it from anyone you are comfortable with. Also, the limitation on the number is never an issue here. Any number of passwords can be stored on an unlimited basis with the benefits of accessing from anywhere.
Furthermore, you can create a master password, encrypt ad store that password with the master one and manage them with the help of your team.
RADAAR Lifetime Deal – Plan & Pricing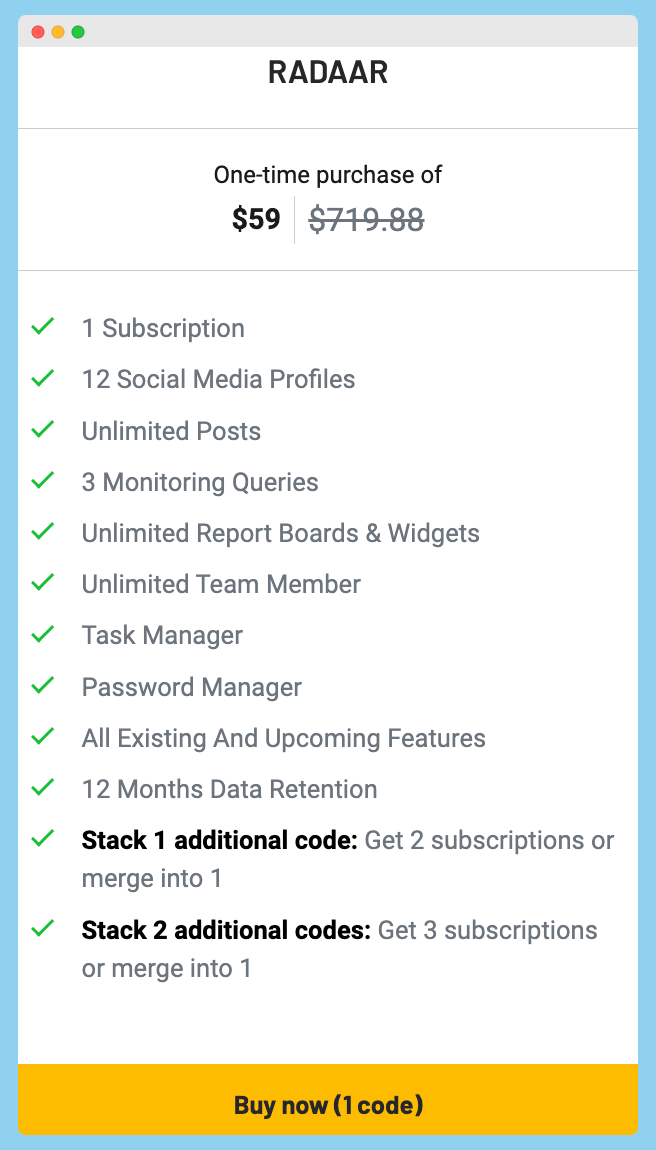 To conclude, let's look at the plans and prices of RADAAR so that you can have a clear idea about the investment you are going to make. There is only one simple plan that covers almost all the features that this platform has to offer.
RADAAR Lifetime Deal Plan
Radaar appsumo deal offers a very much budget-friendly and amazing deal. For only $59, you will be able to get a full subscription to all the general features of the Radaar. For example, one can get one subscription from this deal but can handle unlimited posts as per their need.
The use of unlimited team members, reports boards, and widgers are safe with the platform, and the task manager is very easy to operate. Despite the fact it is only a deal from the appsumo. You are not missed from any best features. In this deal, you are awarded 3 monitoring queries and 12 months of data retention.
About sacking, you can get 2 stacking modes in this deal stack 1 -where you can get 2 subscriptions and stack 2- where you can get up to 3 subscriptions .this deal is ey much affordable and will give you an amazing tool with just one time of purchase.
Terms & Condition of this RADAAR ltd
You will have lifetime access to Radaar and its features.
You must redeem your code within 60 days of purchase.
All the plans and updates are promised once you purchase the deal.
You will have your money back within 60 days in case of any disappointment.
Wrapping Up!
Commercializing your social media handles had never been this easier, but with Radaar things fall into place. One all-in-one platform that can handle and manage your multiple social media and websites at the same time. Whether you want to help small enterprises to big industries, radar sees its hand for everyone.
Not the worries end with Radaar. One can handle all kinds of tasks such as monitoring, password, task, and landing, including the stock and RSS feeds.
And if your clocks also stop at the point for multiple integrations, then it's time to cheer up. Radar lets you work and connect with various types of social media such as Facebook, Instagram, Linkedin, and many more.
What other to think about? Go grab this gold in your pocket and enjoy the easy management of all your headaches with a single shot. Radaar is here for you!
I would be grateful if you reading this article. If you have questions or ideas, please leave them in the comments section below.