Sitting in front of a laptop, on a chair, and writing content for a website, sounds cool, right? But imagine doing this all the time, whether it is dusk or dawn! Same repetitive tasks, writing content over and over again! Believe me, it is hell sometimes!
So the need for tools that will act as our solution for generating content on countless topics and checking its quality, grammar, and everything is growing with time. It is tough and sounds impossible. But the programmer had done quite a good job here.
Meet Peppertype.ai and its lifetime deal.
With one click, you can have a virtual assistant for anything connected to the content. Peppertype.ai is a powerful tool that lets you generate an unlimited number of content copies and ideas with just one button push. Difficult to use? Well, no. All you will have to do is select the type of content you would like to extract, enter the product and watch pepper type do all the work.
Saving time and getting quality posts has become much easier with this new and advanced tool. 800+ business trust the peppertype.ai! Why not us? You can now play around with the words using Peppertype.ai. So hurry up and get your hands on this peppertype.ai lifetime deal limited-time offer!
TL;DR;
Generate engaging contents that can perform best in search engines, ads, and social media.
Can take benefit from the advanced quality filters, which can be used for checking grammar, plagiarism, and relevancy.
Can be regarded as the best platform for SaaS, copywriters, and content creators.
Matching alternative to Jasper and Wordtune.
Easy integration with the API and google.
Create Compelling Content Instantly with Peppertype.ai
Use the power of AI to generate amazing content for your website, blog, or Ecommerce. With Peppertype.ai, you can create high-quality content in seconds without any hassle.
Get Peppertype.ai LTD
About the Peppertype.ai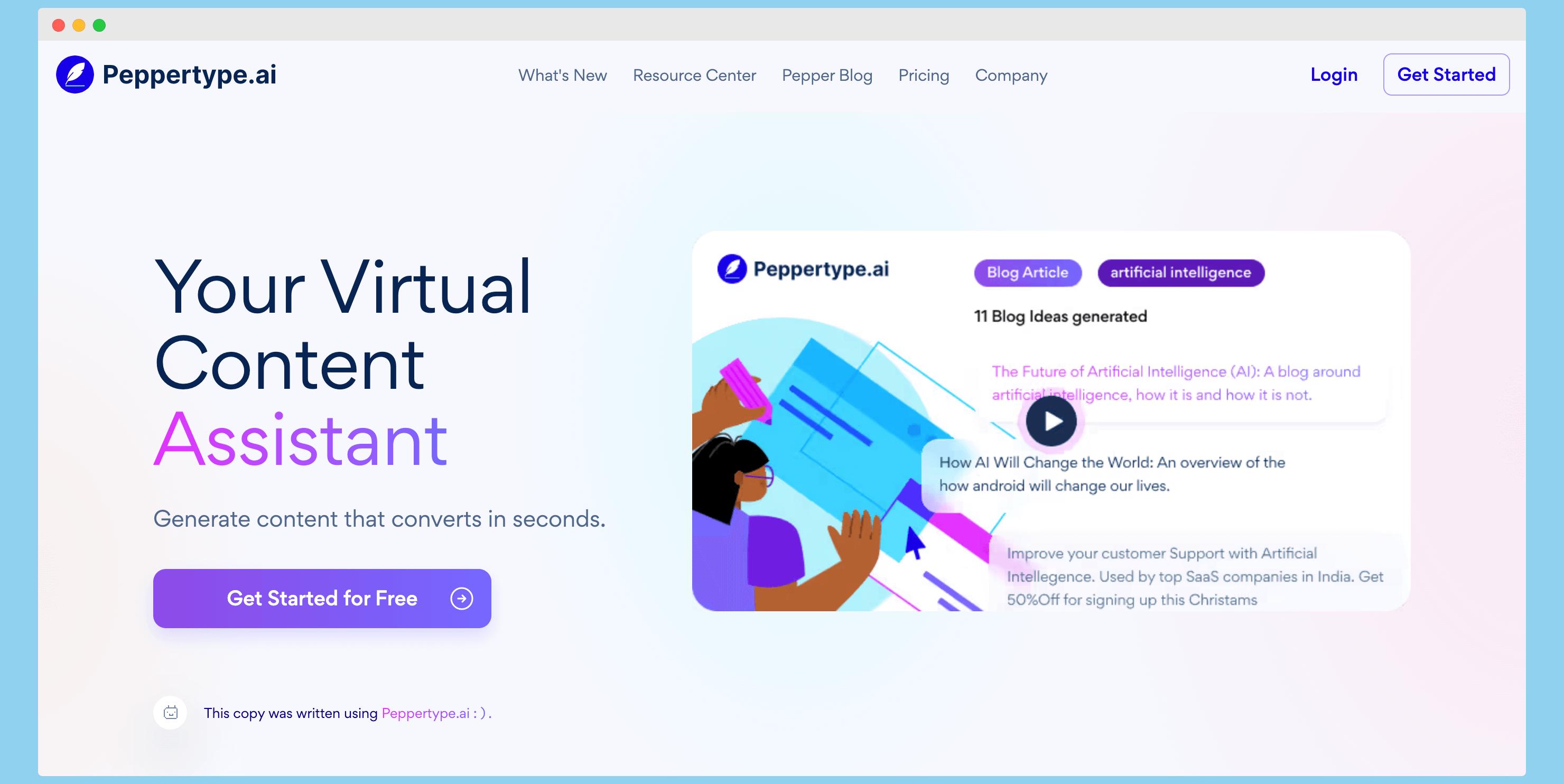 Peppertype is a powerful AI content generation tool that is basically used for creating engaging content for different types of channels within a few seconds. Writing any content is like ABC with the assistance of Peppertype.ai. You just need to enter the product or any other related keyword and watch pepper type do all the work.
It is one of the best platforms for creating quality content, and it can also be used for checking grammar, plagiarism, and relevancy. With the help of this tool, you can easily generate an unlimited number of content copies and ideas with just one button push.
The peppertype.ai is the best alternative to Jasper and Wordtune. However, it is quite easy to use as compared to these two tools and integrates with the API and Google. This tool also offers a 7-day trial period, and if you don't like it, you can cancel it anytime.
Since peppertype.ai is a member of pepper content society which is also known for largest SaaS-enabled content marketplace, this platform will let the user order the texts, graphics, and various video content. It uses the eCommerce experience making the content even more valuable in the market. It uses, or we can say leverages, advanced artificial intelligence to help you create compelling marketing content.
Generation of the copy and ideas is prominent work from pepper type, but what makes this lifetime deal more alluring is letting you choose from 35 different types of content, which can either be copied, social media captions, blog outlines, or website copies.
Access to all the different templates is properly ensured. After selecting the content, you want to extract, enter the brand and product name with the description and let peppertype do all the work for you. So simple and fast!
What Makes Peppertype.ai Lifetime Deal Worth It?
More than just a normal writing platform, peppertype.ai is made for us! Mate for each and every business that is struggling to generate the same or different content on a regular basis saving them a ton of money.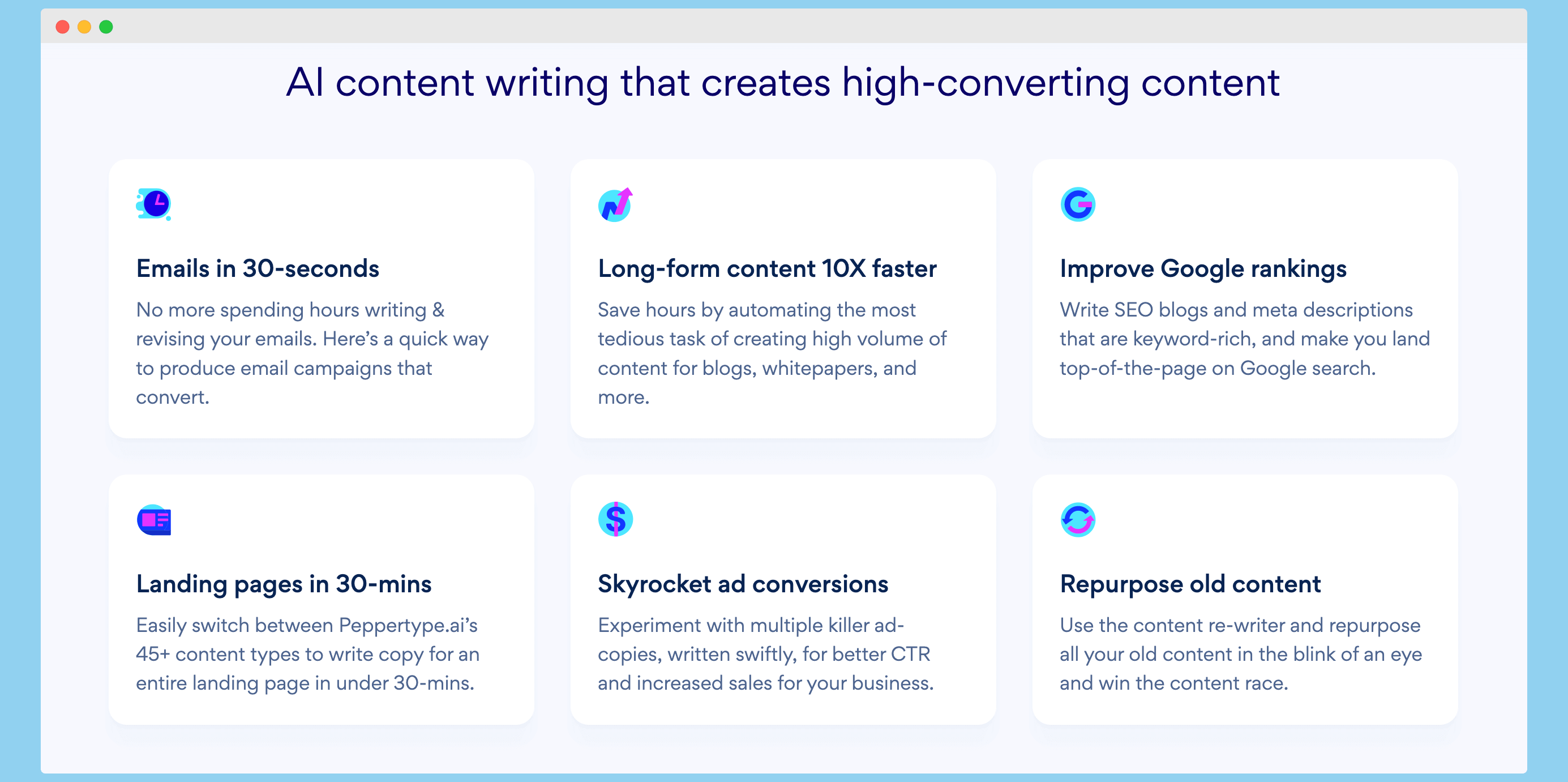 But there are some other platforms in the market that can are used to generate the content. So what is it about peppertype.ai that makes it better than other options available in the market?
Studying them below:
Lets you come up with creative ideas for the content to attract traffic.
After filling up the details, one can generate blog ideas and titles faster.
Can also generate blog intros, conclusions, and outlines.
Generate creative content automatically using artificial intelligence.
Trusted by famous websites and companies such as Facebook, Flipkart, and Spotify.
Lets you write SEO-rich and keyword-rich descriptions to rank higher in google rank.
Lets you sort and highlight every product based on keywords and other parameters.
Hence proved, Peppertype is not only about generating content. There is more to it. Whether it is about repurposing old content or switching between entire landing pages within seconds, or experimenting with killer ad copies, peppertype ltd is all about changing our landmark in the business and digital world.
A true example of versatility and reliability, Peppertype.ai is successful in giving us what we want within a swift.
Features of Peppertype.ai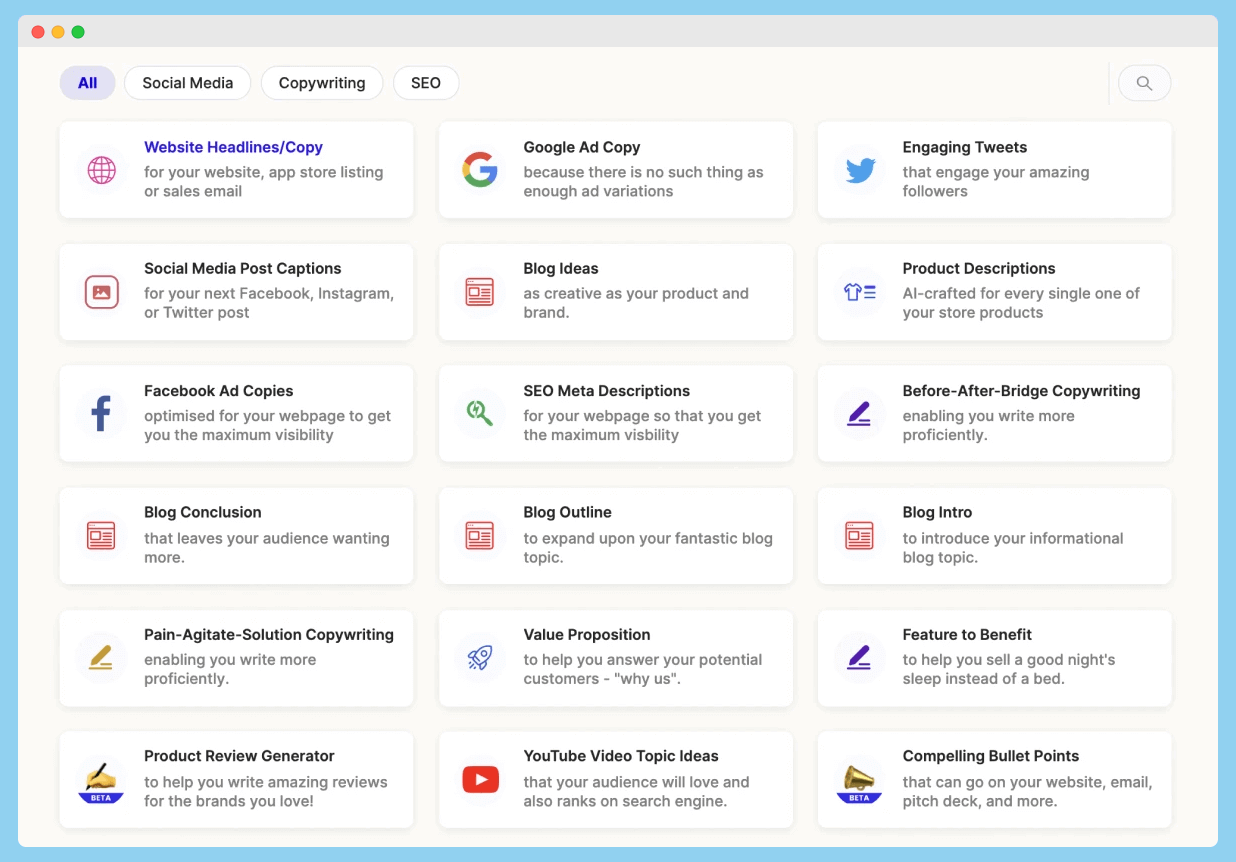 Among many versatile features of this amazing, some of the basic features which had made a great impact on our work in terms of content are encapsulated below. Let's go study them.
Content Generation
The most prominent feature of the Peppertype lifetime deal is to be the generation of content within some seconds. Being your virtual content assistant, the generation of the content is very mannerly distributed based on different types of topics.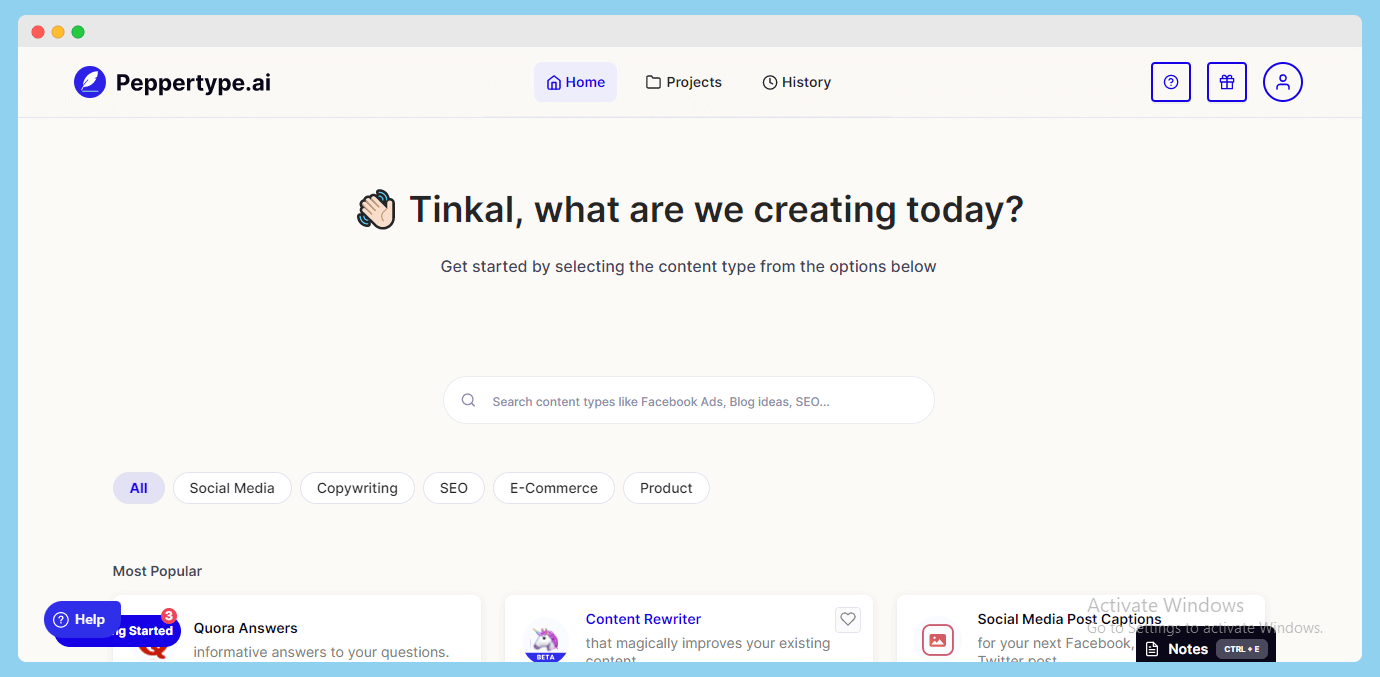 Generating the articles, blogs, and content on this platform is very simple. After making an account in the deal, you need to rush to the dashboard. After that, rush to the home section and get started by selecting the content type from the options below. The most common and widely used content types here in the peppertype are quora answers, content rewriter, and social media post captions.
But the types of content are not limited up here. One can generate more than 25 types of content with peppertype. It ranges from categories such as social media, copywriting, SEO, eCommerce, and product description. When it comes to subcategories, the platform had a bigger platform. After the subscription, you will have access to generate the headings such as website headlines, google Ad copy, tweet ideas, social media post captions, meta descriptions, etc.
Cold Email
Another important feature of the platform is to lets the users create cold emails. Writing cold emails from this platform will assist in reaching the users where they spend most of their time directly ie inbox, and increase brand awareness. With this platform, you will be able to create those within a few seconds.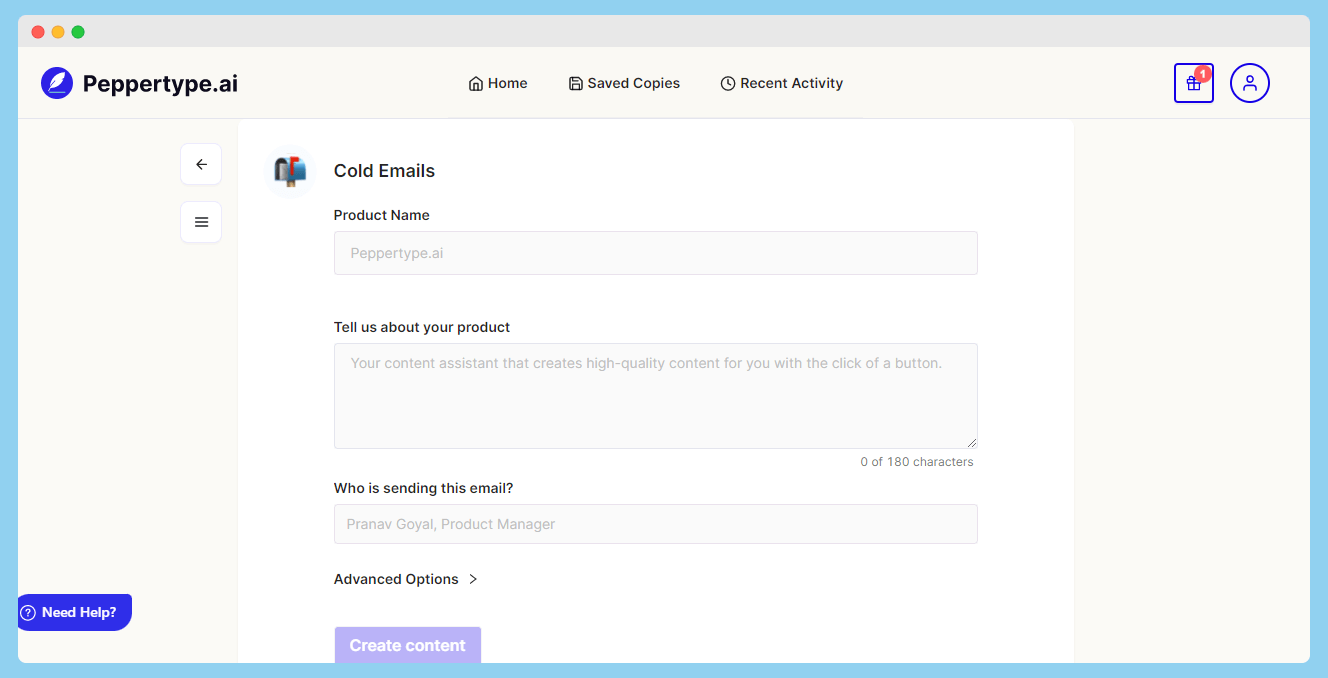 As usual, the process is quite easy. In the content type section from the peppertype, open the one saying "cold emails." Then, enter the product/brand name, including the description, plus the person who is sending the mail. Then click on create content. Remember to keep the description simple and to the point, and make sure to add the designation of the sender.
Or, in the advanced settings, you can add the options such as the Agenda of this email and the tone of the voice. Now edit and save your desired blog topic.
Finally, You can go to the copywriting setting and find many content types. Choose one so that you can mix up your email to enhance them. Similarly, following the same process, you can add the email subject line. Here you go, now it's the pepper type the amazing cold emails for your business are easily generated.
Amazon or Any E-commerce Website (Product Title, Descriptions, and Bullet Points)
This is one of the best features which attracted users towards this peppertype lifetime deal. We all are quite aware of the fact that for our product to get ranked on Amazon, we need to be very specific about the keywords we use for our titles, descriptions, and even bullet points.
Here comes the peppertype, your best friend, to ease up your amazon product ranking task. All you need is to go to the content type tab and select "amazon product title, description & bullet points." Then you will be directed to a new page where you need to enter your desired keyword.
After that, hit the create content button, and here you go; your amazon product ranking task is done within seconds.
Write Blogs From Scratch (Along with Intro, Blog Outline, and Conclusion)
If you are a blogger, this feature will definitely ease up your blogging task. This platform provides an opportunity to get the intro, blog outline, and conclusion for your blog topic. So that you can focus on the writing part and leave the brainstorming to this peppertype.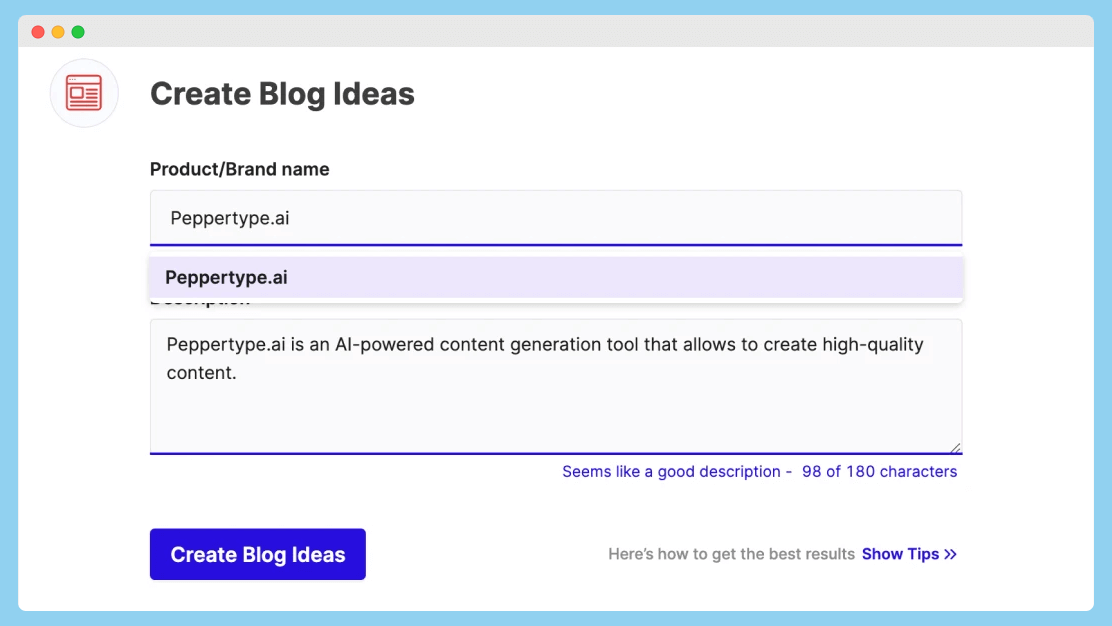 The process is the same as other content types. From the dashboard, go to the content type and select " Blogs" After that, enter your desired keyword or blog topic. Then hit on the create content button, and here you go; your blogging task becomes easier than ever before.
For Youtube Video (You Can Generate Topic Ideas And Description)
What's for youtube? Well, this platform is not just for blogs or articles. You can also use it to generate ideas and descriptions for your youtube videos. For example, if you are a vlogger or YouTuber and need some new and unique ideas about how to start a vlog, what content to post, or what type of videos to make.
This platform will help you with that as well. And if you're a professional youtuber who need to create tons of description for your video, this platform will also help you with that. So why not try it now and see how this platform can help you with your youtube channel?
Content Expander & Content Simplifier Features
The content expander and content simplifier feature helps you to make your content more readable and user-friendly. With these features, you can easily expand or simplify your content according to your needs.
For example, if you have written a long blog post and want to make it more readable, you can use the content simplifier feature. Similarly, if you want to make your content more comprehensive, you can use the content expander feature. These features are very useful and can help you to improve the quality of your content.
AIDA Copywriting Features
The AIDA copywriting features help you to write your content in a more structured and organized way. With these features, you can easily write your content in an Attention, Interest, Desire, and Action format.
This will help you to engage your readers more effectively and will also help you to improve the quality of your content. These features are very useful for those who want to write their content in a more structured and organized way.
Customer Review Response
Plus, there is also a customer review response feature. This feature helps you to respond to your customers' reviews more effectively. With this feature, you can easily find out what your customers are saying about your product or service and then respond to their reviews accordingly.
This will help you to improve your customer service and will also help you to build a good relationship with your customers.
Additional features
Peppertype.ai appsumo deal is limitless. The features which are responsible for enhancing the quality of the work go beyond what we had experienced earlier. Summing up, pepper type lets the user generate emails within 30 seconds. Say bye to spending hours writing the same emails again and again.
Generating more than 5 million content til now, consumers will be able to use the feature of landing pages within 30 minutes. It means that you will be able to switch between the 45 + content types from the pepper type easily for writing the copy for entire landing pages. Also, the ad conversions, which means experimenting with multiple ad copies for better CTR and automatically decreasing sales, allure me the most.
Many reviewers have been impressed with the repurposing of the old content, which you will be able to perform with pepperrtype.ai. How can we forget about the SEO blogs and keyword enriched article which is directly uplifting our ranks in Google search, pepper type, along with these incredible features that are working for us and our growth in the digital world?
So, these are some of the features that peppertype and peppertype.ai lifetime deal offers you. I'm sure you will find this platform very useful and helpful for your content writing tasks. That's why I highly recommend you to try it now and see how it can help you with your content writing needs.
Don't miss out on this amazing offer from peppertype.ai ltd! Act now while it's still available!
Peppertype.ai Lifetime Deal – Plan & Pricing
Before diving into one of the plans, knowledge about the pricing, features, and time is quite important. Since there are 3 licenses in this Peppertype appsumo deal, it is obvious that there will be some common features in all of them.
Features Included in all three Plans.
All content types (40+)
Notes ( text editor)
Quick actions
Automatic translation ( 20 + languages )
Sequences
Complete history
Long-form content generation: before-after bridge copywriting, youtube video description, blog content, and many more
Shows complete history
Open prompts
Automatic brief generation
Now, let us study in brief the plans and pricing along with some additional features among these deals so that you will able to make the right choice.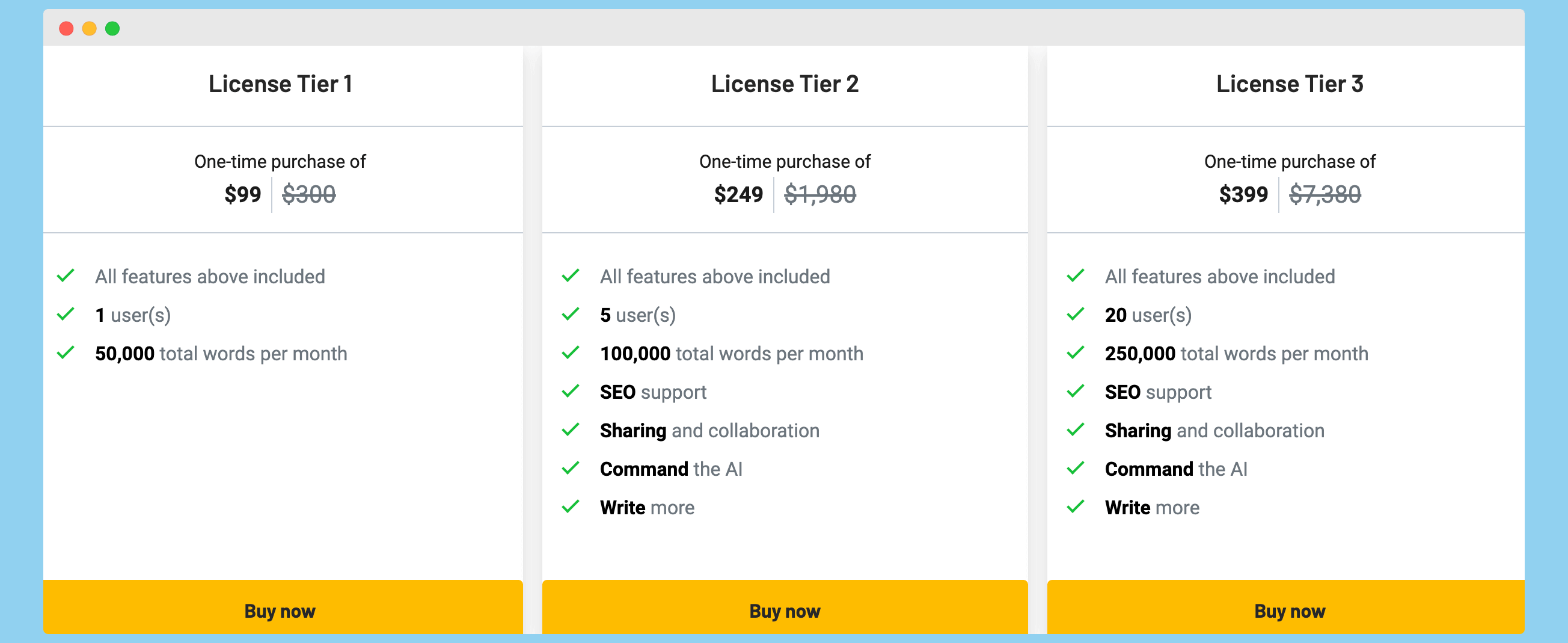 Tier 1 license
Appsumo is now giving the peppertype ltd 1st tier, which was previously priced at $300, for only $99 through this outstanding appsumo lifetime offer. Since it is the most basic deal, it can also be called a budget-friendly deal as well. At such a limited price, users will have access to all the common features mentioned above, such as all content types, notes, quick action, templates, and analysis.
The best part about these deals is that you can get unlimited translation into over 20 languages. Additionally, users will be able to access 50,000 words each month, which makes this offer truly unique. But don't forget the fact this is a basic plan, so only one user will be able to work with it for their business.
If you are a beginner in the world of content marketing or words, then why buy a plan which is very big for you? This will fit you the best.
Tier 2 License
Another license in this Peppertype appsumo deal is called the tier 2 license. Somewhere middle, this deal can be called the intermediate one and is cheaper than the third plan. For $249, users will have access to all the common features which the platform offers, in general, that is. Whether is about initing up to 25 collaborators, downloading results, and generating long-form content, the license is a top tier.
Being a second plan limits the platform to up to 5 users. But if you are stabilizing the digital world and need new domains, then this is the best choice for you. 100000 words per month expand the horizon of this deal in terms of words.
Similarly, SEO support maintained in this deal also ensures the ranking o four blog posts in the search engines. The additional features, such as sharing and collaboration, commanding the AI, and letting you write more, make this deal even more attractive.
Deals & Conditions of these Plans
One will have lifetime access to the Peppertype lifetime deal
Access to all the future starter and growth tiers.
You won't need any codes and stacking; choose what is right for you
Activation of license should be done within 60 days of purchase
GDPR compliant is available
Previous appsumo customers will be grandfathers to new feature limits
You can exchange or cancel your purchase within 60 days and get a full refund.
Tier 3 License
Last but not least, a tier 3 license is something that will make you limitless in terms of features. This deal might sound quite expensive, but to subscribe, you will need to pay $399 as a one-time investment.
After this one investment, you will be able to have direct access to all the common features and tools ranging from open prompts ie freestyling, automatic brief generation, sequence, long-form content generation, and many more.
These are just the common features. What makes this plan unique makes this deal very much attractive. Since you will have to distribute the account to 20 users, many businesses can be handled well. Similarly, 250000 words per month expand the horizon of writing to a greater extent.
Furthermore, the features, including SEO support, write more, command AI and sharing, make this deal ideal for anyone who wants something beyond. So don't wait too long and make the best decision of your life.
What are you waiting for? Get this peppertype.ai lifetime deal now!
✍Our suggestion!
If we have to suggest you one plan among these three in terms of features, budget, and reliability, then it will be a tier 2 license. Bigger than plan 1 and smaller than 3, it is somewhere middle ensuring everything necessary.
For $249, you will have access to all the common features which are present in both tiers 1 and 2. One purchase and everything, such as long-form content generation, analytics, unlimited translation, and prompts, is properly guaranteed.
In addition, the fact that up to 5 people may use this single account makes it even more appealing. This is an excellent option if you want to broaden your perspective when it comes to business.
Similarly, 100000 words per month will let you generate a huge amount of content per your business, and how can we not notice all those additional features of sharing, collaboration, and SEO support, making this deal an ideal choice for you.
Wrapping Up!
Our biggest problem solver of the time! Imagine having to write about the same thing repeatedly without any rest. We know the feeling, and it is not good. This is where peppertype.ai comes into play.
Work has been much easier, and now business people are able to invest their time in something productive. With Peppertype, the use of this new artificial intelligence will let you extract the best possible output for your SEO blogs and search engine rankings.
Based on the GPT-3 and Open AI, which uses the NLP, pepper type had owed to offer the human-like relevant results for your entered topic within a swift. Why spend a hectic routine for sam work when peppertype.ai welcome you?
If you are still doubtful about this tool, then we would urge you to try it out for yourself. With the 60-day money-back guarantee, you have nothing to lose. So without any further ado, get your hands on this fantastic peppertype.ai lifetime deal now!