Many people give up on their businesses before they even start because they don't know how to overcome common obstacles, like writer's block or a lack of understanding of their target audience. It's easy to have an idea, but it's much harder to put that idea into practice in a way that is successful.
This is where Nichesss enters the picture. With time, the requirement for software that can handle all of these duties, from discovering niches to developing blogs and creating business ideas to spreading social media posts for the targeted demographic, has increased.
Nichesss's programmers have worked hard to understand your needs. How? By always putting themselves in your shoes and constantly working to improve the user experience.
So it is a business and niches generating tool? Well no!
A writing assistant? Again no! Then?
Nichesss is a tool that does everything. From finding niches using the power of Reddit search and generating marketing materials to assist in writing facebook, google ads, and blog posts, I wonder if there is anything that nichesss can not do.
Don't miss your chance to grab this amazing tool at 95% off! The Nichesss lifetime deal is live now.
TL;DR;
Search for the profitable niches for the targetted audience with a click away.
Use the automated and robust Reddit search tool to find the subreddits through the number of audiences.
Generate the post for social media and marketing copy as well.
Unique posts for sharing on Reddit and product hunt can be generated.
Ideas and Content Creation in a Fraction of a Second
Brainstorm business ideas and create high-quality articles using Nichesss. This AI-based tool will help you write better content in a snap.
Get Nichesss LTD
About the Nichesss
What if there was an integrated platform that would solve all your business and management issues? We have the perfect solution for everything! The nichesss. Whether you need help generating ideas, implementing them, or even advertising them through ads, we've got you covered.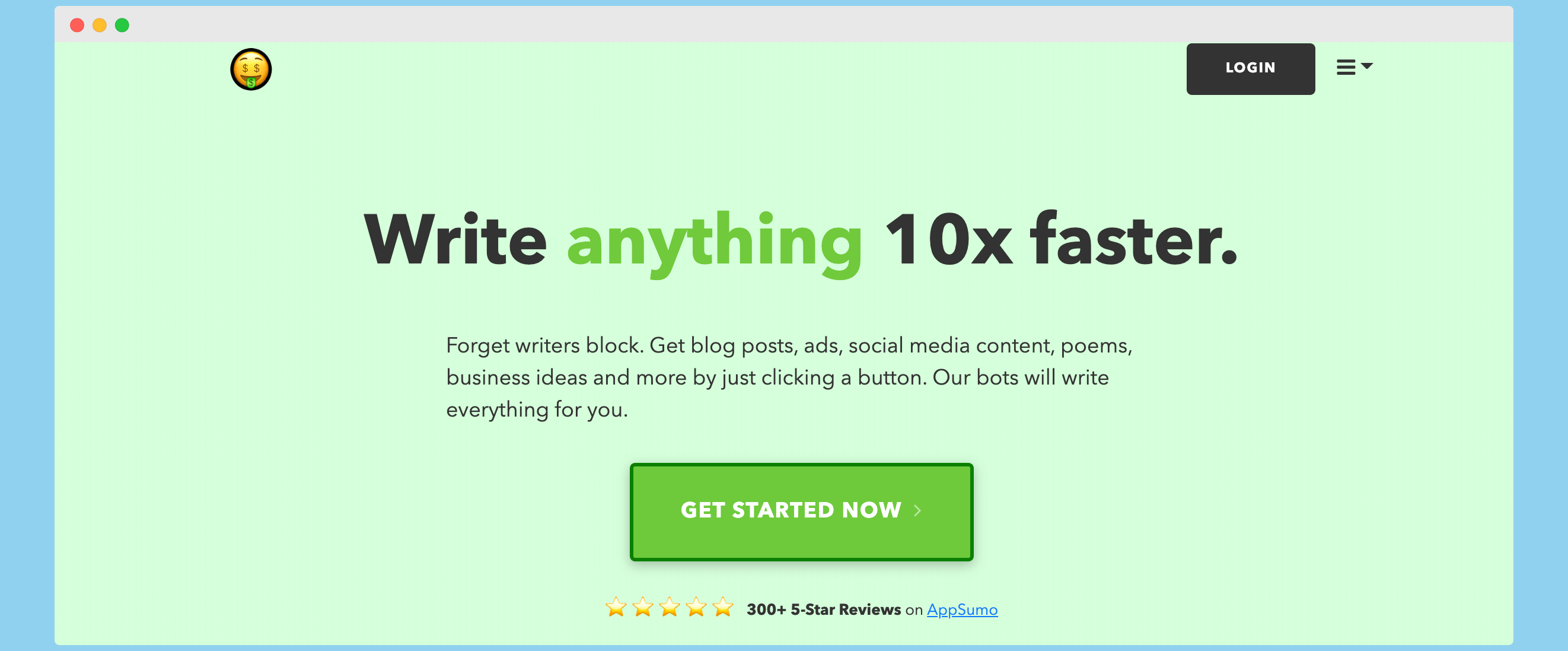 Nichesss is a versatile online platform that helps you pinpoint your target audience's niche with the push of a button.
Still not convinced? Well, how about we give you,
A powerful AI tool for generally marketers and social media managers, which provides an intelligent system helping to generate blog posts, posts that you can share on social media, business ideas and niches within them, and all the tools to implement that idea.
Furthermore, you can eliminate your anxieties about writing because AI tools will handle it for you. It's hard to summarize what a niche does in a few words. It's a well-known instrument that amazes most of its users with its unusual capabilities, such as:
Search for the profitable niches within the targetted audience.
Generate the subreddits with the number of people in them for generating business ideas.
Can assist in creating social media posts and marketing copies.
Provides you the post that you can share on product hunt.
I'm amazed by how much work and effort goes into a single tool. With nichesss, you can carry out every task from generating your ideas, finding the people for that ideas, and implementing them. Taking up your business to a new level is something nichesss promises and provides you.
Sounds pleasing, isn't it? Here at nichesss lifetime deal, it offers a 100+ toolset that grows with your ideas. It is a once-in-a-lifetime opportunity with a 95% discount. So don't let it go! Grab this nichesss lifetime deal now!
Why "Nichesss" Instead of Others?
There are many alternate tools for the kind of functions that nichesss perform, such as jasper, etc. But the demand for niches is going like a peek in the market. The reason is simple.
Niches is a fast, powerful, and easy-to-use platform that is specifically designed to perform all kinds of tasks for business and niche management. From beginning to end, from ideas to optimization, you won't need to worry about anything.
Why nichesss is Becoming Useful in the Meantime!
In the era of digitalization, where everything is going virtual, business is something that is getting more regulated with the help of the internet. So it kind of becomes a necessary factor to go with the internet method.
Nichesss is a tool that makes it easy for the marketer to carry out that factor of business quickly. Want to know how? It'll help you in finding and creating content, managing your ideas and ads, and even helping in making business plans!
In a world where time is money, and people are impatient, it's become important to think fast and work faster. Nichesss is one such versatile tool that'll help you in every way possible. So if you are looking for something to make your business journey easier, then you know where to find it!
Features of Nichesss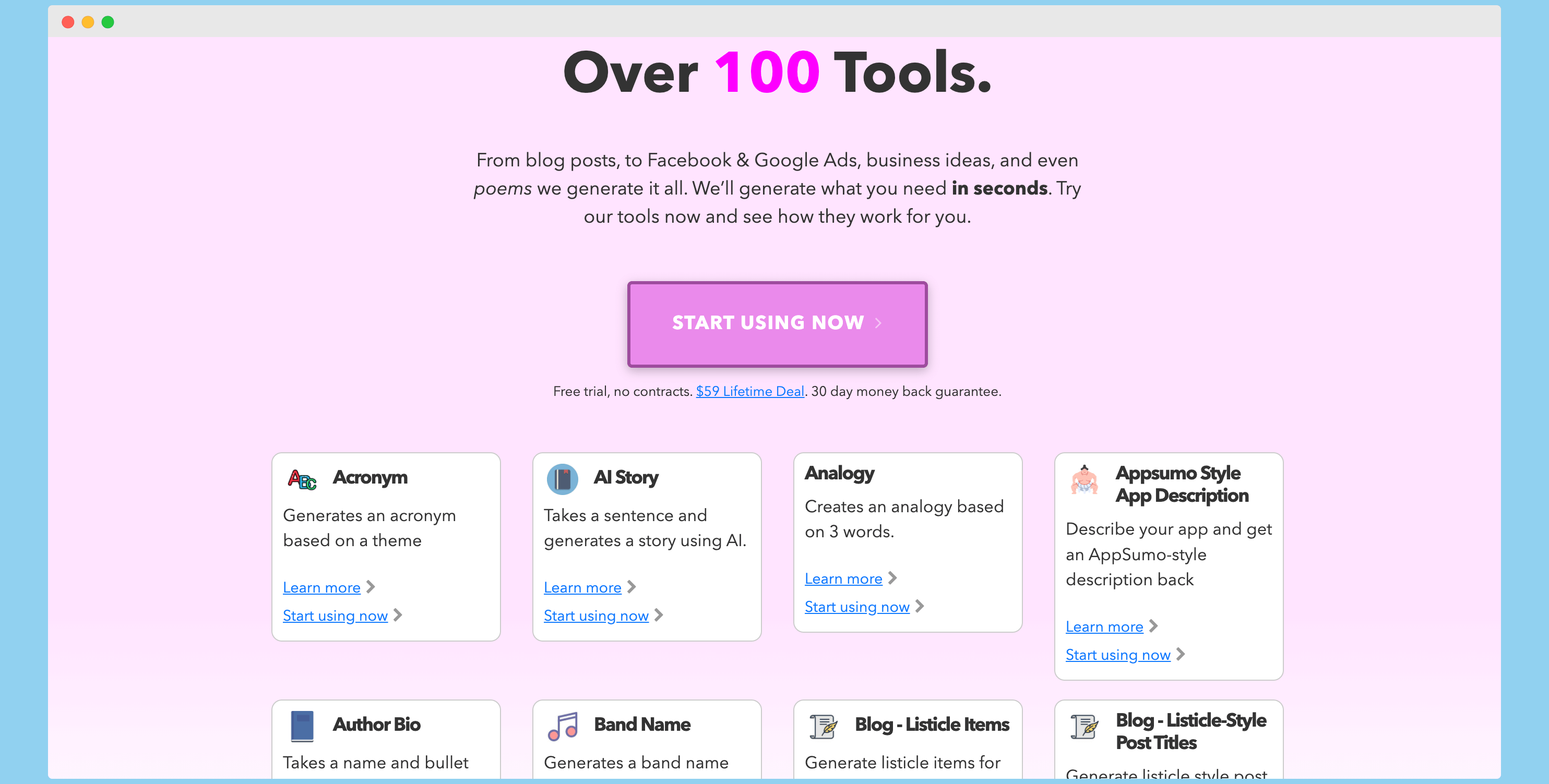 When it comes to business, time is of the essence. You can't afford to waste even a second. That's where Nichesss comes in. It's a powerful tool that'll help you save time and be more productive.
So what exactly are those functionalities? Let's take a look:
Acronym Generator
An acronym is a word made by abbreviating a phrase by combining the letters of words into one note. The acronym generator, one of the most well-known nichesss tools, is used to produce an acronym based on any type or tone. With just a single click, you may make the abbreviation based on any style or tone.
There are many times when we need to use an acronym to make the text and blogs sound more attractive and exciting. I would say it is the easiest way to generate or create an acronym that can grab the attention of the targeted audience.
You just need to fill up a tone. For the overall method, first, you need to create a free account on nichesss. After the login, you will find the acronym generator in the tools section. Then fill out a tone and theme, and lets niches do the magic with their powerful AI. One amazing fact about this tool is your first 30 generations are entirely free.
Blogs Listicle Items, Titles, and Conclusion
To make any blog more readers friendly and innovative, there are many parts of the blog that need to make more interesting such as the title, job descriptions, and conclusions as well. With the nichesss and its interactive tool, you can generate all of these easier for a certain blog post.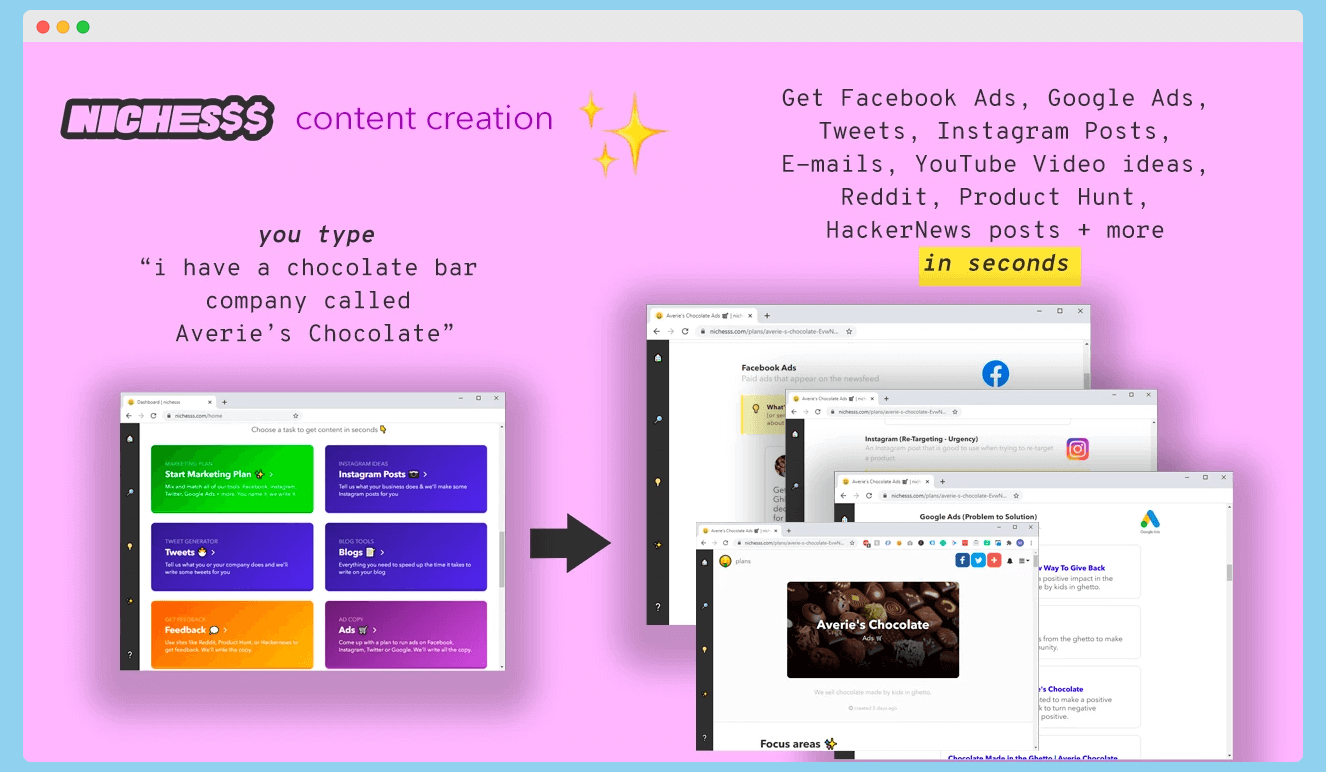 For example, if you want to generate a summary of the blogs, at first, go to your nichesss dashboard. After that, open the tool "Blogs Listicle Item" from the tools section. Fill out the post title, summary, and listicle items for your blog's front page on your screen. Boom! You are ready with a beautiful summary for your blog.
Similarly, you can generate anything, such as a description and a conclusion of the blog post. The method is simple, like before. Open the niches and make the account and use the blog conclusion generator tool in front of you in the tool section and the results are in front of you.
Here, with the help of this platform niches, you can generate anything from blogs title to conclusions within one click.
Fast, Long Form Editor
Nichesss is quite famous for letting the consumers use the editor tool for writing long long-form content that might be more than 500 words as well. You just need some seconds, and then the AI-powered long-form editor uses its fast speed to generate any kind of content and articles.
There are some AI-powered templates and commands set up with the tool, with which work becomes much easier. For running this tool, you need to make an account or purchase the nichesss appsumo deal and then open the fast for editor tool.
After that, you will find a section opened on your screen where many sub-tools of auto write and search options are present. From here, you can start generating the blog and content posts as per your need.
Generate the Book Ideas and Description
Nichesss, the platform of an idea, let their user use the tool to generate ideas for anything. And in that anything, book ideas and book name is also included. In a similar manner as above, you can generate the description for the books and the title as well.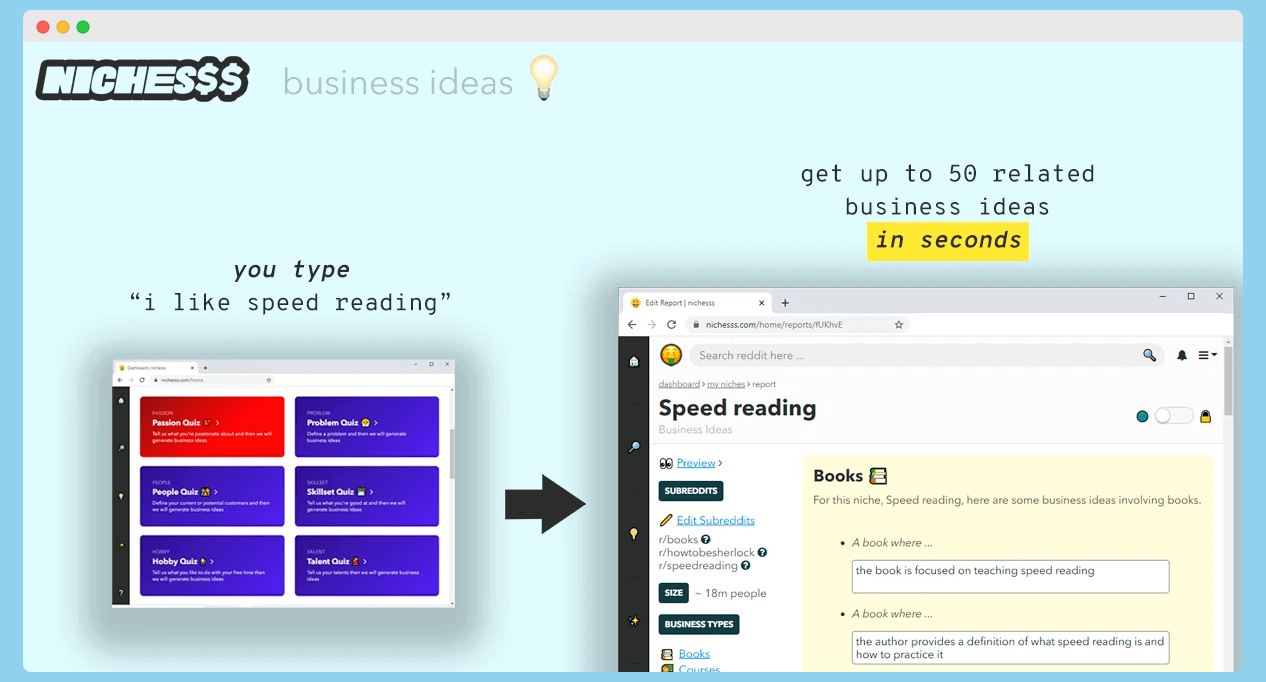 Books are the best course of knowledge for anyone who is seeking to learn about a particular topic. So with nichesss, you can search the book's ideas as per your interest or on the basis of the topic. Or else, if you want to write a book but are confused about the ideas for what to write, then you are in place for a solution.
You just need to enter the interesting topics, and the platform will generate five book ideas about which you can start writing today. The same goes for the book title and book description.
Recipes Generator
Nichesss is versatile, and one of its standout features is the recipe creation tool. With this function, you can either create a new recipe from scratch or use a template based on the dish you have in mind.
For example, if you enter the dish "custard" on the screen, then this Ai tool attached to the platform will generate the recipe in the language you want. There are many other options available to make the recipe more personalized such as adding or removing ingredients, changing serving size, etc.
This is how you can use the recipe generator tool to create a scrumptious dish without any hassle.
More Than 100 Tools in Your Arsenal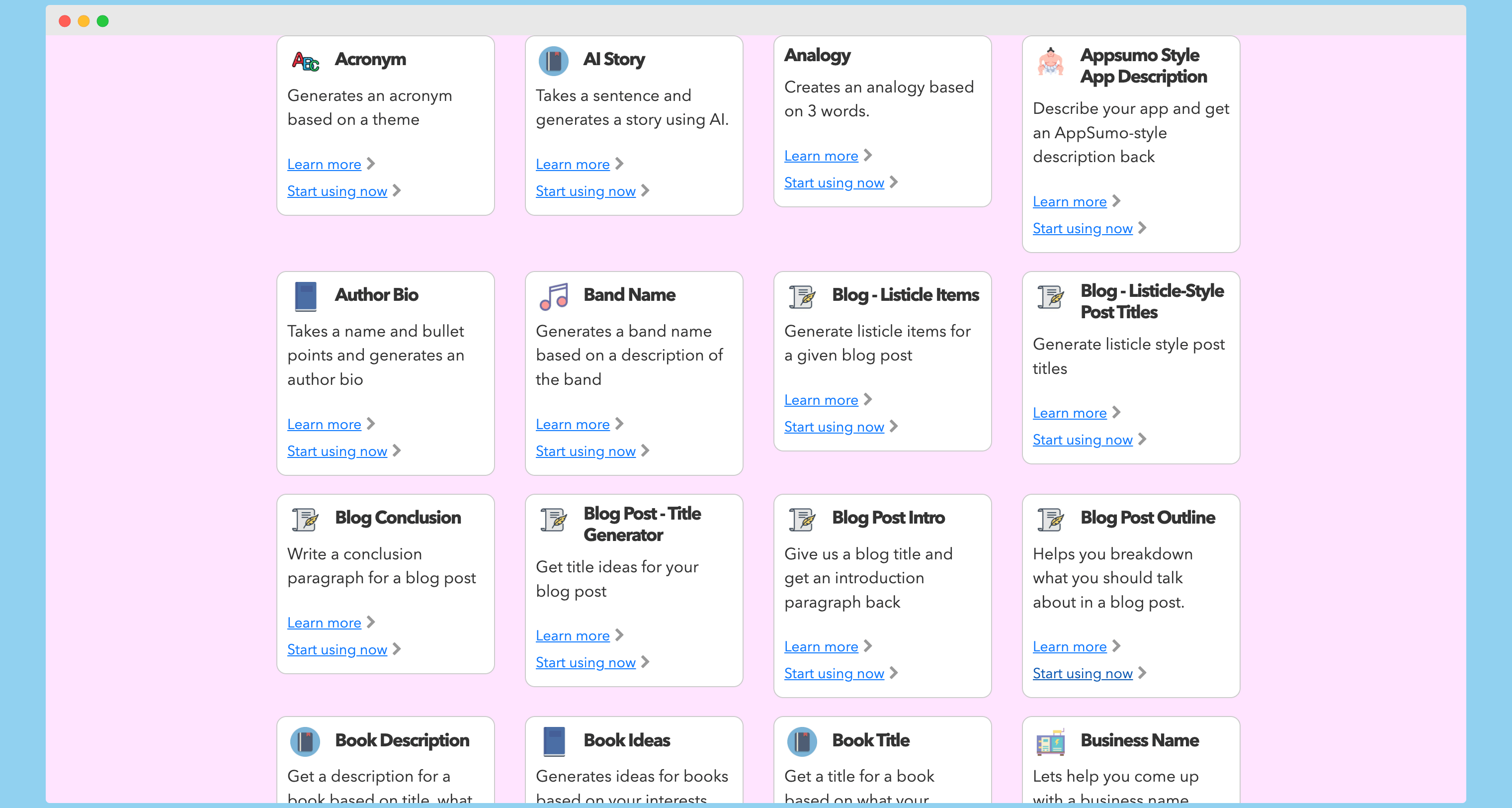 From blog writing to book ideas and even poem writing, you can find all of these and more on Nichesss. There are around 100+ tools available on the platform that too organized into different sections.
Some of the popular tools from Nichesss are:
Acronym
AI Story
Analogy
Book Ideas
Celeb Gossip – Blog Intro
Character
Content Rewriter
Dating Profile
and so many more…
With the help of these tools, you can generate content for any purpose within a few minutes. No matter what kind of content you need, Nichesss has got your back.
Nichesss Lifetime Deal – Plan & Pricing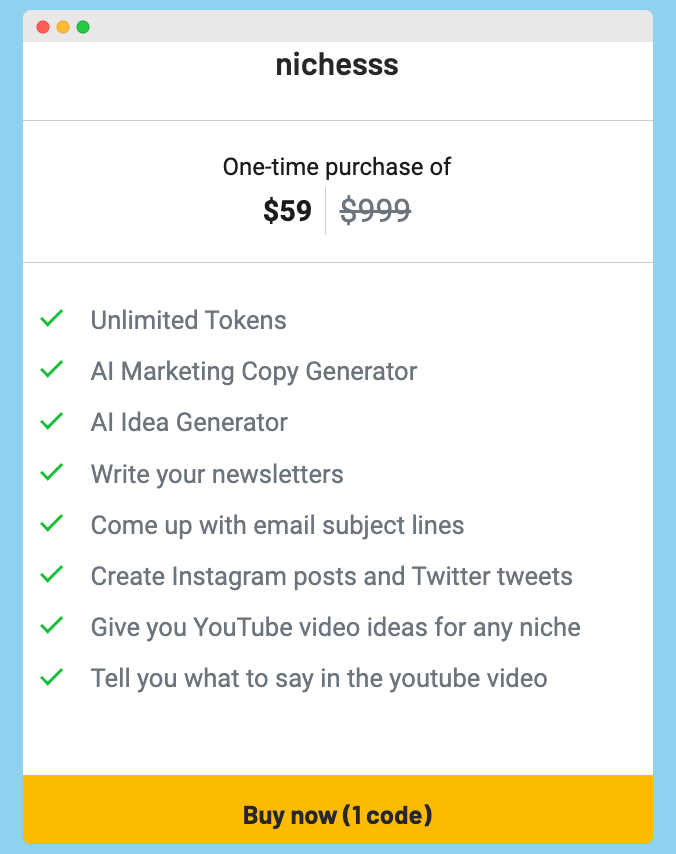 Finally, we are at the end of the article, and I hope by now you must have understood what Nichesss is and how it can be used to generate content for your website or blog. Now, let's take a look at the Nichesss lifetime deal and its pricing.
LTD Plan
Nichesss is not only a powerful tool but also the most affordable one. Now with this new nichesss appsumo lifetime deal, you can enjoy lifetime features of nichesss for just $59, which is a one-time investment.
After purchasing this deal, you can enjoy unlimited tokens of the platform and can work with an AI marketing copy generator. Also, the idea generation will be done by the AI Idea generator.
The most alluring factor about this deal is you can write your newsletter with this tool instantly without worrying about the content. In such a pocket-friendly environment, the generation of email subject lines, Instagram posts, tweeter tweets is easy and fast.
Additionally, youtube ideas and content generation is quite famous and regulated here. The nichesss ltd becomes the easiest, cheapest, and fastest solution to your ideas. So why not get your hands on it asap."
Terms & Condition of this Nichesss Appsumo Deal
To redeem the code, you must do so within 60 days of purchasing the deal.
You will be access to all plans for this deal.
After purchasing, you will have access to niche's lifetime deal.
An important factor is that this deal is not stackable.
✍Author's Note
Did you know? You may be surprised to know that this entire article was written by Nichesss AI. And it only took only one hour for me to generate this entire article. All I did was enter the topics that I wanted to write about, and Nichesss did the rest. You can see for yourself how well this post is structured and how it moves from one subject to the next.
I'm pretty sure that you will be impressed with Nichesss too. What if you're not? This nichesss ltd also offers you 60 days money-back guarantee so that you can have your investment back in case you are not satisfied with the product. You have nothing to lose and everything to gain. Why not test it out for yourself? Grab this Nichesss lifetime offer and start generating content like a pro today!
Wrapping Up!
Ideas, optimization of ideas, generation of the mini ideas within them, and regulating them are quite hectic tasks for anyone. Many people also give up about not being able to handle all the situations. But with nichesss, you can solve everything with one click away.
This platform is designed to be your virtual assistant, helping you turn your business ideas into reality. With its many features and capabilities, this platform will help you every step of the way, from brainstorming to implementation.
By offering a Nichesss lifetime deal, the company becomes more affordable and accessible to a wider audience. So, what do you have to lose? Get your hands on this offer right away and start producing high-quality content like a professional!
✍Author's Note
Still, do you think that AI is talking? Hello, surprise! The conclusion portion was written by me entirely. In fact, I've read through every word of this article and double-checked it myself. So, believe me when I say that everything you're about to read is accurate and correct. So don't be concerned about anything in particular.
I appreciate your time in reading this article, and I thank you for doing so. If you have any questions or suggestions, please do not hesitate to comment. Our goal is to help you find the best deals out there.
Thank you for your support!