Are you thinking of purchasing a Gravitec lifetime deal but confused about it? If yes, then this article is for you. Gravitec is a push notification service; you will get complete information about Gravitec, its features, how it works, and lifetime deal offers in this article.
The website owners use various ways to boost their traffic, increase new visitors, and engage their audience. One of the methods used is push notifications. Push notification is like adding your website visitors to your subscription list and sending them a notification of new updates on your site.
When any new person visits your site, they will see a message which is a message asking your visitors to subscribe for future notifications in the top right corner. Push notifications are a compelling method to connect with the existing audience and engage them.
Gravitec helps you integrate push notification services into your website. It helps you notify your subscribers about important events by sending them handy notifications. To be in your subscriber list, the new visitor must click on the subscribe button provided in the automatic pop-up window to subscribe to the notifications.
Gravitec assists you in boosting your website traffic and converting visitors into potential subscribers.
Simple to use, Powerfully Effective Web Push Notifications
Get more engagement and traffic to your website. Embed web push notifications in any website or blog to see exponential growth in traffic and conversions.
Get Gravitec LTD
About Gravitec
Social media strategies can help you bring more traffic to your audience. But to make that traffic come back to your website, you need to have something. Well, with push notification, you can make your visitors subscribe to the notifications and notify them about your products, services, or deals.
Gravitec is a push notification service that focuses on automated content notification delivery for software, blogs, eCommerce, media, and marketplaces. With it, you can send important news, the latest updates, offers, and many more with a seamless notification to your subscribers.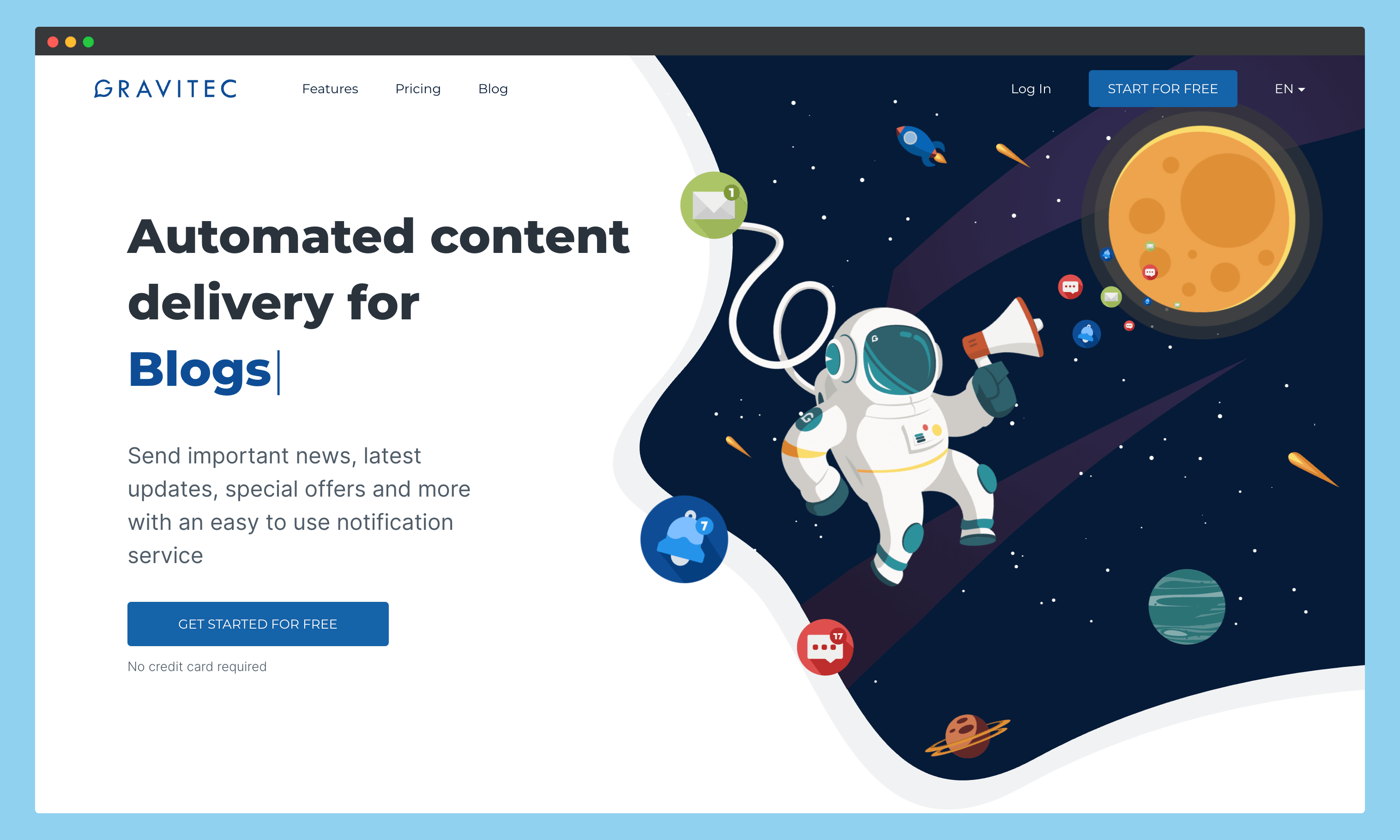 Gravitec helps you to incorporate the push notification to your website that surpasses all the other social marketing strategies in terms of CTR and traffic generation for websites. The Gravitec motivates the audience to subscribe with automated customized prompts. When they get subscribed, future content notifications will be sent to them.
You can automatically align content to different visitors as per their interests. Gravitec offers all the features you need to make a lasting impression on the visitors with the push notification permissions prompt. You can choose when and where to show it with complete customization, and Gravitec permission prompts meet Google's requirements for better performance.
With Gravitec, you can pull general segmentation information from a subscriber's browser and create a target notification. You can generate accurate campaigns based on the subscribers' operating system, country, city, language, and browser. It takes you a step ahead by allowing you to generate segmentation based on the visitors' behavior. All these can be done manually or automatically.
Here are a few notable features of Gravitec, which makes it one of the best push notification sites out there;
The dashboard is easy-to-use and offers a thoroughly designed interface.
It comes with a comprehensive and powerful web push notification system.
The notifications are served in real-time and instantly get delivered to your subscribers.
Gravitec supports an unlimited number of sites which makes it one of the best push notification services on the market.
…and many more.
Some Cool Features of Gravitec
Gravitec is a better alternative than other push notification services like Onesignal, iZooto, PushEngage, and Webpushr. It is best for you if you are a blogger and news website owner. Installing Gravitec using the WordPress plugin is quite simple; you do not need any code integration. The WordPress plugin helps you in composing and sending automatic push notifications.
So now that you know what Gravitec is, the next thing to know is its features. As an outstanding push notifications service, Gravitec comes with some exciting and beneficial attributes. It helps drive more traffic to your website, and subscribing makes them come back to your website.
1. Increase Website Traffic
The primary purpose of having push notifications integrated into your website is to boost the traffic and make visitors visit your website more often to check your new products, read blogs, or anything you update on your site.
According to the study, Gravitec can approximately increase your traffic up to 40% within the six months of use and convert 10-15% of your visitors into subscribers. Gravitec helps boost traffic and saves much of your time by sending the campaigns automatically and targeting them effectively.
2. Automated Delivery of Latest News
The next highlight of Gravitec is that it helps you in the automated delivery of the latest news, events, deals, or updates. If you have a new website, then the time-sensitive news can be sent by setting a specific time, and it makes the whole process easier and conserves much of your time.
Right after you publish an article, blog on WordPress, you can immediately send the news items to your subscribers. You can send automated push notifications right from your RSS feed.
3. Daily and Weekly News Digests
Push Digest is the feature of Gravitec that helps you send daily and weekly news digests. It allows you to send five to six news altogether in just one push notification. It will be sent automatically every week or day, thus doing much of your work.
Secondly, "Smart Digest" is another exciting tool that lets you send the news items of your website that your subscribers have not seen yet. It helps you keep your subscriber updated with all the things happening worldwide.
4. Drip Campaign
The next feature that we are going to talk about is especially for the new subscribers; it is Drip Campaign. You can create marketing campaigns with many push notifications that will be sent to your new subscriber at intervals defined by you.
You can add as many pushes you like and set up the time and date of going live for every push. These marketing campaigns can be tracked and managed in one place, and the Drip Campaign helps you boost the new subscribers' engagement and loyalty.
5. Targeted Campaigns
With this feature, you can create target push campaigns and send them to the subscribers as per their behavior. The basic segmentation of target campaigns is country, city, browser, OS, language. There are other advanced segmentation options available too.
For example, you can create separate target push notifications for desktop and mobile users. Further, you can divide them into chrome users and then into Chrome UK users. Users are also targeted based on the kind of messages or content they are interested in, like news, sports, fashion, politics, etc.
6. Permission Prompt
The permission prompt that asks the visitors to subscribe for the notifications can be customized as per their needs and wants. You choose the appearance of the permission prompt as you like and can also select the location of the prompt.
It also allows you to set the permission prompt distinctly for mobile and desktop devices. And can also make them multilingual; that is, it will appear in different languages for different country's users. You can also choose when you want your prompt to display on the visitors' screen.
7. The Bell
This feature lets your subscribers communicate with you. The bell allows them to take a few actions at their convenience. By clicking on the locker icon, they can unblock the subscriptions and re-subscribe for the notifications.
Above all, the subscribers can see their complete notification history. Further, the bell feature lets your subscribers filter the news and limit their notification based on the categories that they are interested in if you are running a news website.
Plan & Pricing of Gravitec
Gravitec is a good push notification service for all websites to achieve the best results quickly. The Gravitec lifetime deal is an outstanding offer that provides a complete package with all the features at a one-time payment.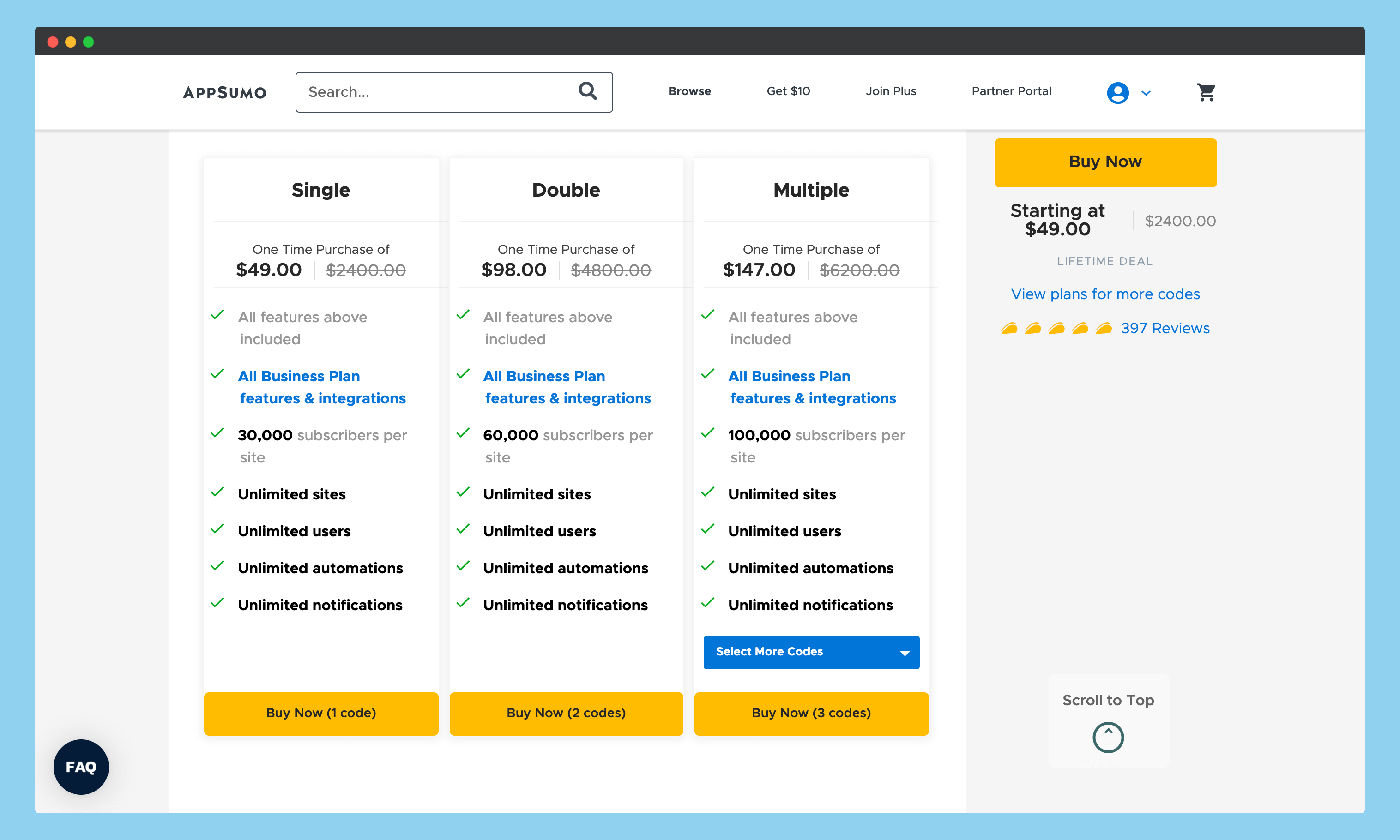 It has primarily three plans from which you can choose, but more plans are also available for those with a higher subscriber requirement. Let's know about the three plans in detail and compare them so you can choose the best one for your website.
Here's all plan which is offered by Gravitec;
Single Plan – $49 with 30K subscribers per site
Double Plan – $98 with 60K subscribers per site
Multiple Plan – $147 with 100K subscribers per site
Multiple Plan – $196 with 150K subscribers per site
Multiple Plan – $245 with 220K subscribers per site
Multiple Plan – $294 with 300K subscribers per site
Confused with their plans and pricing? Here's a brief description of what they're offering.
1. Single Plan
In a Single Plan, you will get lifetime access to Gravitec at just a one-time payment of $49.00; you can use all the features of Gravitec that we have mentioned in this article above. It also includes all the business plans, features, and integrations.
You can create about 30,000 new subscribers on each site. This Plan is beneficial if your website is at the initial stage. Single Plan offers unlimited automation, unlimited notifications, and you can also use it on an unlimited website. So, if you are new to blogging or just started your website, we recommend you to go with a Single Gravitec lifetime deal.
2. Double Plan
Double Plan also offers you all business plan features integration that we have discussed above in the content. The only difference is that using this plan, you can create about 60,000 new subscribers per site.
In this plan, you will get unlimited site integration, unlimited users, unlimited automation, and unlimited notifications. Talking about the cost, the Double Plan will cost you around $98.00. We suggest you go with the Duble Plan if you own an intermediate-level website or app.
3. Multiple Plan
In Gravitec lifetime deal Multiple Plan, you can create about 100,000 subscribers of each site you integrate with Gravitec, and you can integrate it with unlimited websites. All the other features are standard, like Single Plan and Double Plan.
Multiple Plan of Gravitec offers you unlimited site integration, unlimited users, unlimited automation, and unlimited notifications. This plan will cost you $147, you need to pay this amount only one time, and then you are free to use this tool for a lifetime.
Note: If you have a big website and want to create more than 100,000 subscribers, you can purchase more Gravitec lifetime deal codes. If you are buying 4 codes, you can make 150,000 subscribers per site, 220,000 subscribers per site for 5 codes plan, and 300,000 subscribers per site with 6 code plan.
Frequently Asked Questions (FAQs)
Still, have doubts? We all get confused sometimes, and there are times when we have several questions in our minds. So here are some questions we usually get asked by our readers.
I hope these FAQs help you to answer all your questions.
Q. What is Gravitec
Gravitec is a push notification service that helps you make the most out of your business. It lets you reach millions of users with just an effortless push of a button.
It's a complete tool for all the websites, blogs, and apps that want to increase their subscribers. It's the best way to send effective notifications that don't just let you reach your customers but also motivate them to take action.
Q. What's the price of Gravitec
If you want to get this amazing gravitec lifetime deal, then it comes in six different pricing plans – Single plan, Double plan, and 4 different Multiple plans. Each plan is available at different prices with additional subscribers per website.
If you need help in deciding the plan that you want, then we suggest you visit the Gravitec lifetime deal prices and compare the plans so that you can select the most suitable package for your website.
Q. What are all the features offered by Gravitec
Gravitec is a comprehensive tool for all websites to reach their users. It provides you with all the features that are required for a smooth push notification service; Push Notifications, Customer Publishing, Automation, and so on.
It's a complete package that helps you integrate your website with Gravitec and create the best notifications. The only thing you need to do is just set up your account and start using it.
Q. Does Gravitec offer Lifetime access
Yes, it does. If you want to use this tool for a lifetime, then you can go with the Gravitec lifetime deal. This is the best way to make things easier for your business and achieve your targeted goal.
We hope that these FAQs have helped you get all the information about Gravitec. If we have missed out on anything or if you still have any questions in your mind, feel free to ask us in the comments section below or contact us directly.
Final Words
Using Gravitec, the notifications can be sent automatically from site metadata, saving your time as per the notification elements. It also allows you to send weekly or daily roundups of the most intriguing and popular prompts with Push Digest. Above all, you can also set up welcome messages for the new subscribers.
Gravitec is one of the best push notification services providers. We hope this article about the Gravitec Lifetime Deal is helpful to you. Do share this content on social media if you find it useful for you in any manner. Please stay connected with us for such amazing deals.