Do you need an AI writing tool for your business that can provide unlimited credit for AI writing? If so, ClosersCopy is what you need in order to accomplish this.
It is built on the concept of a powerful framework and is also able to leverage your copywriting needs by providing you with high-quality templates and allow you to write high-converting ads, sales emails, and sales templates.
With the different framework types available in ClosersCopy, as well as community-built frameworks, you can select the correct framework for your end goal and write high-converting emails, ads, etc.
You can save an extra 30% OFF on your "Unlimited" plan using the "NUT30" coupon code and 20% OFF using the "LIFETIME20" discount code.
Get 30% OFF Using "NUT30" Coupon
Please note: The 30% discount applies only to the "Unlimited" plan; if you need a discount on the "Professional" plan, use the "LIFETIME20" coupon code for 20% off.
Create Exceptional Content Using ClosersCopy
Write articles in a fraction of a second. Use the advanced AI tool from closers to create amazing content for your website effortlessly.
Get ClosersCopy LTD
About ClosersCopy
ClosersCopy is an AI writing tool that is designed to work for copywriters who have a difficult time producing quality work. It is 100% cloud-based and provides unlimited use of the AI Writing Tool with zero limitations. With this AI-based software, you will be able to create world-class ads and sales pitches within minutes instead of hours or days.
Aside from it, there is no other copywriting tool that comes close to ClosersCopy when it comes to providing the speed, power, framework options, and flexibility needed for serious copywriters to create world-class ads and sales pitches.
The biggest advantage of using a tool like this is the ability to get a new, fresh perspective when creating content for your business. This will help you to create more compelling, higher-converting content. It's something you can start using immediately… and… it will only cost you $297 for unlimited words (you can also use the "NUT30" coupon for an extra 30% discount).
Major highlights of using ClosersCopy;
Powerful Framework: You can write the best copywriting content or long-form content using ClosersCopy powerful framework and community framework.
Unlimited AI-Credits for Lifetime: The "Unlimited" lifetime plan gives you access to all features of ClosersCopy for unlimited use without any credit limits, as well as all future updates.
Templates & Frameworks for Writings: ClosersCopy comes with tons of powerful frameworks and templates that you can use to write various types of content and high-converting emails, sales pitches, etc.
Unique Content: With GPT-3, this tool allows you to write custom copywriting ads, product descriptions, and blog posts that are unique and free of plagiarism.
Not only this, but ClosersCopy has tons of additional features to help you write high-converting content. In addition, I highly recommend this tool to all agencies, bloggers, and other content creators.
How to Grab ClosersCopy Lifetime Deal (with Discount Coupon)
Not sure how to purchase a closerscopy lifetime deal and save a few bucks while buying the lifetime deal of ClosersCopy? We're here to show you the step-by-step process you'll need to follow.
First of all, you've to click on this link and visit the lifetime deal page on the ClosersCopy website. Once you're on their official website, you've to scroll down to the subscription page.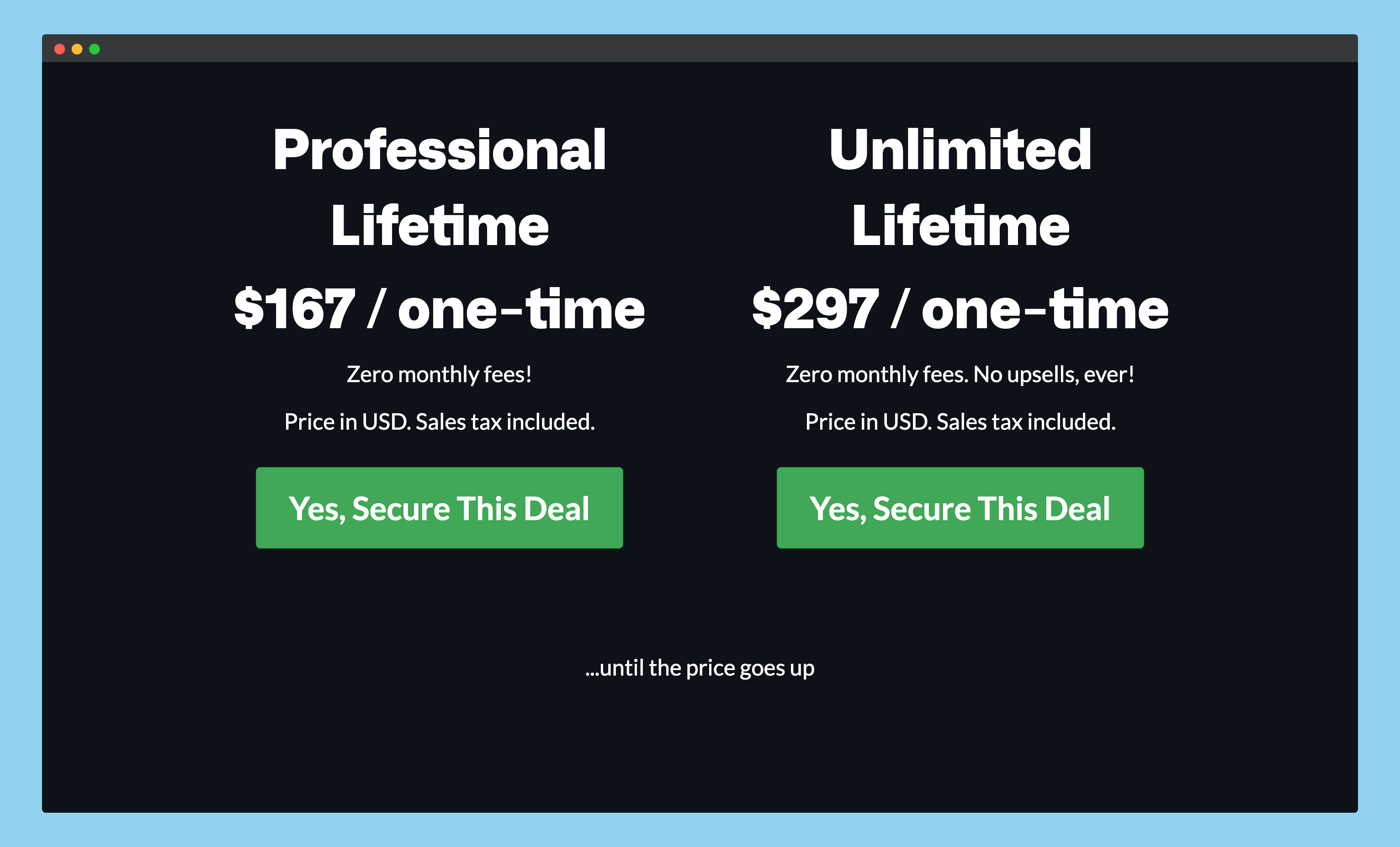 You can choose between two different plans here. It starts with a "Professional" plan, which comes with a one-time payment of $167 for 200K AI credits and without any future updates.
Besides this one, you'll also see an "Unlimited" plan. As the name implies, this plan provides unlimited credits of AI and will come with all future updates.
Now select the plan which suits you the most and click on the "Yes, Secure this Deal".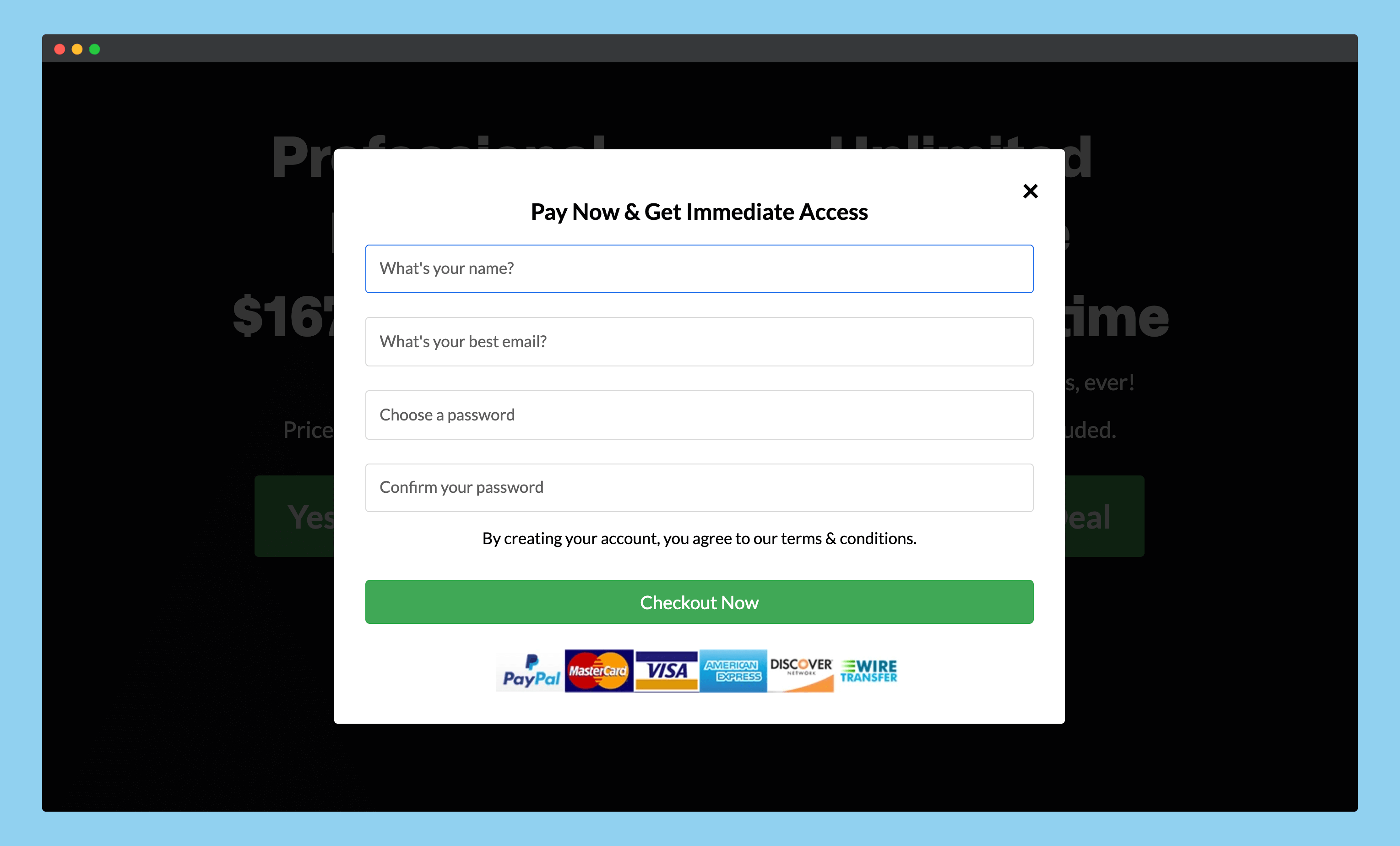 By clicking on the "Secure Deal" button, a pop-up will open, where a user will be prompted to enter some personal details and an email ID. Once you entered your details, click the "Checkout Now" button.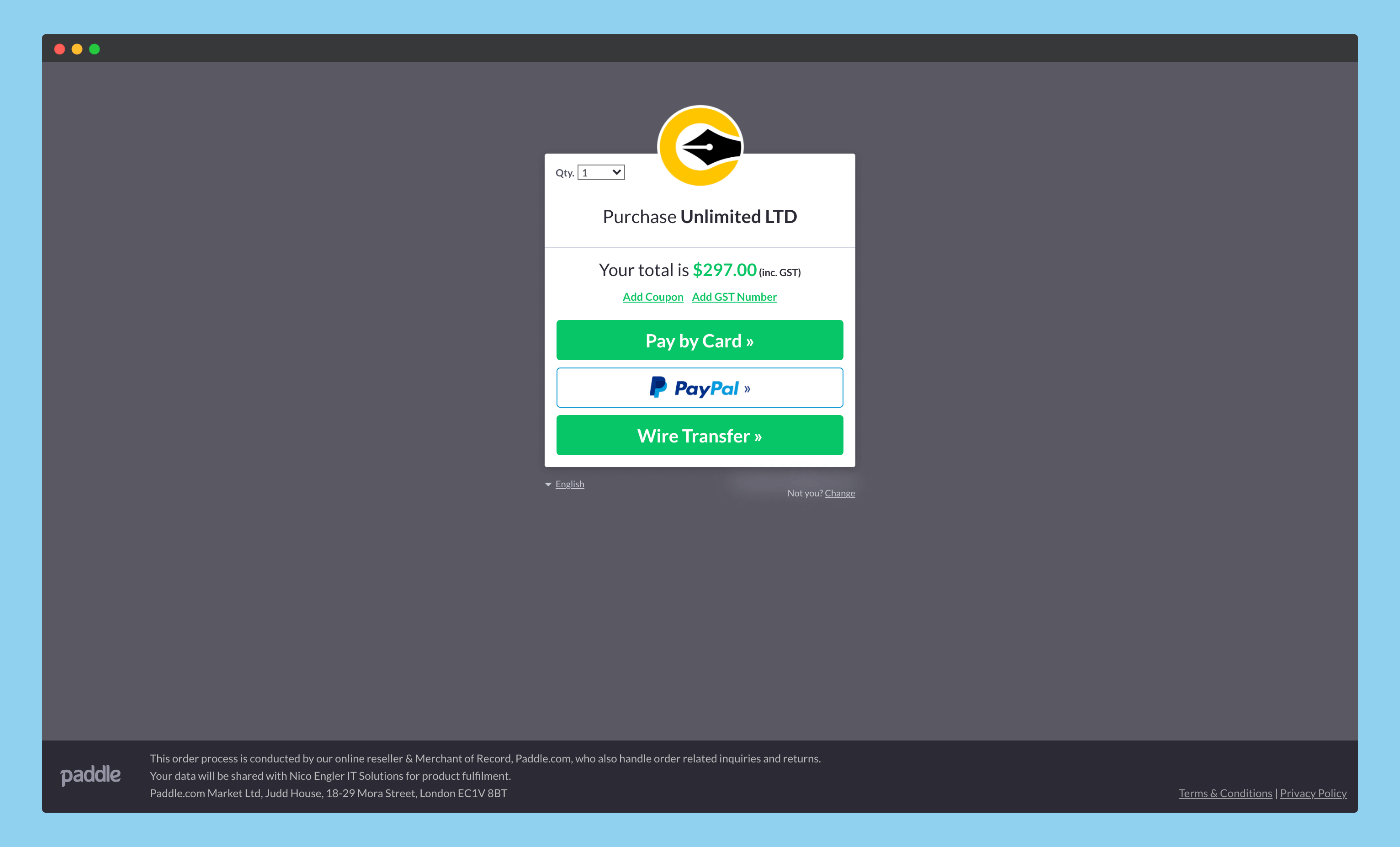 Upon clicking the "Checkout Now" button, you will be redirected to the checkout page where you may be asked for your country information and ZIP/Postal code. Once you enter the information, your plan information and total cart value will be displayed.
Here you'll also get an option to "Add Coupon" code.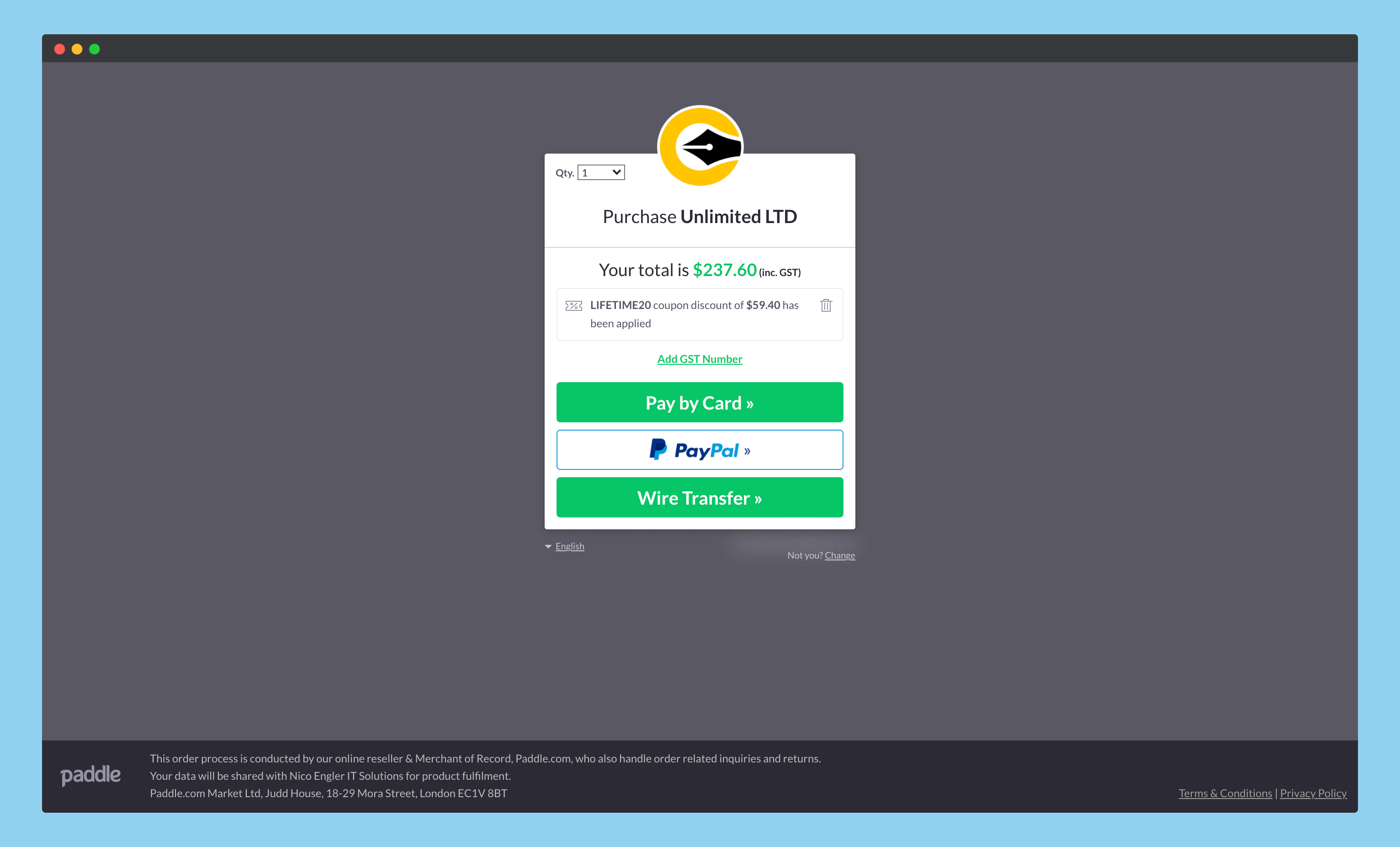 Click on "Add Coupon" and enter "LIFETIME20" to receive a 20% discount on your cart value. If you are purchasing the "Unlimited" plan, you can also use the "NUT30" coupon code for a 30% discount on your order value.
Now, you will have to make a payment via your credit/debit card or via PayPal and you're all set.
ClosersCopy Features
I understand that sometimes it's hard for us to choose between lifetime deals, especially when it comes to AI content writing tools. That's because there are hundreds of tools in the market with lifetime deals.
Here I'd like to share a few features that make ClosersCopy unique compared to other tools.
1. Templates & Framework Library
The very first reason to choose ClosersCopy is because of the templates and frameworks it offers. CloserCopy is the only tool of its kind on the market, and the framework option in CloserCopy is so robust and powerful that it can replace all of the other AI writing websites.
You can create any type of content you wish for your work or blog posts after getting your hands on this tool. It even comes with an advanced framework, so advanced that you can create your own framework to enhance your output.
2. Copy Emotions Analysis
Based on GPT-3, an advanced artificial intelligence algorithm, this tool assumes emotions as inputs for content writing and writes content based on emotion analysis. As a result, the produced results are way better than what could be achieved with any other AI tool.
You will be able to produce a much better article that will rank well on Google and other search engines (Even as I am writing this post, I am using ClosersCopy to enhance the article and ensure that Google considers it in the search results :P)
3. Custom Framework Builder
At the time when I was writing this article, ClosersCopy was the only tool with a custom framework builder to enhance content and take it to the next level. Creating your own framework is a simple process and takes just a few minutes or sometimes an hour.
Once you have created the framework, you will be able to write much better articles. In addition to sharing your framework, CloserCopy also allows you to use frameworks created by community members.
4. Write Long-form Articles
ClosersCopy makes it really easy to write long-form articles. By using their advanced WYSIWYG editor, you can easily format all your content, and you can even use their own proprietary AI that they developed to assist you in creating your content.
As far as the resulting output is concerned, it's fine for general use and well-deserving of a good ranking.
5. Cost a Way Lesser than Hiring Content Agencies
When it comes to writing content using ClosersCopy or any other AI writing tool, it costs a lot less than hiring a content agency in the long run. All you have to do is pay once and then you will be able to use these tools for the rest of your life.
When I saw the results and the resultant increase in traffic to my website, I knew I made the right decision in investing in AI writing tools.
Do We Recommend ClosersCopy?
The answer is yes, I strongly recommend using ClosersCopy for all your copywriting and content writing projects. There is no doubt that it is one of the best tools for writing high-quality content for your works.

This is one of the tools I use a lot to create product descriptions for my Amazon affiliate website, and it works really well. A lot of the content that I've written using this tool rank higher in Google (mostly on the first page).
This tool definitely comes in handy for people who cannot manage to write content frequently or are seeking some creative tools to make their writing works easier. I highly recommend it for people that have these issues. But be remembered, the more ingredients you add to your content, the better it will be for you, otherwise, you won't get the results you wanted.
Frequently Asked Questions (FAQs)
Still, have doubts? Here I'm sharing a few FAQs which are generally asked by our readers. I hope these FAQs will clear all your doubts and help you choose the best AI writing tool for your business.
Q. What is ClosersCopy?
ClosersCopy is an AI writing tool that comes with two different lifetime plans. It is a GPT-3 based AI writing tool and has framework features for writing creative and high-converting content.
ClosersCopy is a "copywriting-in-a-box" solution that makes it easy and fast for any copywriter to create compelling and high-converting sales pitches, ads, emails, and blog posts.
Q. What is ClosersCopy Lifetime Deal?
ClosersCopy is offering a lifetime deal where anyone can grab hands on their tools at competitive pricing with lifetime access and future updates. It is a GPT-3 based tool that comes in handy for writing all your content and copywriting-related works.
The only con here is that one of their plans, the "Professional" plan, does not come with future updates and has a limited amount of AI credit available each month.
Q. Which Plans are Available as a Lifetime Deals?
Currently, there are only two types of plans that are being offered by ClosersCopy to its users.
The first plan which is "Professional", comes with a limited number of AI credits and does not include future updates, and the second plan which is "Unlimited", comes with all future updates and includes unlimited AI credits.
Q. Which Plan Do We Recommend?
I strongly recommend you go with their "Unlimited" plan, which comes with unlimited usage of AI credits, as well as access to all future updates and features.
When you choose the 'Professional' plan, however, you won't be receiving any future updates and you'll be limited with AI credit usage for your account.
Q. Any Discount on ClosersCopy Lifetime Deal?
Yes, CloserCopy also allows you to save 30% OFF on their unlimited plan with the "NUT30" coupon code, and this can help you save on their lifetime deal. Furthermore, you can also use the "LIFETIME20" coupon code to save 20% OFF on their "Professional" and "Unlimited" plans.
Please note that the "NUT30" coupon code does not work for their 'Professional' plan.
Q. Is ClosersCopy Good Enough for Writing Long-form Articles?
My answer is yes, I use ClosersCopy mainly for writing long-form articles and it is really helpful in my writing process. In fact, a few of my contents that are written using this tool are ranking higher in search engine results and that helps me generate passive income flow.
So I highly recommend trying tools like this to ease your writing burden.
Q. Can I Write Product Description Using ClosersCopy?
Yes, you can quickly write product descriptions using ClosersCopy. Also, you can create custom frameworks on ClosersCopy, and whenever you create a product description, use those frameworks.
Additionally, I really enjoy using another community framework called "AMZ Description to Product Intro" by Samarjit Sinha which comes in handy for writing affiliate product descriptions.
Wrapping Up!
Any business is going to benefit from the use of AI writing tools which takes the burden out of writing. Whether you're creating sales pitches, website content, or anything else you can think of, AI writing tools can make the process much easier and more effective.
The ClosersCopy lifetime deal gives you access to all of ClosersCopy's features as well as future updates for a lifetime, which makes it one of the most powerful tools available on the market today. In addition to this, ClosersCopy also provides you with unlimited AI credits within their "Unlimited" plan, making it one of the best plans out there!
I hope you enjoyed this article about the "ClosersCopy lifetime deal". If you did, please share it with your friends, family, and followers so they can benefit from it as well.
My favorite copywriting framework is CloserCopy because of its powerful framework options. What tool would you prefer? Please let us know in the comment section below.