Let me guess something, "You are a student stuck in online classes during this pandemic and constantly need to copy text from your zoom meetings, "But we all know how much hectic it is to take screenshots and retype them. Not only the time getting wasted here but also the energy and productivity.
So how can I copy those texts with ta proper recognition tool? Don't worry about it! Let's welcome this new introduction to the market "BLACKBOX."
Blackbox is an online platform that can be recognized as the fastest way to copy texts from photos, videos, PDFs, or basically anything. Is this only for students, zoom calls? Well, no, this tool is for everybody. You can use this tool for your work, home, office, or anything you want.
One of the most advanced and trusted platforms which are used widely for the copy of texts from basically anything that exists as a softcopy from the internet. You are going to be amazed by the fact that with Blackbox, you can also extract code from any videos from stack overflow and GitHub. Additionally, turning any question into code is like a cup of tea.
Blackbox can do everything you need as a student, developer, or computer geek. In brief, Blackbox can;
Copy and paste text from basically any source.
Works with the best and fastest recognition tool.
Lets you select the text from any portion on the screen.
Extract the code from any video you are playing.
You can finally say goodbye to those frustrating moments spent retyping text from your computer screen. With BlackBox's lifetime, you'll be able to utilize its time-saving features. With a single click, you may do anything on this platform. Whether it's PDFs, internet classes, or GitHub contributions, BlackBox has you covered.
TL;DR;
Well, a reliable platform with which you can copy texts from videos, photos, and anything.
Possible to select the text from any portion of the screen.
Might be the best app for students, developers, and computer enthusiasts.
Use the best text recognition app.
Fastest & Most Accurate OCR on the Market
Use BLACKBOX to copy text from any document, image, or video quickly and accurately. This AI-based tool is the most efficient way to copy text from any source.
Get BLACKBOX LTD
About the BLACKBOX
Everyone gets confused when they head that exists a platform with which you can literally copy and paste anything from anywhere. But it's true. it used a special AI-based technology that made it a super useful website for anyone. One word but many answers," BLACKBOX."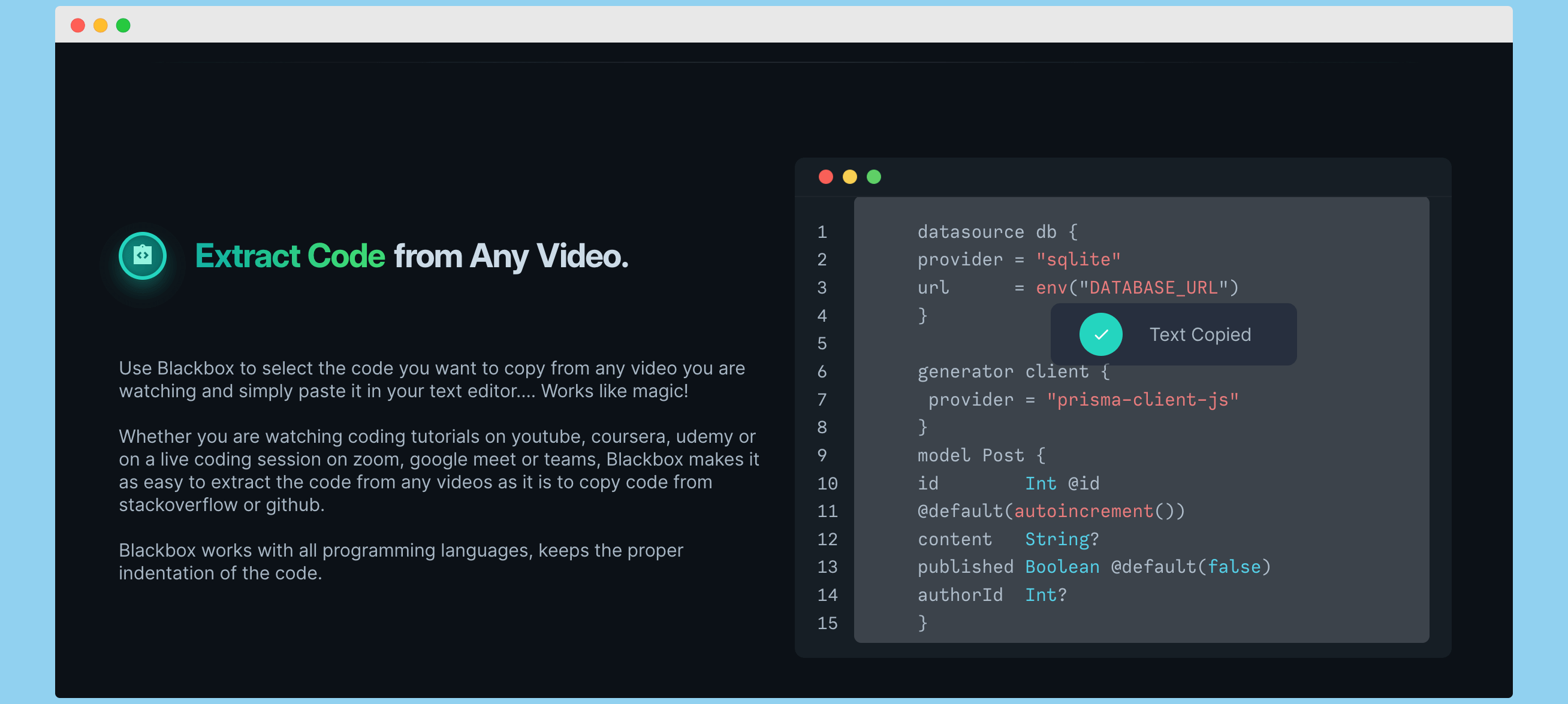 Talking more precisely, Blackbox is a virtual platform with which you can copy texts, code from photos, videos you are watching, or online meetings, whether it is zoom calls or seminars with the super powerful recognition tool. You can also call the Blackbox the most versatile and trusted OCR in the digital world.
BlackBox not only allows you to copy and extract but also provides an alternate option. You can turn any idea into code with BlackBox.
The product's purchasers seem to be happy with it since a significant amount of time was saved as a result of the black box. Students quite a lot benefit from this tool as text recognition with other apps has been quite difficult and time-consuming.
You simply need to click a button or two away from obtaining your desired effects and outcomes. BlackBox receives the most votes in the month for its amazing results.
Is BlackBox an Easy and Reliable Platform
We bet you will barely find a virtual OCR which is more accurate and faster than a black box. Blackbox instantaneously recognizes the texts on the screen and delivers the desired outcomes using an AI-based tool. You can simply open the text photo or the videos from which you want to extract the code, and boom, the results are within some seconds away.
The Blackbox appsumo deal is quite robust, and there is a lot it can offer. Let's take a closer look at what exactly it is.
So, What makes the BLACKBOX special?
Blackbox is becoming a solution to the problem of many worldwide, and it is expanding globally like a fire. But what might be the reason is the quite popular opinion. Because it:
Can copy the texts from literally anything on the screen.
Can recognize each and every language on the earth.
In the case of copying, it preserves formatting and indentation.
Can generate the right code snippet according to your question.
Works with all kinds of programming languages.
With many more!
Features of BLACKBOX
There are various features of black boxes that make them quite useful and demanding in the market. The features which we think are quite important and outstanding are:
Copy Text from Any Videos, Photos, and PDFs
The Blackbox prime feature allows you to copy texts from any photos, videos, and zoom meetings that appear on your screen. To use this feature, first, download and install the extension on Google. Make sure to get your hands on a BlackBox lifetime subscription first.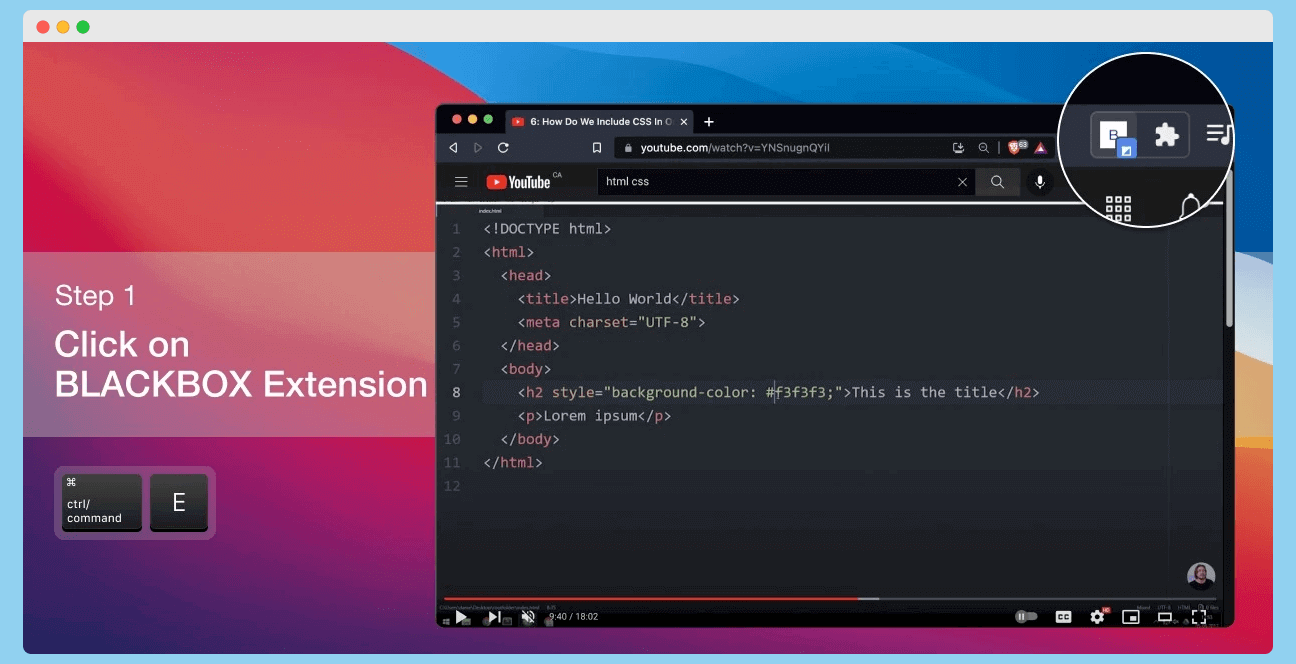 The process is quite simple and easy. For scanning at first, open the video or the photo from which you want to extract or scan the text. After that, select the portion n the screen and paste it into the desired location where you want the text to be. then the results are in front of you.
Extract the Code from Any Video
Blackbox is also quite famous for its special tool with which it can extract the code from any kind of video. For the whole process, at first, open the platform and then go to the video you are watching after that, paste that code into your text editor. and see what happens next. Yayyy the work is done.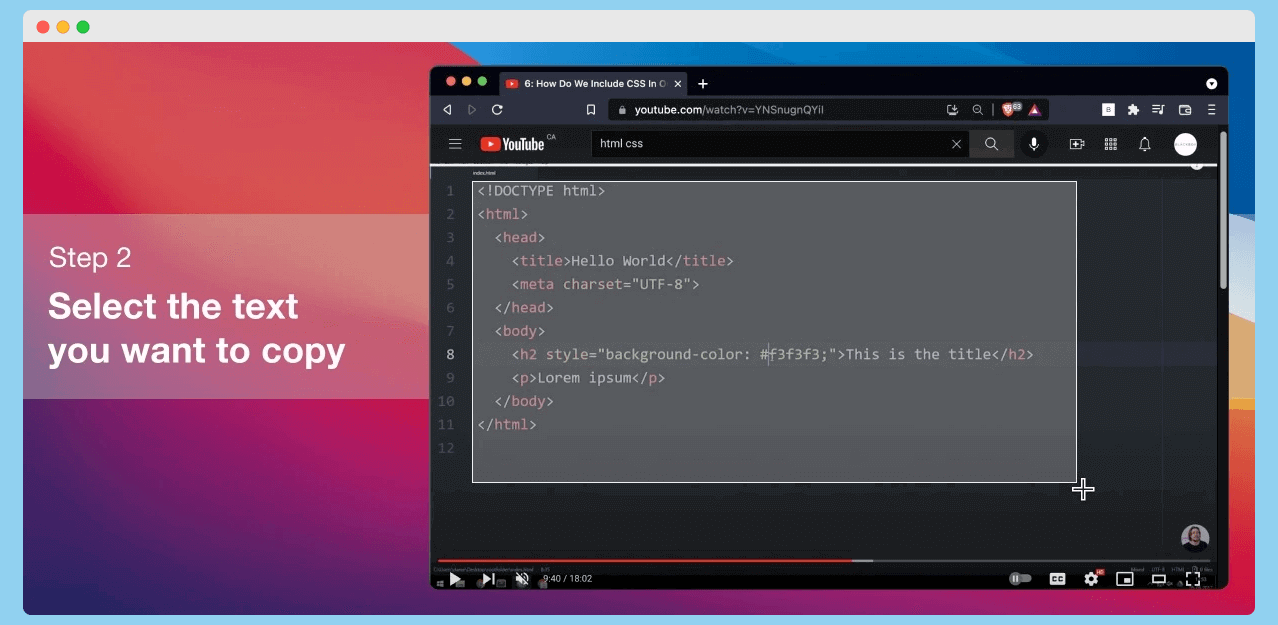 And don't worry about the limitations in the videos. whether you are watching coding tutorials on youtube, Coursera, udemy, or on live recording sessions on zoom, google Meet, or teams, you can extract the texts and code from any kind of video. it is easy to copy from StackOverflow or GitHub. You can work it with all kinds of programming languages.
Can turn Any Questions into a Code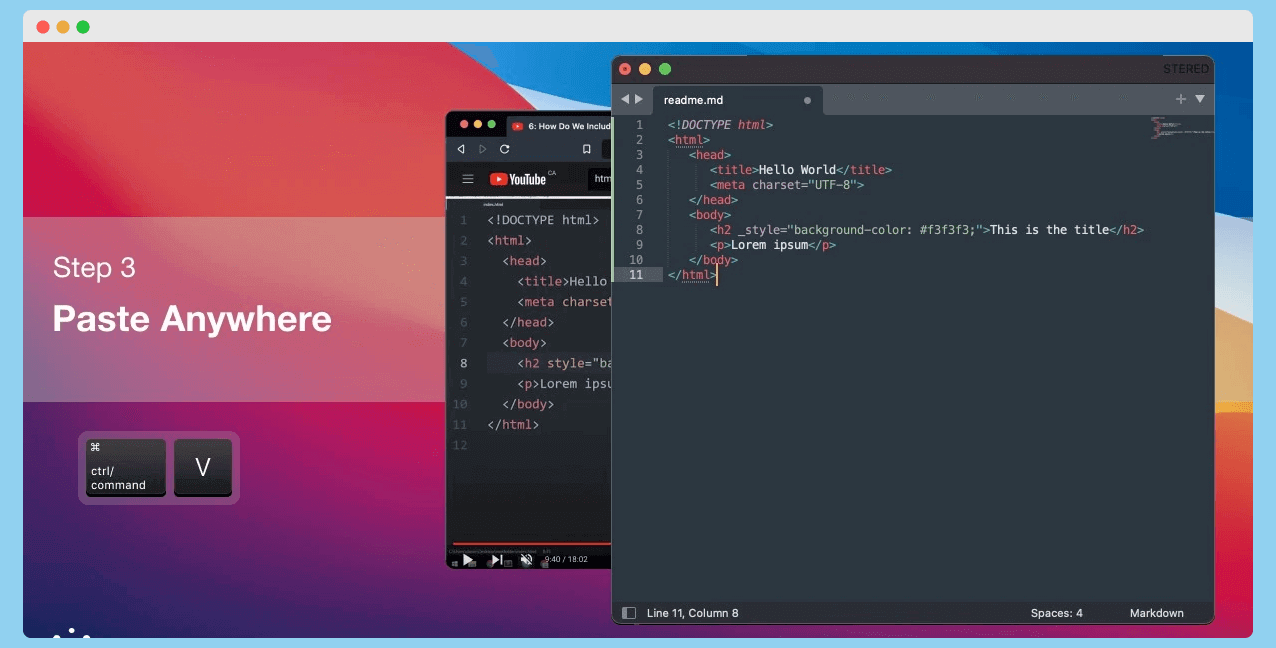 People used to face issues when they had to learn the coding environment for searching how to build a specific function or syntax. So, you don't need to do that anymore. With the black box, you may discover the best code sniper for your needs. Also, you can find the code in any programming language.
BLACKBOX Lifetime Deal – Plan & Pricing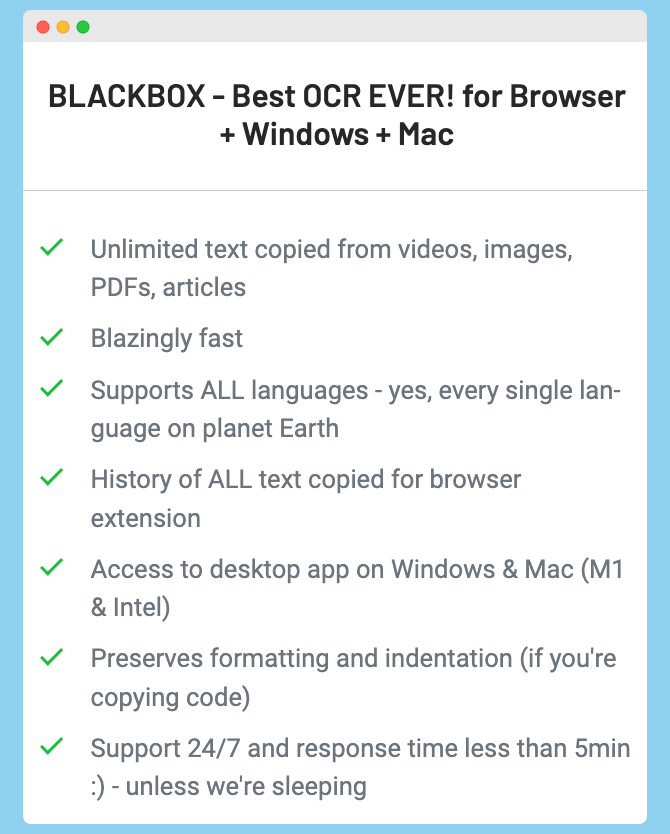 After a brief study of the Blackbox and its features, let's find out the plans and pricing offered by the Blackbox appsumo deal.
Single & Simple One Plan
BlackBox is available with one deal in appsumo. In this deal, you have to pay on time $59 to get all the tools and features offered by the platform. There is no room for doubt that you will be able to enjoy unlimited text that you can copy from videos, images, PDFs, and articles at a speed that is absolutely mindblowing. There is no barrier to language in this BlackBox ltd offers.
Most importantly, with Blackbox, you can access the history of all the texts copied till now. You can use this platform in both desktop apps on mac and windows after purchasing. What impresses the most is the availability of formatting and indentation all the time.
Blackbox Appusumo Lifetime Deal – Terms & Condition
Upon purchase, you have 60 days to redeem the code.
This deal is not stackable.
After the purchase of the deal, you will be able to enjoy all the features of the best OCR ever.
Now you will have access to the lifetime deal.
✍Our suggestion!
Blackbox and its lifetime deal allow the user to gain access to scan any text from the screen, no matter if it is a photo, video, or any kind of PDF. It is a very trusted and well-established lifetime deal. After this purchase, you don't need t worry about the time and routine. Wherever you are and whatever device you are using, you can have access to all the tools.
Extract of code faster OCR makes this platform a must for anyone. So you are actually going to be impressed with this deal, the best package because of the best features. Why delay? This will be a shine to your stone.
Wrapping Up!
Who doesn't want to save time which was very much being consumed by the typing of the text from zoom meetings, calls, and seminars? Blackbox is the answer to most of our digitization needs. It's scanning, OCR, and data extraction capabilities are excellent.
Not only it promises to extract coed from any videos and images, but you can also turn any questions into the core. Now, no matter if you are a student or a person who needs to be engaged in computer seminars and webinars, this Blackbox lifetime deal is going to act as a boon to you.
Well, welcome to the world of a blackbox, where the field of text recognition and scanning is being taken to the next level. Thanks to the developers for this wonderful platform, "BlackBox."
It is truly a privilege that you have taken the time to read this article. Please feel free to ask questions and share your thoughts in the comments. We would love to hear from you.
Thank you!