Are you thinking to purchase Agiled Lifetime Deal? If yes, then this article is for you, here we have comprehensively reviewed Agiled and Agiled LTD, read the article thoroughly to get the answer to all your questions.
Businesses that are heavily dependent on different tools for CRM invoicing, contracts, finances, and other operations have a hard time managing all those tools, and often the efficiency is affected. The only solution to this problem is to have all these tools on a central platform.
Agiled is a tool that offers the solution of having all the tools necessary for managing clients, leads, finance, projects, tasks, employees, and more under one central platform, which makes them easier and more efficient to operate. You can add clients and leads with the help of built-in CRM or import them through Agiledd's integrations with other CRMs or create multiple sales pipelines.
With Agiled, you can create projects, automate workflow, manage subscriptions, create professional invoices, onboard new clients, track employee attendance and productivity, manage payroll, manage remote and in-office teams through a comprehensive HRM, book appointments with team and clients, and many other operations without having to switch to different platforms.
Make Your Business Processes Efficient with Agiled
Build an enterprise-level business by automating your processes. By Using Agiled to get things done fast and effectively.
Get Agiled LTD
About Agiled
Managing a business is a tedious task that requires you to perform a wide variety of duties that require the use of different tools to manage your leads, clients, projects, finances, and employees, and most of the time, you can find yourself switching between devices just to perform basic operations.
This can be solved with a platform that can manage all these functions in one place. When all these operations are brought to a central platform, then the overall efficiency and productivity increase because there is less time involved in switching apps and more time doing actual work, this way, you don't have to manage different tools for different tasks all these activities are brought to a single platform.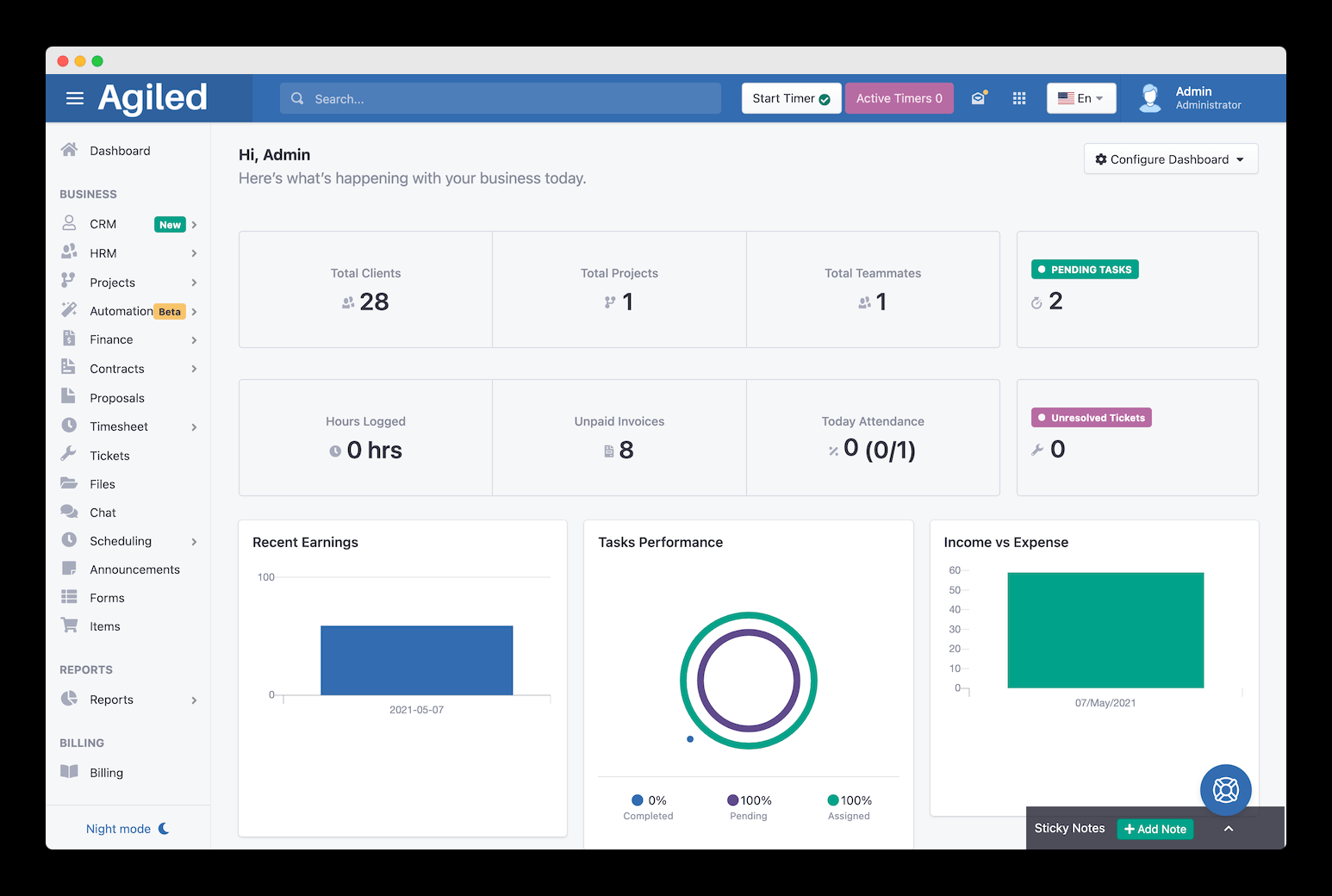 Agiled is a platform that allows you to perform all your business operations in a central forum without switching to different apps for CRM, HRM, invoicing, Finances, Employee management, and other functions. It is a white-label-ready, all-in-one business management platform for managing clients, leads, finances, projects, tasks, and workers, among other things.
Agiled helps you manage your employees and customers through a comprehensive HRM and a built-in CRM, where you can schedule meetings with your clients, manage their accounts and contacts, and generate and send invoices for faster payments. You can also track the attendance of your employees, leave, holidays, and overall productivity; every employee is provided with a portal to mark their log time, attendance, request leaves and much more.
Agiled's extensive project management tools simplify organizing and delivering projects on schedule. With customizable project templates, you can get up and running quickly.
Create alternative processes and automation to save time, or start and manage all of your tasks, dependencies, and milestones on one dashboard. Progress tracking, file sharing, and time reporting are all included in the dashboard, making collaborating and achieving deadlines easier.
Here are a few notable features of Agiled
The dashboard is simple to use and has a well-designed layout.
Create and share professional contracts with your clients and get e-signatures on the contracts
Sell products and services online with custom payment plans and bill your clients with subscriptions or invoices.
Agiled reporting provides actionable insights into your business. Create valuable reports to help you expand your business.
And much more…
Some Cool features of Agiled
Agiled is an excellent alternative for tools like Honeybook, Dubsabo and Hello Bonsai. It is a perfect tool for businesses that are overburdened with tools and want to save time and money by handling all of their responsibilities from a central platform. Contracts, sales pipelines, proposals, contacts, projects, finances, and teams are all managed in a single location.
So now that you know what Agiled is, the next thing to know is its features. As an outstanding all-in-one white-label platform that unifies and simplifies your whole business, Agiled has many fascinating and useful features.
CRM and Sales Pipeline
Agiled extensive project management capabilities make it easier to manage and deliver projects and products before deadlines. Create projects with project templates that can be customized accordingly; you can instantly develop and start projects.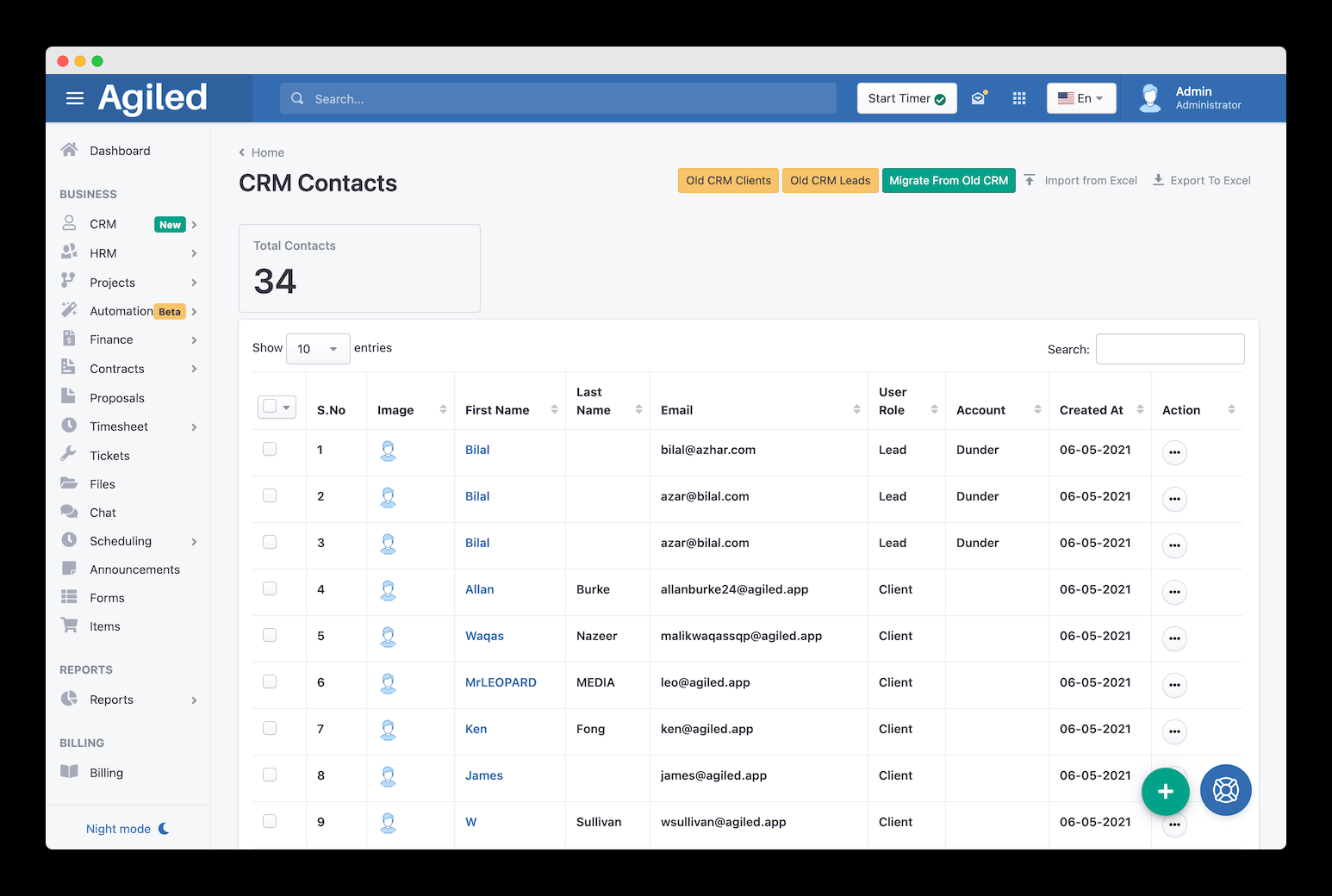 Start and manage all of your activities, dependencies, and milestones from a single dashboard, or save time by creating different workflows and automation. Progress tracking, file sharing, and time reporting are all included in the dashboard, making collaborating and achieving deadlines easier.
Automate Your Workflow
Instead of doing and remembering everything manually, automate your business and make it work for you. With Agiled, you can automate tasks, create workflows, send professional project estimates and invoices directly from the platform, send payment reminders, and accept online payments after completing and sending an invoice by integrating Stripe, PayPal, or Mollie.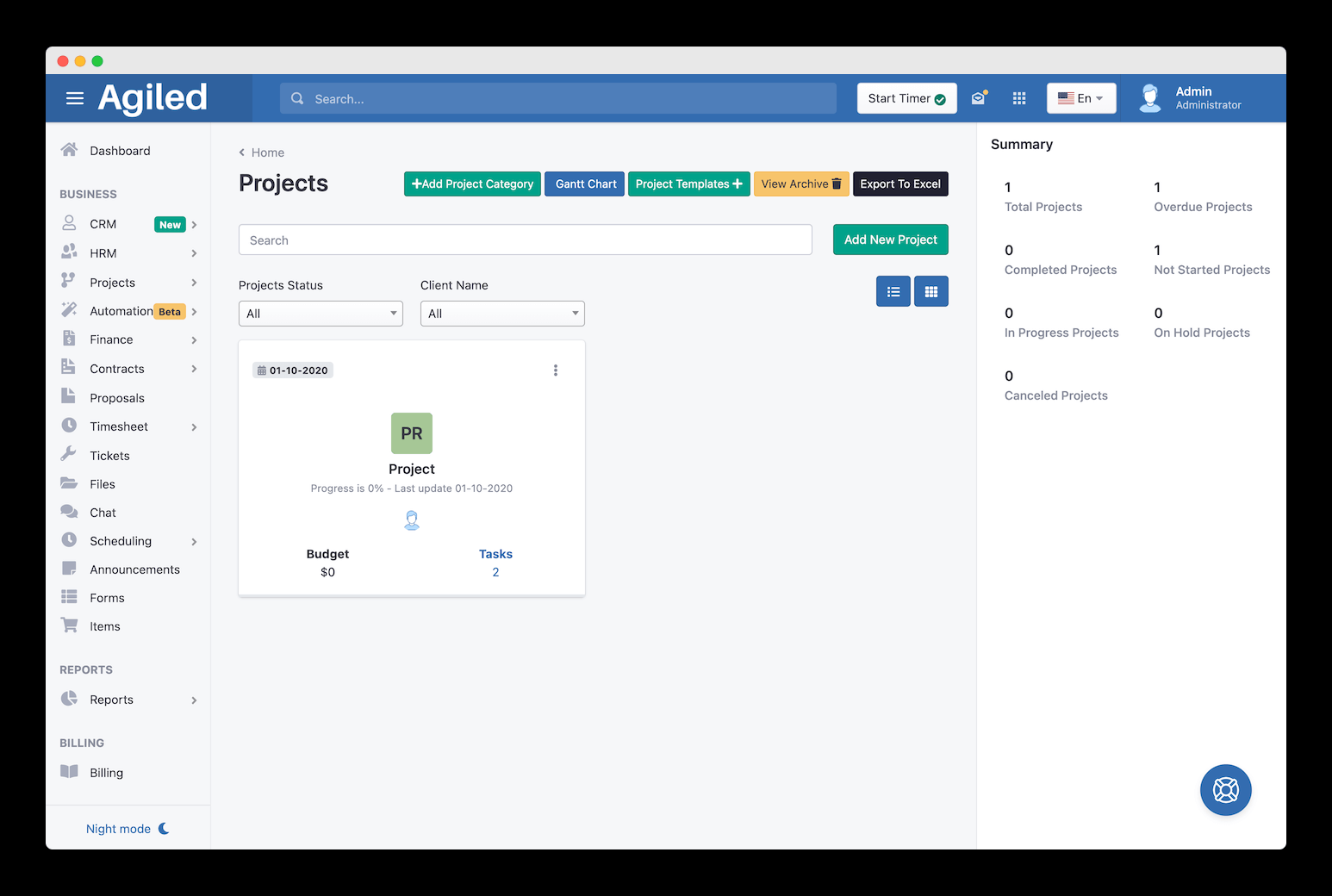 You can also use the Agiled financial dashboard to manage and approve spending tracked by your team and produce financial reports, configure ledger, and bill clients on autopilot using a client subscription.
Client Onboarding Flows
Through the Agiled contract dashboard, create client contracts and add private notes to them. Send a pdf or share a link through email for the customer to put his e-signature on the contract. Generate and share invoices and share them with the customer.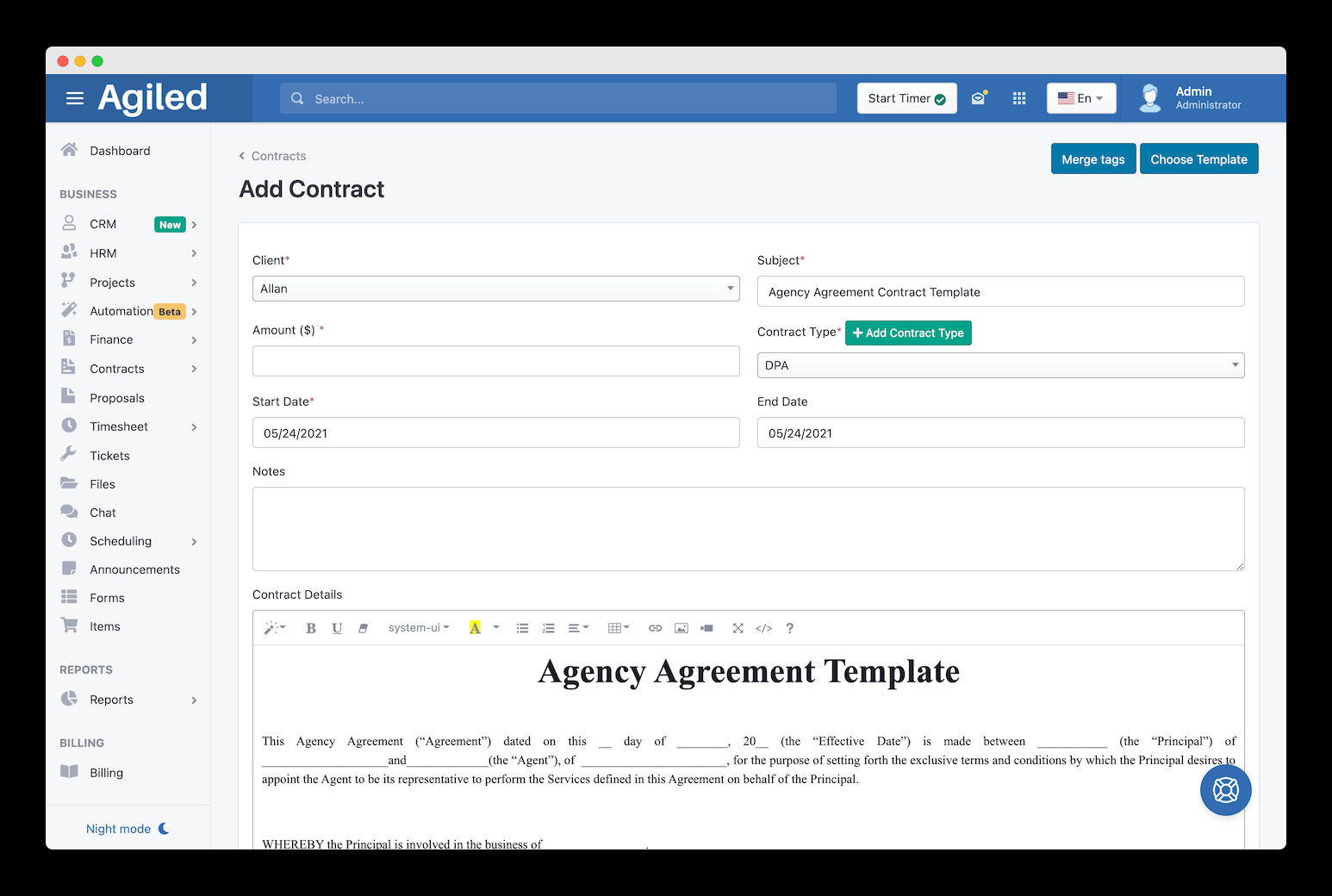 Efficient and straightforward client onboarding makes it easier and faster for new signups. Schedule and set reminders for appointments with clients and use many other useful and practical CRM features like managing accounts and contacts of customers and clients or potential clients.
HRM
Agiled also comes with an entire HRM system that allows you to manage your remote and in-office personnel. With the Transferwise connection, you can track attendance, leave, time entries, holidays, and productivity and handle payroll and much more without leaving the platform or using any other tool.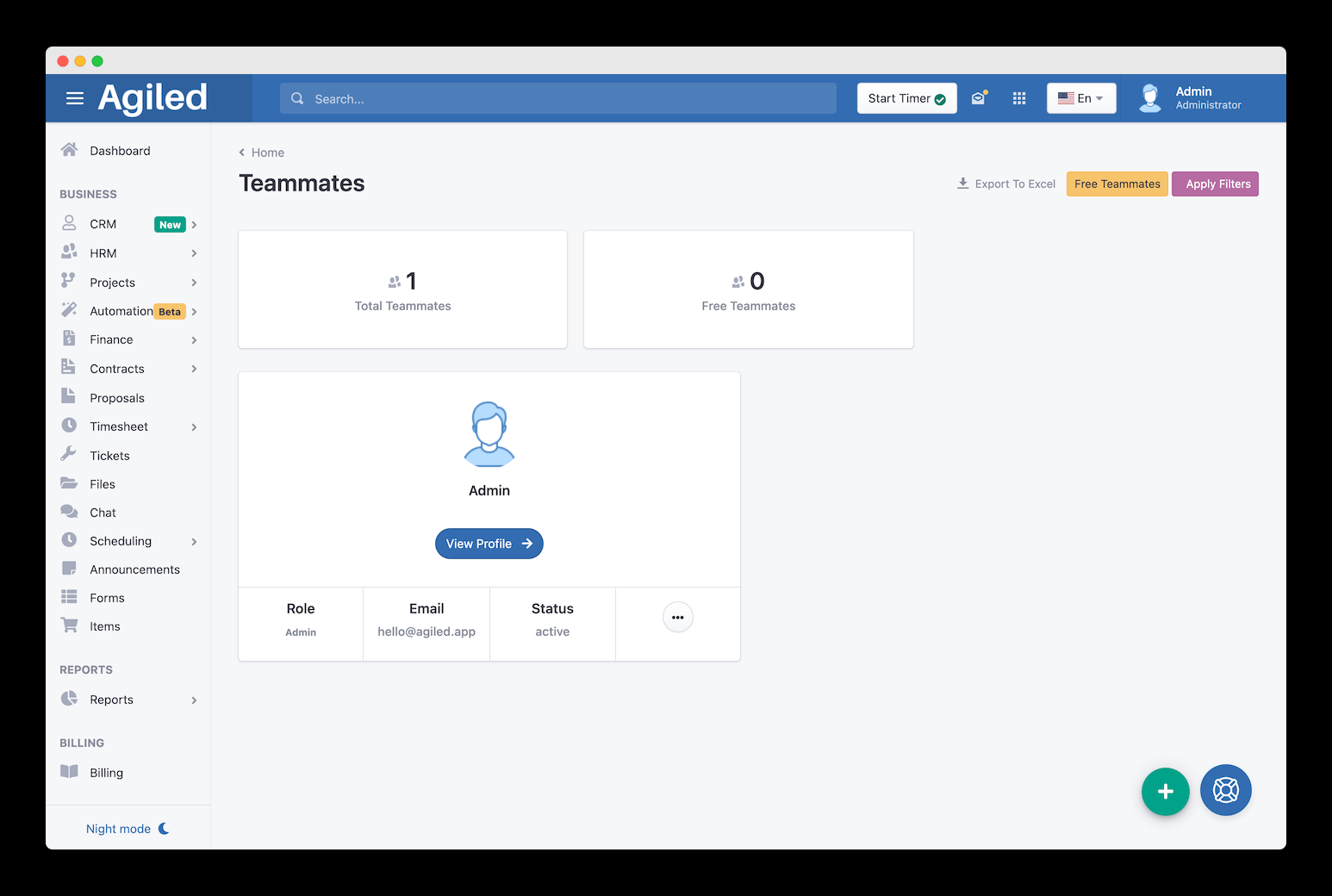 In addition, each employee has a white-label ready site where they may record time, mark attendance, seek leaves, and more.
Plan and Pricing of Agiled
Agiled is a valuable and efficient business management tool that increases overall productivity and creates hassle-free centralized workflow. The Agiled lifetime deal is fantastic and gives you a complete bundle with all features at a one-time payment.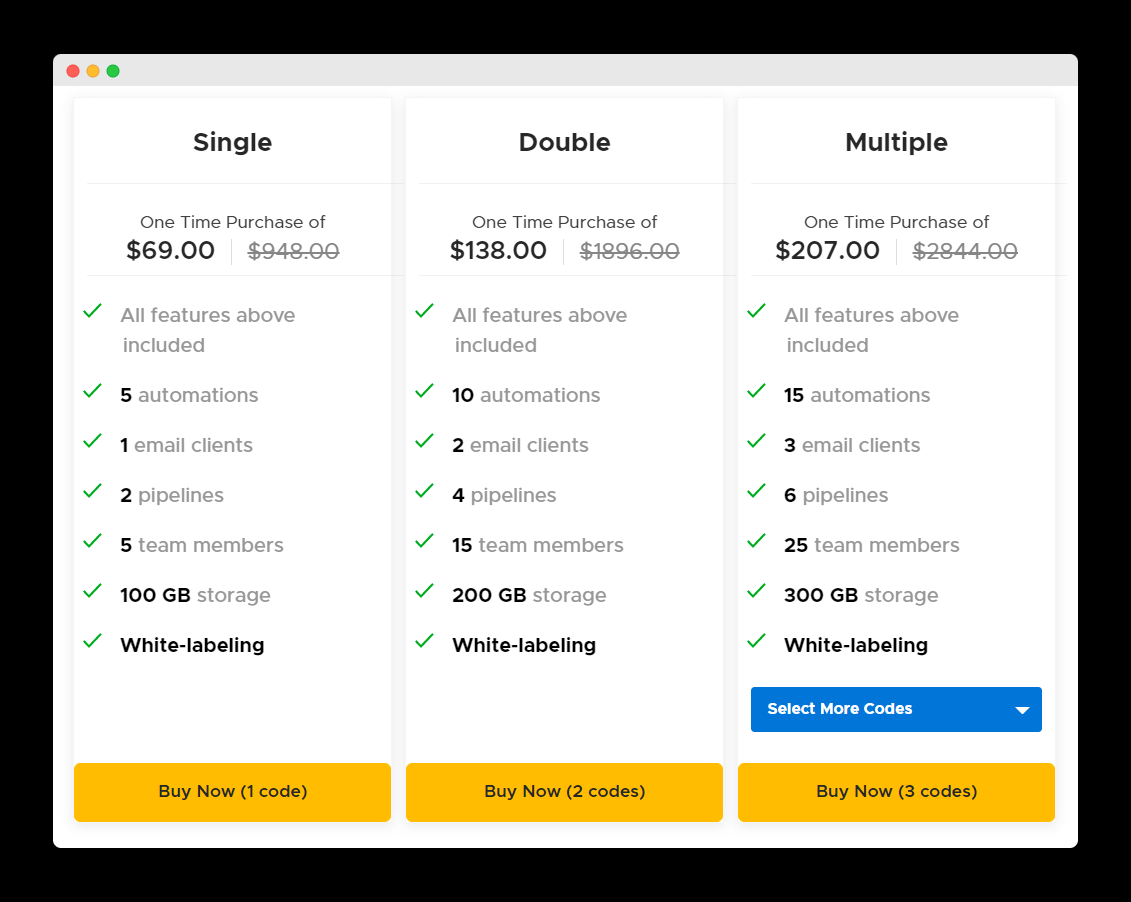 It offers three plans from which to pick. Let's take a closer look at each of the four options and compare them so you can choose the best one for your business.
Here are all the plans offered by Agiled
Single Plan- $69 with five team members and 100 GB storage
Double Plan-$138 with 15 team members and 200 GB storage
Multiple Plan-$207 with 25 team members and 300 GB storage
Still in a dilemma about which Plan is best for your business and what each Plan offers? Here's a brief description of what they're offering.
Single Plan
With the Single Plan, you can obtain lifelong access to Agiled for just $69.00; you can utilize all of the capabilities of Gravitec that we highlighted before in this article. All of the base plans, features, and integrations are also included.
In this Plan, you have five automation, one email client, two pipelines, five team members, 100 GB storage, and white labeling; you will have unlimited leads, clients, and integrations.
Double Plan
Double Plan offers all the base features mentioned above, with increased automation to 10, 2 email clients, four pipelines, 15 team members, and 200 GB storage. The difference between single and double Plan is that it offers more members, automation, storage, pipelines and email clients.
In this Plan, you have unlimited leads, unlimited clients and unlimited integrations at an increased price of $ 138. This Plan is suitable for teams with more than five members and requires more than two pipelines for their operations.
Multiple Plan
In Agiled Lifetime deal Multiple Plan, you are provided with 15 automation, three email clients, six pipelines, 25 team members and 300 GB. This Plan is most suited for a business that has a big team and requires multiple channels to work on. You can manage and automate more tasks than the single and double Plan with this Plan.
Multiple Plan of Agiled has all the base features like unlimited leads, unlimited clients and unlimited integrations and other features have increased capacity at a price tag of $207.
Frequently Asked Questions (FAQs)
Do you still have reservations? We've all been perplexed at times, and we've all had several questions about our thoughts. So, here are some of the frequently asked questions by our readers.
I hope that these FAQs have answered all of your questions
Q. What is Workflow Automation?
Agiled's workflow automation tools can enable you completely automate your process and put your business on autopilot. When a trigger is triggered, you may choose which actions to perform; for example, when a form is submitted, automatically send an email.
The possibilities for automation are unlimited since you may add as many steps as you desire. The automation has five actions and seven triggers, and a few more features. More actions and triggers are already being developed and will be accessible shortly.
Q. How does the Appointment Toolkit Work?
It functions in the same way as other appointment scheduling applications. You may start being booked by creating events, setting up your availability, and sharing the booking link with your audience.
There is also an appointment toolbox. The Agiled tool has a user-friendly interface that makes it easier for the users to make the best.
Q. Is There a Limit to the Number of Users/Contacts Stored in the CRM?
There is no restriction on how many connections or clients you can have in CRM. You can invite as many clients as you like to the CRM.
The team member limit only applies to people you invite as coworkers, teammates, or employees.
Final Words
Agiled is a tool that provides all the tools needed for the customer, lead, financial, project, task, and employee management together on a single platform, making them more accessible and more efficient to handle. You can use the built-in CRM to add clients and leads, import them via Agiledd's CRM connections, or establish numerous sales pipelines.
We hope you found this information regarding the Agiled Lifetime Deal useful. If you find this article valuable, please share it on social media. Please stay in touch with us for more amazing promotions.